Mouni Roy bewitches in black floor-length skirt with a matching laced-up crop top and Rs. 2,08,136 Channel bag
In the ever-dynamic and hyper-fashionable world of Bollywood, where style meets stardom every day, very few divas can make a spot for themselves, and Mouni Roy is undoubtedly one of them. With her innate talent, undeniable beauty, and an impeccable sense of style, she has consistently captured the hearts of fans and critics alike. Her recent appearance at the Formula 1 race in Qatar is yet another testament to her star power and charisma.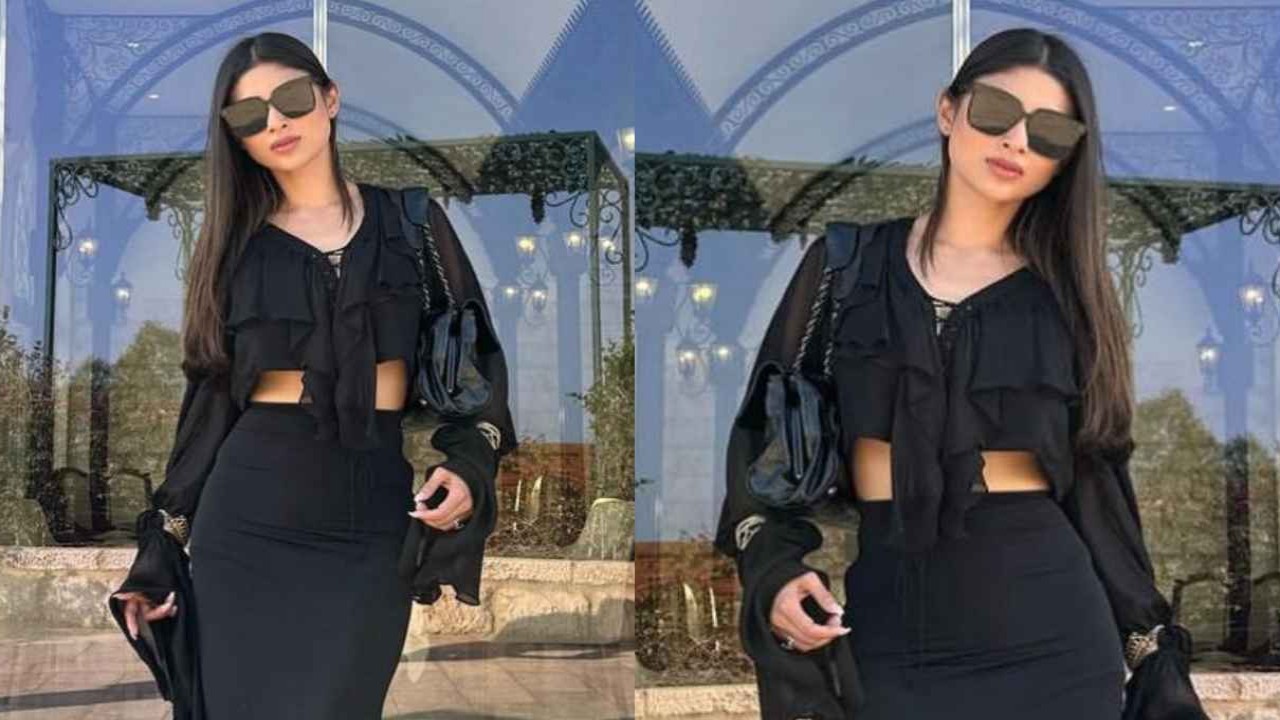 Mouni Roy's presence at the Formula 1 race in Qatar was nothing short of captivating. As she graced the event, she exuded an aura of elegance and sophistication that is characteristic of a true Bollywood diva. Her choice of attire, a stunning designer gown that perfectly blended contemporary fashion with traditional Indian aesthetics, showcased her impeccable taste and fashion-forward sensibilities. The outfit's intricate detailing and vibrant colors accentuated her natural beauty, making her a showstopper on the red carpet.
But Mouni Roy's allure goes beyond just her outer appearance. Her talent as an actress has earned her a dedicated fan following over the years. She has delivered remarkable performances in both television and film, proving her versatility as an artist. Whether it's her charismatic screen presence or her ability to effortlessly slip into diverse roles, Mouni Roy has established herself as a powerhouse performer in the competitive world of Bollywood.
What truly sets Mouni Roy apart is her ability to seamlessly blend her traditional Indian roots with modern trends. Her fusion of classic and contemporary fashion statements serves as an inspiration to many, making her a style icon for the younger generation. With each public appearance, she manages to reinvent herself, keeping her fans eagerly awaiting her next fashion statement.
Mouni Roy's all-black ensemble at the Formula 1 race in Qatar was indeed a fashion masterpiece, showcasing her impeccable sense of style and sophistication. Let's delve into the captivating allure of her outfit and accessories:
Chiffon and Stretch Skirt Set: Mouni Roy's choice of a Chiffon and Stretch skirt set was a masterstroke. The black chiffon added an element of flow and grace to her outfit, creating a sense of movement as she walked. The stretch material provided comfort while maintaining a sleek and fitted silhouette. The combination of these fabrics exemplified her fashion-forward choices.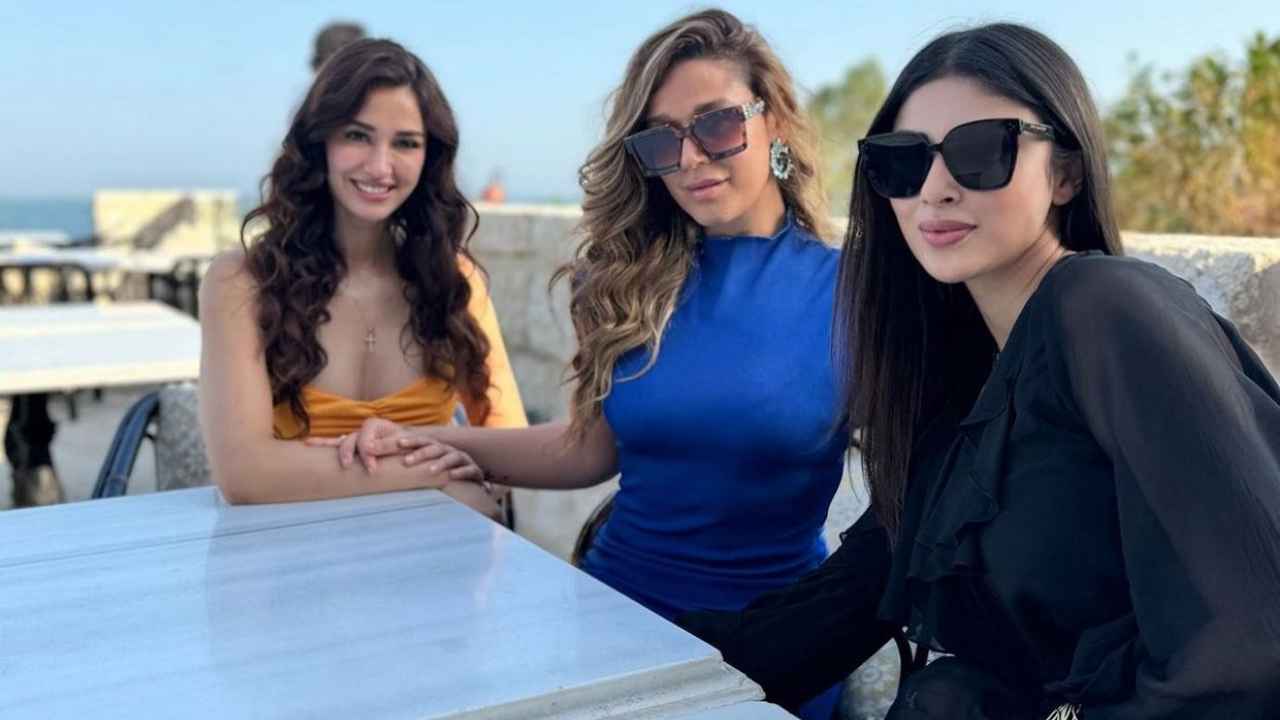 Chanel Black Leather Shoulder Bag: Mouni Roy's exquisite Chanel Black Leather shoulder bag was a statement accessory that elevated her entire look. Chanel is synonymous with luxury and sophistication, and this bag was no exception. Its classic design, featuring the iconic interlocking C logo, added a touch of timeless elegance to her ensemble. The black leather complemented her outfit perfectly and served both as a fashion accessory and a practical choice for carrying her essentials.
Minimalist Jewelry: Mouni Roy's choice of minimalist jewelry added a subtle yet striking touch to her all-black attire. She likely opted for pieces that didn't overpower her outfit but rather enhanced it. This demonstrates her keen understanding of balance and restraint in accessorizing, allowing her outfit to remain the focal point.
Hairstyle and Makeup: Mouni Roy's hair and makeup choices also contributed to the overall allure of her look. Her sleek, straight hairstyle framed her face elegantly, drawing attention to her features. Her makeup was likely well-executed, with a focus on enhancing her natural beauty and maintaining a flawless complexion, while subtle smoky eyes and a nude lip added a touch of allure.
Confidence and Attitude: Ultimately, what truly made Mouni Roy's all-black ensemble captivating was her confidence and attitude. Her poise and grace while wearing the outfit radiated self-assuredness, making her the center of attention. Her ability to carry herself with such confidence is a testament to her fashion prowess and star power.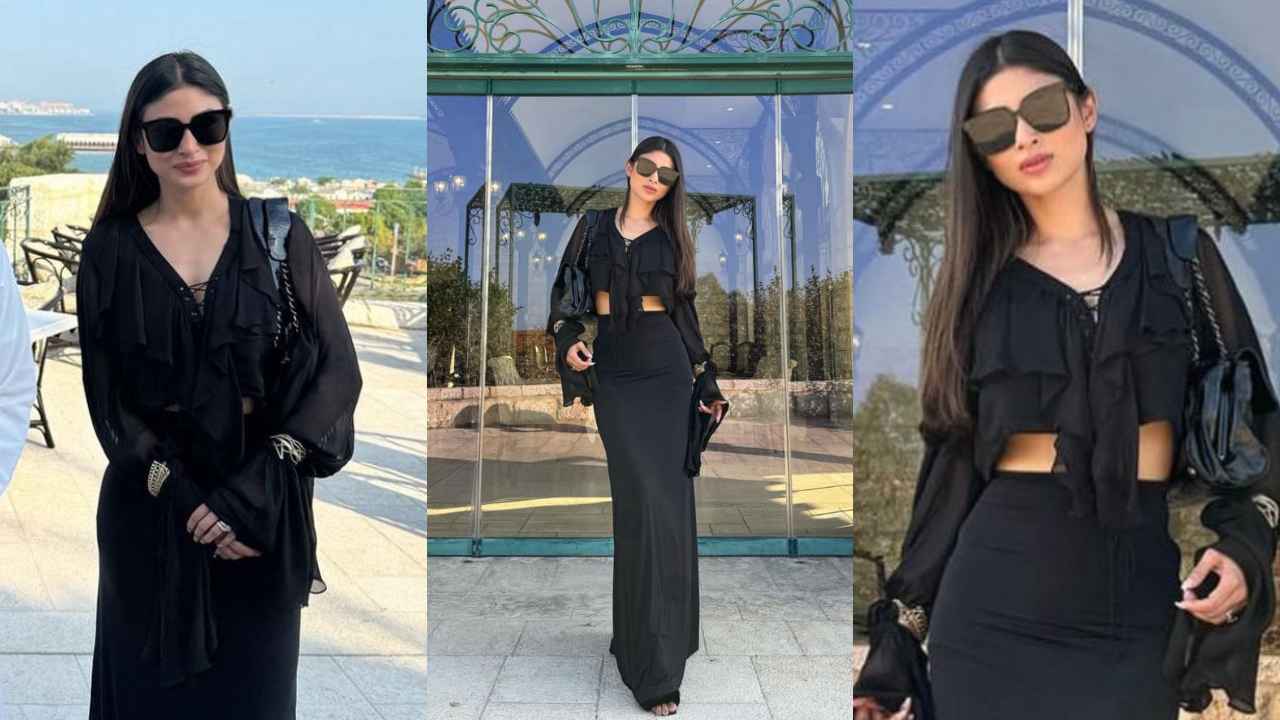 The gorgeous Mouni Roy further elevated her stunning black Chiffon and Stretch skirt set by pairing it with a fitted long, floor-length skirt. This additional layer added a sense of depth and elegance to her outfit, creating a striking silhouette that flowed beautifully as she walked. The combination of the crop top and the long, flowing skirt added a harmonious balance to her overall look, showcasing her fashion finesse.
To complete her all-black ensemble, Mouni Roy made a smart choice by opting for matching black furry heels. These heels not only provided a stylish finishing touch but also added a playful and luxurious element to her outfit. The furry texture added a touch of extravagance and glamour, making her footwear a standout feature of her overall look. It's clear that every detail of her ensemble was carefully considered, and her choice of footwear was no exception.
Mouni Roy's fashion choices, including the addition of the long skirt and the selection of the black furry heels, demonstrated her ability to curate a cohesive and eye-catching look. Her attention to detail and keen sense of style once again proved why she is celebrated as a fashion icon in the world of Bollywood. Her ensemble at the Formula 1 race in Qatar not only showcased her beauty and fashion prowess but also reflected her confidence and grace as she walked the red carpet.
Mouni Roy's fashion choices at the Formula 1 race in Qatar didn't stop with her stunning ensemble; she went a step further to add a touch of luxury and sophistication by carrying an exquisite Chanel Black Leather Diagonal CC Ligne Accordion Shoulder Bag. This accessory elevated her entire look and showcased her impeccable taste in high-end fashion.
The Chanel Black Leather Diagonal CC Ligne Accordion Shoulder Bag is a piece of luxury that exudes elegance and class. Crafted from pure leather, it boasts the unmistakable CC logo on the front, a signature trademark of the Chanel brand. This iconic logo instantly communicates style, quality, and prestige, making it a sought-after accessory among fashion enthusiasts.
The unique diagonal design of the bag, coupled with its accordion-style structure, added a distinctive touch to Mouni Roy's ensemble. It provided ample space for her essentials while maintaining a sleek and sophisticated appearance. The black leather of the bag complemented her all-black outfit perfectly, creating a seamless and harmonious look.
Carrying such a prestigious and stylish piece from a renowned fashion house like Chanel further solidified Mouni Roy's status as a fashion icon. Her choice of the Chanel Black Leather Diagonal CC Ligne Accordion Shoulder Bag not only demonstrated her appreciation for timeless and iconic pieces but also showcased her ability to effortlessly blend luxury with contemporary fashion trends. It was the perfect finishing touch to her ensemble, underlining her impeccable sense of style and making her a standout presence at the event.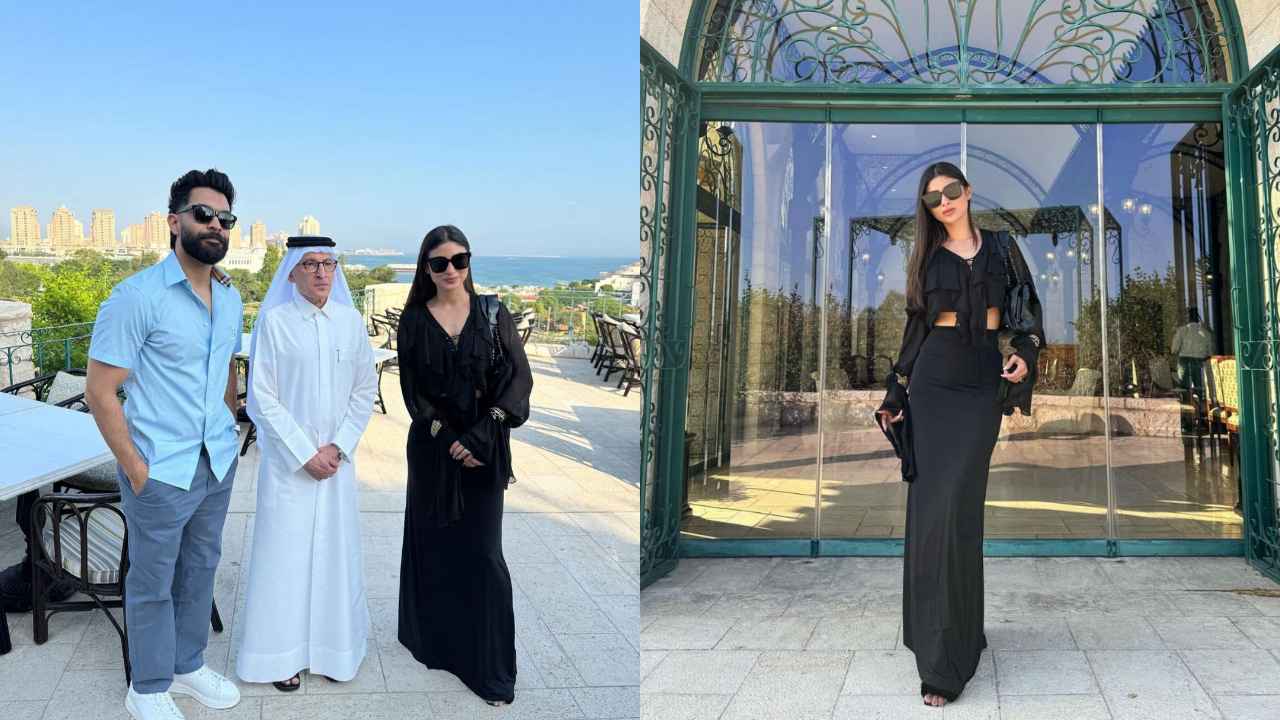 In addition to her choice of bag, Mouni Roy accessorized her all-black ensemble with multiple gold cuffs adorned with intricate designs. These cuffs added a hint of glamour and sophistication to her overall look while complementing the black and gold theme. Matching rings completed the ensemble, enhancing the cohesiveness of her accessories.
To shield her eyes from the bright sunlight, Mouni Roy opted for black dark-tinted sunglasses. These sunglasses not only added a dash of mystery and allure but also served as a practical accessory, providing protection from the sun's rays.
In summary, Mouni Roy's attention to detail when it comes to accessorizing is truly remarkable. Her choice of the Chanel Black Leather Diagonal CC Ligne Accordion Shoulder Bag, along with the gold cuffs, rings, and dark-tinted sunglasses, showcased her ability to curate a cohesive and glamorous look. Her fashion choices at the Formula 1 race in Qatar exemplify her status as a style icon and reflect her dedication to embracing both luxury and contemporary fashion trends with finesse.