Karisma Kapoor radiates regal glamor in Anita Dongre's royal anarkali kurta!
Karisma Kapoor, the ageless beauty from the iconic 90s era, continues to captivate and amaze us with her gorgeous looks. In the realm of social media, particularly on her Instagram account, she has become a purveyor of classic elegance. Each post is a testament to her timeless beauty, featuring endless lovely images that showcase her enduring style and grace.
As one of the leading actresses of her time, Karisma Kapoor has effortlessly transitioned from the big screen to becoming a fashion icon in the digital age. Her Instagram feed serves as a veritable treasure trove of fashion inspiration, where she shares glimpses of her sartorial choices, red carpet moments, and glimpses into her personal style.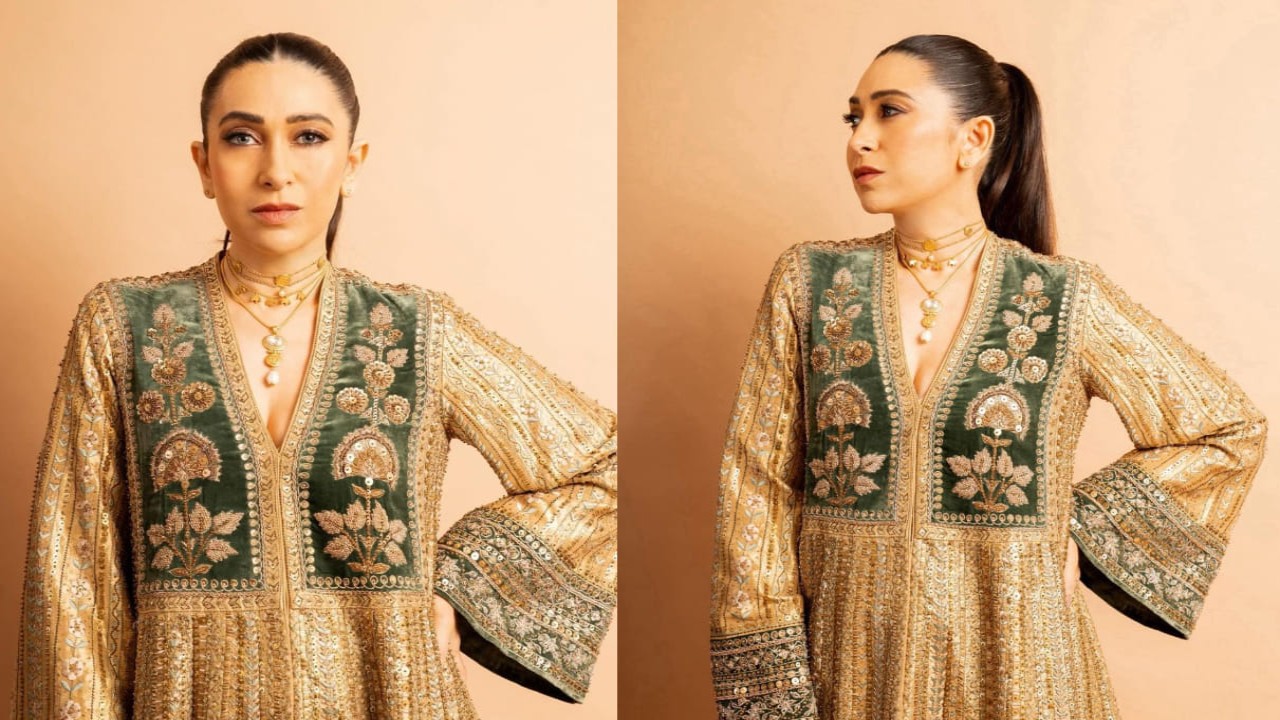 Karisma Kapoor effortlessly exudes stunning elegance in every outfit, showcasing her versatility and impeccable fashion sense. Whether she's donning an intricately designed anarkali kurta set or draped in a magnificent golden tissue saree, Karisma Kapoor continues to steal the show with her timeless style. Her recent appearance at a party organized by Sonam Kapoor to commemorate David Beckham's visit to India was no exception, further solidifying her status as a fashion icon.
The anarkali kurta set and golden tissue saree are just two examples of the diverse wardrobe that Karisma effortlessly navigates. Her fashion choices reflect a perfect blend of traditional charm and contemporary flair, making her a standout presence at any event. The ability to seamlessly transition from ethnic ensembles to glamorous sarees demonstrates Karisma's nuanced understanding of fashion, allowing her to remain relevant and captivating.
At the party hosted by Sonam Kapoor, Karisma Kapoor's excellent fashion sense took center stage, and she undoubtedly added a touch of Bollywood glamour to the star-studded event. Her wardrobe choices not only celebrate India's rich textile and design heritage but also showcase her innate ability to elevate any occasion with her sartorial grace.
The anarkali kurta, adorned with eye-catching green velvet panels, added a regal touch to the overall look. This thoughtful color contrast perfectly complemented the beautiful golden threadwork floral embroidery that adorned the entirety of the kurta. The harmonious combination of gold and green not only enhanced the richness of the ensemble but also accentuated Karisma's innate grace and poise.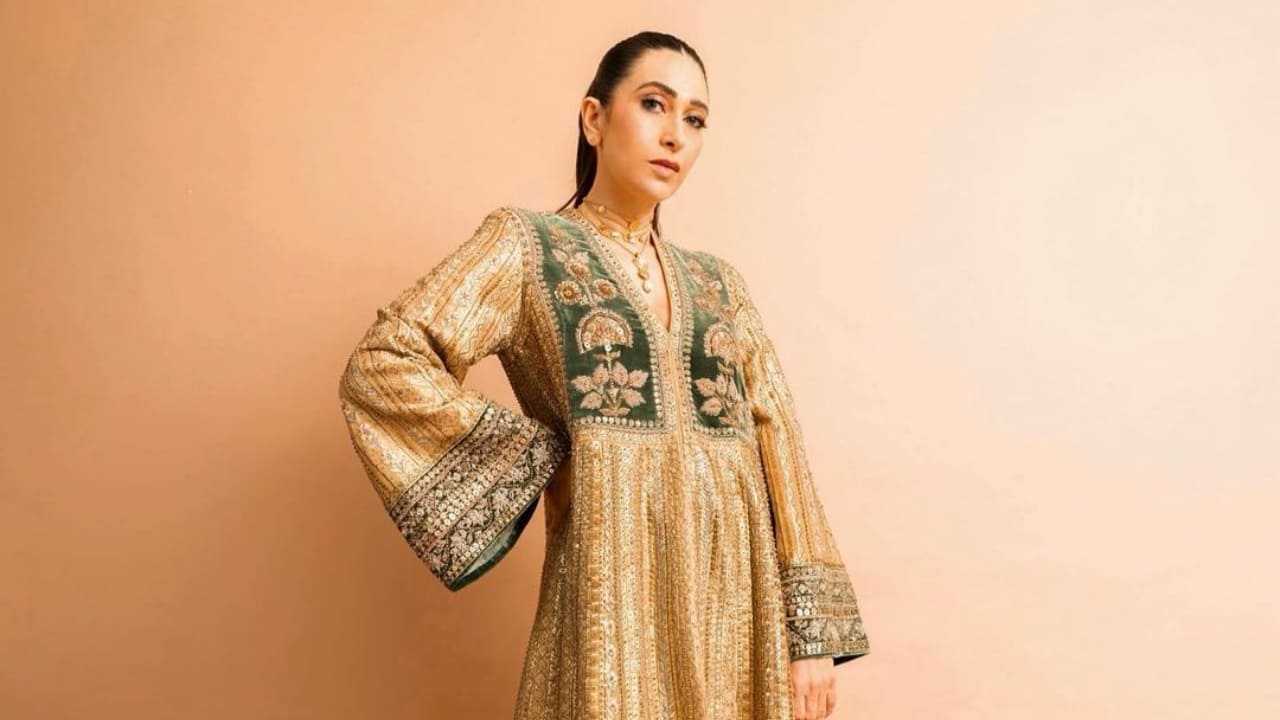 The floor-length silhouette of the anarkali kurta exuded a sense of grandeur, creating a visual impact that befit the Bollywood star's stature. The meticulous craftsmanship and attention to detail in the embroidery and velvet panels showcased Karisma Kapoor's commitment to choosing outfits that reflect both cultural richness and contemporary elegance.
Karisma Kapoor's choice of the golden anarkali kurta at the event organized by Sonam Kapoor for David Beckham's visit to India not only established her as a fashion trendsetter but also added a touch of royalty to the celebratory occasion. Stay tuned for more insights into Karisma Kapoor's timeless style and fashion moments that continue to leave a lasting impression on admirers and enthusiasts alike.
Karisma Kapoor's elegance and confidence took center stage in her attire, which boasted long sleeves and a gorgeous V-neckline. The ensemble was a creation of the renowned designer Anita Dongre, who effortlessly captured the spirit of everlasting glamour in this breathtaking outfit. The sequin-studded garment not only showcased Karisma's refined taste but also emphasized her timeless beauty and poise.
The choice of a V-neckline added a touch of sophistication to the ensemble, framing Karisma's neckline with grace and subtlety. The long sleeves contributed to the overall chic and modest aesthetic, enhancing the regal quality of the outfit. Anita Dongre's expertise in creating designs that blend tradition with contemporary elegance was evident in every detail, highlighting Karisma Kapoor's innate ability to carry off such ensembles with unparalleled charm.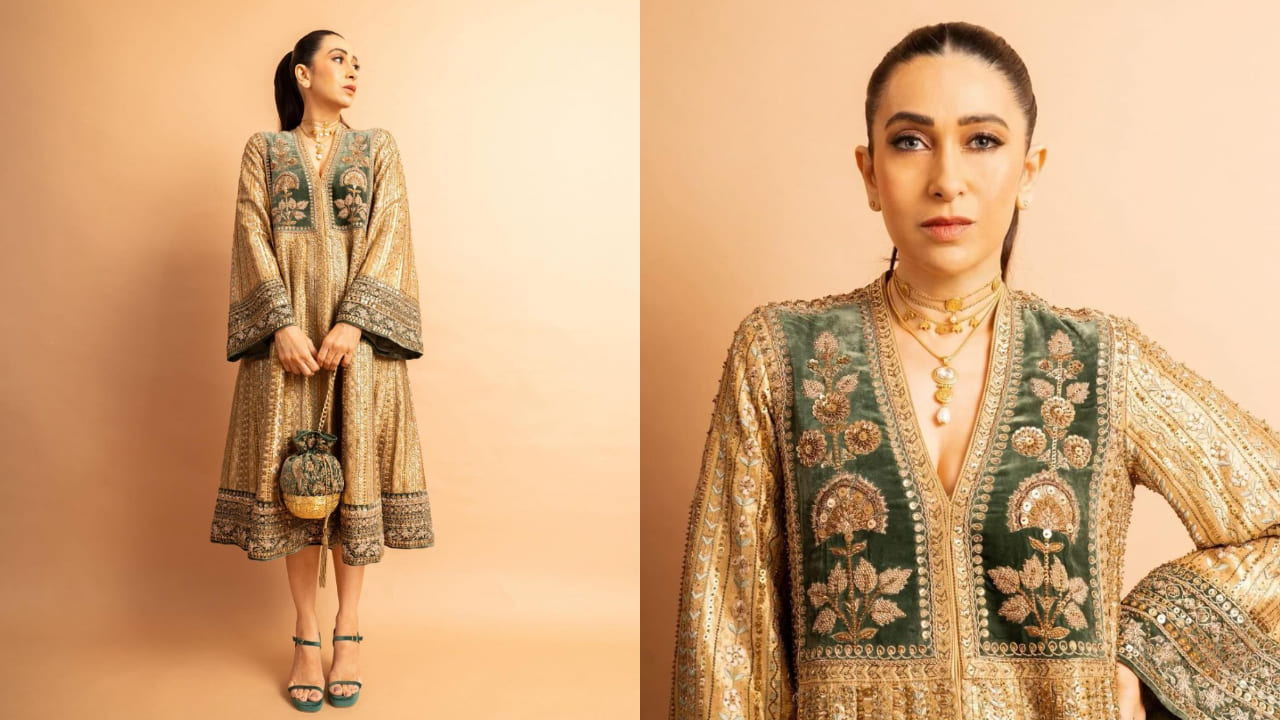 The sequin embellishments on the garment added a sparkling allure, catching the light and radiating a sense of opulence. The careful placement of these sequins, coupled with the intricate design, created a garment that not only celebrated the craftsmanship of Anita Dongre but also resonated with Karisma's personal style—timeless, glamorous, and effortlessly chic.
Karisma Kapoor's choice of this Anita Dongre creation for the event not only made a bold fashion statement but also exemplified her role as a fashion icon. Stay tuned for more insights into the style journey of Karisma Kapoor and the fashion moments that continue to define her as a symbol of grace and enduring elegance in the world of Bollywood fashion.
To add a refined aspect to the entire ensemble, Karisma Kapoor selected dark ankle-strap high heels. This footwear choice not only provided a touch of elegance but also accentuated the overall silhouette, creating a well-balanced and polished appearance. The dark hue of the heels seamlessly integrated with the color palette of the outfit, showcasing a thoughtful approach to styling.
Esha L Amin, the creative stylist behind this gorgeous ensemble, deserves special attention for her role in curating a look that resonated with Karisma's style and the occasion. The collaboration between Karisma Kapoor and Esha L Amin exemplified the seamless integration of fashion elements, resulting in a red-carpet appearance that left a lasting impact.
As we unravel the details of Karisma Kapoor's accessories and styling choices, it's evident that every element played a crucial role in defining the overall aesthetic of her look at the event. Stay tuned for more insights into the fashion and styling decisions that continue to shape Karisma Kapoor's timeless and iconic presence in the world of Bollywood fashion.
In the realm of natural beauty, Karisma Kapoor effortlessly shines, even with minimal makeup. For this particular appearance, her stunning haircut, crafted by Hrishikesh Naskar, took the form of a sleek and swept-back ponytail. This hairstyle added a sense of refinement to her entire look, emphasizing simplicity and elegance. The sleek ponytail not only showcased Karisma's facial features but also contributed to the overall polished and sophisticated aesthetic.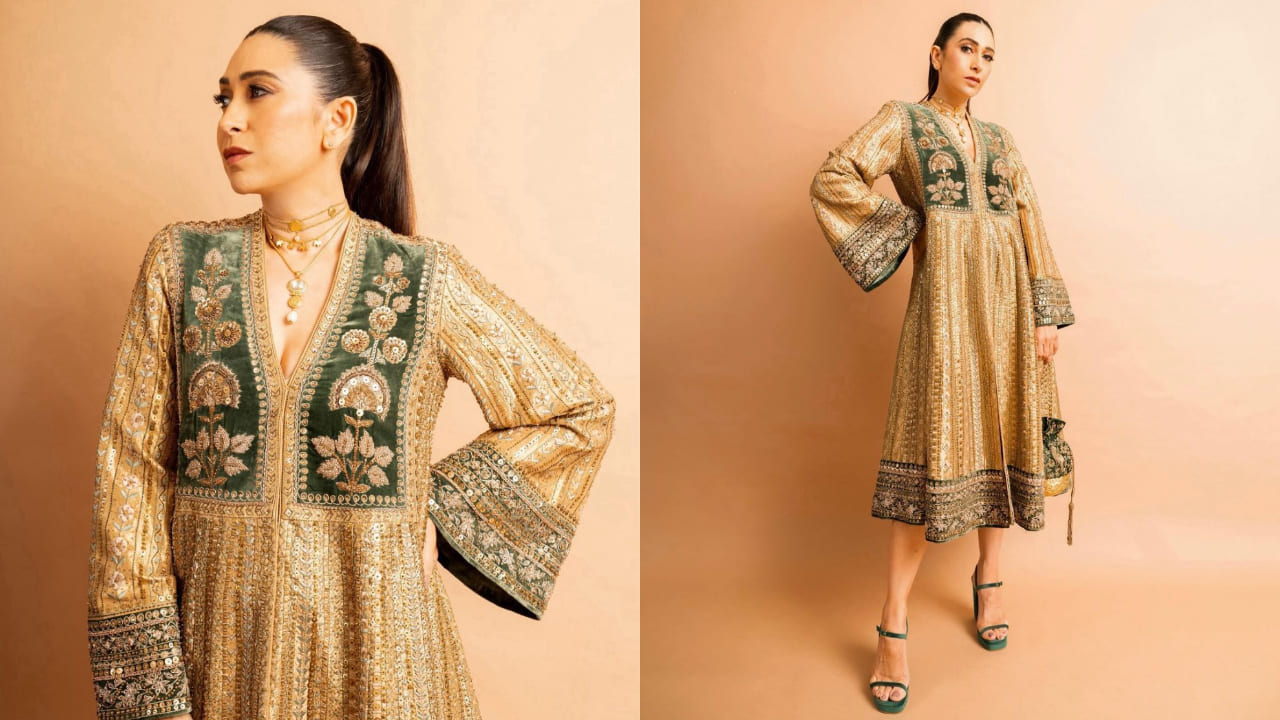 Karisma Kapoor's makeup, executed flawlessly, exemplified the less-is-more philosophy. She exhibited unparalleled elegance and confidence with softly sculpted cheekbones, enhancing her natural bone structure with a touch of subtle contouring. The small sweep of eyeliner accentuated her eyes, providing a hint of definition without overpowering the look. The choice of a bright red lipstick added a bold and classic touch, becoming the focal point of her makeup and infusing the overall appearance with timeless glamour.
The choice of a perfect complexion served as the canvas for the subtle touches of makeup, allowing her natural beauty to shine through. The delicate cosmetic choices, including softly sculpted cheekbones, a small sweep of eyeliner, and a bright red lipstick, were strategically applied to enhance rather than transform. This careful balance between enhancing features and maintaining a natural aesthetic showcased Karisma's understanding of her own beauty and the artistry behind makeup application.
Karisma Kapoor's ability to exude elegance and charm with minimal makeup is indeed astonishing. It underscores her confidence in embracing her natural beauty and the belief that simplicity can be just as impactful as elaborate makeup looks. This approach not only sets her apart as a timeless beauty icon but also inspires a shift towards celebrating individuality and authenticity in the realm of beauty and fashion.
As we celebrate the beauty choices of Karisma Kapoor, it becomes clear that her minimal makeup look is a reflection of her timeless style and unwavering confidence. Stay tuned for more insights into the beauty decisions that contribute to Karisma's enduring allure in the dynamic landscape of Bollywood fashion.