Disha Patani's latest OOTD makes for a laid back yet super sexy look for dinner date!
Disha Patani's penchant for plunging necklines continues to make a statement, as she was recently photographed during a casual outing at a local eatery. The Baaghi 2 star, accompanied by her friend Krishna Shroff, once again showcased her impeccable fashion sense. Effortlessly mastering the casual look, Disha opted for a black shirt paired with denim shorts.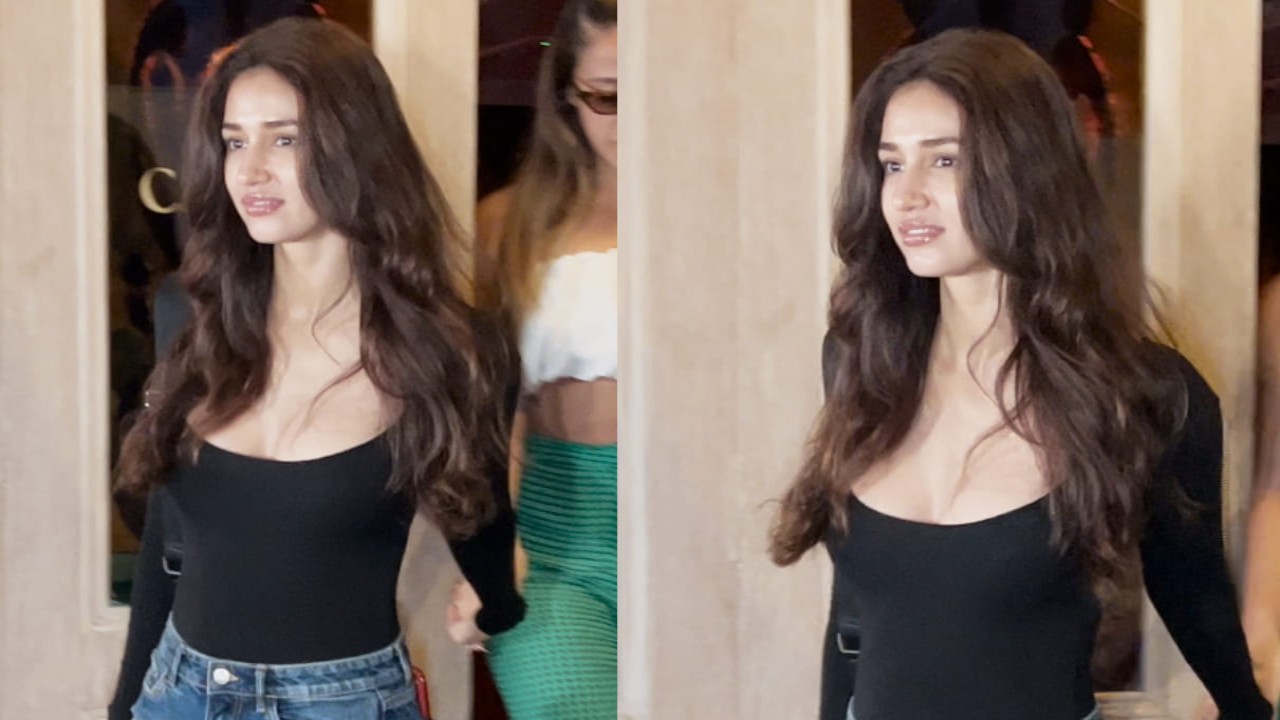 The plunging neckline, a recurring element in Disha Patani's style choices, added a touch of allure and contemporary flair to her casual ensemble. The black shirt provided a sleek and stylish foundation, while the denim shorts contributed to the laid-back and relaxed vibe of her overall look. Disha's ability to seamlessly blend comfort with fashion further solidifies her status as a style icon.
The casual yet chic appearance at the local eatery highlighted Disha's versatility when it comes to fashion. Whether gracing the red carpet or enjoying a casual day out, she consistently manages to make a fashion statement. The black shirt and denim shorts combination exuded a sense of effortless coolness, perfectly aligning with the actor's easygoing and contemporary aesthetic.
As we continue to witness Disha Patani's style evolution, her affinity for plunging necklines and her knack for effortlessly elevating casual wear into fashion statements remain key aspects of her sartorial choices. Stay tuned for more insights into the fashion journey of Disha Patani and the trends she continues to set in the ever-evolving landscape of Bollywood fashion.
Indeed, Disha Patani's impeccable fashion sense is a constant source of admiration. In a previous appearance, she wowed onlookers in a magnificent black mini dress, and this time, she opted for a stylish yet casual attire while visiting a local eatery with her friend Krishna Shroff. Disha continues to captivate with her versatility, effortlessly transitioning from glamorous looks to laid-back and chic ensembles.
The bold plunging neckline of the black top not only highlighted Disha's confident and fashion-forward approach but also contributed to the overall modern aesthetic of her ensemble. The daring neckline served as a statement piece, elevating the casual outfit and showcasing her ability to make an impact with seemingly effortless choices.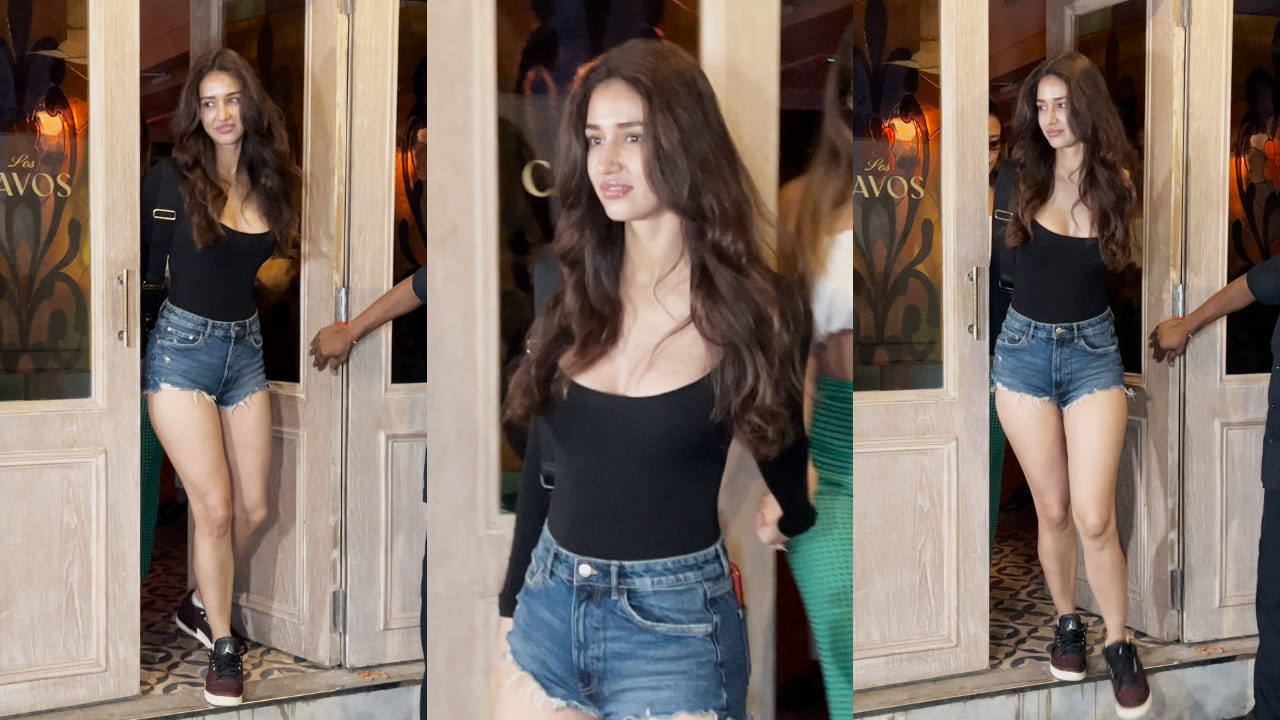 The combination of the body-fitting top and denim shorts conveyed a sense of ease and comfort, aligning with Disha Patani's laid-back yet stylish fashion sensibility. This outing once again demonstrated her knack for blending casual and chic elements, creating a look that's both approachable and attention-grabbing.
As we dissect Disha Patani's recent casual style, it's evident that her fashion choices continue to capture attention and set trends. Stay tuned for more glimpses into the evolving style of Disha Patani and the statements she makes in the dynamic landscape of Bollywood fashion.
Disha Patani's recent casual style showcased not only her daring fashion choices but also her attention to detail. The nano length shorts with a frayed hemline added a fashionable and edgy aspect to the entire design, demonstrating her ability to incorporate trendy elements into her looks. The frayed detailing brought a touch of casual chicness, contributing to the overall modern and dynamic vibe of her outfit.
The fitting long sleeves of the top not only provided a perfect contrast to the shorts but also accentuated Disha Patani's well-toned physique. Her style game was on point, and the coordination of the top's deep plunging scoop neckline with the frayed shorts created a harmonious and fashion-forward ensemble. This attention to detail and the ability to strike the right balance between different elements highlight Disha's exceptional fashion sense.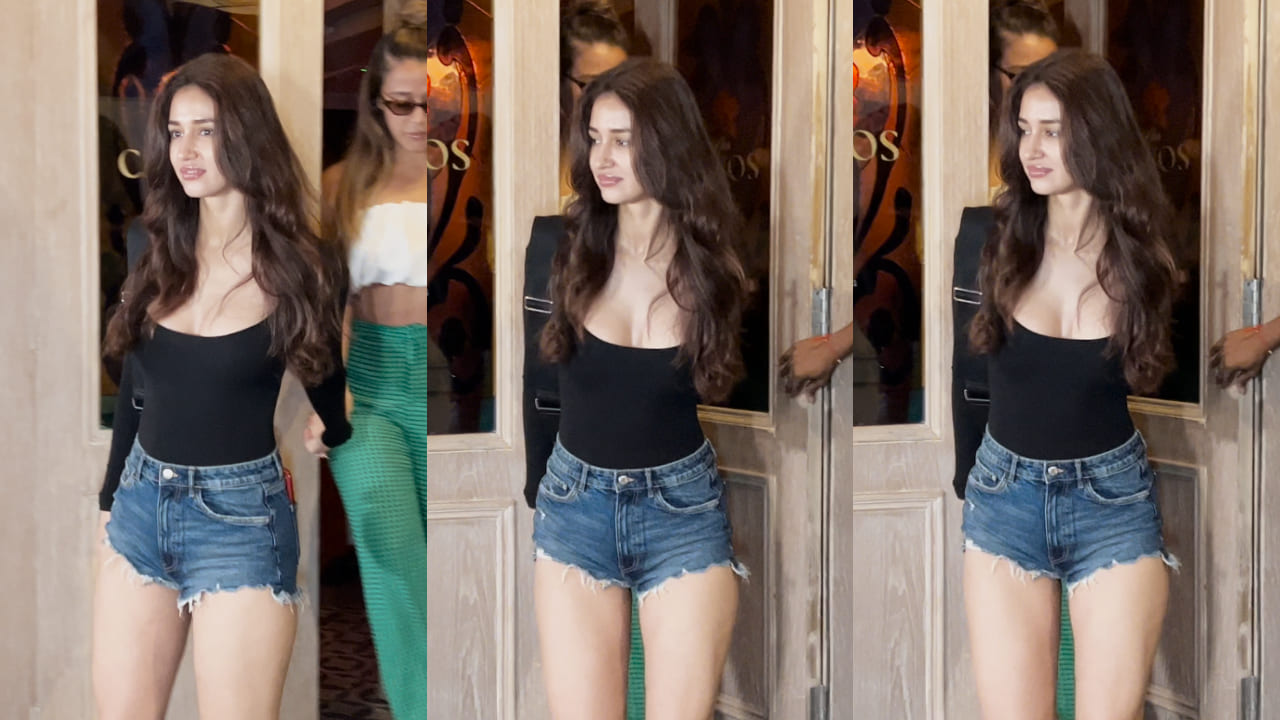 Disha Patani, known for her impactful fashion choices, consistently makes statements not only with her outfits but also with her choice of accessories. Renowned for frequently opting for costly arm candies, this time, she decided on something more practical and necessary. Disha carried her essentials in a black sling bag with wide handles, showcasing a shift towards utilitarian yet trendy accessories.
The black sling bag added a touch of functionality to her outfit, providing a convenient and stylish way to carry her items. The wide handles not only contributed to the bag's practicality but also served as a fashion-forward detail, aligning with the current trend of elevated utility in accessory design. This choice showcased Disha's ability to seamlessly blend style with practicality.
In opting for a more understated accessory, Disha Patani demonstrated versatility in her fashion choices. The black sling bag not only complemented her casual look but also served as a chic and functional addition to the overall ensemble. This selection highlighted her fashion sensibility, proving that even in choosing everyday accessories, she pays attention to both style and practicality.
As we delve into Disha Patani's accessory choices, it becomes evident that her fashion statements extend beyond clothing to include thoughtful selections in the accessory realm. Stay tuned for more insights into the evolving style of Disha Patani and the trends she continues to set in the ever-evolving landscape of Bollywood fashion.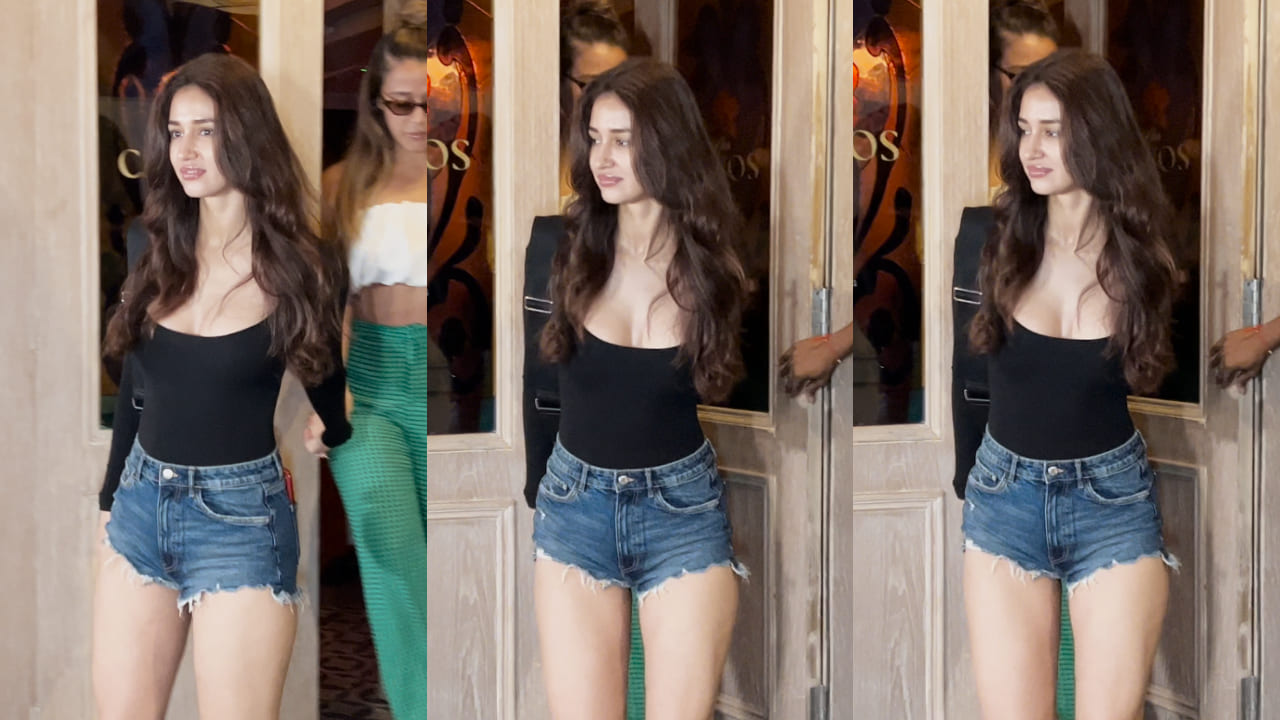 Disha Patani, the star of Bharat, maintained a basic and fresh makeup look for her evening appearance. Opting for simplicity, she chose glossy and juicy pink lips, lending a touch of lusciousness to her overall aesthetic. This makeup choice added a vibrant and playful element to her casual look, enhancing her natural beauty without overpowering the ensemble.
Keeping her hair down in a casual and flowing manner, Disha exuded laid-back charm. The smooth flow of her hair in front and behind her shoulders complemented her relaxed mindset, adding a touch of effortless elegance to her outfit. This laid-back hairdo showcased her carefree approach to styling, emphasizing that even in a casual setting, a touch of charm can elevate the entire look.
Disha Patani consistently serves as a source of casual style inspiration, effortlessly blending comfort and chicness. A notable example is her penchant for simple and basic alternatives like pairing black tees with trousers. This easy yet stylish choice offers a valuable lesson for those seeking laid-back and fashionable outfit ideas.
When it comes to casual clothing, jeans are often the go-to option for many. However, Disha Patani showcases an alternative approach by incorporating black tees with trousers into her informal outings. This departure from the conventional denim look demonstrates her versatility in casual styling and inspires others to explore different wardrobe combinations.
Disha's preference for black clothing during her casual outings is a trend that resonates with simplicity and sophistication. The timeless appeal of black, coupled with the comfort of tees and trousers, creates a winning formula for a relaxed yet stylish ensemble. This style choice reflects Disha Patani's understanding of fashion as a means of self-expression and individuality.
If you're in search of effortless casual style inspiration, Disha Patani's approach provides a blueprint for incorporating simple and basic elements into your wardrobe. Stay tuned for more glimpses into her evolving style and fashion statements that continue to shape the landscape of Bollywood fashion.