Anushka Sharma to Disha Patani: Celebs and their love for Louis Vuitton's Rs 1.88 lakh Multi-Pochette bag
In the ever-evolving world of fashion, trends ebb and flow, making it challenging for any accessory to stand the test of time. However, some pieces manage to captivate the hearts of fashion enthusiasts and celebrities alike, transcending the transitory nature of fashion. One such standout piece is the exquisite Louis Vuitton Multi-Pochette Bag. With a jaw-dropping price tag of Rs 1.88 lakh, this shoulder accessory has undoubtedly become a coveted item among the global fashion elite, capturing the attention of both Hollywood and Bollywood queens.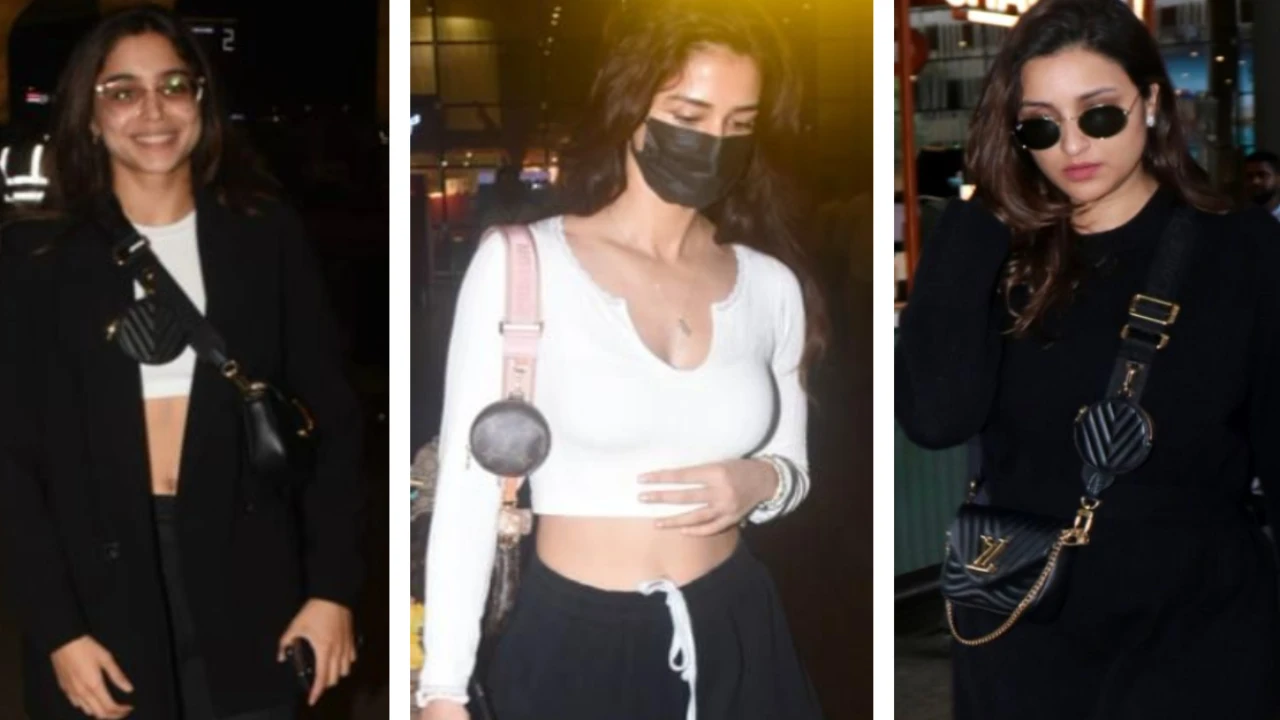 Celebrities, known for their impeccable style and discerning taste, have embraced the Louis Vuitton Multi-Pochette Bag with unwavering enthusiasm. Among these trendsetters, stars like Anushka Sharma, Sharvari Wagh, Disha Patani, and many others have been spotted donning this fashionable bag with sheer panache. Their endorsement of this accessory has catapulted it into the realm of high fashion and a must-have item for those looking to make a style statement.
The Louis Vuitton Multi-Pochette Bag is a true embodiment of luxury and style, featuring the iconic LV monogram and meticulous craftsmanship that the brand is renowned for. Its multi-pouch design allows for versatility and practicality, making it not just a fashion statement but a functional accessory as well. The blend of elegance and utility has undoubtedly contributed to its soaring popularity.
In the world of fashion, where trends may come and go, the Louis Vuitton Multi-Pochette Bag has managed to carve out a lasting place for itself. Its appeal transcends geographical boundaries, as it finds fans in both Hollywood and Bollywood, becoming a symbol of timeless luxury and style that can be carried with confidence by those who appreciate the finer things in life. This bag stands as a testament to the enduring power of well-crafted, iconic accessories in the world of fashion.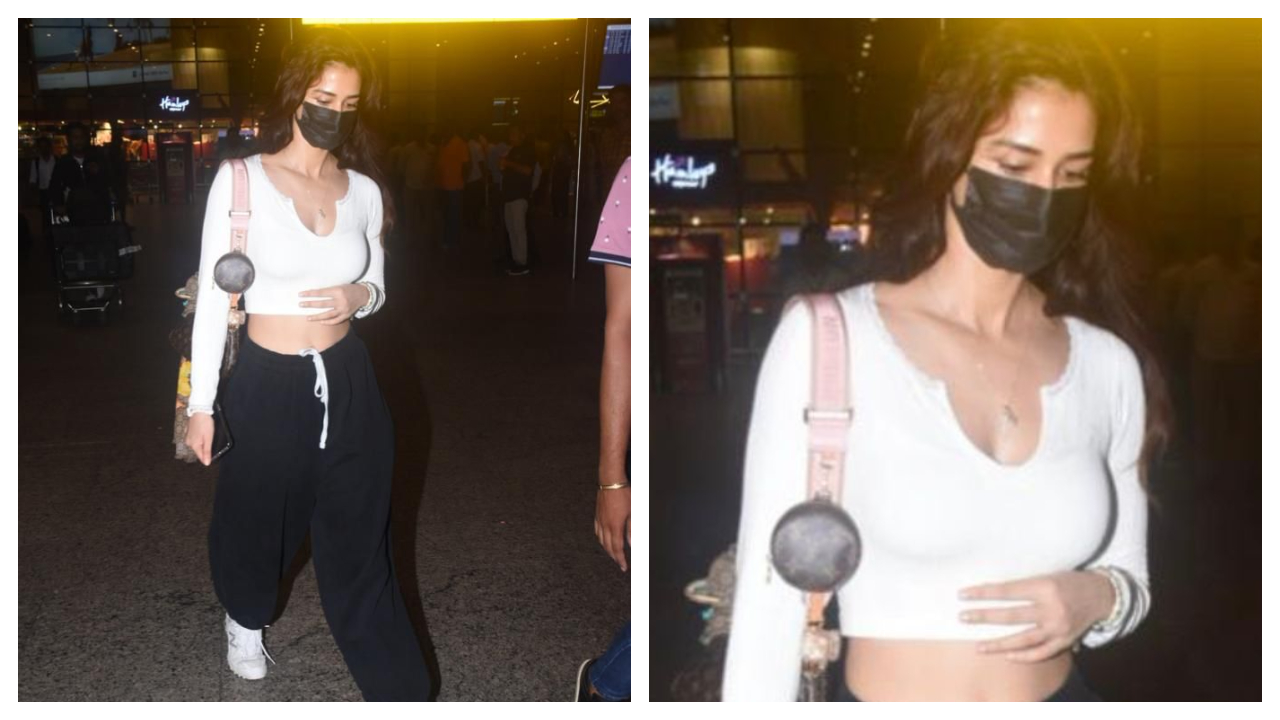 In keeping with her natural beauty, Disha Patani opted for a minimalistic, no-makeup look. This decision highlighted her radiant and flawless complexion, allowing her natural beauty to take center stage. This choice of makeup, or rather, the lack of it, was a testament to her confidence and the belief that true beauty shines from within. It's a look that showcased her authenticity and a refreshing departure from the often heavily made-up appearances seen in the world of celebrities.
Disha Patani's casual travel look, with the Louis Vuitton Multi-Pochette bag as its centerpiece, exemplifies her ability to seamlessly blend high fashion with comfort and a genuine expression of her natural beauty. Her style choices continue to inspire and set trends, making her a fashion icon in her own right.
Parineeti Chopra, the talented actress who recently made headlines with her engagement to Raghav Chadha, once again left onlookers in awe with her impeccable airport style. Returning from her trip to London, Parineeti effortlessly combined sophistication and elegance to create a stunning and memorable look that had her fans captivated.
For her airport appearance, Parineeti chose to keep it simple yet undeniably elegant by donning a classic black full-sleeved dress. The choice of black exuded timeless charm and provided her with a versatile canvas to work with. The dress was tastefully cinched at the waist with a matching belt, accentuating her silhouette and adding a touch of modern flair to the overall ensemble. Her choice of attire was a testament to her fashion sensibilities, striking the perfect balance between understated and chic.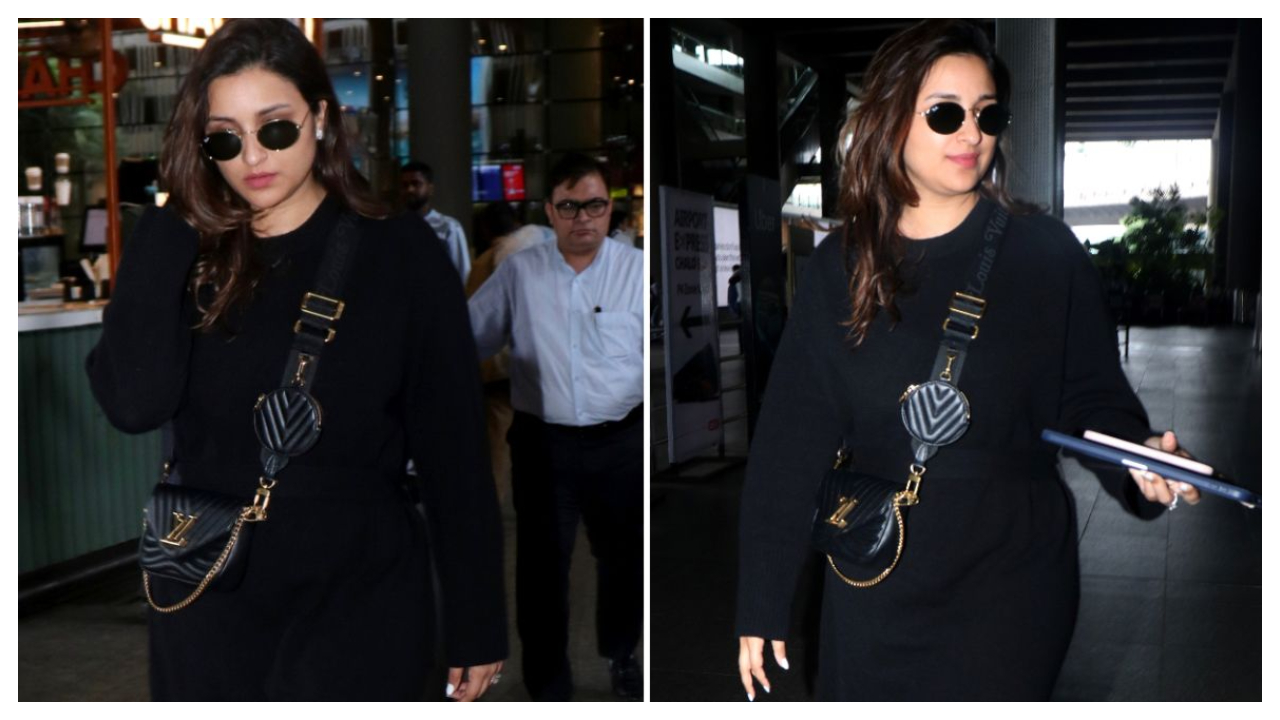 In the makeup department, Parineeti adopted a less-is-more approach, emphasizing her natural beauty. Her minimal makeup included pink lips that added a subtle pop of color and blushed cheeks that enhanced her radiant complexion. This understated makeup look allowed her true beauty to shine through and showcased her confidence in her own skin, making it evident that her allure goes far beyond any cosmetic enhancements.
Parineeti Chopra's airport look not only turned heads but also exemplified her ability to effortlessly blend simplicity and sophistication. Her fashion choices continue to resonate with her fans, and she remains an inspiration for those who appreciate the elegance of a timeless black dress and the beauty of a natural and minimalistic makeup look.
Parineeti Chopra's airport look was elevated with carefully chosen accessories that added a touch of finesse to her outfit. She adorned her attire with stud earrings, imparting a subtle yet sophisticated sparkle that complemented her understated black dress. These elegant earrings brought a touch of glamour to her overall look.
Sharvari's choice of clothing was a testament to her style, as she donned a plain white cropped tee, a timeless and versatile piece that added a touch of simplicity to her outfit. She paired it with Adidas Aricolor classics track pants, which come at a reasonable price of Rs. 3,359, combining comfort and sporty flair effortlessly. To add a touch of sophistication and structure to her look, Sharvari opted for a classic black boyfriend blazer, which not only added a chic element to her outfit but also provided some warmth and protection during her journey.
Her ensemble reached its pinnacle with the inclusion of the black Louis Vuitton New Wave Multi-Pochette, adorned with gold details. This luxury accessory brought a touch of opulence to her otherwise relaxed outfit, and its multi-pouch design offered both style and functionality for her travel needs. The choice of the Louis Vuitton bag demonstrated Sharvari's penchant for high-end fashion and her ability to seamlessly blend luxury into her everyday looks.
To complete her airport ensemble, Sharvari Wagh sported white shoes that complemented her track pants, adding a sense of unity to her look. She also added a pair of black glasses that not only served as a stylish accessory but also protected her eyes from the glare of airport lights and the sun.
What truly stood out in Sharvari's airport look was her radiant smile, serving as the ultimate highlight of her outfit. Her cheerful demeanor and confidence added a special charm to her overall appearance, emphasizing that the key to effortless chicness in travel fashion lies in feeling good in what you wear.
Sharvari Wagh's airport outfit masterfully blended comfort, style, and luxury, setting a high standard for casual yet fashionable travel fashion. Her fashion choices continue to inspire and establish her as a trendsetter in the world of airport style.
Alaya F, known for her effortless and sporty style, continued to set the bar high as she attended dance classes at her Andheri studio in Mumbai. Her choice of attire beautifully embodied her signature look, which effortlessly combines casual comfort and athletic flair.
For her dance class, Alaya paired a black sports bra with a cropped muscle t-shirt, creating a sporty yet fashionable ensemble. The combination of these two pieces not only provided comfort but also allowed for freedom of movement, essential for any dance class. Her choice of a sleek ponytail further emphasized her focus on practicality and functionality while maintaining a chic appearance.
The combination of comfort and high-end fashion in Alaya F's ensemble perfectly embodied her athletic aesthetic and left an indelible impression. Her fashion choices continue to inspire, making her a trendsetter in the world of sporty, casual, yet luxurious style. This look highlights the versatility and adaptability of fashion to suit various lifestyles and occasions.