Deepika Padukone to Katrina Kaif: Celebrity-approved unique saree inspiration for Karva Chauth 2023
Karva Chauth, a day marked by the radiant moon, twinkling stars, and heartfelt fast, is a significant occasion for married Indian women. On this day, they celebrate their love, devotion, and the eternal bond of matrimony. It's a beautiful blend of tradition and style, where every woman's inner diva meets her timeless roots. As the date of this beloved festival approaches, one of the most pressing questions on everyone's mind is, "What to wear?" Fortunately, we have some celebrity-approved answers to help you navigate your fashion dilemma for this special day.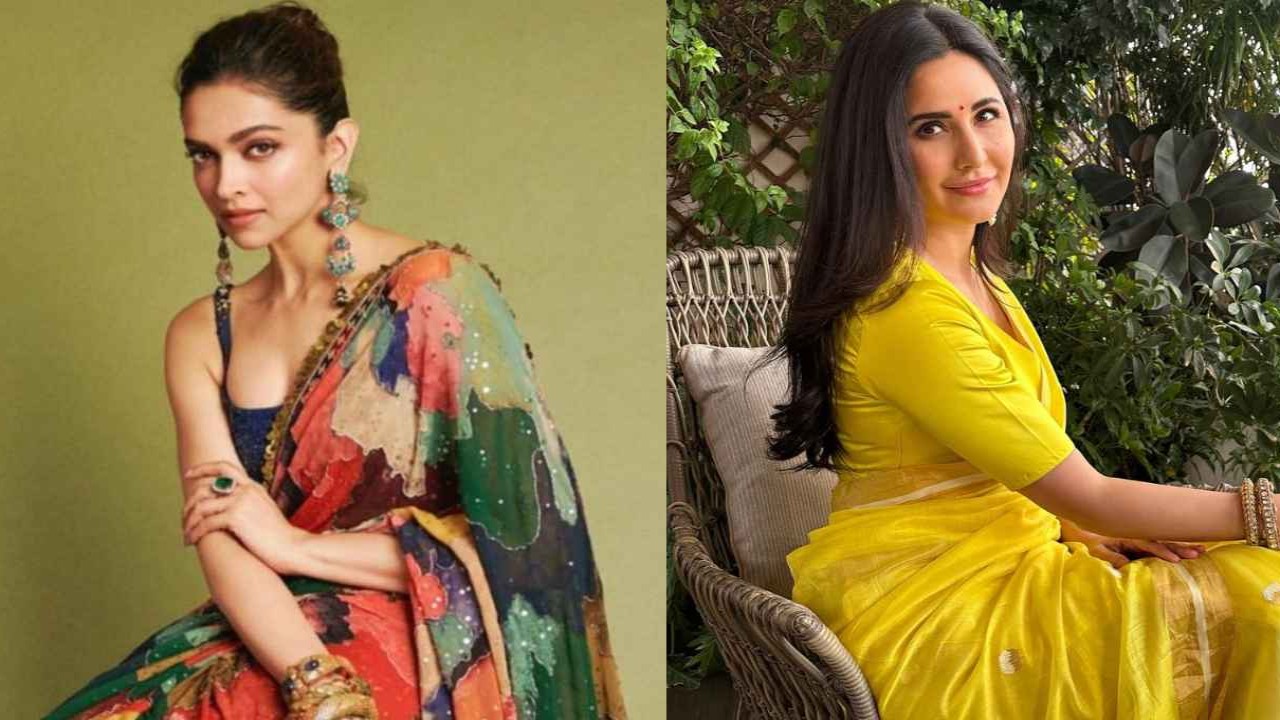 Celebrity fashion often sets the tone for festive occasions, and Karva Chauth is no exception. Bollywood stars and leading ladies provide inspiration with their stunning outfits and impeccable style choices. Whether it's a classic saree, an elegant Anarkali suit, or a contemporary fusion ensemble, these celebrities showcase a wide range of options that can help you decide on the perfect attire for your Karva Chauth celebrations.
The key is to strike a balance between tradition and personal style. While traditional red or bright-colored outfits symbolize the essence of Karva Chauth, you can add your own flair by selecting outfits that resonate with your fashion sensibilities. Remember, the goal is to feel confident, beautiful, and comfortable as you celebrate this special day with your partner. So, take cues from your favorite celebrities, mix tradition with style, and make Karva Chauth a fashion statement that reflects your unique taste and celebrates the enduring love you share with your spouse.
Ananya Panday, known for redefining grace in the world of fashion, has once again left a lasting impression. Her choice of a floral saree is a whimsical embrace of contemporary and tradition, showcasing her impeccable style and fashion sensibility. The talented diva looks nothing short of ethereal in this unique outfit, proving that she's a trendsetter in every sense.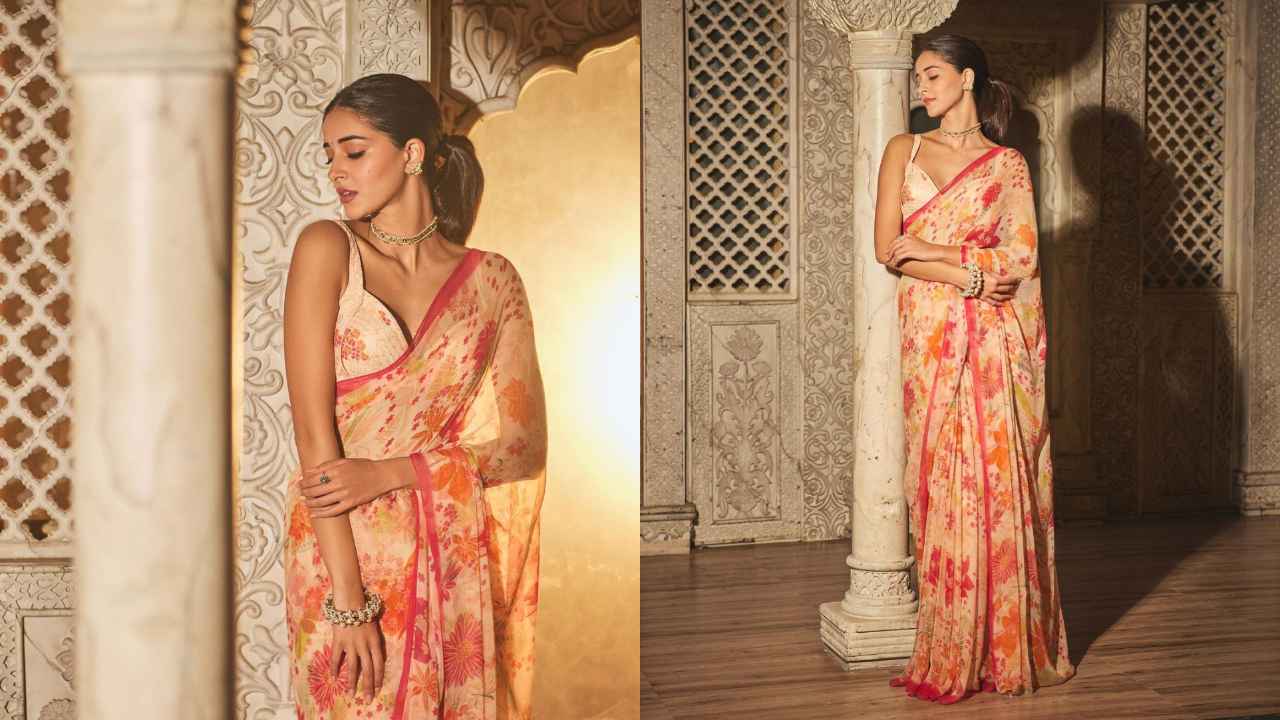 The floral saree is a perfect example of how one can effortlessly blend the old with the new. It pays homage to tradition while embracing modern elegance. The choice of a saree, a classic symbol of Indian culture, with a contemporary twist like floral patterns, reflects Ananya's ability to connect with both her roots and the evolving fashion trends. It's a fashion statement that speaks to those who appreciate the beauty of tradition while seeking a touch of modernity in their attire.
Ananya Panday's ensemble serves as an inspiration for those who wish to make a bold and graceful statement with their fashion choices. It's a reminder that fashion is a means of self-expression, and with the right blend of elements, one can create a look that's both timeless and contemporary, just like the talented actress herself.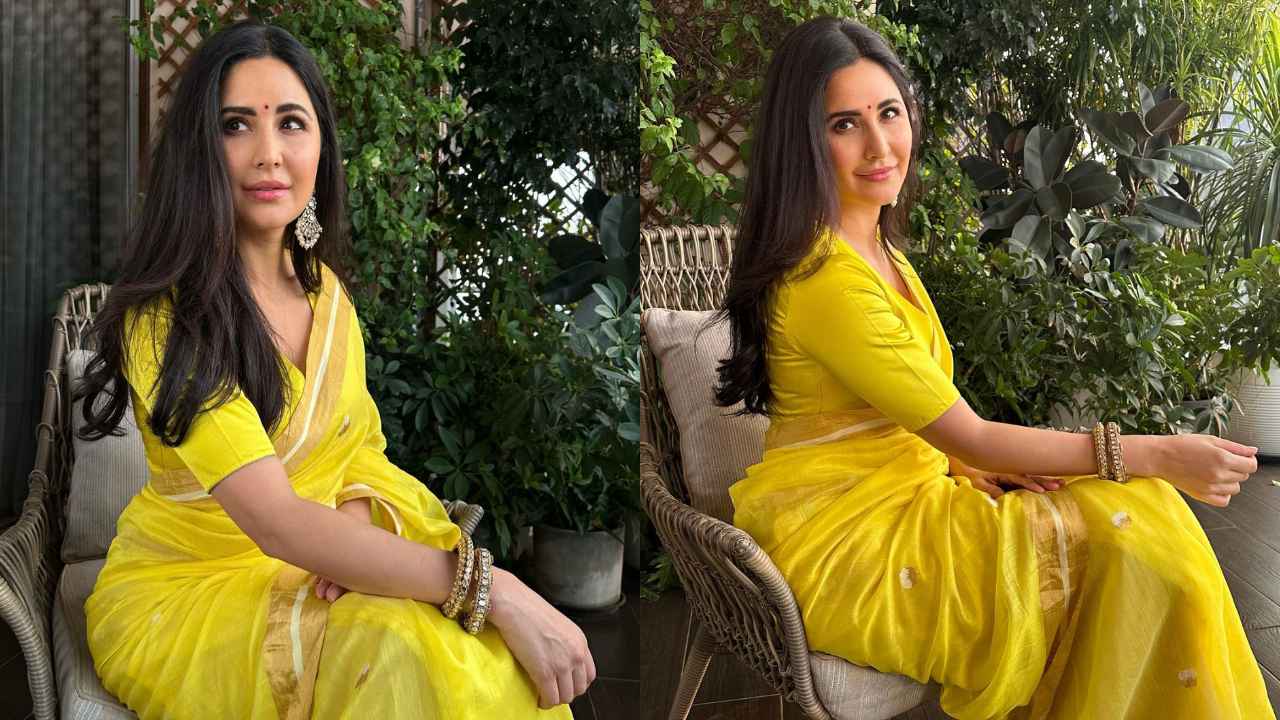 Katrina Kaif's choice of a vibrant yellow saree for Karva Chauth is not only a fashion statement but also a reflection of the warmth and love that defines this special occasion. The vibrant hue of her saree symbolizes the promise of a bright and prosperous future, capturing the very essence of Karva Chauth. It's a color that exudes positivity and optimism, making it the perfect choice for this auspicious day.
The classy actress's saree serves as an inspiration for those who want to encapsulate the festival's true spirit with a splash of sunshine. Yellow is often associated with happiness and positive energy, and Katrina's look radiates just that. Her choice of attire is a ray of hope and happiness, which is perfectly aligned with the sentiments and traditions of Karva Chauth. It's a reminder that fashion can be a powerful way to express the joy and optimism that this beautiful festival embodies.
In her vibrant yellow saree, Katrina Kaif not only makes a style statement but also encapsulates the very essence of Karva Chauth. Her outfit is a symbol of the bright future and the love shared in married life, making it a truly heartwarming choice for this auspicious occasion.
Alia Bhatt's pink saree is a beautiful manifestation of charm and grace, reflecting her impeccable sense of style and fashion. The soft and delicate hues of pink chosen by the talented actress symbolize love and care, just like the deep bonds celebrated on Karva Chauth. Her choice of attire is perfect for those who wish to look effortlessly elegant while staying true to the traditions of this cherished festival.
Pink is a color associated with affection, tenderness, and femininity, making it a fitting choice for a day that celebrates the strong bonds between married couples. Alia Bhatt's saree embodies these sentiments and beautifully captures the spirit of Karva Chauth. Her ensemble is not just a fashion statement but a heartfelt nod to the love and commitment that are central to the celebration of this special day.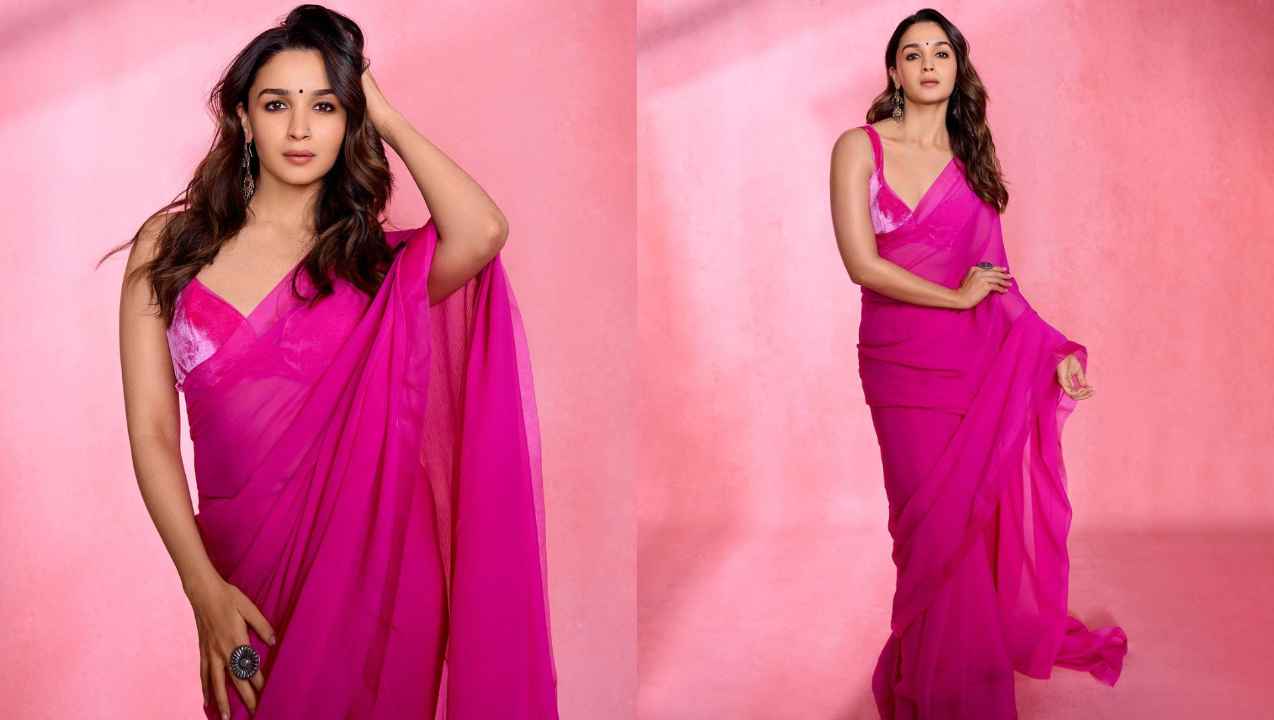 The talented diva's choice of a pink saree serves as an inspiration for those who seek a harmonious blend of tradition and modern elegance. It's a reminder that one can pay homage to their cultural roots while looking effortlessly graceful and stylish. Alia Bhatt's outfit perfectly encapsulates the essence of Karva Chauth, making it a memorable and heartwarming choice for the occasion.
Tamannaah Bhatia's choice of a golden regal drape for Karva Chauth is a beautiful homage to the deep-rooted traditions of this cherished festival. The opulence and grandeur of her saree exude a royal elegance that every woman aspires to on this special day. It's an ideal pick for those who want to feel like queens with a sultry twist during the Karva Chauth celebration.
The golden hue of her saree symbolizes prosperity and wealth, which are often sought after in a happy married life. Tamannaah's outfit perfectly captures the regal spirit of the occasion and embodies the idea of celebrating love and abundance. It's a nod to the grandeur of Indian culture and traditions, and it's a testament to the timelessness of the saree as an iconic piece of Indian fashion.
Tamannaah Bhatia's choice of a golden regal drape inspires those who wish to infuse their Karva Chauth celebrations with a touch of grandeur and timeless elegance. Her outfit is a statement of luxury, making every woman feel like a queen on this special day while embracing the festival's deep-rooted traditions with a sultry and modern twist. It's a stunning and majestic choice that truly captures the essence of Karva Chauth.
Janhvi Kapoor's choice of a gold and royal glam saree is a nod to opulence and grandeur. The dazzling gold hue she selected sets the tone for a day of celebration and symbolizes prosperity and abundance, which are central themes of Karva Chauth. The rich and intricate design of her saree embodies the grand traditions associated with this beloved festival, making it a truly regal choice.
The talented actress's choice of attire is perfect for those who want to make a grand statement on this auspicious day. The gold saree is a showstopper and an eye-catching ensemble that turns heads and exudes a sense of grandeur. It perfectly captures the spirit of Karva Chauth, a day of festivity, love, and celebrating the bond between spouses.
Janhvi Kapoor's gold and royal glam saree is an inspiration for those who wish to embrace the grand traditions of Karva Chauth while making a bold and glamorous fashion statement. It's a choice that embodies the opulence of this special occasion and makes every woman feel like royalty, adding a touch of glitz and sophistication to the festivities.