Kriti Sanon's Anjul Bhandari Sharara Set: A Power-Packed Guide to Embrace Desi Chic Elegance this Summer!
Kriti Sanon's recent look for the promotions of "Adipurush" has introduced a new level of chic that we can all take inspiration from. As we analyze this stylish ensemble, we've formulated a couple of plans on where and how often to wear it. The outfit is designed with a pattern that seamlessly blends functionality with its popularity, making it a versatile addition to our wardrobes. And if we're seeking proof of its versatility, we can point to how Sanon wore it as her travel outfit, further validating its adaptability.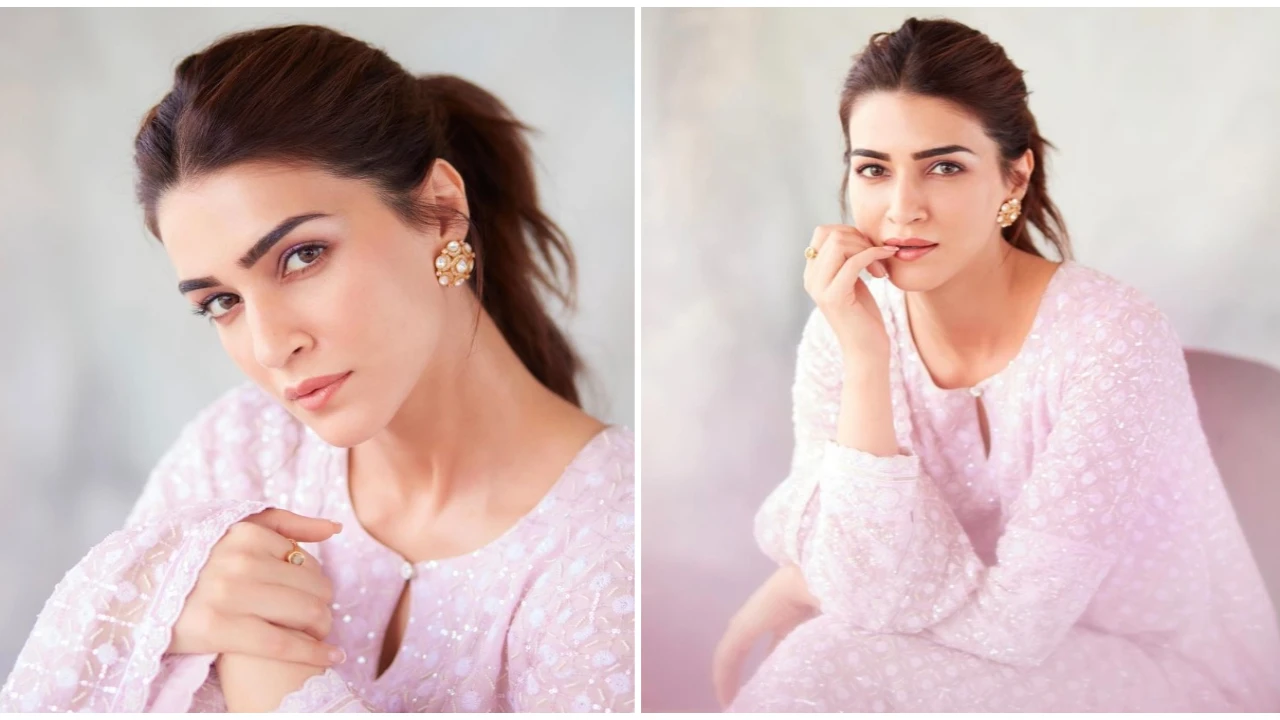 The truth is, this ensemble exudes a sense of confidence and style that we've come to expect from Kriti Sanon. It's no surprise that she effortlessly embraced this outfit for the promotions of "Adipurush," showcasing her ability to strike a balance between trendiness and practicality.
The functionality of this ensemble is a key aspect of its appeal. It's designed to be versatile enough to suit various occasions, and its popularity is punctuated by its ability to effortlessly transition from one setting to another. Whether it's for formal promotions or a comfortable travel outfit, this ensemble proves its worth in terms of both style and adaptability.
Kriti Sanon's choice to wear this ensemble as her travel outfit emphasizes its comfortable and easy-to-wear nature. It's a reminder that chic fashion doesn't have to come at the cost of comfort. This look serves as an inspiration for all of us to embrace outfits that are both fashionable and functional, ensuring that we feel confident and at ease in any situation.
Kriti Sanon's recent look is an embodiment of love captured in a frame, especially when adorned in a traditional desi outfit. With this captivating ensemble, we invite you once again into its captivating world. Styled by Sukriti Grover, Kriti donned a stunning three-piece set crafted by Anjul Bhandari. This lavender attire featured intricate details that exuded a sense of elegance and grace.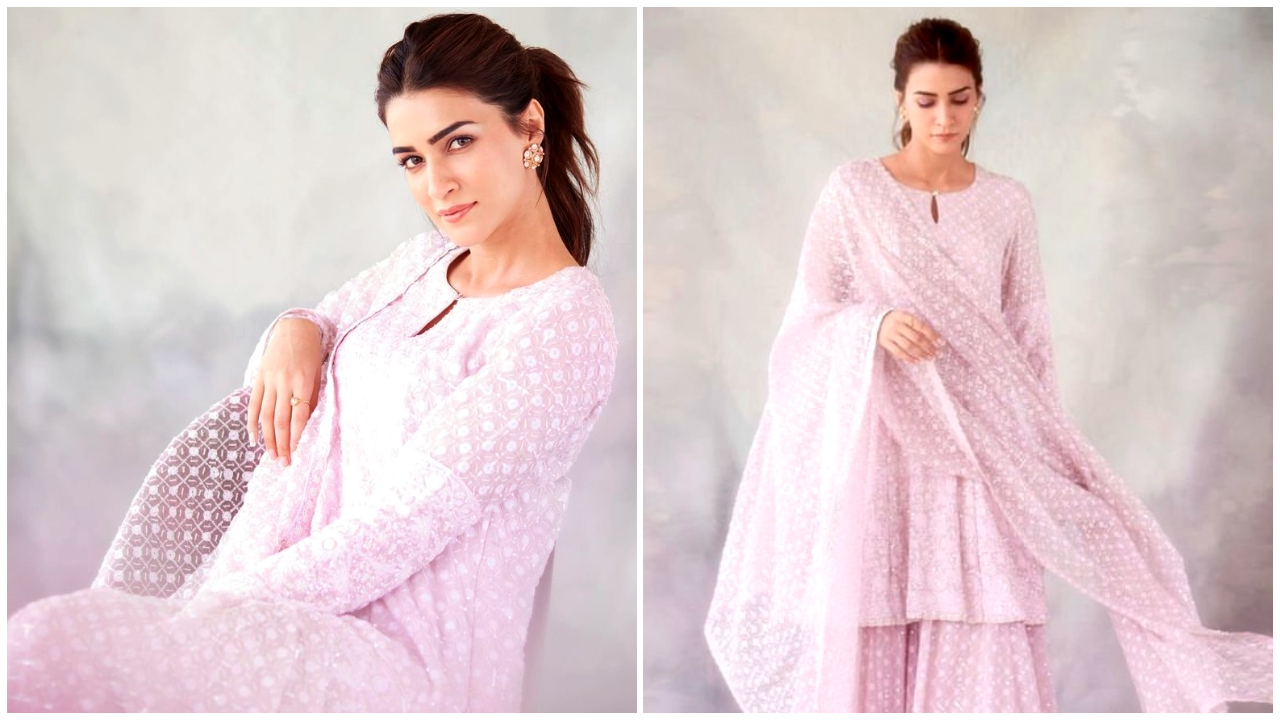 The ensemble comprised a Kalidaar kurta adorned with delicate Keel and Jaalidar border designs, accentuated by intricate sequin work. The kurta, featuring a close-neck and long sleeves, flowed gracefully with a knee-length hem, lending a touch of sophistication to the overall look. Complementing the kurta was a pair of wide-leg sharara pants, adding a contemporary twist to the traditional silhouette. A matching dupatta completed the ensemble, draping elegantly and enhancing the outfit's visual appeal.
Kriti Sanon's choice of this Anjul Bhandari creation demonstrates her appreciation for the intricate craftsmanship and timeless beauty of traditional Indian attire. The lavender hue adds a refreshing and ethereal touch to the ensemble, making it a delightful choice for various occasions.
Sukriti Grover's styling prowess shines through in the way she curated this ensemble, ensuring that each element seamlessly blends with the others. The close attention to detail, from the intricate border work to the choice of wide-leg sharara pants, showcases a thoughtful approach to creating a harmonious and eye-catching look.
Kriti Sanon's portrayal of elegance and grace in this traditional desi outfit serves as a source of inspiration for embracing cultural attires with a modern twist. The ensemble's versatility makes it suitable for festive occasions, weddings, and celebrations where you want to make a stylish statement while paying homage to traditional aesthetics.
Kriti's stunning ensemble was impeccably accessorized, adding the perfect finishing touches to her look. She opted for juttis from Needledust, enhancing the traditional charm of her outfit. The choice of juttis not only complemented the ensemble's aesthetic but also added a touch of comfort and ease to her overall appearance.
Her jewelry from Ishaara further elevated the elegance of her look. The ring and circular earrings she wore exuded a classic and timeless appeal. These accessories were thoughtfully chosen to harmonize with outfits that feature gold detailing, demonstrating the versatility of her accessories.
In terms of makeup, Kriti's look was a well-balanced combination of sheen and matte elements. Her lipstick, eyeshadow, and foundation worked together to create a flawless complexion while adding a subtle sheen to her features. This makeup approach added a touch of radiance to her overall look without overpowering the natural beauty of her features.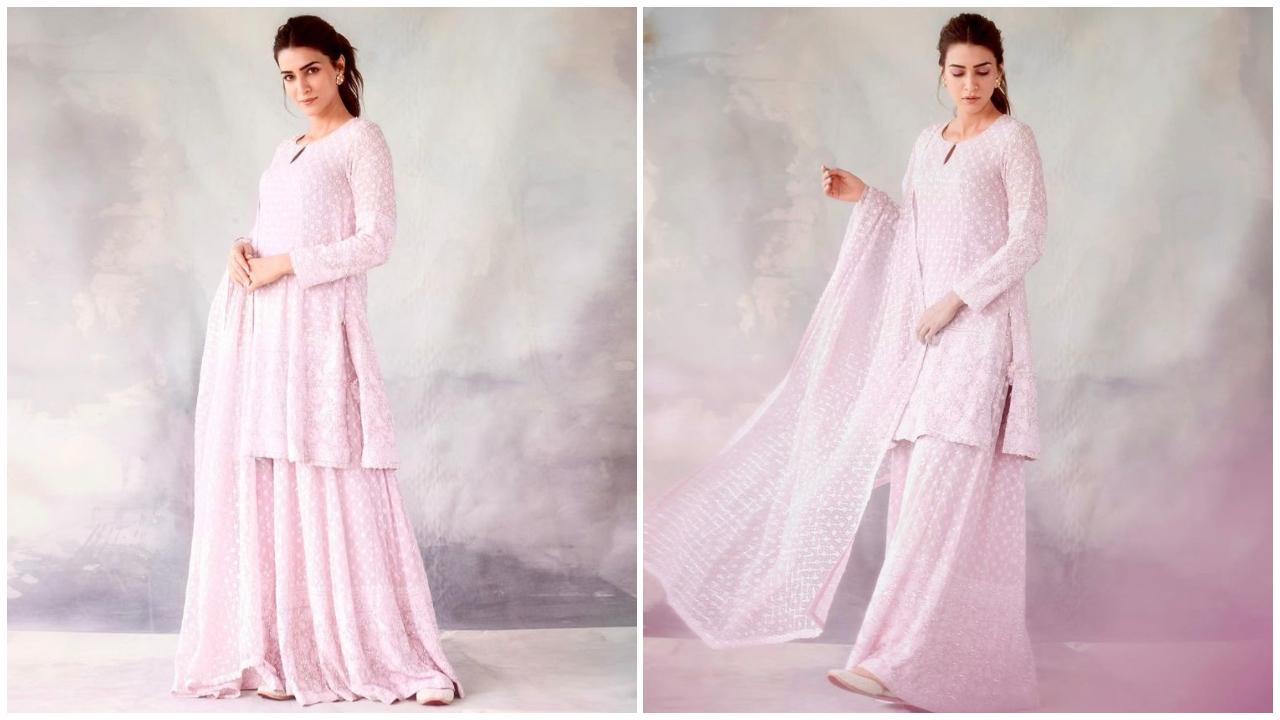 Her hair, tied into a ponytail, offered a neat and polished hairstyle that allowed the attention to be directed towards her outfit and accessories. The simplicity of the ponytail complemented the intricacy of the outfit, creating a harmonious balance between the two.
Kriti's attention to detail, from the choice of accessories to the makeup and hairstyle, showcases her impeccable sense of style. The result is a look that seamlessly combines traditional elegance with contemporary elements, making her a true fashion inspiration for those looking to embrace cultural attire while adding their personal flair.
Pastel colors are a perennial favorite during summer for a good reason. Shades like mint green, candy pink, sky blue, and peach exude a refreshing and soothing vibe that perfectly matches the season. These soft hues not only look flattering on various skin tones but also evoke a sense of coolness and serenity, making them ideal choices for warmer weather.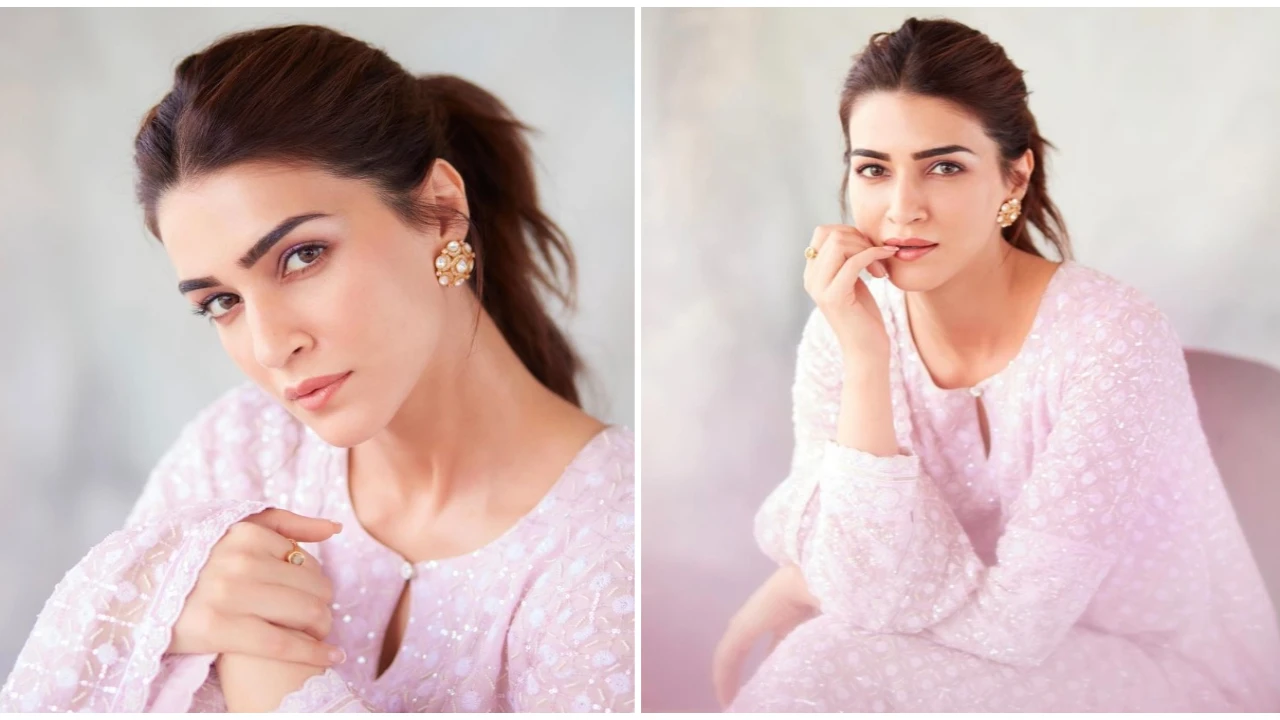 It's clear that the outfits adorned by celebrities like Kriti Sanon, Parineeti Chopra, and others reflect these fashion principles. Their choices of breathable fabrics, pastel colors, and comfortable yet chic ensembles embody the essence of summer style. By incorporating these elements into our own wardrobes, we can stay fashionable and comfortable while embracing the beauty of the season.