Sunny Leone's show-stopping lilac gown is a true masterclass of elegance and glamour!
In the glittering world of film festivals and red-carpet events, where style often vies for the spotlight, one name that consistently radiates elegance and glamour is Sunny Leone. The classy diva is known for her impeccable style and fashion sense, which has us obsessed beyond comparison.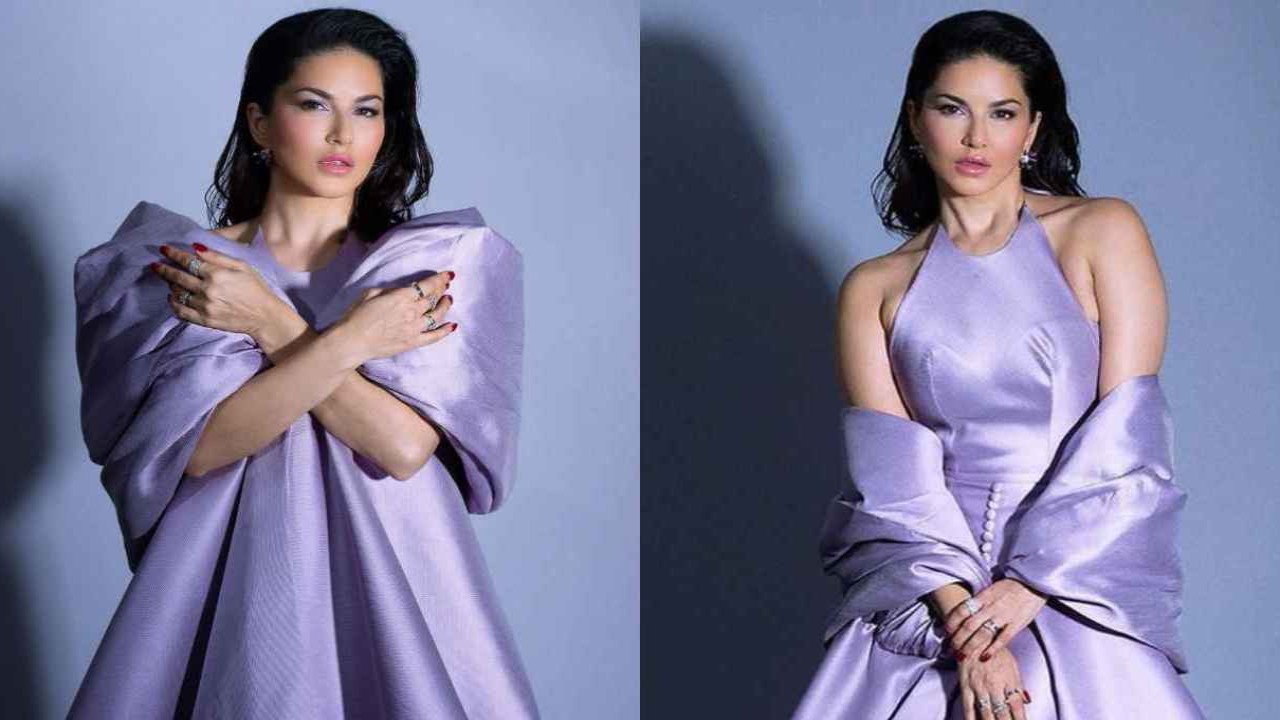 Sunny Leone, a multi-talented actress, has a unique ability to captivate the hearts of both fans and fashion enthusiasts. Her presence at the Jio MAMI Mumbai Film Festival was nothing short of a fashion spectacle. She graced the event with a look that can only be described as a fashion masterpiece, leaving a trail of awe in her wake.
Sunny Leone's choice of attire, a lilac gown, redefined sophistication and beauty on that glamorous evening. The gown accentuated her figure and oozed an aura of grace and charm. Its color, a soft and enchanting lilac, perfectly complemented her radiant personality, making her the center of attention. The gown was a testament to her fashion prowess and her knack for choosing outfits that make a statement.
The ensemble was not just about the dress; it was a perfect amalgamation of meticulous design and her innate sense of style. Sunny Leone's choice of accessories and her hairstyling added an extra layer of sophistication, further cementing her status as a fashion icon. She effortlessly demonstrated how to marry elegance and contemporary fashion, leaving everyone in awe of her sartorial choices.
In a world where style often competes for the spotlight, Sunny Leone's appearance at the Jio MAMI Mumbai Film Festival was a reminder that true glamour is timeless and transcends trends. Her lilac gown was more than just an outfit; it was a symbol of her enduring presence and influence in the world of fashion and entertainment, solidifying her place as an iconic diva.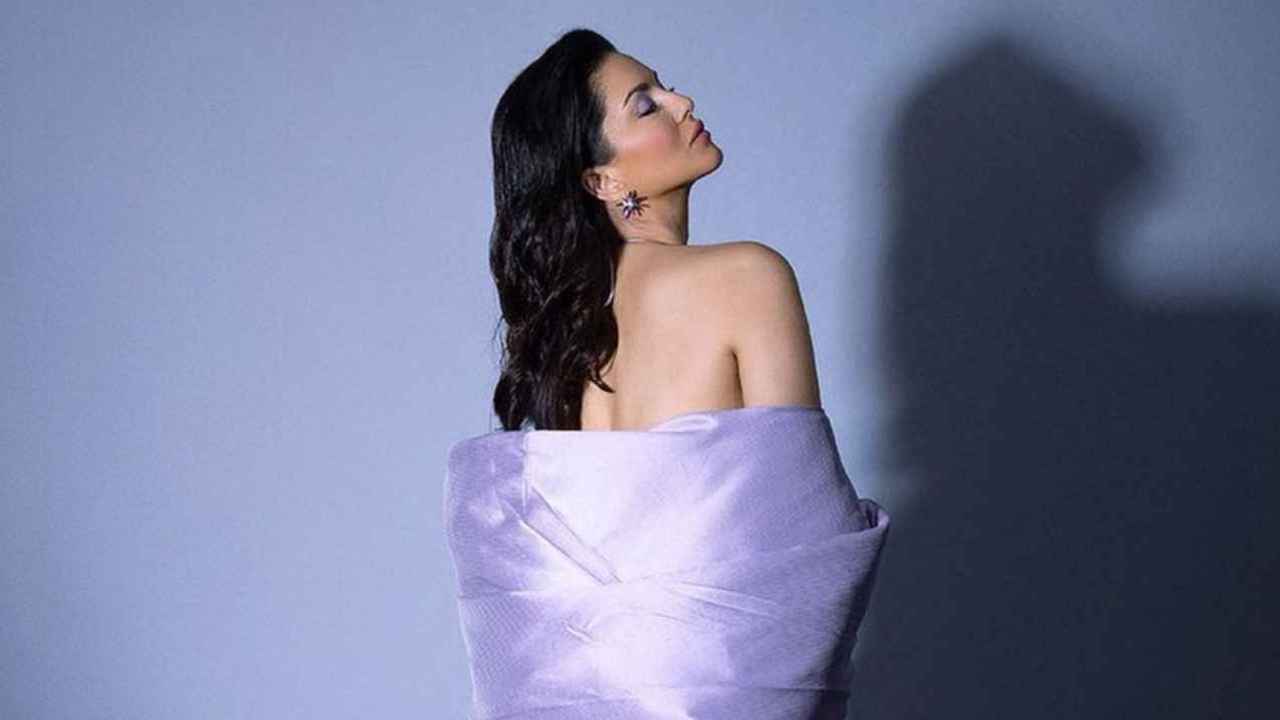 The gorgeous Sunny Leone recently made a striking fashion statement when she was seen wearing an incredible halter-neck gown, complemented by a matching and graceful cape. Her choice of attire undoubtedly stole the spotlight and left everyone in awe of her impeccable style.
This stunning ensemble, styled by the renowned celebrity stylist Chandani Mehta, showcased Sunny Leone's flair for fashion and her ability to stand out on the red carpet. The gown and cape combination was nothing short of a work of art, emphasizing her elegance and poise.
The outfit itself was sourced from the shelves of the celebrated fashion maven, Najwa Alfadhli. It's no surprise that a fashion expert of her caliber would provide an outfit that suited the talented diva like a proper charm. Sunny Leone's appearance in this outfit not only displayed her beauty but also exemplified the synergy between her and the world of high fashion. It was a testament to her ability to effortlessly merge her own style with the creations of top-notch designers, making her a true fashion icon in every sense.
The classy piece Sunny Leone wore also featured buttons at the waist, a thoughtful detail that further accentuated the outfit's overall design. This added element served not only as a stylish embellishment but also as a functional aspect that cinched the waist, enhancing her hourglass figure. The gown was designed with a slim fit and a body-hugging silhouette that embraced her curves in all the right places, creating a stunning and flattering look that showcased her incredible physique.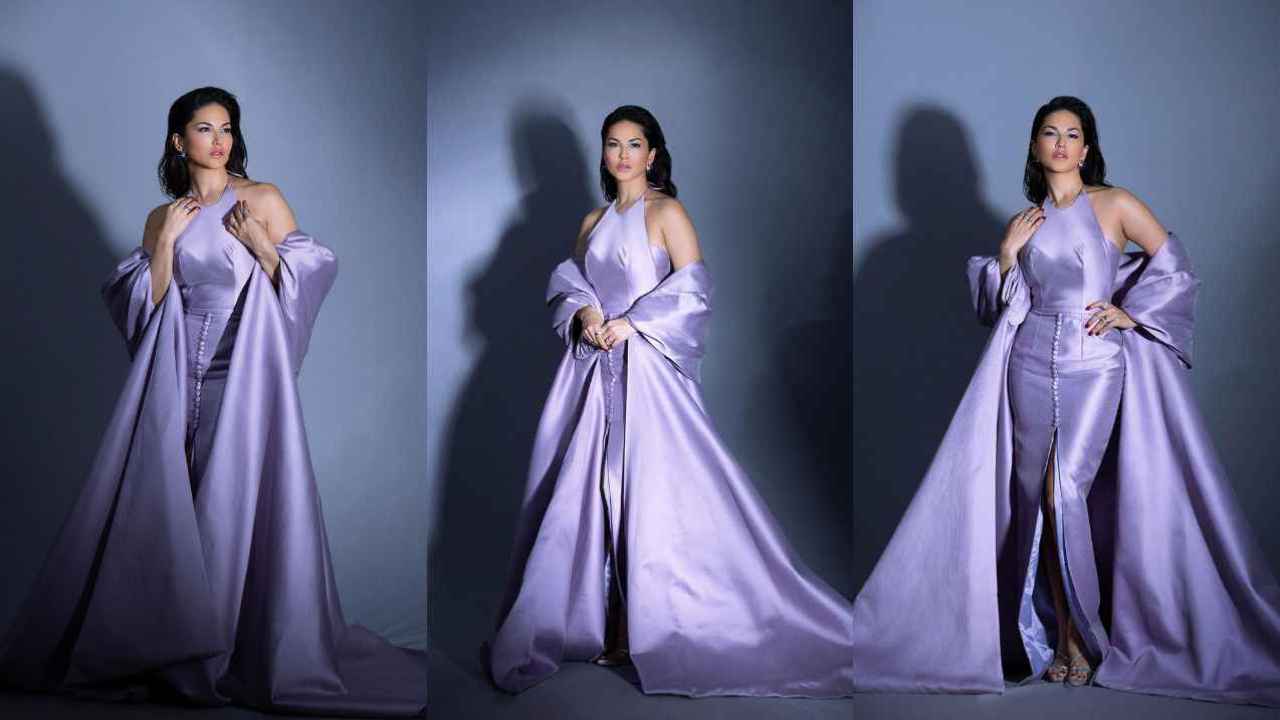 In addition to the gown, the gorgeous Ragini MMS 2 actress paired the outfit with a floor-length voluminous cape. This cape was more than just an accessory; it added an extra layer of elegance and charm to the entire ensemble. As Sunny Leone moved gracefully, the cape flowed, creating a dramatic and eye-catching effect. It was a masterstroke of styling, elevating her look to one of ethereal beauty.
One cannot overlook the enchanting color of the ensemble. The lilac shade was beyond pretty; it was a perfect choice that perfectly complemented Sunny Leone's complexion and exuded a sense of soft sophistication. The color, with its delicate and dreamy allure, contributed to the overall enchantment of the outfit. Sunny Leone's impeccable fashion sense and her ability to choose such a captivating color made her the true star of the red carpet, leaving fashion enthusiasts in admiration of her style.
The graceful train behind the glamorous gown added a touch of regal charm to the entire look. As Sunny Leone walked gracefully and with confidence, the train followed her every step, creating a mesmerizing visual effect. It emphasized her presence on the red carpet and accentuated the gown's elegance, making her a vision of grace and sophistication.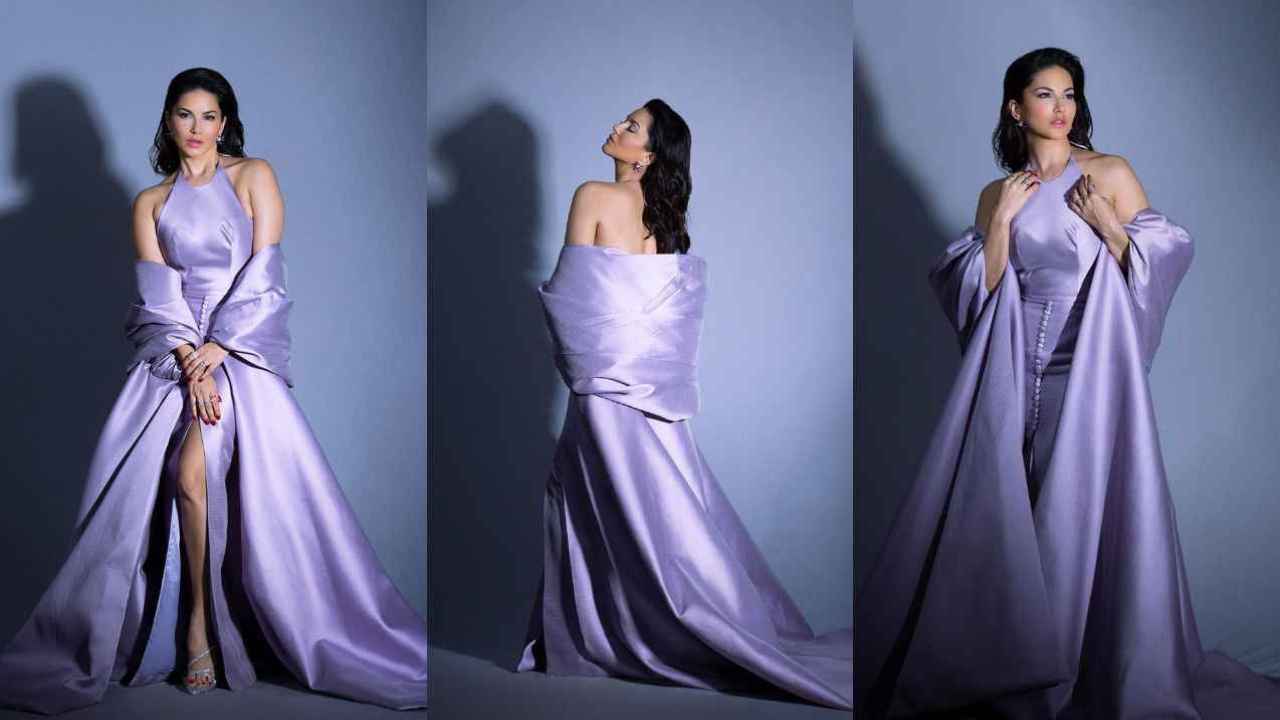 Sunny Leone's attention to detail, from the gown's train to the choice of footwear, demonstrated her commitment to creating a flawless and captivating look. Her confident stride on the red carpet, combined with these carefully chosen elements, made her a true fashion icon, leaving a lasting impression on the audience and fashion enthusiasts alike.
The incomparable Jism 2 actress didn't stop at just the gown and heels; she went the extra mile to elevate her look with carefully chosen accessories. Sunny Leone opted for some classy and decorative crystal stud earrings, which added a touch of sophistication and sparkle to her overall ensemble. The choice of earrings complemented the gown's elegance and added a subtle but essential element of glamor to her look.
In addition to the crystal stud earrings, Sunny Leone adorned herself with gorgeous statement rings on both her hands. These rings not only showcased her personal style but also acted as eye-catching accessories that drew attention to her manicured hands. The statement rings contributed to the overall aesthetic of her outfit, adding a perfect touch of bling to her otherwise simplistic yet incredibly elegant ensemble.
The combination of these accessories showcased Sunny Leone's keen fashion sense and her ability to strike a balance between simplicity and sophistication. The gorgeous Raees actress undeniably looked pretty, and her ensemble was a testament to the fact that sometimes, less is more when it comes to making a powerful fashion statement. It was a look that left fashion enthusiasts and admirers totally in love with her style and grace.
The Ek Paheli Leela actress took her fashion game to the next level with her flawless makeup, masterfully executed by makeup artist Scott Francis. Every detail of her makeup was carefully crafted to accentuate her natural beauty and harmonize with her stunning lilac gown.
Sunny Leone's eye makeup featured a light purple eyeshadow that not only matched the gown's color but also added a subtle and enchanting pop of color to her look. Well-shaped eyebrows framed her eyes beautifully, while an elegant winged eyeliner enhanced the shape of her eyes. Her mascara-laden eyelashes gave her a mesmerizing gaze, making her eyes the focal point of her makeup.
Sunny Leone's makeup was a work of art, showcasing her beauty in a way that was both subtle and impactful. It demonstrated her ability to pay attention to every detail, from her eyeshadow to her lipstick, to create a look that was truly stunning and unforgettable. Her makeup artist, Scott Francis, played a pivotal role in ensuring that every element of her makeup was on point, making Sunny Leone an absolute vision of beauty on that memorable evening.
To complete her stunning look, the classy Splitsvilla host opted for a sleek and wet-looking hairstyle, expertly crafted by Kin Vanity. Her choice of hairstyle perfectly complemented her overall ensemble and added an extra touch of sophistication to her appearance.
Sunny Leone's choice of hairstyle, with its sleek and wet appearance, demonstrated her versatility in experimenting with different looks while maintaining her innate sense of style. Kin Vanity's expertise in crafting this hairstyle played a crucial role in ensuring that Sunny Leone looked absolutely sensational, rounding out her unforgettable appearance at the event.