Sara Ali Khan's Glamorous Power Pink: Jacquemus Co-ord Set Sets the Positive Vibe for Glam-o-Clock!
Sara Ali Khan's summer fashion choices have been a delightful display of vibrant colors, fun patterns, and a sense of fabulousness. As she promotes her upcoming movie "Gaslight," her outfits have captured the essence of the season with their lively and playful appeal. Her style journey has been a source of inspiration for fashion enthusiasts who are looking to infuse their wardrobes with the spirit of summer.
Sara's promotion outfits for "Gaslight" have undoubtedly caught the attention of fashion enthusiasts, setting the mood for a colorful and exciting season. Her ensembles offer a mix of mood-matching colors, funky patterns, and statement pieces that exude confidence and individuality. Each outfit seems to tell a story, radiating a sense of positivity and energy that resonates well with the vibrant days of summer.
As fashion lovers, it's easy to relate to the idea of curating a mood board for the season. Sara's outfits offer a plethora of ideas for mixing and matching colors, experimenting with patterns, and playing with accessories to create distinctive looks. Whether you're aiming to stand out in a crowd or express your personal style through visual interest, Sara's fashion choices provide ample inspiration to elevate your summer wardrobe.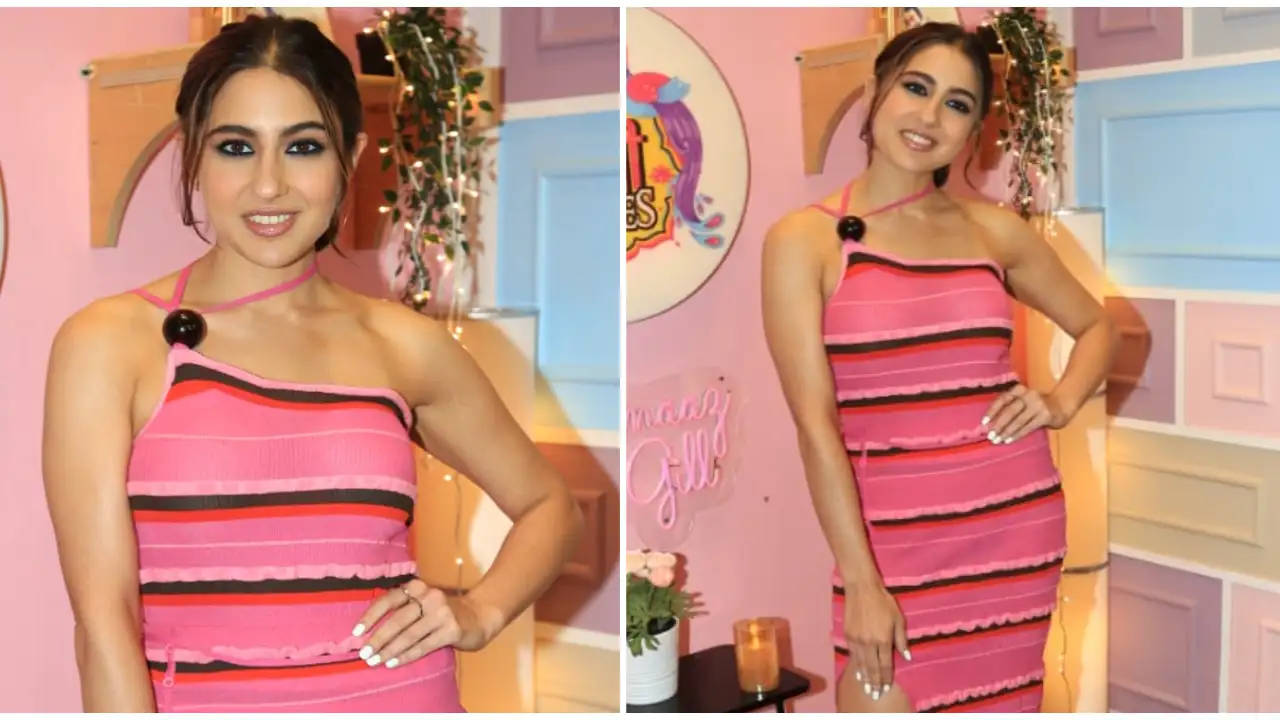 Summer serves as a time for exploration and experimentation in fashion, and Sara's promotion outfits embody this spirit perfectly. Each look seems to convey a sense of adventure, embracing the warmth and vibrancy of the season. With her outfits, Sara showcases the art of mixing unexpected elements and infusing them with her unique charm.
As the season progresses, it's clear that the summer schooling won't end until the monsoon arrives. Sara's fashion journey continues to guide us through a playful and colorful summer, reminding us to step out of our comfort zones and embrace the joyful and adventurous side of fashion.
Transitioning from winter to a new season can often lead to a refreshing change in style preferences. Sara Ali Khan's choice of a co-ordinated ribbed knit outfit is a testament to how a well-put-together set can transform your perspective and approach to fashion. If you're seeking a chic and effortless ensemble, Sara's fashion choices provide just the inspiration you need.
Sara's two-piece ribbed knit outfit exudes a sense of comfort and style in equal measure. The co-ordinated set offers a harmonious look that is both versatile and fashion-forward. The beauty of such sets lies in their ability to streamline the getting-ready process, making it a perfect choice for various occasions, including a stylish brunch.
For those who are drawn to Sara's style, this outfit proves to be a must-have in your wardrobe. The ribbed knit material adds texture and depth to the ensemble, while the co-ordinated nature of the set eliminates the need for complex styling decisions. It's a fashion solution that guarantees a put-together look without sacrificing comfort.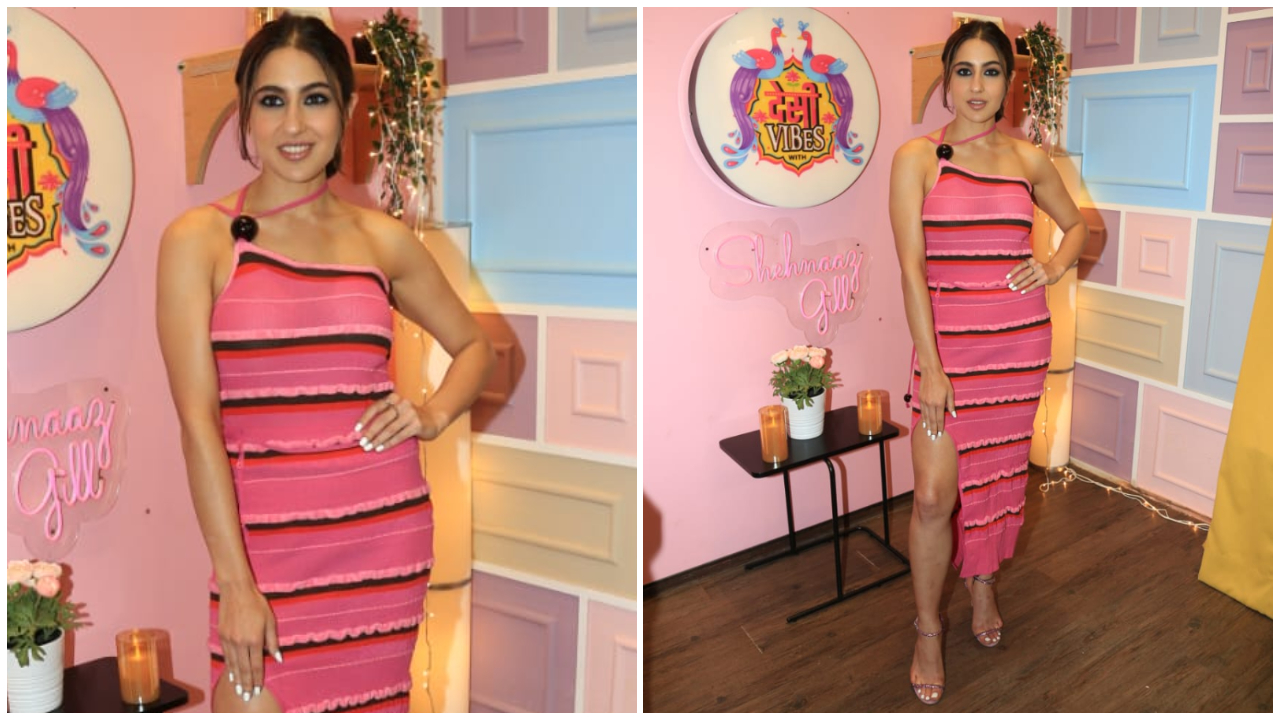 Sara Ali Khan's latest fashion choice has once again left a mark as she exuded style and confidence in a chic skirt set. The Bollywood star effortlessly combined elements of glamour and sophistication, showcasing her impeccable taste in fashion.
The one-shoulder spaghetti 'Concha' top that Sara wore is a striking piece that demands attention. Its tight fit and unique design details make it a standout addition to her ensemble. The triple-hued stripes, along with the seersucker detailing, create a captivating visual texture. The purple embellished detail that holds the straps together adds a touch of elegance and intrigue to the top.
What truly elevates Sara's look is the way she paired the top with a matching midi skirt. The skirt's thigh-high slit adds a hint of sensuality, while the side cut-outs introduce a subtle element of edginess. The coordinated design of the skirt set not only creates a cohesive look but also allows Sara to showcase her style with confidence.
Sara's choice of ensemble reflects her ability to balance trends and timeless elegance. The skirt set offers a perfect blend of fashion-forward elements and classic silhouettes, making it suitable for a variety of occasions. Whether it's a formal event or a stylish outing, this look proves versatile and attention-grabbing.
As Sara Ali Khan continues to make waves with her fashion choices, her outfit inspiration serves as a reminder to experiment with unique pieces while staying true to your personal style. By combining standout pieces with coordinating elements, you can achieve a cohesive and fashionable look that resonates with your individuality.
Absolutely, the versatility of Sara Ali Khan's skirt set is truly remarkable. The figure-hugging skirt, priced at Rs. 46,236.30, offers endless possibilities for mixing and matching to create various stylish looks.
Pairing the skirt with monotone crop tops or simple tops can result in effortlessly chic ensembles that are perfect for casual outings, brunches, or even daytime events. The skirt's striking design and unique details can add a touch of sophistication to even the most basic tops.
On the other hand, reversing the equation by pairing the skirt with denim pants or shorts can create a playful and casual outfit that is perfect for more relaxed occasions. This combination allows you to balance the skirt's form-fitting silhouette with a more laid-back element, resulting in a stylish yet comfortable look.
The idea of pairing the skirt with a bikini top for a beach look is a brilliant suggestion. This combination exudes a sense of confidence and sexiness that is perfect for a day by the ocean. The skirt's thigh-high slit adds a touch of drama to the look, and the bikini top complements the overall aesthetic, creating a head-turning beach ensemble.
When it comes to makeup, channel a timeless and alluring vibe with smokey eye makeup. Recreate the classic and glamorous feel of old Hollywood by blending kohl eyeliner and eyeshadow using a brush. The dark eyeshadow applied to the outer corners of the eyes will create a smudged effect that adds drama and allure.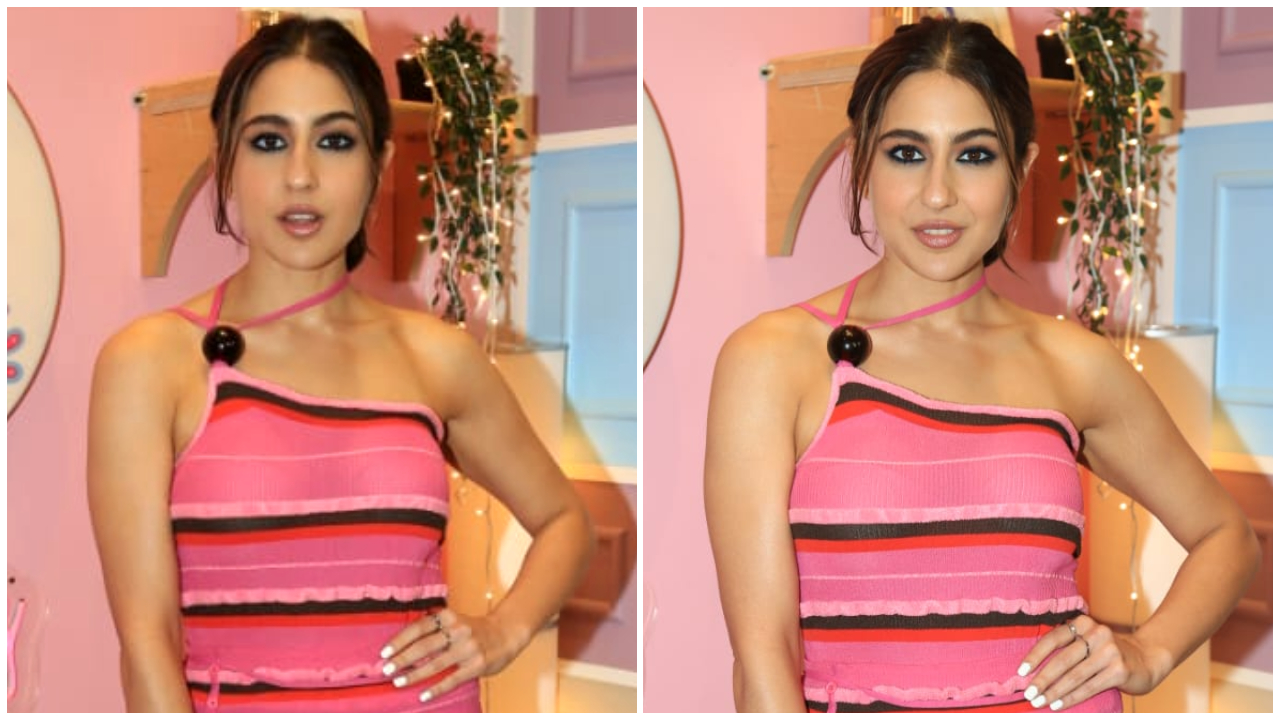 To complement the chic aesthetic, opt for a low bun hairdo. This elegant hairstyle allows the focus to remain on the outfit, particularly the one-shoulder top. The low bun adds a touch of sophistication while showcasing the stylish detailing of the ensemble.
To add an extra dimension of style, consider wearing statement earrings. The right pair of earrings can effortlessly enhance the overall look, bringing attention to your face and complementing the colors and style of the outfit. Choose earrings that align with your personal taste and add a dash of glam.
Lastly, complete the look with a clutch or mini bag that harmonizes with the outfit's colors and aesthetics. This accessory not only adds practicality but also contributes to the overall polished appearance.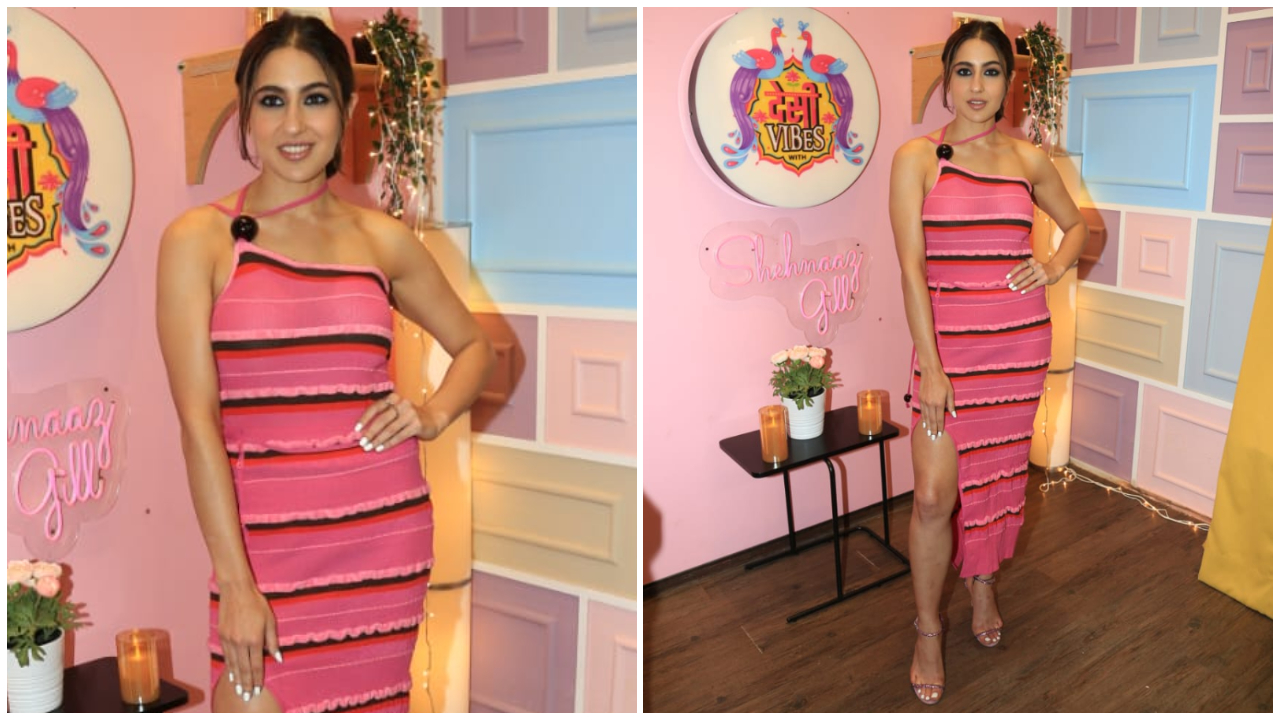 Incorporating these elements into your styling repertoire will result in a classic and outstanding ensemble that draws inspiration from the timeless glamour of the past. Sara Ali Khan's skirt set serves as a versatile canvas to express your unique style while embracing the elegance and sophistication of the look.