Sara Ali Khan's Saaksha & Kinni Dress: A Rs 30K Powerhouse of Chic Colors for a Positively Fun Spring!
As Spring arrives with its vibrant energy, there's a particular fashion item that deserves to take center stage once again: dresses. Whether you've stashed them away during the colder months or they've been a consistent staple in your wardrobe, dresses are an essential must-have for the season. And what's even more essential? Embracing the timeless allure of floral prints.
The fashion rule that remains steadfast for this season is the undeniable charm of floral patterns. The allure of these prints is unmatched, and when combined with the versatility and elegance of dresses, you have a winning combination that effortlessly radiates trend-forward sophistication. Florals and dresses share a unique bond as perennial favorites that can be flaunted all year round.
Floral prints inject a touch of nature's beauty into your outfit, infusing it with colors and patterns that exude freshness and vibrancy. Whether you opt for delicate blossoms or bold blooms, these prints have the magical ability to transform any dress into a statement piece that captures attention wherever you go.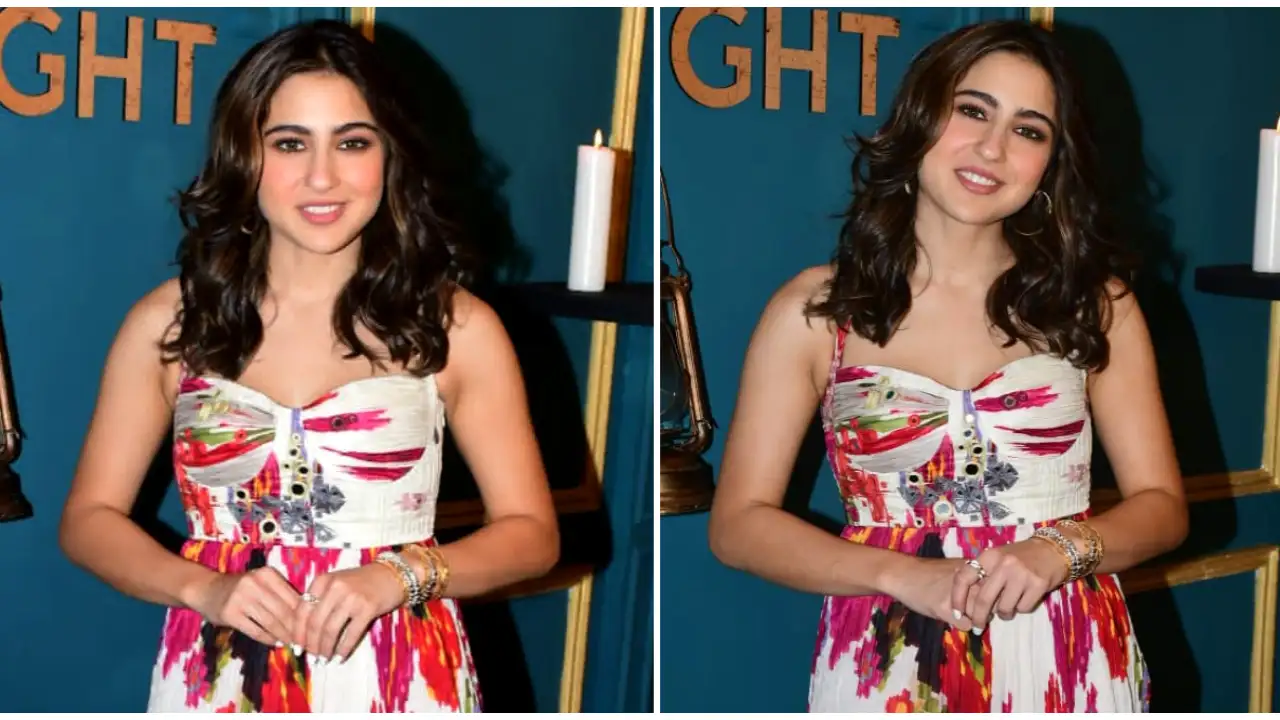 Dresses, on the other hand, are the epitome of easy elegance. Their one-piece simplicity offers instant style and comfort, making them a go-to option for various occasions. From casual brunches to sophisticated soirées, a well-chosen dress can effortlessly transition from day to night, embodying both relaxation and glamour in one silhouette.
But what truly sets dresses and florals apart is their iconic status. While other fashion trends may come and go, these two elements have proven time and again that they are timeless and infallible. Whether it's a flirty sundress, a flowing maxi, or a tailored midi, dresses never fail to make you feel feminine and put-together. And when you add the touch of nature-inspired florals to the mix, you have a winning combination that can elevate your style game to new heights.
So, as Spring blooms into full glory, let dresses and florals take the lead in your fashion choices. Embrace their allure, trend-forward appeal, and ability to make a statement that speaks volumes about your personal style. After all, in a world of ever-changing trends, some classics like dresses and floral prints remain eternally fashionable and eternally charming.
Sara Ali Khan's fashion choices have always been a blend of artsy and playful elements, and her recent look is no exception. As the winter style takes a backseat and we eagerly embrace the lightness of spring, Sara's ensemble catches our attention with its delightful combination of prints, colors, mirrors, and more.
In her latest style statement, Sara effortlessly pulled off a mesmerizing look by adorning a maxi dress from the label Saaksha & Kinni. The dress seems to be a perfect embodiment of the season's cheerful vibes and the actress's unique style sensibilities.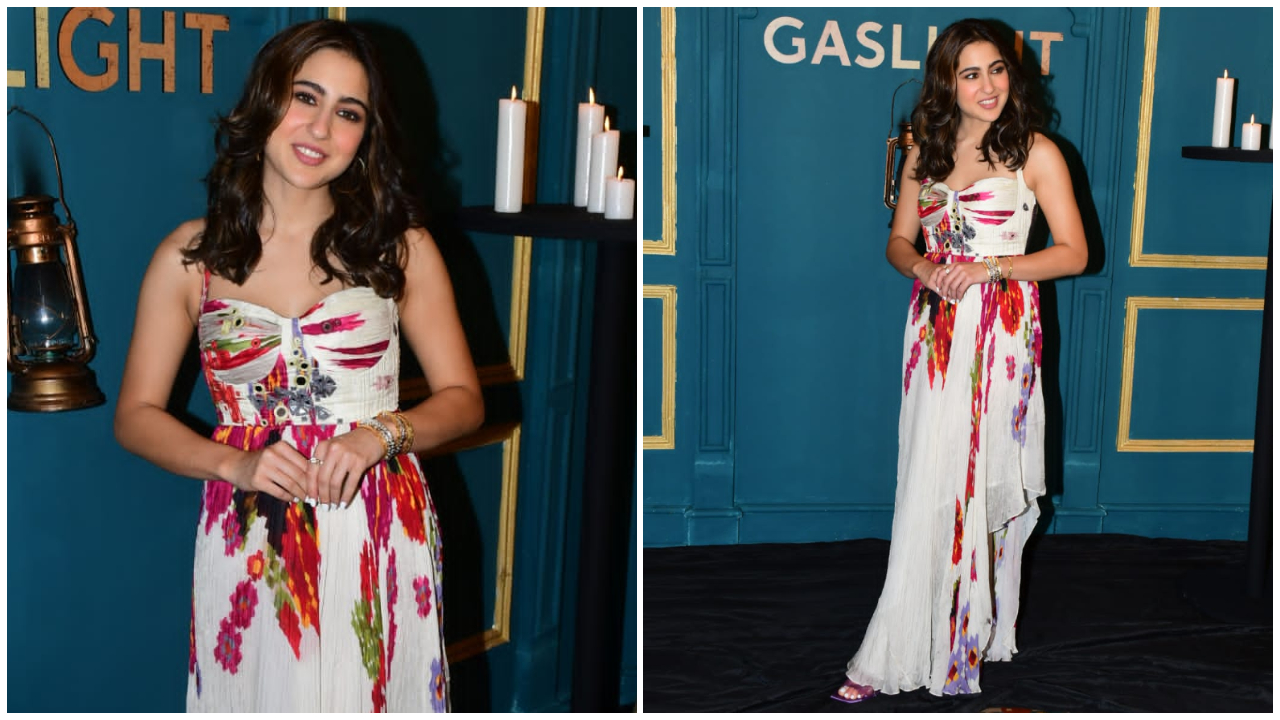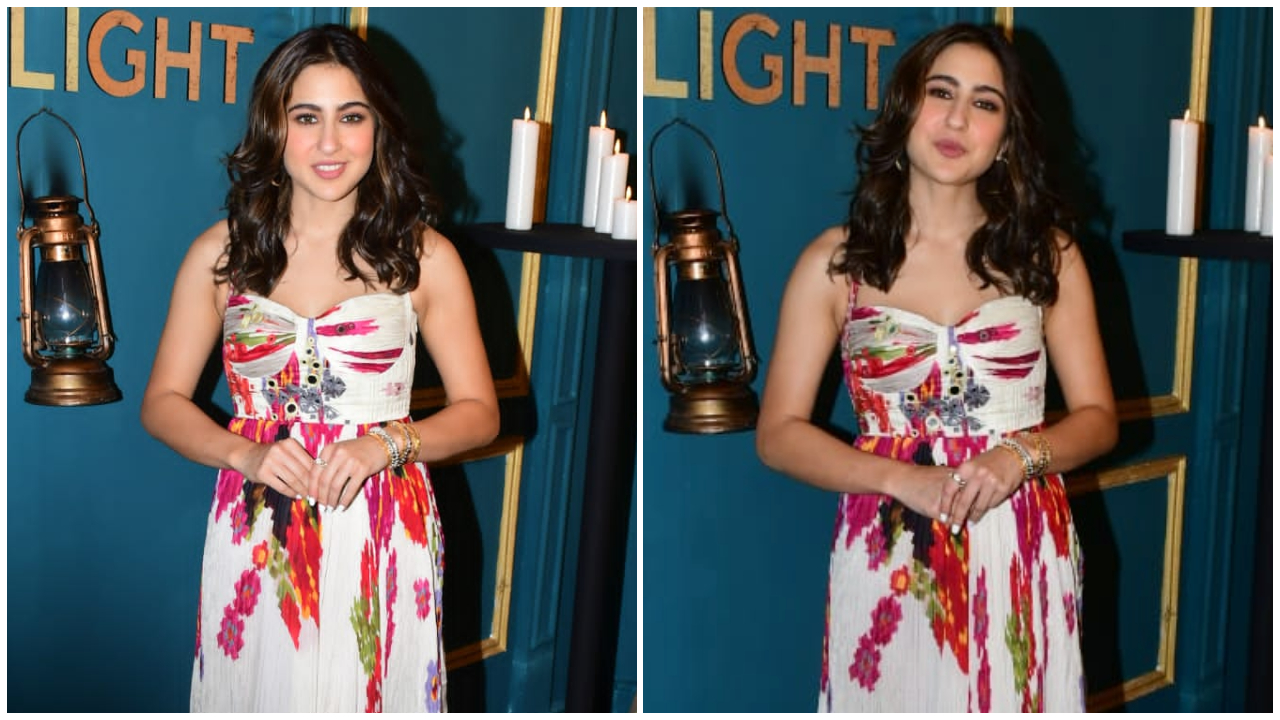 With prints that come alive with vibrant hues and intricate patterns, this maxi dress exudes an air of freshness and whimsy. The play of colors and details like mirrors adds an extra layer of visual interest, making the outfit a standout choice for any occasion that demands a touch of artistic flair.
Sara's choice to don this dress perfectly reflects the mood of the season – carefree, joyful, and full of life. As we transition from the colder months to the blossoming beauty of spring, her outfit echoes the sentiment of shedding the layers and embracing the lightness that the season brings.
In this ensemble, Sara reminds us of the beauty of embracing prints that exude positivity and energy. It's a reminder that fashion is not just about wearing clothes but about expressing oneself and one's mood through what we wear. And in this printed maxi dress, Sara manages to make a statement that's both fabulous and fun, capturing the essence of her unique style persona.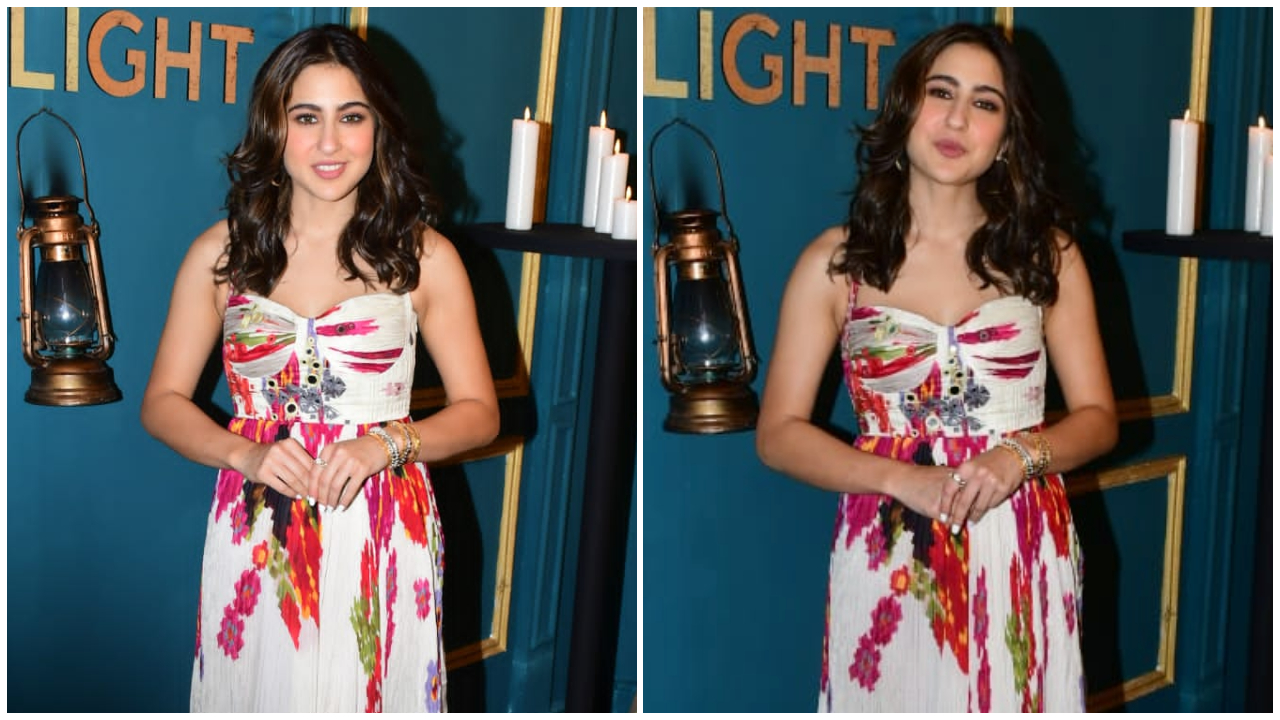 Sara Ali Khan's one-piece ensemble truly embraced the playful and lively side of fashion, showcasing an abstract print that defied structured order. A delightful amalgamation of floral prints, vibrant colors, and intricate hand-embroidered mirrors and thread work created a captivating visual symphony. What stood out in this flowy dress were the meticulously crafted micro pleats, a testament to the hands of skilled artisans who brought this piece to life.
The dress, priced at Rs. 30,000, boasted a corseted bodice that not only provided a flattering fit but also added a touch of vintage charm. The sweetheart neckline exuded feminine allure, while the halter neck straps gracefully criss-crossed at the back, imparting a modern twist to the overall design.
Sara's choice of attire reflected a seamless blend of various elements – from the free-spirited abstract print to the classic corseted structure, and the intricate handwork that added a layer of sophistication. This ensemble radiated a sense of carefree elegance, ideal for a variety of occasions where style meets comfort.
The dress's playful juxtaposition of prints and colors perfectly encapsulated the vibrant energy of spring, mirroring Sara's youthful and exuberant persona. It was a reminder that fashion can be both expressive and enjoyable, allowing one to experiment with different textures, patterns, and silhouettes to create a look that truly reflects individual style.
Sara's choice to wear this unique one-piece ensemble spoke volumes about her confidence and willingness to embrace unconventional styles that break away from traditional norms. In this outfit, she embodied the essence of contemporary fashion – a fusion of creativity, comfort, and personal expression that captures the spirit of the modern fashionista.
Sara Ali Khan's choice of outfit, a chiffon asymmetrically hemmed dress, was a masterful play in fashion dynamics. The dress's unconventional hemline added an element of intrigue, while the chiffon material imparted an airy and ethereal quality, perfect for embracing the lightness of spring. The choice to go asymmetric further exemplified Sara's penchant for experimenting with unique and captivating styles.
Complementing the dress were her carefully curated accessories. The purple heels she paired with the dress not only added a pop of contrasting color but also contributed to an overall harmonious look. The choice of gold jewelry, including hoop earrings and a hand stash of bangles and rings, added a touch of elegance and sophistication to the ensemble. The gold accents effortlessly elevated the dress's playful print and asymmetry, striking a balance between the bold and the refined.
Sara ali khan's makeup and hairstyling further contributed to the cohesiveness of the entire look. Her matte makeup choice emphasized a clean and polished appearance, allowing the dress and accessories to take center stage. The wavy hairdo exuded a sense of effortless charm, reflecting the carefree spirit of spring while maintaining a level of elegance.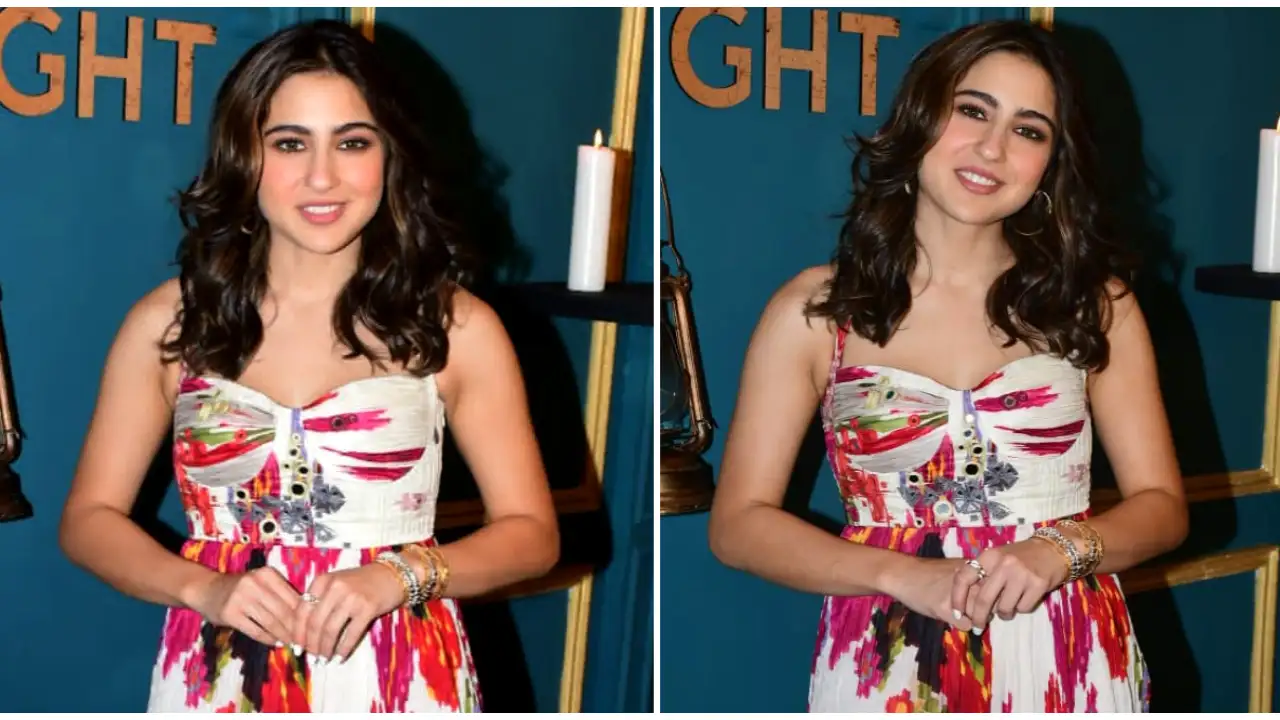 In this ensemble, Sara ali khan showcased her ability to curate an outfit that resonates with the essence of the season – light, vibrant, and full of life. Her careful selection of each element, from the dress to the accessories, demonstrated her fashion sensibility and knack for creating a look that's both visually captivating and well-balanced. This style choice was a testament to her status as a fashion icon who fearlessly explores the realms of fashion, making it her canvas for self-expression.