Sara Ali Khan's Glamorous Neon Bliss: Elevating Her Casual Outfit with the Power of Pinko Crossbody Bag
Sara Ali Khan's approach to summer style is nothing short of a vibrant and neon-infused glam. As the season unfolds, she's leading the charge with her fearless embrace of bold and eye-catching hues that perfectly encapsulate the spirit of the moment. Gone are the subdued tones of winter – now is the time for lively and energetic colors to take center stage.
One of Sara's signature moves is her adept handling of flashy shades like vivid pink and radiant green. These colors not only add an instant pop of excitement but also reflect the lively and optimistic vibes of summer. Her ability to effortlessly carry these neon shades with confidence and panache serves as an inspiration for fashion enthusiasts looking to elevate their summer wardrobe.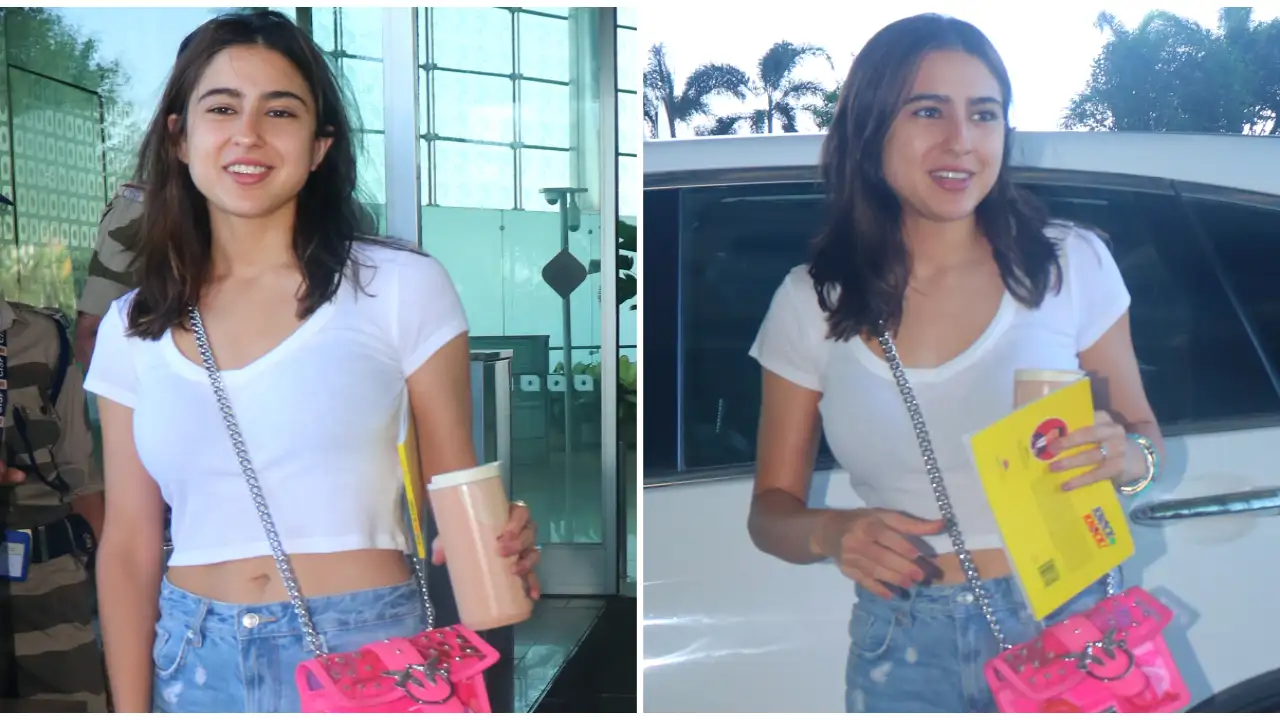 Sara's fashion choices invite us to break away from the conventional and embrace the cheery chic that defines this season. The days of winter trends may feel distant and passé as we immerse ourselves in the joyful and dynamic palette of summer. With her finger on the pulse of fashion, Sara encourages us to infuse our outfits with the spirit of the season, letting our wardrobe reflect the vivaciousness of sunny days and warm evenings.
As the warm weather beckons, take a page from Sara Ali Khan's playbook and dive headfirst into the world of summer glam. Embrace the neon charm, experiment with vibrant hues, and let your fashion choices shine as brightly as the sun. After all, in the world of fashion, summer is the perfect time to express your true colors with confidence and style.
In the current fashion landscape, the mantra of "basic but decorative" holds a special allure. As neon hues make a triumphant return to the spotlight, it serves as a reminder to break free from the ordinary and embrace a more vibrant and adventurous style. Recently, Sara Ali Khan showcased a casual look that highlighted the power of a simple yet impactful detail – a lesson we can all use to step out of our comfort zones and explore new horizons in fashion.
While you might not feel inclined to replicate every aspect of her ensemble, there's a valuable lesson to be learned from her choice of accessories. In this case, let's focus on her handbag. This accessory can be a canvas for your creativity – a way to infuse your personal style and favorite colors. However, exercise caution when pairing your handbag with outfits that feature both brown tones and neon shades. This combination can potentially clash and create a fashion disaster you'd want to avoid.
As neon takes its place in the limelight, consider using it as an opportunity to inject a burst of energy and vibrancy into your wardrobe. While you don't have to mimic every detail of Sara's look, the essence of stepping out of your comfort zone and experimenting with exciting colors remains a valuable takeaway. Whether it's through accessories, clothing, or a combination of both, the fashion world is your playground to explore and express your individuality. Just remember to balance bold choices with a touch of thoughtful consideration for a look that's uniquely you.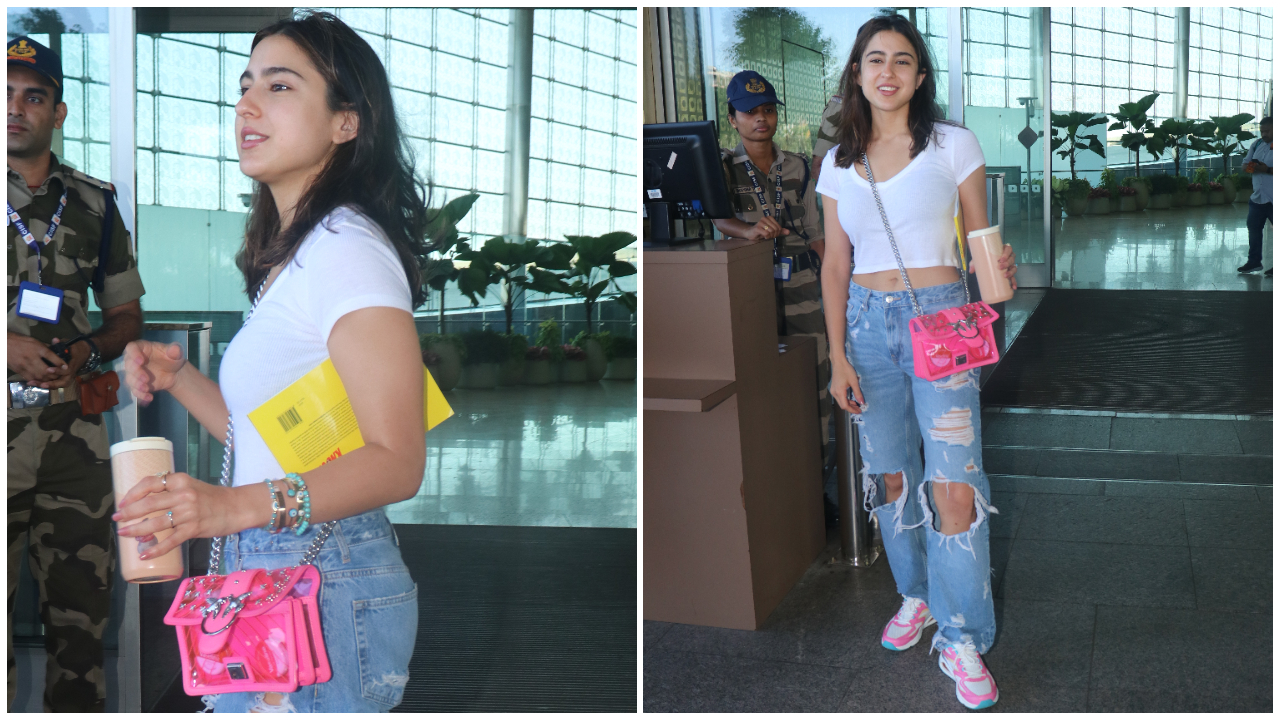 Absolutely, comfort is key, and Sara Ali Khan's casual ensemble perfectly encapsulates a relaxed yet stylish summer vibe. Embracing staples and a touch of neon coolness, her outfit choice offers a foolproof way to look effortlessly chic. The Atrangi Re actress confidently donned a white ribbed top with a V-neck, characterized by its cropped hem and short sleeves. This basic piece was perfectly paired with blue denim ripped pants, bringing a casual and carefree flair to her look.
In a world where glitz and glamour often take the center stage, Sara's outfit reminds us that there's undeniable beauty in simplicity and comfort. The subtle dash of neon and the playful combination of white and blue create a refreshing and eye-catching contrast. Adding a modern twist to her ensemble, she completed her travel-ready outfit with a Pinko sling bag, which added a touch of practicality without sacrificing style.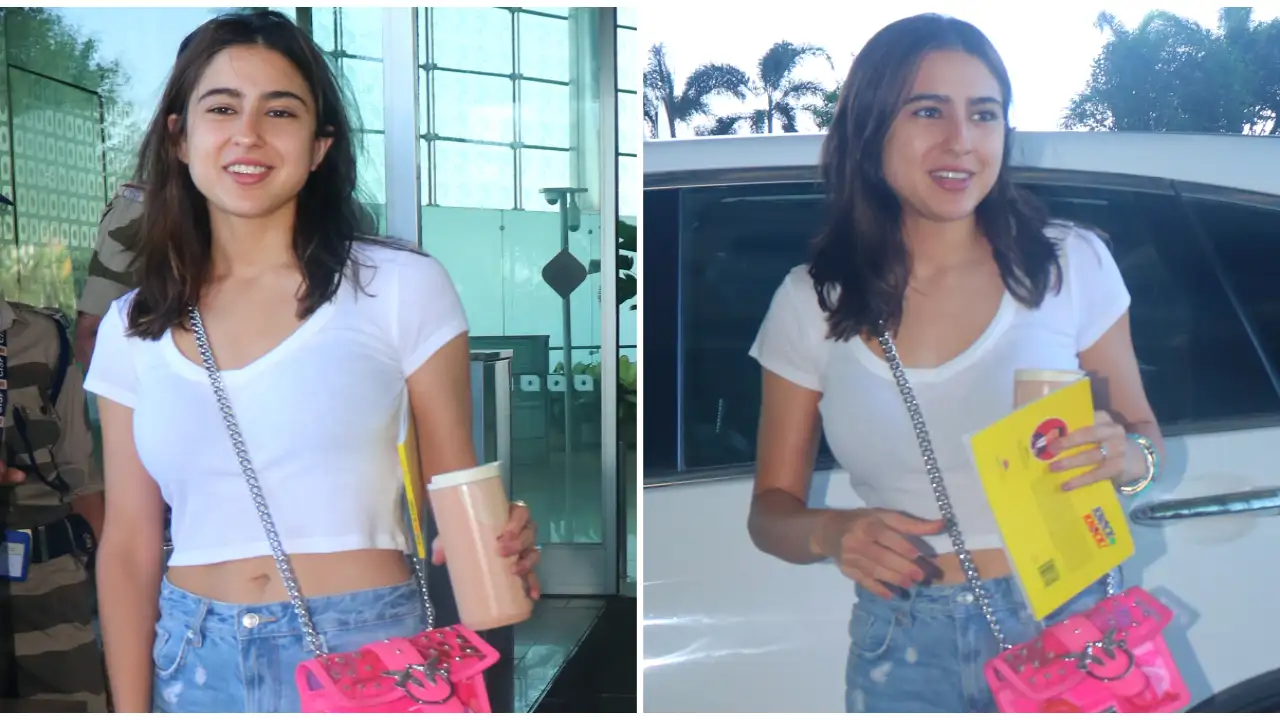 Sara's casual look serves as a reminder that sometimes less is more, and by focusing on the right combination of staples and subtle pops of color, you can effortlessly achieve a look that's both comfortable and fashion-forward. Whether you're exploring new destinations or simply enjoying a laid-back day, this outfit formula offers a versatile and timeless approach to summer dressing.
The Pinko sling bag that Sara Ali Khan carried adds a delightful touch of pink to her casual ensemble. This charming accessory not only complements her outfit but also becomes a standout statement piece. With a silver-hued chain strap, front flap, and the distinctive Love Birds metal buckle adorned with mini birds, the bag exudes a playful and whimsical vibe.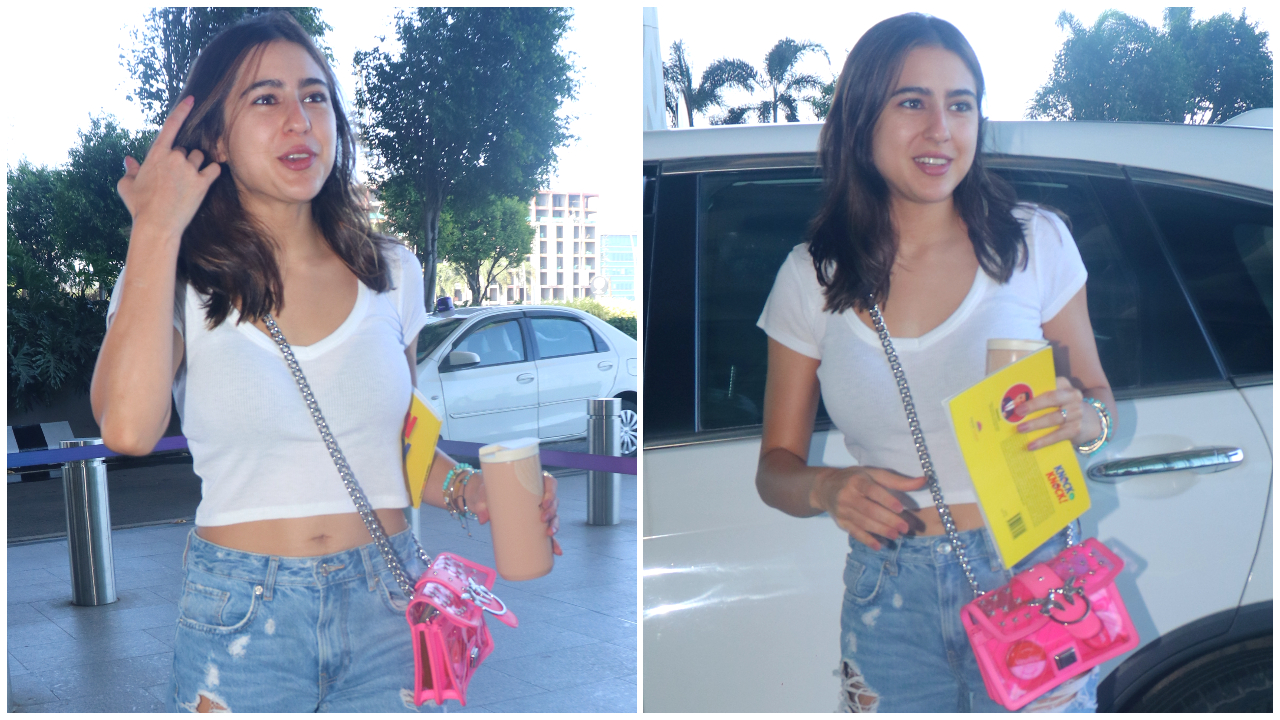 Sara's choice to wear the bag in a crossbody style demonstrates both fashion and functionality. It not only adds a pop of color and texture to her look but also allows her to keep her hands free and move comfortably. The multi-colored kicks and beaded turquoise bracelets further contribute to the relaxed and eclectic feel of her outfit, showcasing her ability to effortlessly mix and match different elements.
The choice of a simple hairdo and pink lipstick perfectly complements the overall aesthetic of the outfit. By keeping her hair and makeup understated, Sara strikes a balance between the bag's vibrant color and the relaxed vibe of her attire. This harmonious blend of accessories, footwear, and makeup contributes to the overall cohesiveness of her look, highlighting her innate sense of style and creativity.
Incorporating playful and colorful accessories like this bag can instantly elevate a casual outfit, infusing it with personality and charm. Sara Ali Khan's ensemble serves as a delightful example of how small details can make a big impact on your overall appearance and how a pop of color can bring a sense of joy and vibrancy to your style.