Deepika Padukone to Katrina Kaif: Celeb-inspired ways to stun in the color of the day, WHITE!
As the vibrant festival of Navratri unfolds its nine days of cultural splendor, it brings with it rhythmic beats, lively dances, and a rich tapestry of traditions and customs. For fashion aficionados, it's a time to revel in the art of choosing the right colors and styles to celebrate with joy. In this context, let's delve into the elegance of white, a hue that embodies purity, grace, and a touch of contemporary charm. Join us on a dazzling journey through the styles of Bollywood's finest, from Deepika Padukone's modernized saree to Priyanka Chopra Jonas' floral suit.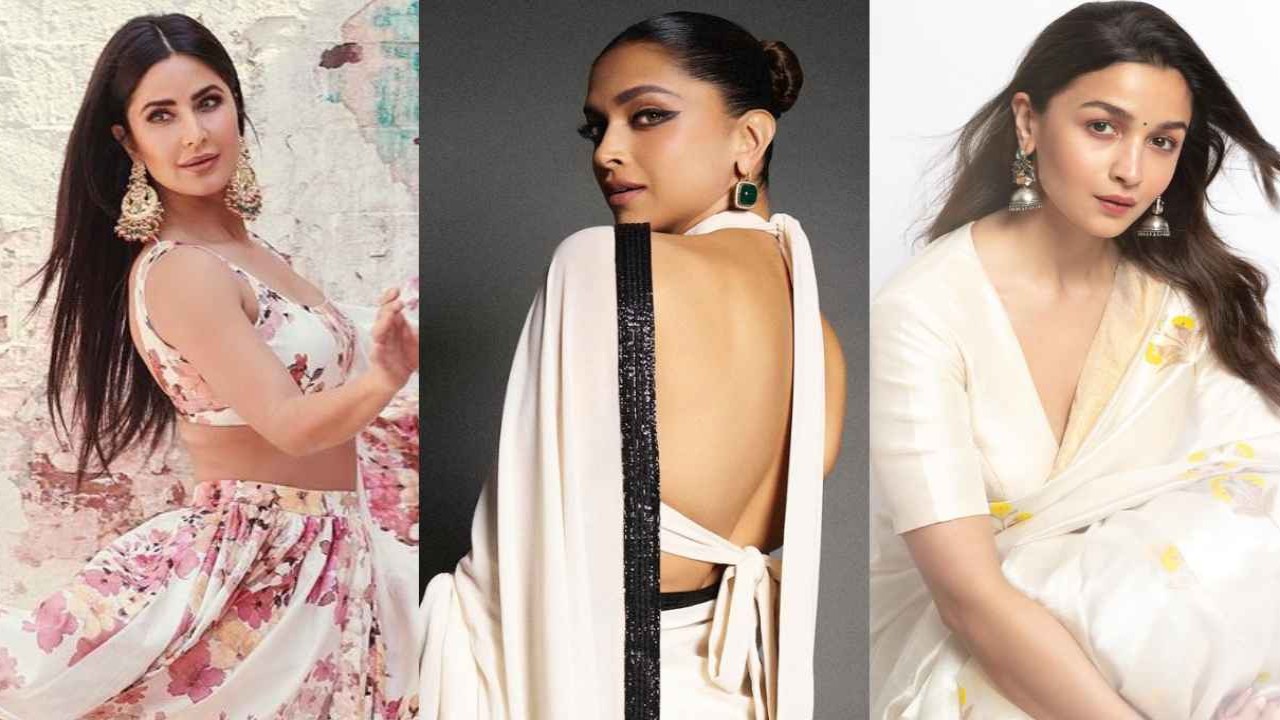 Navratri is a time when people come together to celebrate with enthusiasm and devotion, and fashion plays a crucial role in this celebration. The color white, with its timeless and serene appeal, is a perfect choice to encapsulate the spirit of the festival. It symbolizes purity and grace, qualities that resonate with the essence of Navratri.
Deepika Padukone's modernized saree showcases the versatility of white in the world of fashion. Her elegant and contemporary interpretation of the traditional attire highlights how a classic color like white can be effortlessly transformed to suit modern sensibilities while paying homage to tradition.
On the other hand, Priyanka Chopra Jonas' floral suit introduces a delightful fusion of prints and patterns, infusing a sense of celebration into her outfit. This unique choice demonstrates how white can be elevated to a festive and joyful aesthetic, capturing the spirit of Navratri with a fresh and creative twist.
In a world where fashion serves as a means of self-expression, Navratri offers a wonderful opportunity for individuals to explore the beauty of white attire. It's a time to embrace tradition and celebrate with style, and the choices made by Bollywood's leading ladies serve as a source of inspiration for fashion enthusiasts looking to dazzle in white during this culturally rich festival.
The incomparable Juhi Chawla, the evergreen actress of Bollywood, was recently seen gracing an event in a breathtaking white saree, designed by none other than the maestro himself, Sabyasachi. The saree was a work of art, with its pristine white fabric and a sparkly sequin-laden black border that added a touch of opulence and glamour to its overall allure. It's no surprise that a Sabyasachi creation can effortlessly capture the essence of timeless elegance, and Juhi's choice was no exception.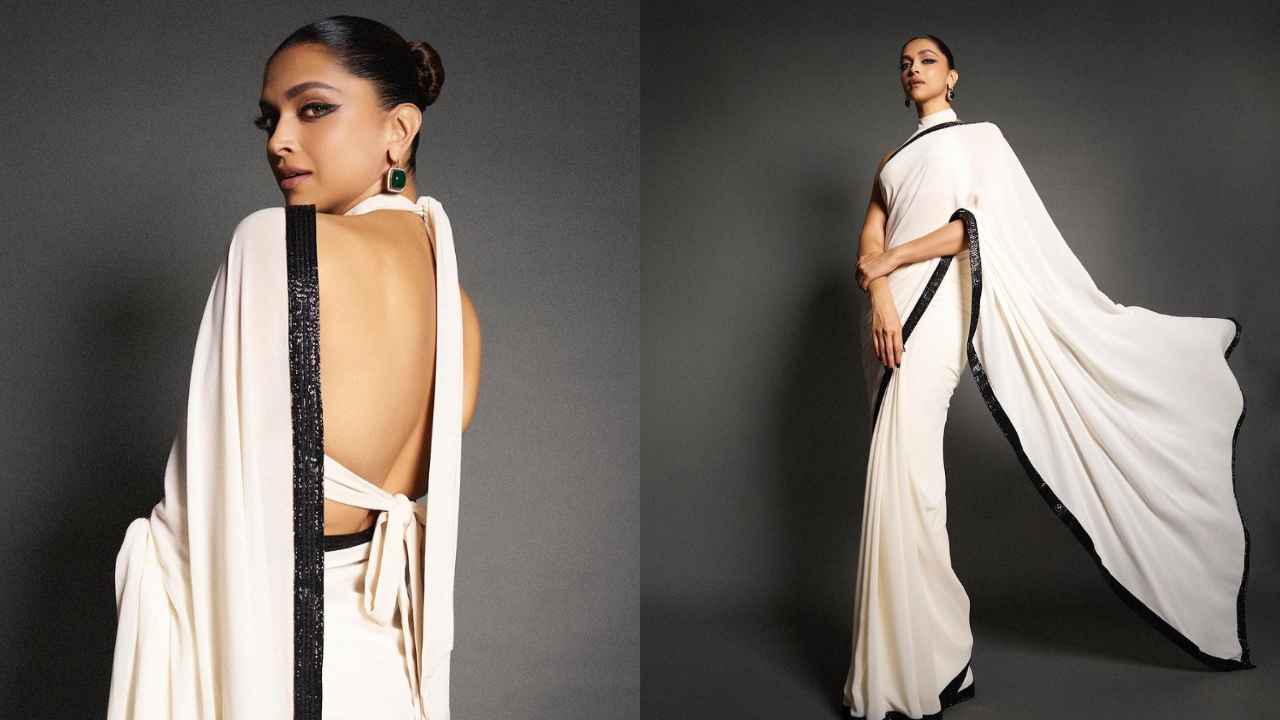 What set this look apart was Juhi's modernized and simply sultry interpretation of traditional attire. She paired the exquisite saree with a matching backless, halter-neck bandeau top with tie-ups at the back. This bold and contemporary addition brought a unique and sensuous layer to the actress's outfit. It's a choice that combines the grace of a saree with a daring and modern charm, creating a look that's perfect for those who wish to embrace tradition with a twist.
Juhi Chawla's ensemble is a testament to her fashion-forward thinking and her ability to make a statement while paying homage to classic Indian attire. It's a source of inspiration for those who appreciate the fusion of old and new, where tradition and modernity come together to create a mesmerizing and memorable fashion statement.
The way this kurta fits Priyanka Chopra is nothing short of perfection, enhancing her elegance and poise. It's a true embodiment of timeless style and a testament to her fashion-forward choices. This ensemble serves as an inspiration for those who appreciate the artistry of fashion and the magic of a well-crafted, designer piece that can elevate one's style to new heights.
To complete her ethnic ensemble, Priyanka Chopra made a savvy choice by pairing the elegant long white kurta with matching white floor-length palazzo pants. This combination added a layer of grace and sophistication to her look, creating a harmonious and balanced outfit that exudes timeless charm.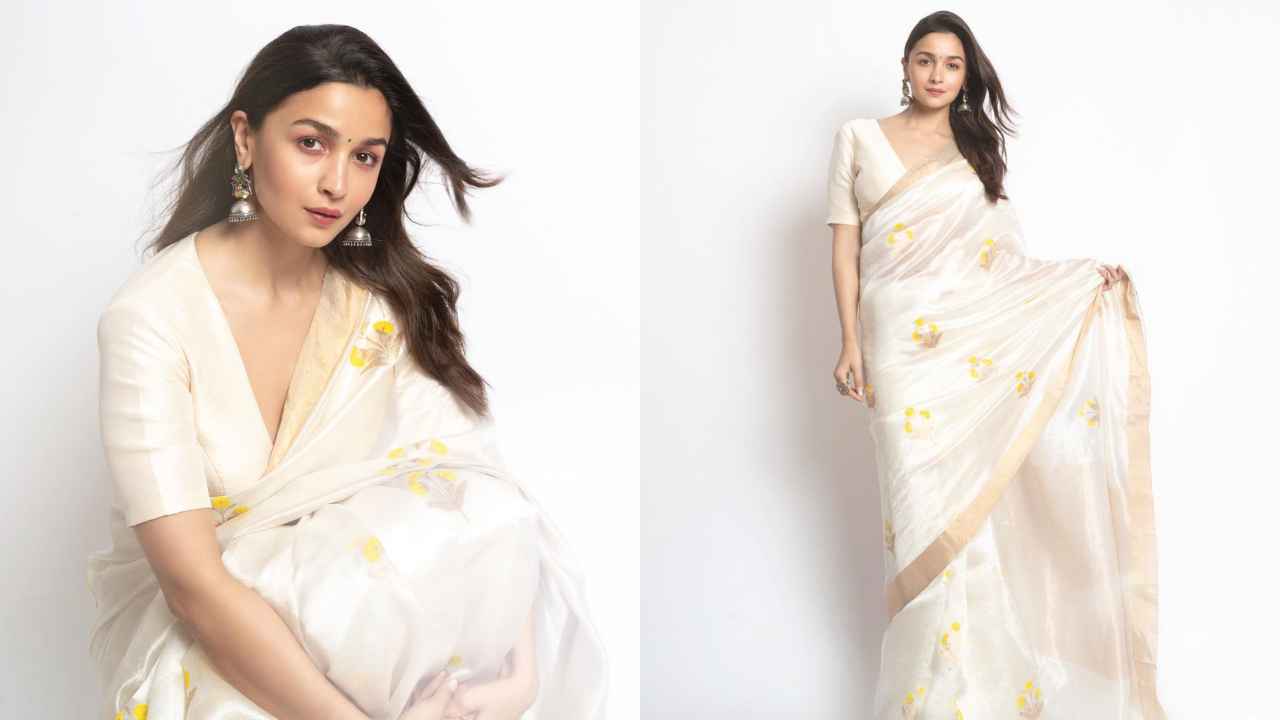 The white palazzo pants complemented the kurta's design, creating a sense of fluidity and cohesion in the ensemble. The choice of matching white not only added to the overall elegance but also enhanced the overall impact of the outfit. It's a reminder of the power of simplicity in fashion and how a well-matched pair of pants can elevate an ensemble to a whole new level.
If you're on the hunt for an effortlessly awesome ensemble for special celebrations or any occasion where you want to stand out with grace and style, Priyanka Chopra's choice serves as an excellent inspiration. This combination of a long white kurta and white palazzo pants is a testament to the versatility and timelessness of traditional Indian attire, offering both comfort and an elegant look for those who appreciate the beauty of simplicity in fashion.
The talented actress Alia Bhatt recently displayed her impeccable fashion sense by adorning an exquisite white saree with a glossy metallic gold border that significantly elevated the entire ensemble. The metallic gold border added a touch of opulence and sophistication to the classic white saree, enhancing its overall allure.
The incredible actress, Disha Patani, made a stunning fashion statement by choosing to wear a gorgeous, elegant, and flowy white Anarkali-like gown designed by the iconic duo, Shantanu and Nikhil. This amazing floor-length ethnic ensemble featured a flowing silhouette with pleats at the bottom, adding depth and texture to the overall look. The gown also boasted a deep, plunging neckline, which significantly enhanced its allure and modern appeal.
What made this outfit truly distinctive was the attached pallu that extended over Disha Patani's right shoulder, creating a saree-like impression. This fusion piece beautifully blended the charm of traditional Indian wear with contemporary design elements, showcasing the versatility and creativity of Shantanu and Nikhil as designers.
This ensemble would be an excellent choice for tradition-laden celebrations, where you want to stand out with grace and style. Disha Patani's choice highlights the ongoing evolution of Indian fashion, where traditional and modern aesthetics coexist harmoniously, offering a fresh and innovative take on classic attire. It's a testimony to the enduring allure of traditional Indian clothing with a modern twist.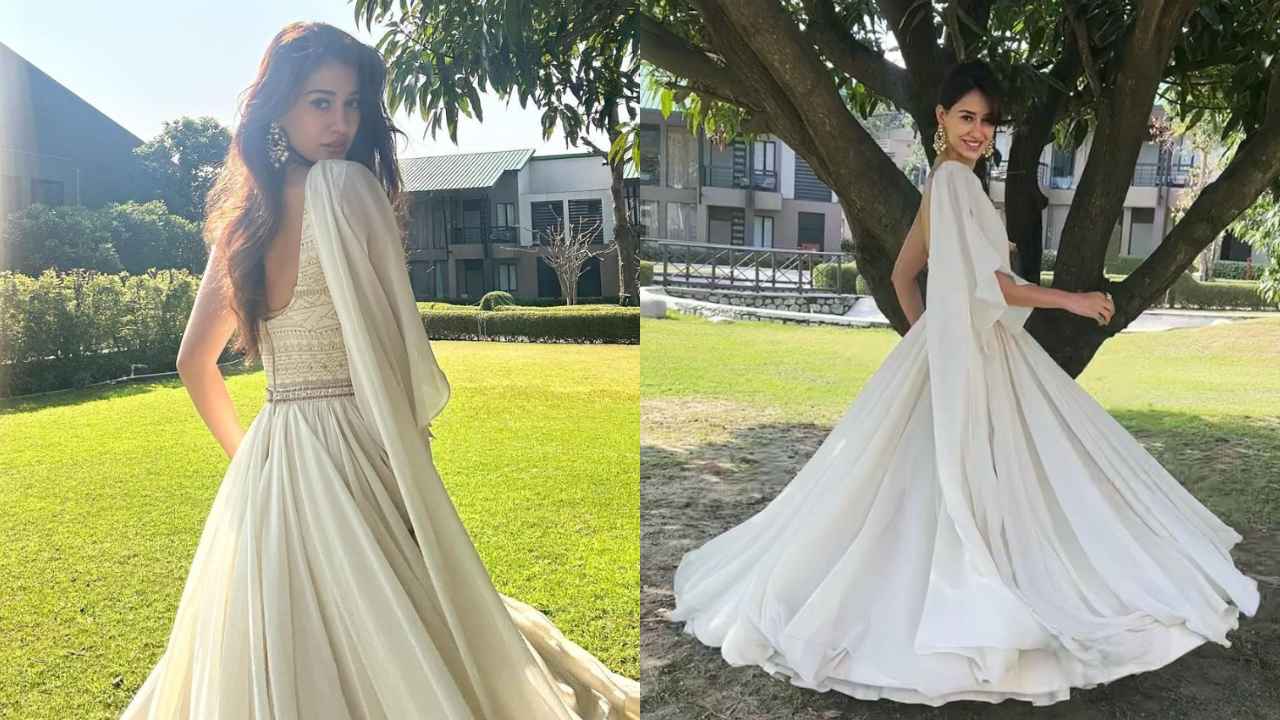 The stunning Katrina Kaif recently turned heads with her choice of an incomparably gorgeous white lehenga set, a masterpiece created by none other than the fashion royalty, Sabyasachi. This elegant ethnic ensemble featured a simple yet sophisticated sleeveless blouse with wide straps and a plunging U-shaped neckline, exuding timeless charm and grace. The blouse served as the perfect canvas for the rest of the outfit, setting the tone for the whole look.
The voluminous floor-length skirt, a hallmark of traditional lehengas, added a touch of regal splendor to the ensemble. Its flowy design and intricate detailing showcased Sabyasachi's expertise in crafting attire that exudes both opulence and comfort. The skirt was further elevated by the matching dupatta, adding layers of texture and depth to the entire outfit.
What truly set this lehenga apart was the delightful floral prints in various hues of pink that adorned the white fabric. These intricate patterns not only added a vibrant splash of color but also elevated the ensemble beyond compare, blending traditional motifs with contemporary design sensibilities.
Navratri is not just about dance and devotion; it's also a celebration of cultural diversity and the art of dressing up in vibrant hues. As you step out in your white ethnic attire, take inspiration from the allure and grace of these stars and embrace the festivities with a fashionable flair that leaves an indelible mark. The choices of these leading ladies exemplify the harmonious blend of tradition and modernity, showcasing how fashion can be a powerful expression of celebration and cultural richness.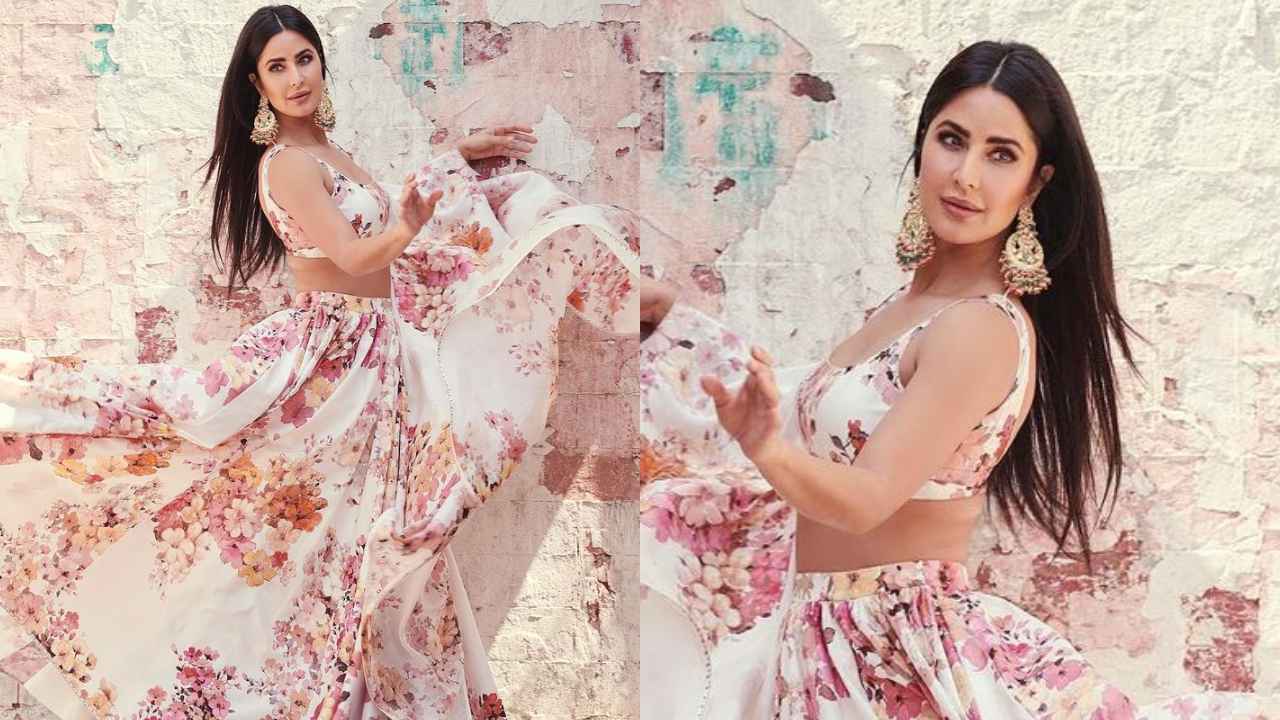 So, whether you're attending a Navratri event or any special occasion, remember the beauty and elegance of these ensembles and allow your fashion choices to reflect your individual style and the celebratory spirit of the season. As the world of fashion continues to evolve, the influence of these Bollywood fashion icons serves as a reminder of the enduring charm and adaptability of Indian attire, making it a source of inspiration for fashion enthusiasts around the world.