Sara Ali Khan Empowers in Abu Jani and Sandeep Khosla Saree: A Desi Elegance Transformed into Contemporary Chic
Sara Ali Khan's regal appearance in an off-white outfit showcased her ability to reinvent traditional attire with a contemporary twist. Her ensemble offered a unique take on the saree, reimagined as a two-piece skirt and blouse ensemble. The outfit exuded elegance and sophistication, a testament to Sara's refined fashion sense.
The chamois satin fabric skirt was the focal point of the outfit, featuring an attached and elongated flowy drape that was beautifully draped by Dolly Jain. This clever design not only created the illusion of a traditional saree but also added a touch of drama to the overall look. The pallu, placed on Sara's hand, further emphasized the saree-inspired aesthetic. The intricate border of the drape, adorned with tiny beads and crystals, formed delicate motifs that added an exquisite touch to the ensemble.
Sara's choice of this outfit not only showcased her fashion-forward approach but also highlighted her penchant for blending tradition with modernity. This outfit not only turned heads but also set a new benchmark for contemporary ethnic wear, making a strong case for experimenting with classic silhouettes to create innovative and stunning looks. As Sara continues to push the boundaries of style, her presence in the fashion world remains both captivating and influential.
Sara Ali Khan's attention to detail extended to her choice of accessories, adding another layer of charm to her off-white ensemble. The halter neck blouse she paired with the skirt was a brilliant contrast in terms of design pattern, despite being embellished similarly to the skirt. This thoughtful pairing added depth and visual interest to her overall look, showcasing her ability to create a harmonious yet dynamic ensemble.
The accessorizing was just as exquisite, with Sara opting for studded earrings that complemented the elegance of her outfit. However, it was the layered and chunky pearl necklace that truly stole the spotlight. Pearls are timeless and versatile, making them a perfect choice to enhance the traditional charm of her attire. The layered style of the necklace added a touch of opulence and drama, elevating her ensemble to a new level of sophistication.
Sara's choice of a pearl necklace not only added a classic touch to her contemporary saree-inspired outfit but also demonstrated her knack for infusing her looks with a sense of refined luxury. This carefully curated choice of accessories completed her look in a way that felt balanced and graceful, further solidifying her position as a style icon who effortlessly combines tradition and modernity to create stunning fashion statements.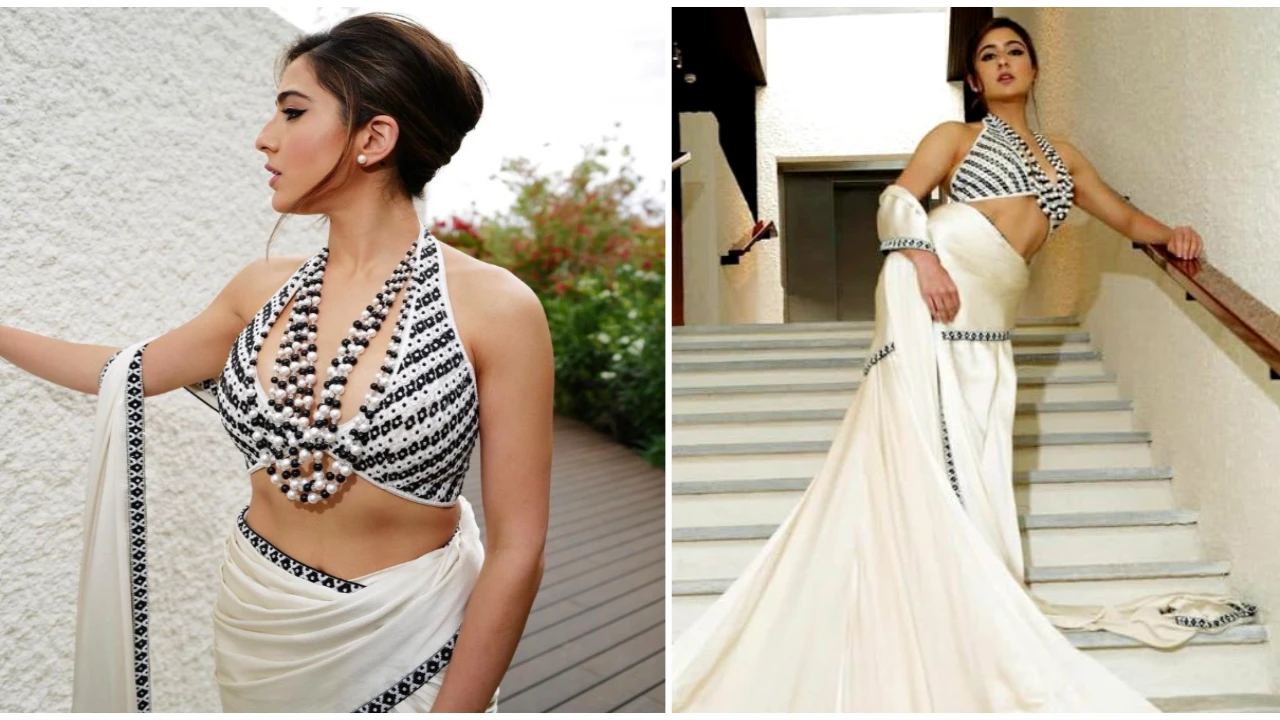 Absolutely, monochrome sarees are indeed a timeless and versatile choice when it comes to traditional attire. Their single-color palette allows for a range of styling possibilities and offers a canvas for creative expression. Here are some key reasons why monochrome sarees are so appealing:
Elegance and Simplicity: Monochrome sarees exude a sense of elegance and simplicity. The absence of contrasting colors can create a clean and sophisticated look that's suitable for various occasions.
Versatility: These sarees can be styled to suit a variety of events, from formal gatherings to festive celebrations. Depending on the fabric and design, they can be dressed up or down as needed.
Experimentation: Monochrome sarees provide a great opportunity to experiment with various blouse designs, embroideries, and embellishments. The single-color base allows for creative play with textures and patterns.
Accessorizing: Accessories like jewelry, clutch bags, and footwear can be chosen to match or contrast with the saree's color, offering different looks and moods.
Monochromatic Styling: You can choose to keep the entire look monochromatic by selecting accessories in the same color family. This creates a harmonious and cohesive appearance.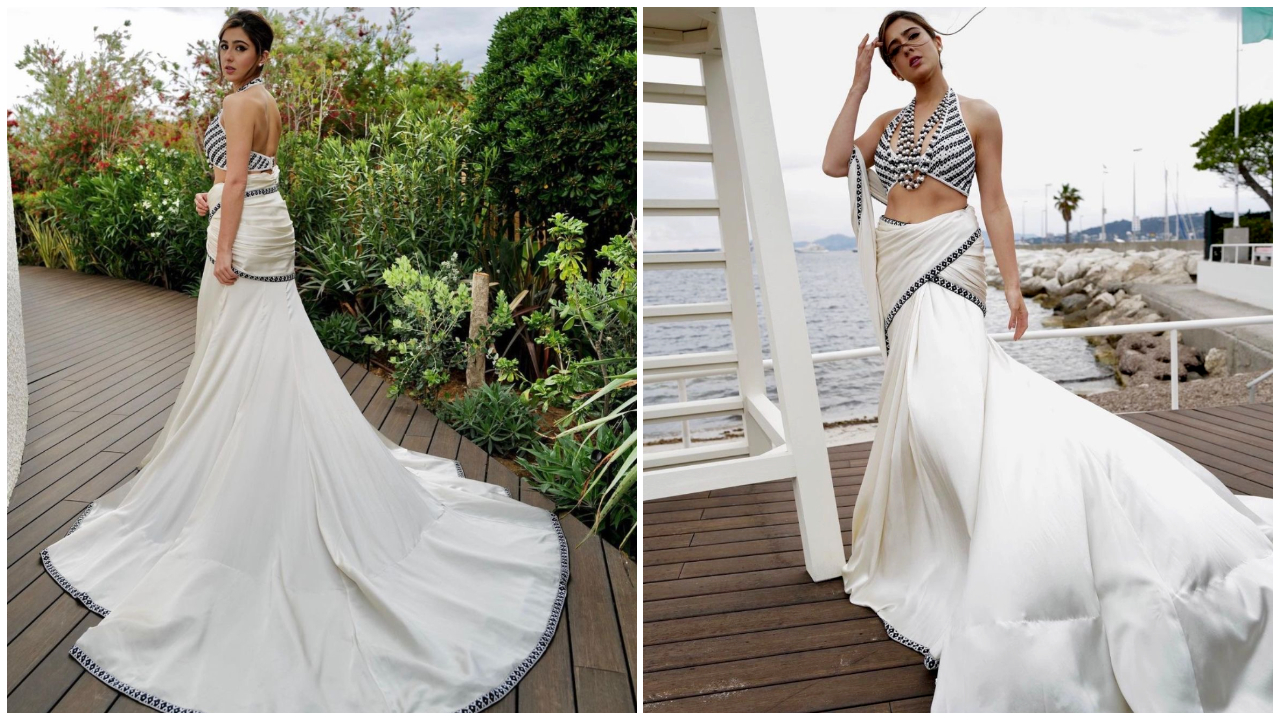 Contrasting Blouses: On the other hand, contrasting blouses in complementary colors can add a pop of vibrancy and visual interest to the ensemble.
Traditional and Contemporary Blend: Monochrome sarees can be draped and styled in traditional ways or with contemporary twists, giving you the freedom to showcase your personal style.
Focus on Details: With fewer colors to distract, attention is drawn to the saree's fabric, drape, and intricate details, making them a great choice for showcasing craftsmanship.
Whether you're aiming for an understated look or one with bold contrasts, monochrome sarees offer a versatile foundation for creating striking and memorable outfits. The key lies in the styling choices you make, allowing you to adapt the saree to your own individual taste and the occasion at hand.
Absolutely, wearing black and white sarees for weddings can create a stunning and sophisticated look. Here are some tips to ensure you balance the colors and create a harmonious ensemble:
Statement Jewelry: To add a touch of glamour and color to your black and white saree, opt for statement jewelry in silver or gold. A choker necklace, heavy earrings, and bangles can be excellent choices. The contrast of metallic jewelry against the monochrome backdrop can make a powerful style statement.
Color Accents: If you're looking to infuse a pop of color, you can choose accessories with gemstones or colored stones that match the wedding theme or your personal preferences. For example, emeralds, rubies, or sapphires can provide a vibrant touch.
Hairstyle: Depending on your personal style and the formality of the event, you can choose a hairstyle that complements the saree. Elegant options include a neatly tied bun adorned with decorative pins or a soft, wavy hairstyle that frames your face.
Makeup: Opt for makeup that enhances your natural features while adding a touch of drama suitable for a wedding. Smokey eyes, bold eyeliner, and a red or deep-toned lipstick can complement the sophistication of the black and white saree.
Clutch or Bag: Choose a clutch or bag that complements the color scheme of your accessories. A metallic or jeweled clutch can tie the look together and add a touch of luxury.
Footwear: Your choice of footwear should be based on your comfort and the formality of the event. Consider heeled sandals, embellished juttis, or pumps in metallic tones to match your jewelry.
Nails: Don't forget about your nails! A manicure in a coordinating shade or a neutral color can provide a polished finishing touch.
Blouse Design: Depending on the design of the black and white saree, you can choose a blouse in a complementary color or in a metallic shade that matches your jewelry.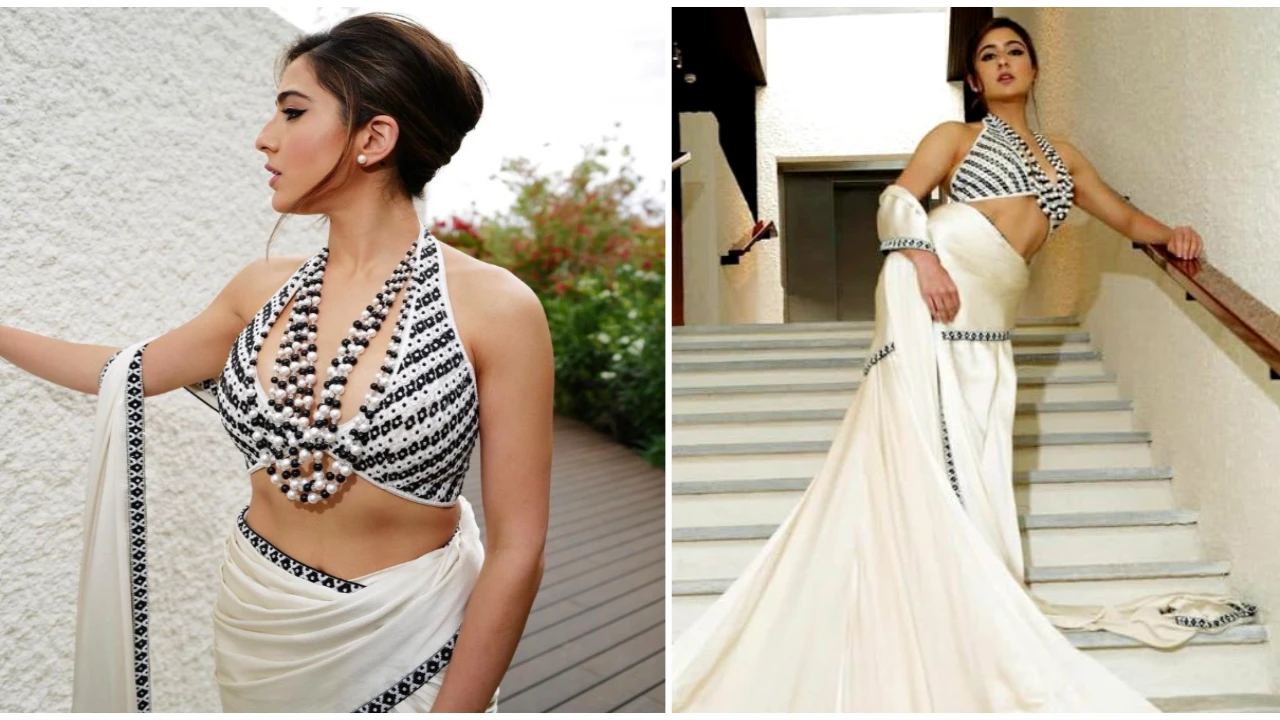 Remember that balance is key when styling a black and white saree for a wedding. Your accessories should enhance the overall look without overpowering the elegance of the saree. By carefully selecting jewelry, makeup, and other details, you can create a stunning ensemble that showcases your individual style while respecting the occasion's significance.