Disha Patani and Mouni Roy Effortlessly Ooze Oomph and Radiate Positivity in Sultry Short Dresses at an Event
Disha Patani and Mouni Roy's friendship has taken the town by storm. Their camaraderie was further cemented during their trip to the US for Akshay Kumar's The Entertainer Tours this year, where they not only shared the stage but also shared memorable moments off-stage. The duo's social media accounts were adorned with snapshots of their adventures, capturing the essence of their budding friendship.
These two actresses, known for their acting prowess and successful careers, are not only making waves in the entertainment industry but are also emerging as style icons in their own right. Their fashion choices have consistently turned heads and set trends, leaving fashion enthusiasts eager to emulate their chic looks.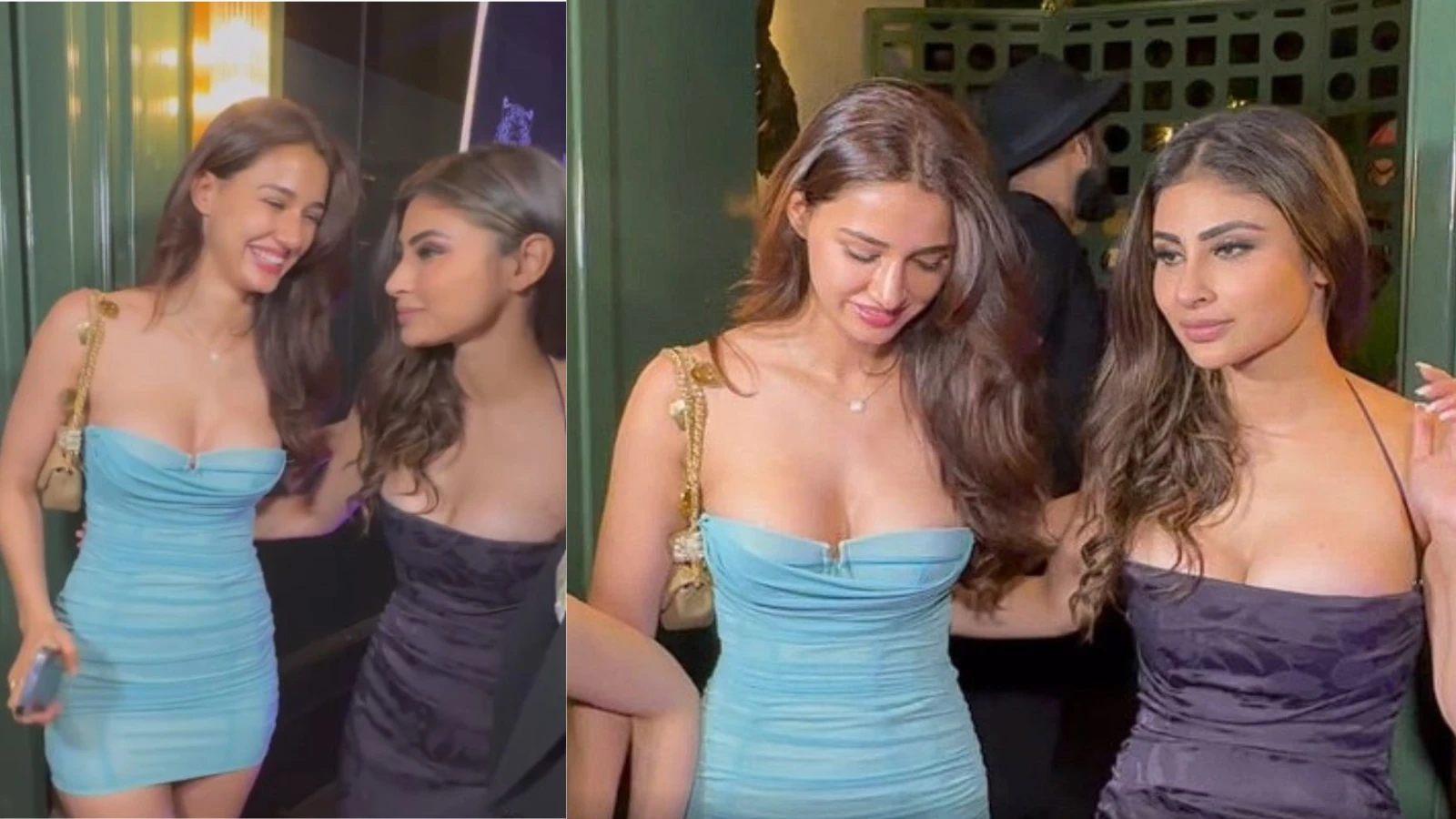 The chemistry between Disha Patani and Mouni Roy is not just evident on screen but also off-screen. Their genuine bond and mutual support for each other are showcased through their social media posts and public appearances. They have been seen attending various events and gatherings together, effortlessly exuding friendship goals that fans and followers love to witness.
Both Disha and Mouni possess distinct fashion sensibilities, yet their styles harmoniously complement each other. Whether they're embracing elegant gowns at grand events or rocking casual-chic ensembles, their fashion choices consistently attract attention and admiration from fashion aficionados.
As they continue to traverse their professional journeys and share their lives with their fans, Disha Patani and Mouni Roy stand out not only as accomplished actresses but also as fashion-forward trendsetters who are redefining friendship and style in the world of glamour.
Mouni Roy and Disha Patani undoubtedly share a mutual affinity for bold and majestic fashion choices. Their style statements consistently showcase their confidence and flair for making a striking impact. Whether they're gracing red carpets or attending high-profile events, their fashion choices are never overlooked, sparking discussions and setting new trends.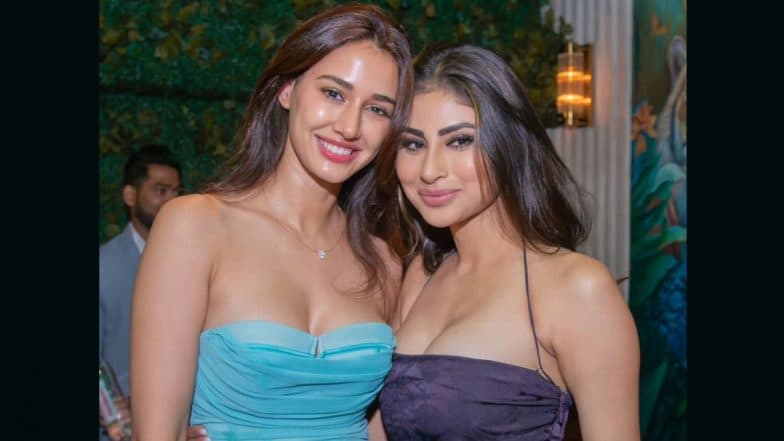 While their penchant for glamorous and eye-catching ensembles is evident, they also possess the ability to effortlessly pull off simple yet stylish girl-next-door looks. This versatility in their fashion choices allows them to seamlessly transition from casual outings to more formal occasions, demonstrating their adaptability and keen sense of style.
Their collective ability to captivate attention and make headlines when attending events further cements their status as style icons. Their fashion selections are often dissected by fashion enthusiasts, designers, and media alike, making them both influential figures in the world of fashion.
Mouni Roy and Disha Patani's shared taste in style not only strengthens their bond as friends but also creates a sense of camaraderie in the world of celebrity fashion. Their choices consistently inspire fans and followers, prompting them to experiment with their own looks and embrace the confidence that comes with wearing bold and remarkable ensembles. As their friendship and careers continue to flourish, their fashion journey remains a captivating aspect of their public personas.
Mouni Roy, on the other hand, opted for an elegant and sophisticated look. She wore a stunning black gown with intricate lace detailing and a plunging neckline. The gown hugged her curves perfectly and added an element of allure to her appearance. Mouni paired the gown with minimal jewelry, including delicate earrings and a statement ring. Her hair was styled in loose waves, and her makeup featured a smokey eye look and nude lips. The overall effect was a blend of timeless glamour and contemporary elegance.
Both Disha Patani and Mouni Roy showcased their distinct styles in these recent looks. Disha's pastel blue mini dress exuded a youthful and bold vibe, while Mouni's black gown emanated sophistication and classic charm. Their ability to carry off contrasting styles with grace and confidence continues to captivate the fashion world and inspire their fans.
It's fascinating to witness how these two actresses interpret fashion differently, yet manage to create impactful statements each time they step out. Their fashion choices not only reflect their personal tastes but also highlight their understanding of current trends and their innate ability to set new ones. As they continue to make waves in the entertainment and fashion industries, their fans eagerly anticipate what stylish surprises they will unveil next.
Mouni Roy's choice of a satin mini dress further showcased her impeccable style. The figure-hugging silhouette of the dress accentuated her curves, while the thigh-high slit added a touch of allure. Just like Disha, Mouni also opted for a minimalistic approach, complementing her dress with silver stilettos that added a touch of glamour. Her hair styled in light waves added to the dreamy and ethereal quality of her look.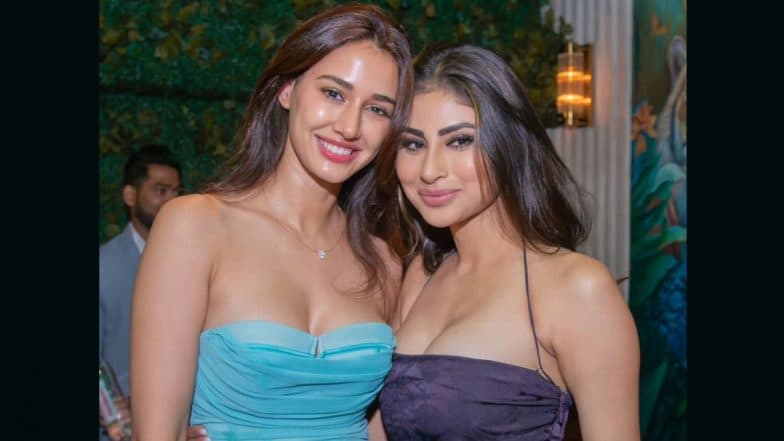 The camaraderie between Disha Patani and Mouni Roy was evident as they walked out of the restaurant and posed for the paparazzi. Their laughter and shared moments highlighted their strong bond and genuine friendship. Accompanied by their friend, the trio showcased not just their individual style statements, but also the joy of togetherness and the fun they have when they hang out.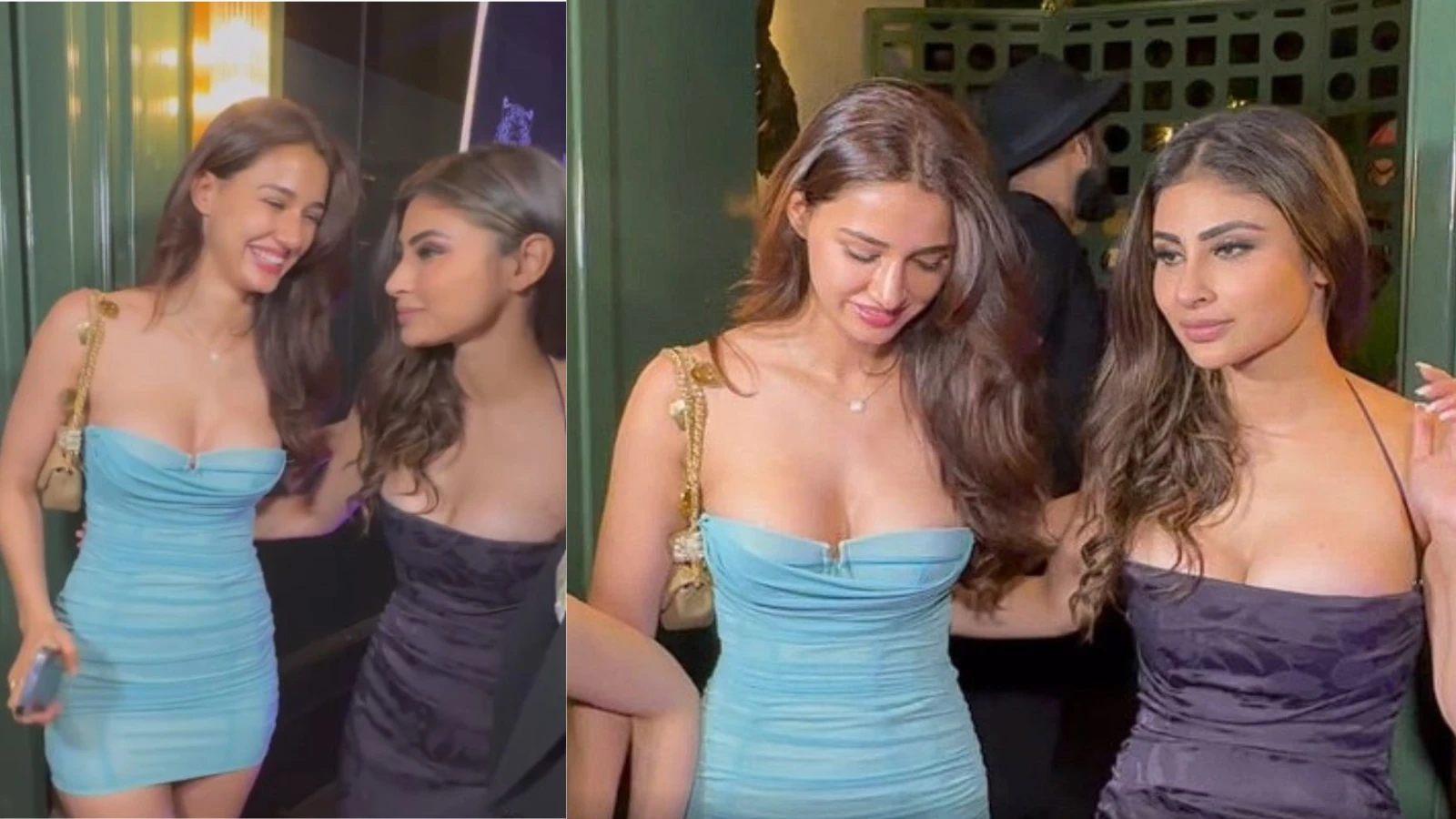 Disha and Mouni's ability to effortlessly carry off stunning looks, whether individually or together, cements their status as fashion icons. Their appearances not only capture the attention of the media but also inspire fashion enthusiasts to experiment with their own styles and create memorable looks. As they continue to share moments of friendship and fashion, fans can't help but eagerly anticipate their next stylish outings.