Bhumi Pednekar's full-sleeved jacket and thigh-high side slit skirt ensemble is purple perfection
Bhumi Pednekar has concluded the promotional campaign for her recently released film "Thank You For Coming" in spectacular style. During the promotions for the movie, she left a lasting impression by serving up major fashion goals. Bhumi is known for her versatile acting skills, and it's evident that her fashion choices are equally diverse and impressive.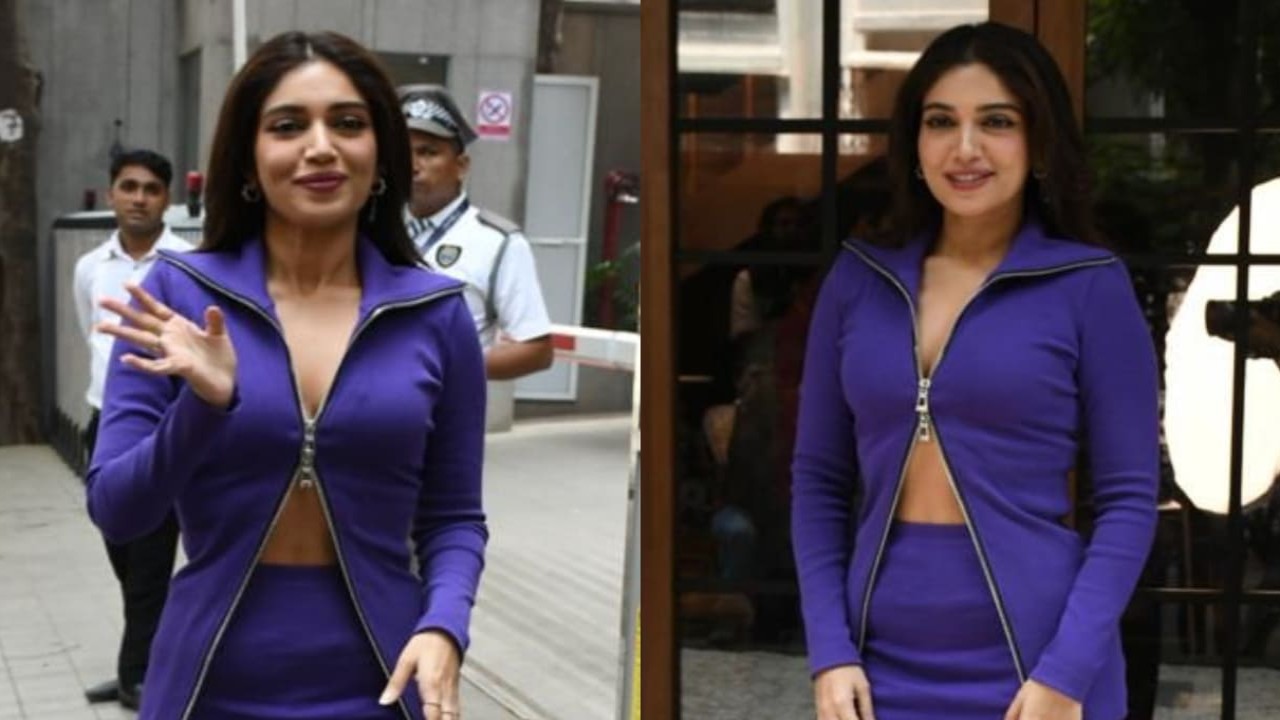 Throughout the promotional campaign, Bhumi Pednekar showcased an array of beautiful ensembles, each one leaving a remarkable impact. Her fashion choices not only complemented her personality but also highlighted her ability to effortlessly transition between different styles. Bhumi's keen sense of fashion and her knack for choosing outfits that resonate with her audience made her a standout presence during the film's promotions.
Bhumi Pednekar's fashion choices during the promotional campaign didn't just garner attention; they left many speechless. Her stunning ensembles, be they traditional or contemporary, emphasized her fashion-forward thinking and her commitment to making a statement. Bhumi's fashion choices serve as a source of inspiration for many who admire her not just for her acting talent but also for her impeccable style.
Bhumi Pednekar effortlessly mastered every outfit during the promotional campaign, showcasing her versatility in fashion. Whether it was a beautiful one-piece dress or a stunning three-piece combination, she demonstrated her ability to carry off different styles with grace and confidence. This versatility is a testament to her understanding of fashion and her flair for experimenting with various looks.
Recently, Bhumi was captured stepping out in the city, and her innate elegance once again garnered attention. Her ability to exude elegance and grace in any outfit is something that has become synonymous with her personal style. Whether she's attending an event, promoting a film, or simply going about her day, Bhumi's fashion choices never fail to make a statement.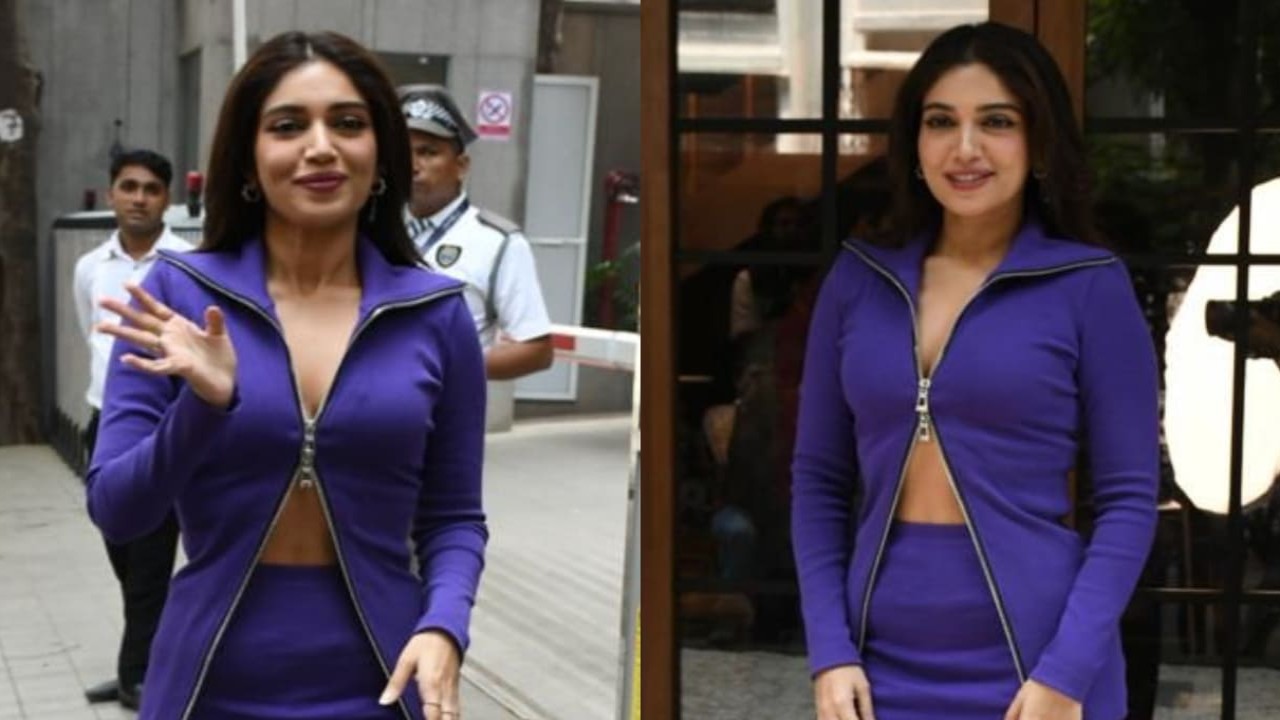 Bhumi Pednekar's effortless mastery of fashion extends beyond just clothing; it encompasses her overall sense of style, including her choice of accessories, makeup, and hairstyling. Her ability to consistently look elegant and put-together is a testament to her fashion acumen and her commitment to maintaining her fashion-forward image.
Bhumi Pednekar recently made quite the fashion statement when she was spotted wearing a stunning purple jacket that immediately caught everyone's interest. This garment exuded an air of sophistication and contemporary flair, demonstrating Bhumi's impeccable sense of style. The choice of a bold color like purple showed her willingness to experiment with her looks.
The most eye-catching feature of the jacket was its large flap-like collar, which added a touch of drama to her overall style. Collars can significantly influence the appearance of an outfit, and in this case, the oversized collar made a bold statement. It not only showcased Bhumi's fashion-forward thinking but also contributed to her unique and standout appearance.
Additionally, the jacket boasted broad sleeves, which not only made her look fashionable but also added a trendy touch to the ensemble. Broad sleeves have been a popular fashion choice, and Bhumi's decision to incorporate them in this outfit demonstrated her awareness of current fashion trends. It's clear that she knows how to balance classic elements with contemporary styles, resulting in a fashionable and stylish look.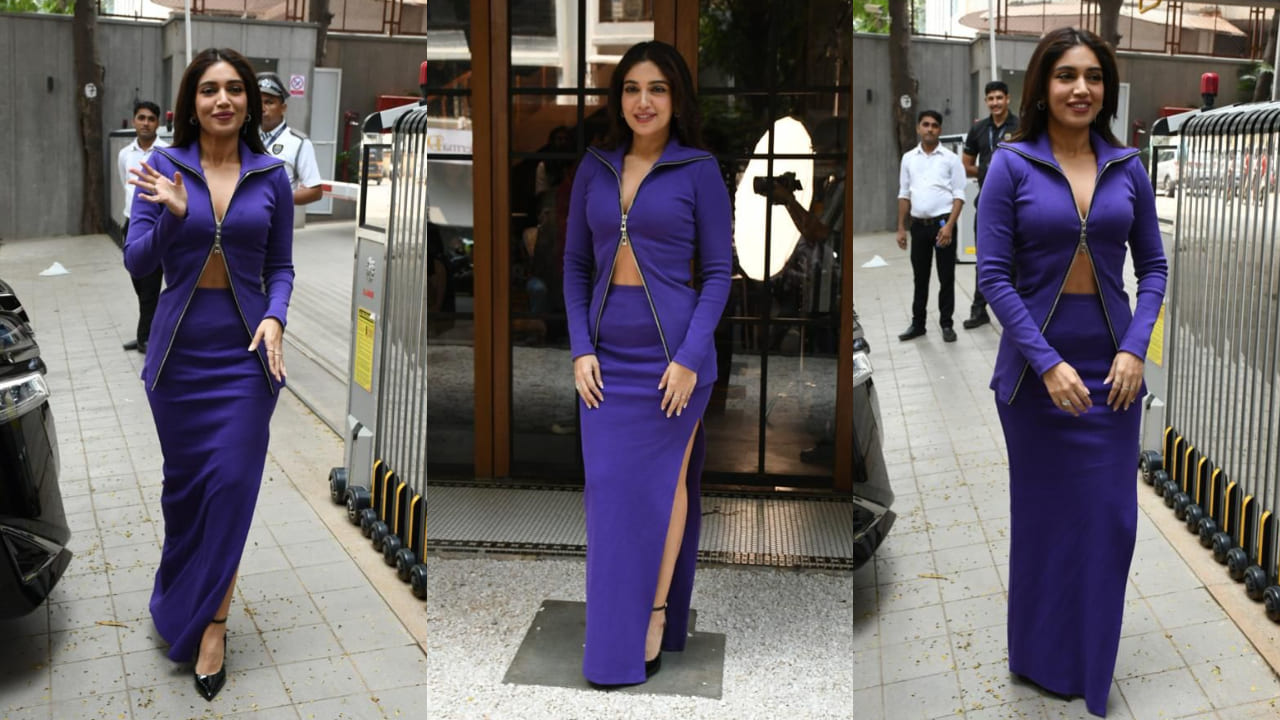 Though the overall design of the jacket was relatively simple, it was the unusual placement of the zip that stole the entire show. The zip became the focal point of the outfit, showcasing Bhumi Pednekar's attention to unique details. Placing the zip at the bust line was a bold and creative choice, as it provided a strong centerpiece that instantly drew attention.
What made this zip placement even more intriguing was the fact that the upper and lower areas of the zip were left open. This unconventional approach added an element of mystery and playfulness to the outfit. It was a departure from the traditional use of zippers, and it showcased Bhumi's willingness to embrace unconventional and avant-garde elements in her fashion choices.
The unusual zip placement in the jacket highlighted Bhumi Pednekar's ability to infuse creativity and innovation into her style. Her fashion choices consistently push the boundaries and demonstrate her passion for making bold and memorable statements through her outfits. It's clear that she's not afraid to experiment and take risks with her fashion, resulting in a look that is both distinctive and captivating.
Bhumi Pednekar elevated her purple fashion statement to the next level by creating a beautifully coordinated outfit. She paired the striking purple jacket with a basic high-waisted purple skirt, and the result was a stylish match made in heaven. This coordinated set demonstrated her excellent fashion sense, emphasizing her ability to put together ensembles that exude elegance and charm.
The choice of a high-waisted skirt added a classic touch to the outfit, accentuating Bhumi's waist and creating a flattering silhouette. High-waisted styles are known for their ability to add a timeless and polished element to any look, and Bhumi's choice was no exception.
What added a contemporary twist to the ensemble was the thigh-high side split in the skirt, which displayed just the perfect amount of flesh. This detail injected a hint of allure and flirtatiousness to the outfit, balancing the classic with the modern and showcasing Bhumi's fashion-forward approach.
To complete her look, Bhumi opted for black pointed-toe heels, which added a touch of refinement and sophistication to her overall appearance. The choice of footwear not only complemented the color palette but also elevated the outfit, making it a well-rounded and stunning ensemble.
While the purple co-ord set was undoubtedly stunning, there were some aspects that didn't quite hit the mark. One of the key elements that stood out was the location and style of the jacket's zip. In fashion, the finer details matter significantly, and even a minor misstep in the design or placement of such elements can affect the overall style.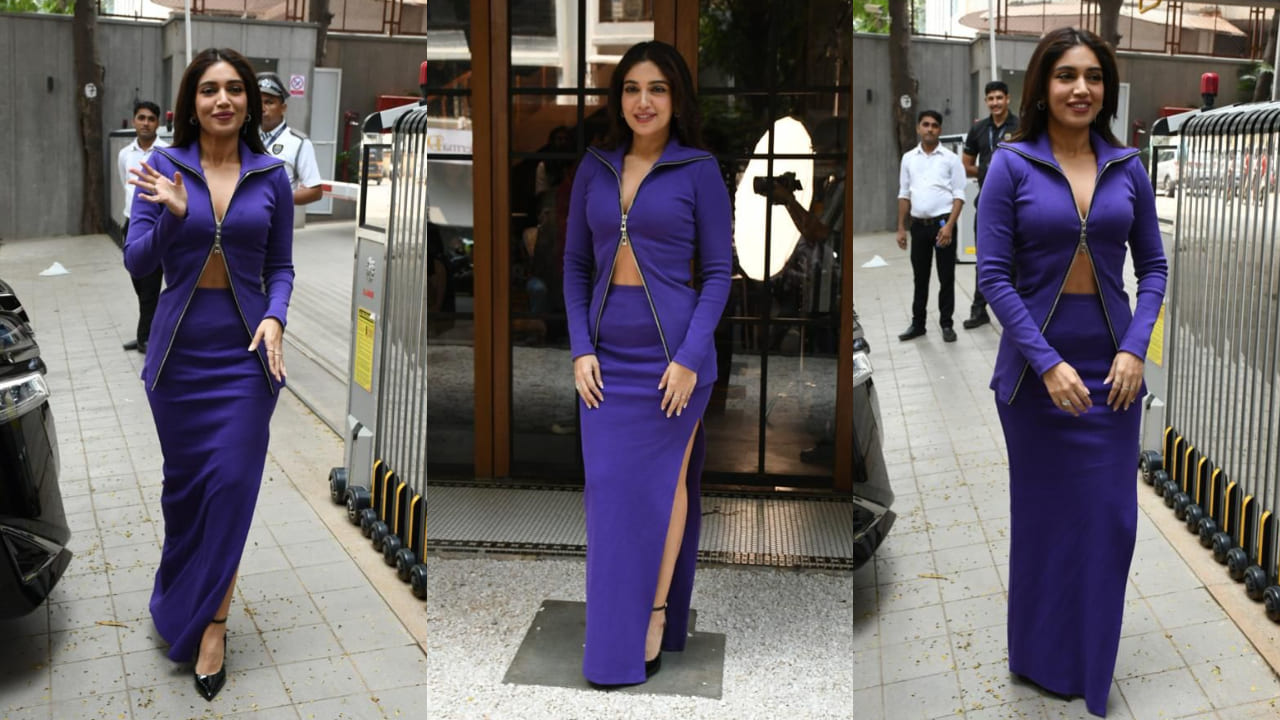 The placement of the zip at the bust line, while unique, may not have been the most flattering choice for the outfit. It's essential to consider how certain elements work together to create a cohesive and aesthetically pleasing overall look. In this case, the zip placement might have disrupted the flow of the outfit and detracted from its overall elegance.
Fashion is indeed all about experimentation, and daring choices can lead to some of the most remarkable and innovative styles. However, it's important to remember that not every experimental decision will work flawlessly. Even in the world of fashion, where pushing boundaries and taking risks is celebrated, there may be instances where certain elements don't quite come together as intended.
In conclusion, while Bhumi Pednekar's purple co-ord set was stunning, the location and style of the jacket's zip highlighted the importance of paying attention to the finer details in fashion. Fashion is a realm of constant experimentation, but it's also a world where not every daring decision will lead to a perfect result. These occasional missteps serve as valuable reminders that even in the most creative endeavors, there's always room for growth and learning.