Kriti Sanon redefines style in white mini-dress, sleeveless blazer and long boot
Kriti Sanon, the talented actress, is undoubtedly on a remarkable journey in the world of cinema. Her recent accomplishment at the 69th National Film Awards, where she received the Best Actress honor, is a testament to her exceptional acting skills and dedication to her craft. This achievement is a significant milestone in her career and reflects her ability to bring authenticity and depth to her on-screen roles.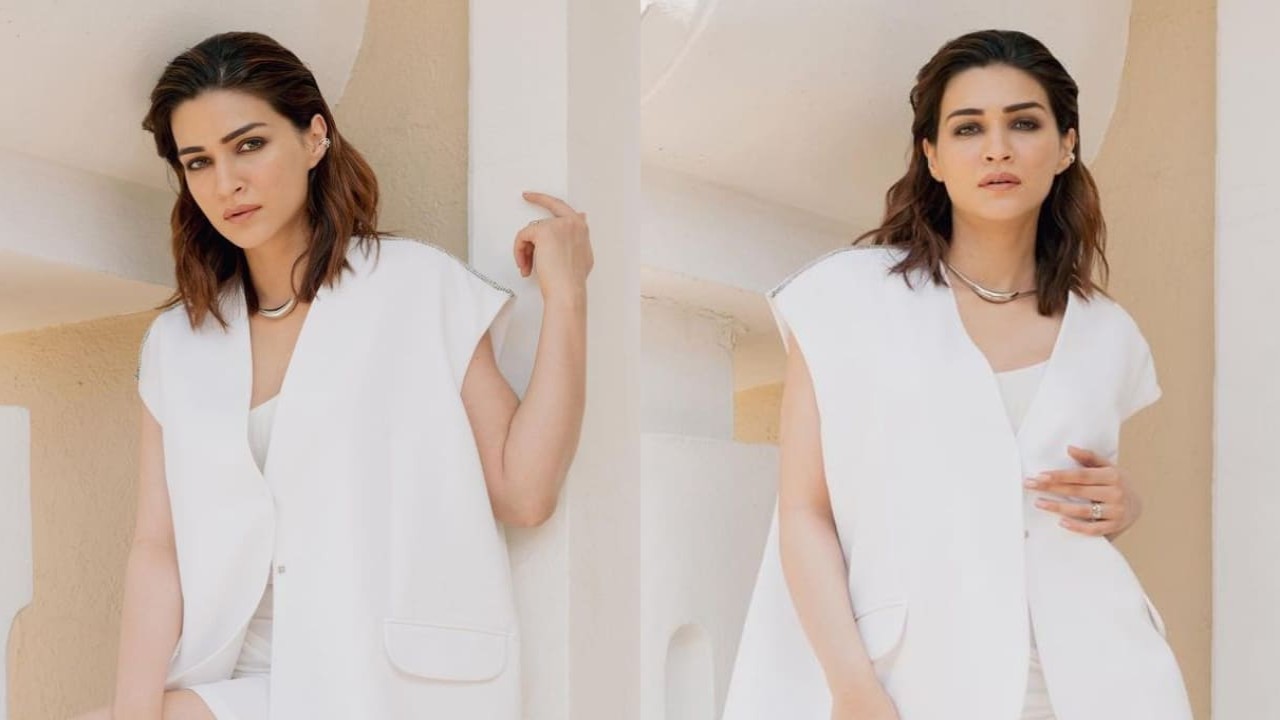 Currently, Kriti Sanon is all set to captivate audiences once again with the much-anticipated film "Ganapath." In this exciting project, she shares the screen with the dynamic and talented Tiger Shroff. The film has been generating a buzz in the industry and among fans, and the anticipation is running high. Kriti's involvement in the movie has added an extra layer of excitement, as her past performances have proven her ability to deliver powerful and memorable characters on the big screen.
Apart from her acting commitments, Kriti Sanon is also immersed in the promotional activities for "Ganapath." As any successful film requires, promotional efforts are crucial in creating awareness and excitement among the audience. Kriti's active involvement in these promotional activities showcases her dedication to the film and her commitment to making it a resounding success.
Kriti Sanon's fashion choices have always been a topic of admiration and discussion, and she didn't disappoint at a recent event where she turned heads with her stunning white attire. Her fashion sense often strikes a balance between elegance and trendiness, and this occasion was no different.
In her white outfit, Kriti Sanon looked nothing short of lovely. The color white is often associated with purity and grace, and she embodied these qualities effortlessly. Her choice of attire perfectly complemented her natural beauty and radiance, making her stand out as a style icon.
Kriti's ability to style her look with perfection is one of the reasons she's considered a fashionista in the industry. She has an innate sense of fashion and knows how to select outfits that not only suit her but also set trends. Whether it's her choice of clothing, accessories, or makeup, she always manages to strike a balance that resonates with her personality and the occasion.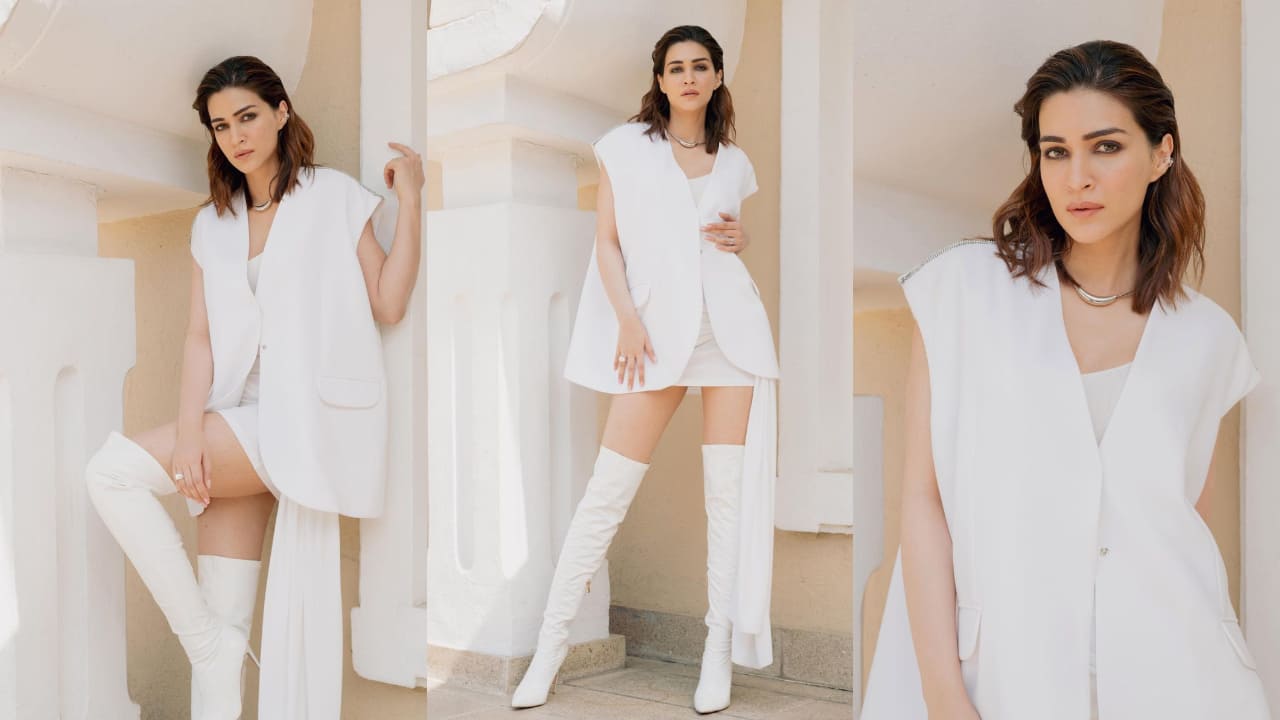 Kriti's fashion choices aren't just about wearing the latest trends but about making a statement. Her outfits are often well thought out, and she knows how to carry them with grace and confidence. Her fashion sense is a source of inspiration for many, as she consistently manages to combine elegance and style to create looks that leave a lasting impression.
In her latest look, Kriti Sanon elevated the fashion standard by choosing a gorgeous white blazer that truly made a statement. The white blazer is a classic and versatile piece of clothing, and Kriti's take on it was nothing short of stunning. Her fashion choices often resonate with many, and this particular ensemble was no exception.
Kriti's choice of a longline blazer with no collar showcased her keen sense of style and her ability to experiment with different fashion elements. The absence of a collar gave the blazer a modern and chic look, making it clear that she's not just following trends but setting them herself. The blazer's length added an elegant touch to her outfit, and it's evident that Kriti understands how to strike a balance between classic and contemporary fashion.
One of the key highlights of this outfit was Kriti's toned arms. The sleeveless blazer not only accentuated her well-toned arms but also added an edgy and stylish dimension to the entire look. This choice reflects her confidence in showcasing her physical fitness and her fashion-forward approach to styling.
Kriti Sanon once again displayed her incredible taste and confidence in fashion by pairing the white blazer with a mini-length dress featuring a deep scoop neckline. This bold choice showcased her ability to take fashion risks and pull them off with grace. The deep scoop neckline added a touch of sultriness to the outfit, and Kriti's confidence in wearing it made her stand out as a style icon.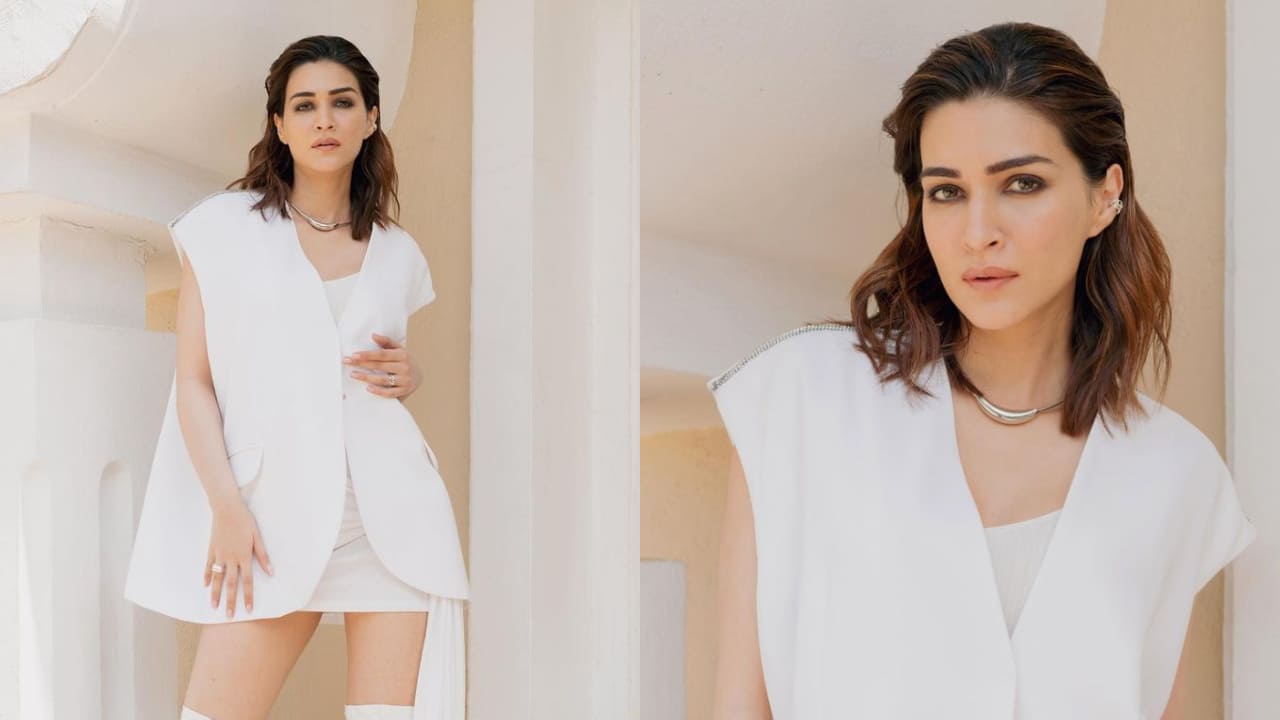 What made this outfit even more fascinating was Kriti's innovative approach. She added a pleated fabric extension on the side of the dress, which brought a modern and avant-garde element to the costume. This unique addition not only demonstrated her creativity but also emphasized her willingness to experiment with different textures and styles. Kriti's ability to blend classic pieces like the white blazer with contemporary elements is a testament to her fashion-forward thinking.
Kriti's outfit choice in this look exemplified her ability to blend confidence, style, and creativity. It's no wonder that she continues to be a fashion inspiration for many, as she consistently pushes the boundaries of fashion and leaves a lasting impression with her unique and captivating ensembles.
Kriti Sanon's white ensemble indeed exudes designer vibes, and it comes from the renowned brand 431-88 by Shweta Kapur. The fashion world often looks to established designers like Shweta Kapur to set the latest trends, and Kriti's choice to wear a creation from this label demonstrates her affiliation with high fashion. The brand 431-88 is known for its unique and contemporary designs, and Kriti's choice further solidifies her status as a fashion influencer who stays up-to-date with the industry's latest developments.
It's worth noting that Shweta Kapur's brand has recently gained attention as Malaika Arora graced the Lakmé Fashion Week runway as their show-stopper. The Lakmé Fashion Week is a prestigious platform that showcases some of the most cutting-edge and stylish creations in the industry. Kriti's selection of a gown from 431-88 reflects her appreciation for cutting-edge fashion and her ability to align herself with designer brands that are making waves in the fashion world.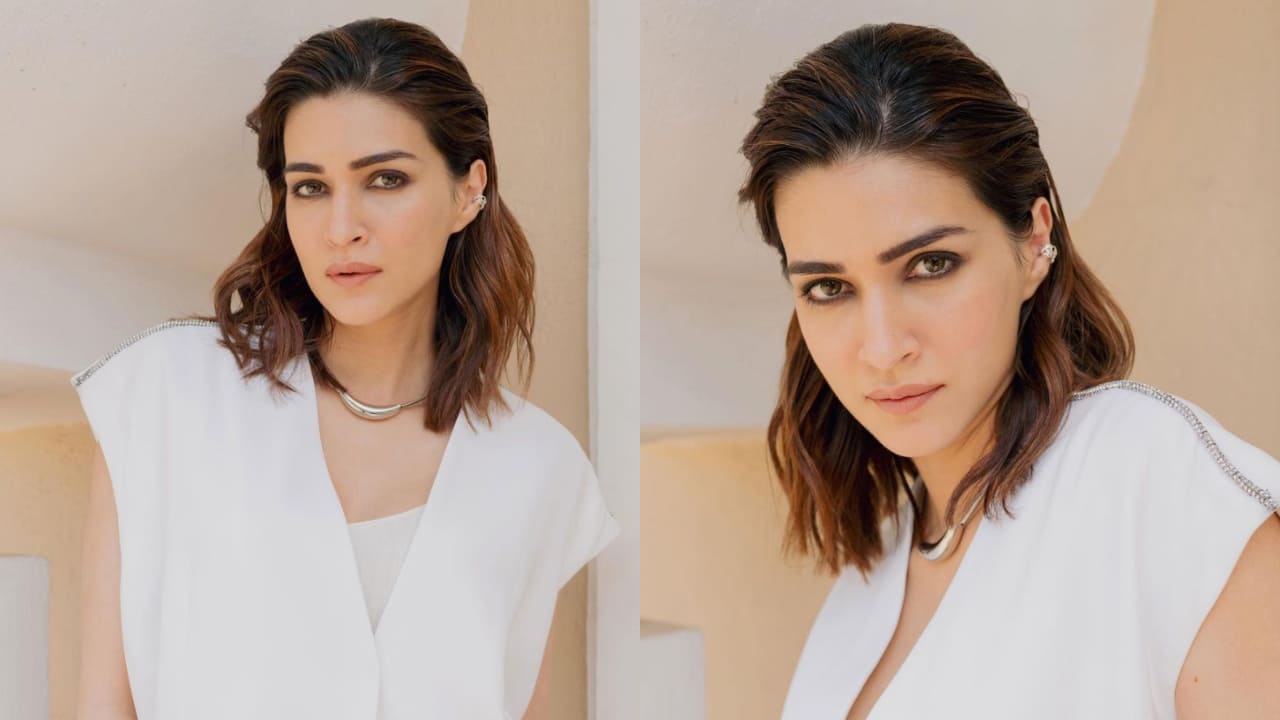 In conclusion, Kriti Sanon's choice of a gown from 431-88 by Shweta Kapur not only underlines her love for designer fashion but also aligns her with recent developments in the fashion industry, such as Malaika Arora's appearance at the Lakmé Fashion Week. Kriti continues to be a fashion icon and influencer, setting trends and captivating the fashion world with her stylish choices.