Kareena Kapoor radiates Poo energy as she dons a HOT PINK shirt dress with matching Christian Louboutin!
Shirt dresses have emerged as a popular choice in the ever-evolving world of fashion, and it's no wonder why. These outfits offer a perfect blend of ease and elegance, making them a hit among fashion enthusiasts. Even our beloved OG Bollywood fashionista, Kareena Kapoor Khan, is no exception to this trend. She recently graced an occasion wearing a stunning solid-colored shirt dress that left everyone in awe of her impeccable fashion sense.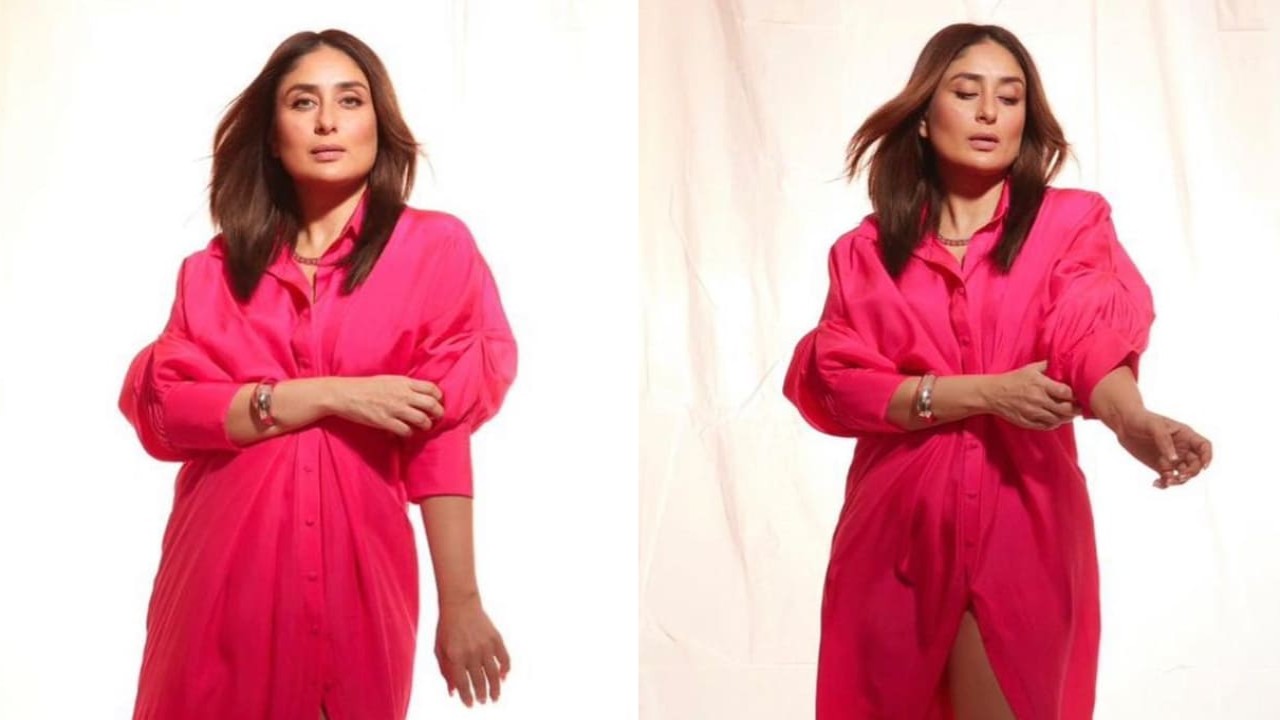 The question on everyone's mind is, where did Kareena find this amazing outfit that made her look like a million bucks? Well, the answer lies in the attention to detail and the choice of the right fashion designer. Kareena Kapoor Khan is known for her discerning taste when it comes to fashion, and her outfit choices often reflect her style sensibilities.
Hold on to your hats, fellow fashionistas, as we're about to spill the beans on this fabulous fashion find. Kareena's knack for turning heads with her attire has never waned, and her latest shirt dress is a testament to her enduring status as a true fashion icon. It's time to take a closer look at this remarkable ensemble and discover the designer behind it who helped Kareena make a lasting fashion statement.
Kareena Kapoor, a renowned Bollywood actress, recently made a striking fashion statement that left everyone in awe. She was spotted wearing a stunning pink shirt dress that captivated onlookers with its brilliance. The vibrant hot pink color she chose for the dress immediately caught the eye, leaving a lasting impression on all who saw her.
What made this dress even more remarkable was its clever design. It combined classic half-sleeves with a unique twist – half-connected puff sleeves. This innovative addition added a whimsical and fashionable touch to the ensemble, setting it apart from ordinary shirt dresses. Kareena effortlessly carried off this unconventional style, showcasing her fashion-forward sensibilities.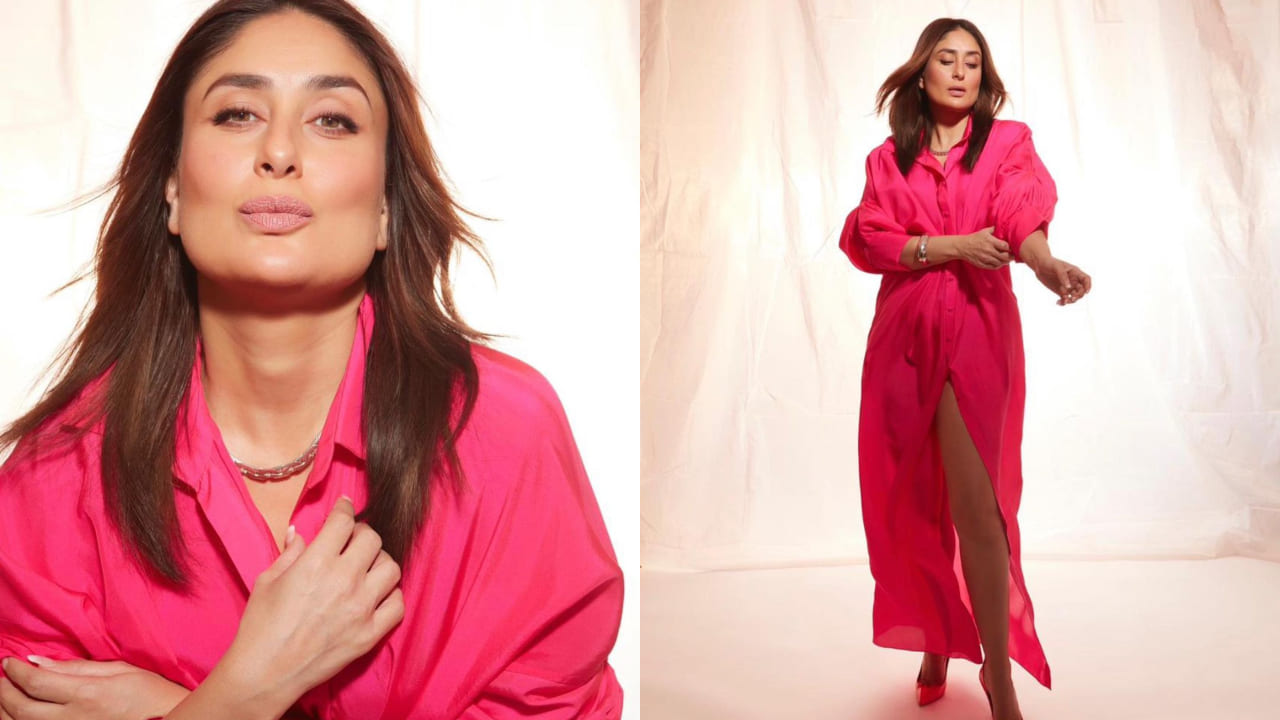 The dress exuded an air of elegance and undeniable appeal. Its floor-length design lent a touch of sophistication and grace to Kareena's appearance. Additionally, the open slit-like feature of the dress added a dash of sultriness while maintaining an overall sense of class and sophistication. Kareena Kapoor, once again, proved her ability to make heads turn with her impeccable style and fashion choices, leaving everyone in admiration of her sartorial choices.
Kareena Kapoor has always been a fashion icon, and her recent choice to wear the 'Eve' Dress by Reik Studio in a striking hot pink color further solidified her reputation as a trendsetter. This eye-catching garment, priced at Rs. 25,500, not only showcased her inherent elegance but also highlighted her unique fashion sense, making it yet another memorable moment in her style journey.
The 'Eve' Dress by Reik Studio exuded sophistication and charm, and Kareena's choice to wear it added an element of allure to her overall appearance. The hot pink hue was a bold and confident choice, perfectly complementing her personality and enhancing her attractiveness. It's no wonder that Kareena is known for her ability to effortlessly carry off such bold fashion choices.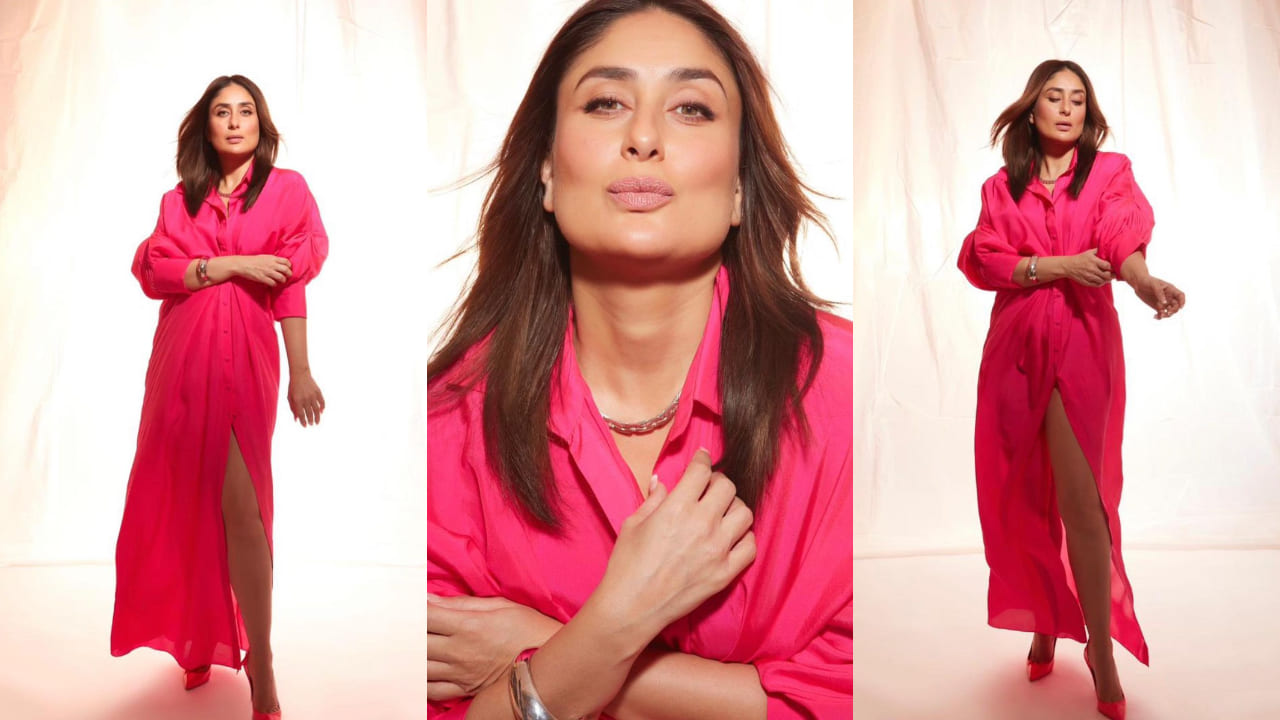 To complete her look, Kareena accessorized her ensemble with a Flat Link Chain from Misho Designs. This subtle yet stylish addition added a touch of sophistication to her outfit, demonstrating her keen attention to detail when it comes to fashion. Kareena Kapoor's fashion choices continue to inspire and captivate, making her a true style icon in the world of entertainment and glamour.
Kareena Kapoor's keen eye for fashion was evident not only in her choice of clothing but also in her selection of accessories. The Flat Link Chain from Misho Designs, which she paired with her 'Eve' Dress by Reik Studio, served as the perfect addition to her outfit, infusing it with a touch of class and sophistication. This accessory not only complemented her attire but also elevated her overall fashion statement, highlighting her ability to strike the perfect balance between bold and elegant style choices.
Furthermore, Kareena adorned her wrist with the silver rhodium-plated Sirena Cuff from Misho Designs, which came with a price tag of Rs. 14,214. This cuff beautifully matched her ensemble, seamlessly blending with her attire and enhancing her overall look. Kareena's thoughtful choice of accessories displayed her meticulous attention to detail when it comes to fashion, further solidifying her status as a true fashion icon.
Kareena Kapoor's ability to effortlessly coordinate her accessories with her clothing is a testament to her fashion acumen. Her style choices consistently captivate the fashion world, making her a trendsetter admired for her impeccable taste and her innate sense of design.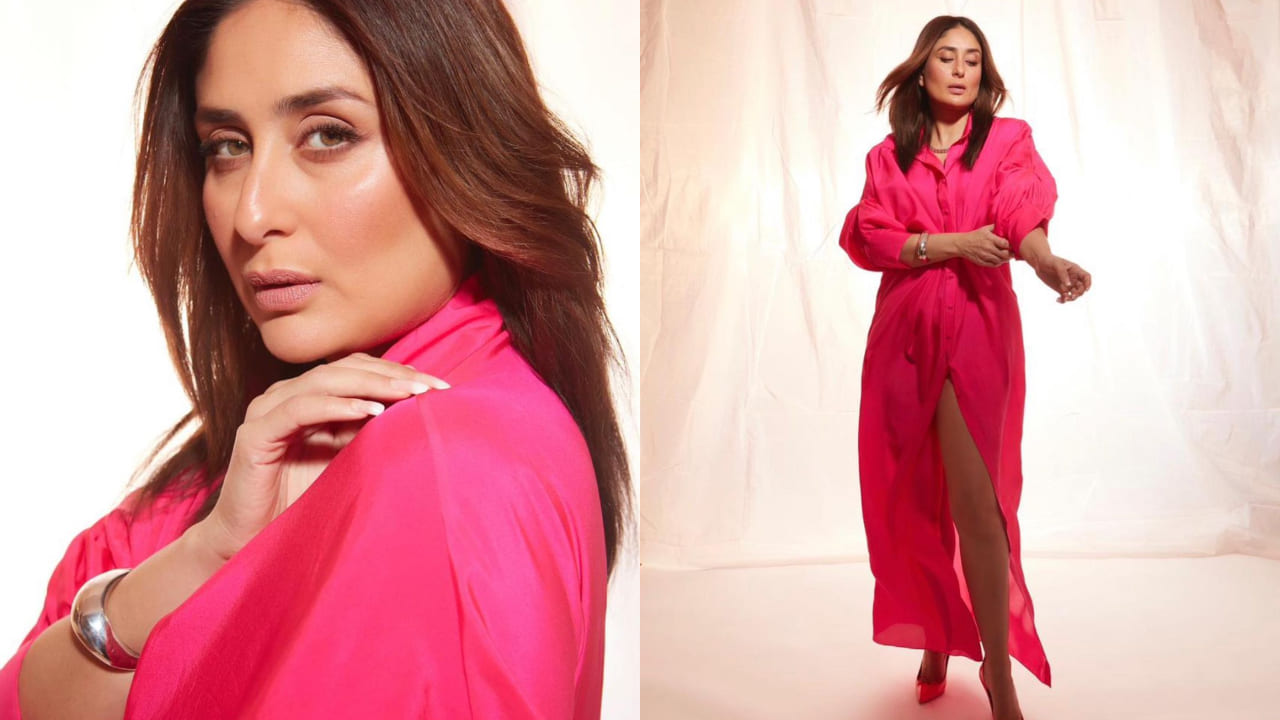 Kareena Kapoor's fashion choices have always been a source of inspiration and admiration, and her recent appearance in an exquisite bright pink gown was no exception. To elevate her stunning look, she opted for a pair of Christian Louboutin pumps, adding a touch of luxury to her ensemble. The iconic red-soled Louboutin pumps are renowned for their elegance and style, perfectly complementing the high-fashion aesthetic Kareena is known for.
The credit for bringing out Kareena's fashion expertise in this whole ensemble goes to the creative stylist duo, Bhawna Sharma and Prashant Mangasuli. Their expertise in curating her look emphasized her inherent sense of style, making the entire outfit a fashion statement worth remembering.
Completing her look was the makeup artistry of Tanvi Chemburkar, who worked her magic on Kareena. She opted for a single-lined eyeliner, a classic choice that highlighted Kareena's natural beauty, and a basic dewy makeup look that enhanced her radiant skin. Tanvi's makeup work perfectly complemented the overall elegance of Kareena's attire, making her look picture-perfect and red-carpet ready. Kareena Kapoor's collaboration with these talented professionals showcased her commitment to delivering a complete and harmonious style that left everyone in awe.
Kareena Kapoor's fashion journey is always a testament to her impeccable taste and style, and her recent appearance was no exception. Her effortlessly elegant hairdo, featuring basic open hair with a central division, was beautifully sculpted by the talented Mitesh Rajani. This simple yet sophisticated hairstyle perfectly complemented her overall look, adding a touch of class to her appearance.
Once again, Kareena Kapoor proved that she is a true fashion icon, not only for her immaculate style choices but also for her collaboration with a team of professional experts who know how to enhance her natural beauty. With a keen eye for detail and a commitment to delivering a complete and harmonious style, Kareena continues to captivate the fashion world and set trends in the realm of glamour and beauty. Her ability to effortlessly bring together various elements of fashion and beauty showcases her unmatched elegance and sophistication.