Kriti Sanon stuns in a Zara Umrigar mini dress!
Indeed, Kriti Sanon is no stranger to glitz and glam. Her love for all things dazzling and her unapologetically experimental style make her the perfect inspiration for the party season. Whether it's shimmering dresses or sartorial neon numbers, Kriti knows how to fabulously flaunt her unique and experimental fashion choices.
When it comes to party season, Kriti Sanon sets the bar high with her glamorous outfits. She effortlessly embraces shimmer and sparkle, incorporating them into her looks in a way that is both eye-catching and chic. Whether it's sequined dresses, metallic fabrics, or embellished details, she knows how to add that extra touch of glamour to make a statement at any event.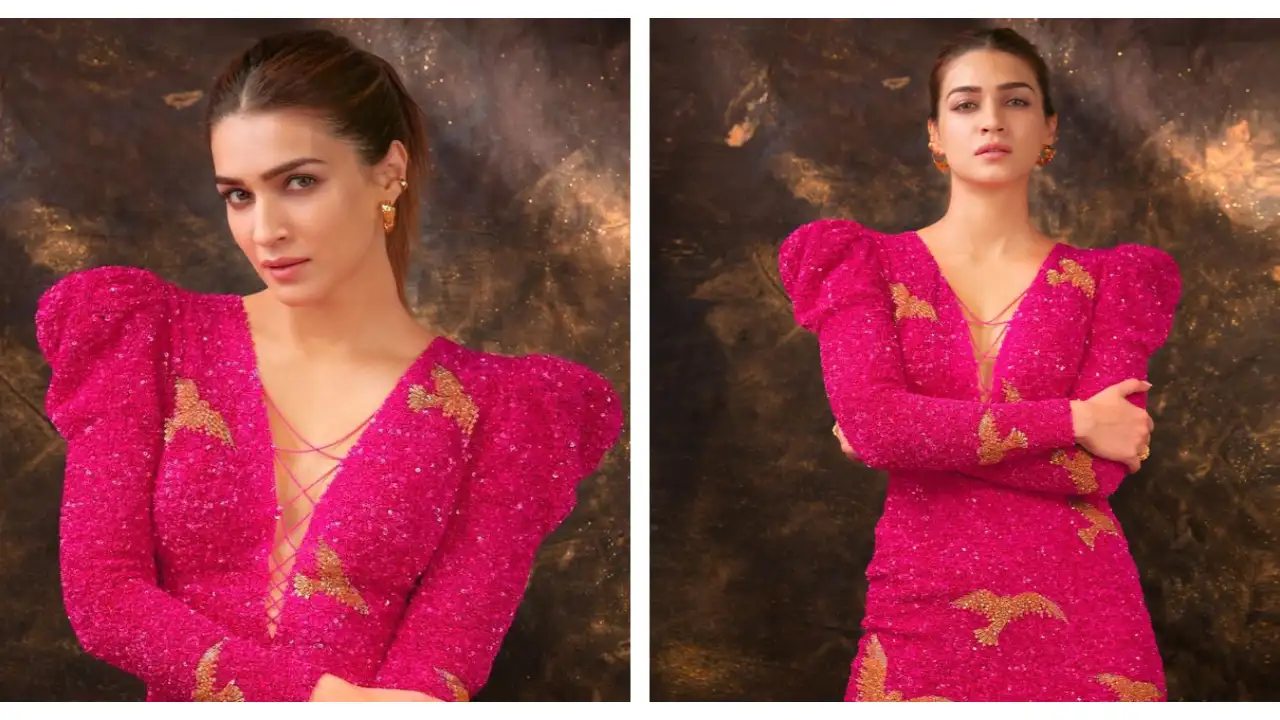 Kriti's fashion choices also include sartorial neon numbers, showcasing her willingness to experiment with vibrant and bold colors. Neon hues instantly grab attention and add a playful and energetic element to her party looks. She fearlessly embraces unconventional color palettes, showing that fashion is all about having fun and expressing oneself.
What sets Kriti Sanon apart is her ability to carry off these experimental styles with utmost confidence and grace. She owns her looks with panache and exudes a sense of self-assuredness that is truly inspiring. Her unapologetic approach to fashion encourages others to embrace their own unique style and take risks in their fashion choices.
In her latest look, Kriti Sanon reminds us that a party is incomplete without a touch of bling. Stepping out in a glamorous and glittery mini-dress, she captivates with her dazzling ensemble.
The choice of a glamorous and glittery mini-dress showcases Kriti's affinity for adding that extra sparkle and allure to her party outfits. The shimmering fabric catches the light, creating an eye-catching effect that instantly elevates her look. It's a surefire way to make a statement and stand out in any party setting.
Kriti's glamorous mini-dress not only exudes style but also reflects her confidence and bold fashion choices. It shows her willingness to embrace the spotlight and celebrate the festive spirit with a touch of glitz. Her choice to wear such a dress highlights her understanding of how to command attention and create an impact at any party or event.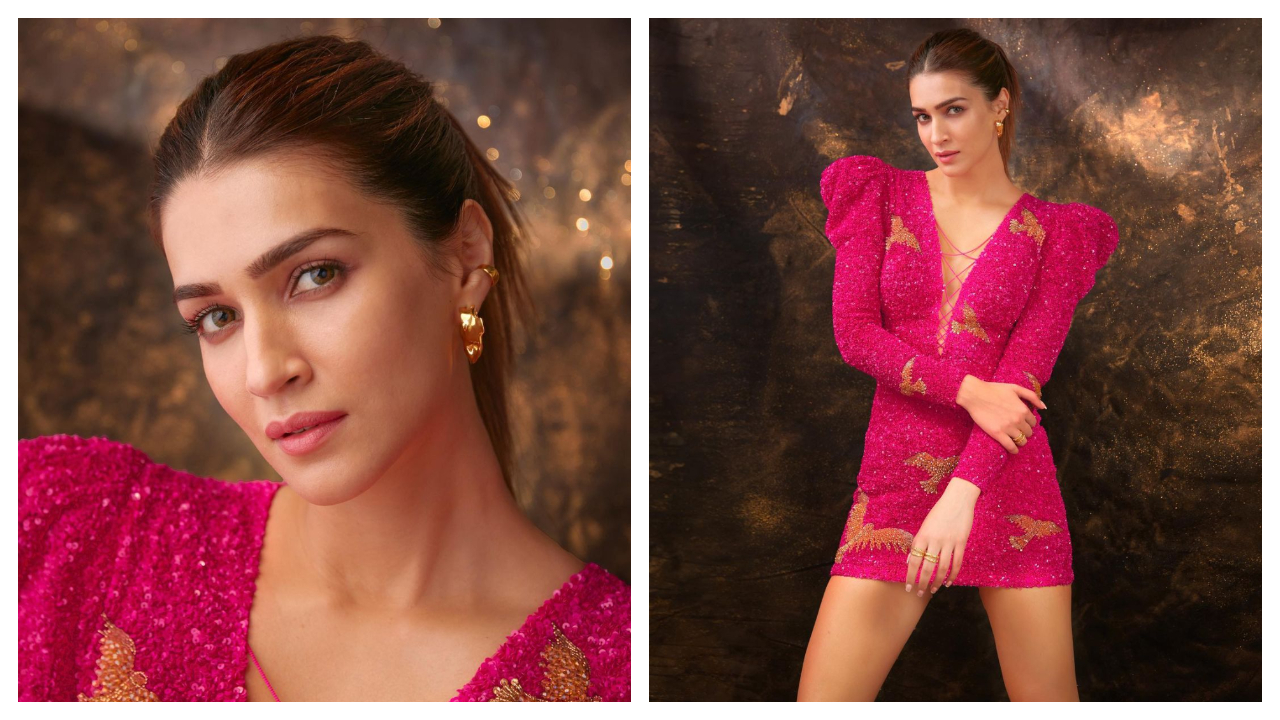 The glittery mini-dress adds a touch of excitement and joy to the overall look. It reflects the celebratory atmosphere of a party, exuding a sense of fun and festivity. Kriti's choice to wear this dress emphasizes her ability to embrace the glamour and excitement of a party, making her a standout presence wherever she goes.
When it comes to a party look, you can't go wrong with a shiny mini dress, and Kriti Sanon's choice of the brightest pink Zara Umrigar dress serves as a pure testimony to that fact. Let's take a closer look as we decode her complete party ensemble.
Kriti's choice of the brightest pink Zara Umrigar dress instantly grabs attention and exudes a vibrant and playful energy. The shiny fabric adds a touch of glamour and elevates the party look, making her stand out in any crowd. The bold color choice showcases her confidence and fearless approach to fashion.
The Zara Umrigar dress is a testament to the brand's expertise in creating statement-making and eye-catching designs. The dress is crafted with attention to detail, featuring intricate embellishments, unique textures, or other design elements that further enhance its visual appeal. It's a perfect choice for a party look that demands attention.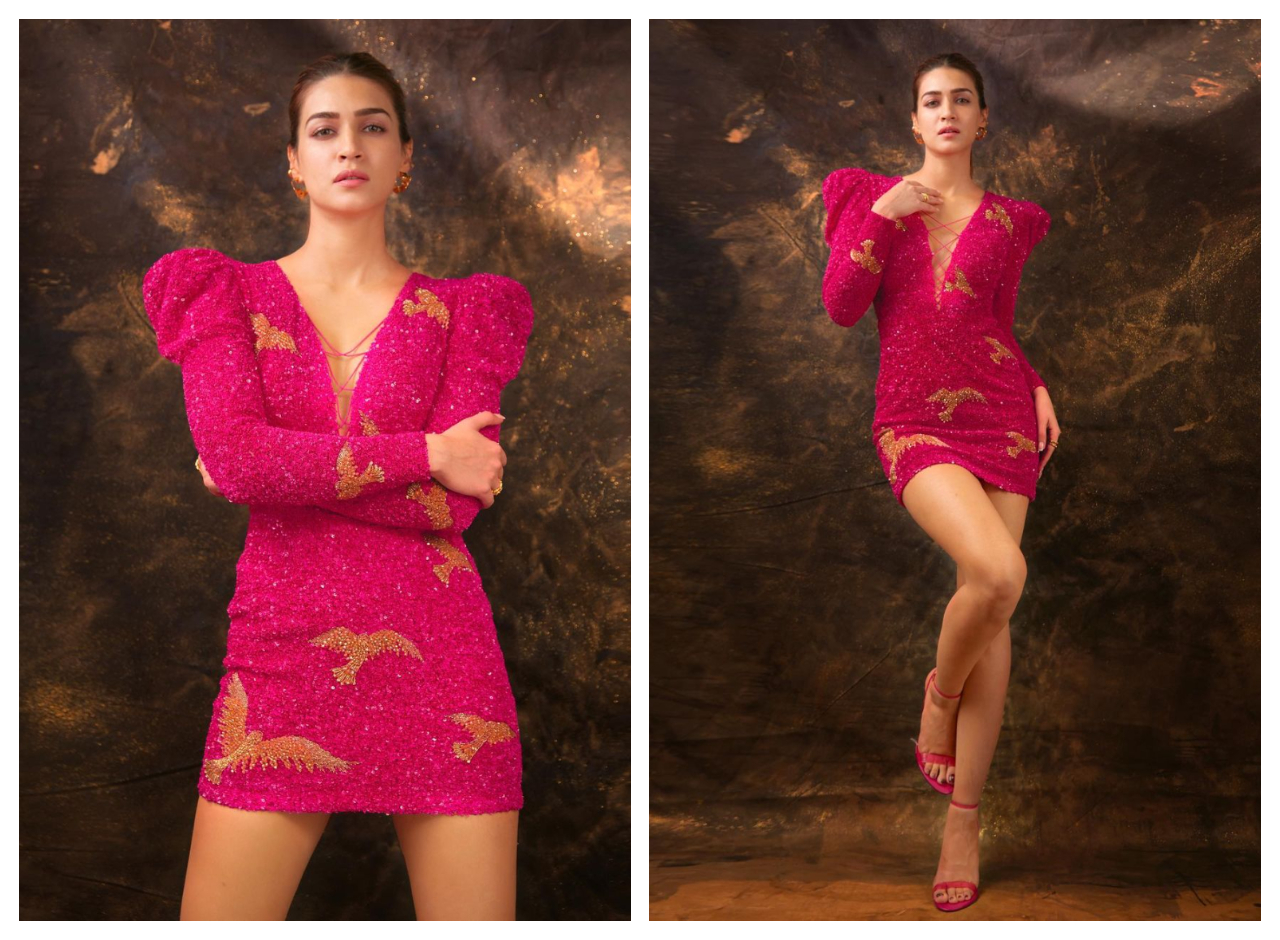 To complete her party look, Kriti Sanon pays attention to the finer details. From her choice of accessories to her hairstyle and makeup, she ensures that every element aligns with the overall aesthetic. She understands that a cohesive look is essential for a successful party ensemble.
As we decode her complete party look, we cannot overlook the importance of confidence and attitude. Kriti's poise and charisma bring the entire ensemble to life, making her the center of attention and exuding a magnetic presence at any party.
Kriti Sanon's Zara Umrigar dress is not only a stunning party look but also serves as a tribute to the retro glam of the '80s. Inspired by that era, the dress brings back the bright and blingy aesthetic that was synonymous with party fashion at the time.
The mini dress is designed with meticulous attention to detail, showcasing an elaborate pink sequin detail all over the bodice. This shimmering embellishment adds a touch of glamour and catches the light, instantly grabbing attention. The sequins create a dazzling effect, adding to the overall retro glam appeal of the ensemble.
The dress also features striking beaded birds, which further enhance the visual impact and create a unique and eye-catching element. This intricate beadwork adds a sense of whimsy and charm to the dress, reflecting the playful spirit of the '80s party fashion.
The plunging neckline, accentuated with slinky threadwork, adds a touch of sensuality and sophistication to the dress. This design detail creates a focal point, drawing attention to the upper body and adding a hint of allure. It adds a modern twist to the retro-inspired ensemble, making it relevant and fashion-forward.
Overall, Kriti Sanon's Zara Umrigar dress encapsulates the retro glam party look of the '80s. With its bright and blingy aesthetic, elaborate sequin detail, striking beaded birds, and plunging neckline, it captures the essence of that era while adding contemporary elements. It's a perfect choice for those looking to make a statement and bring back the nostalgic charm of retro party fashion.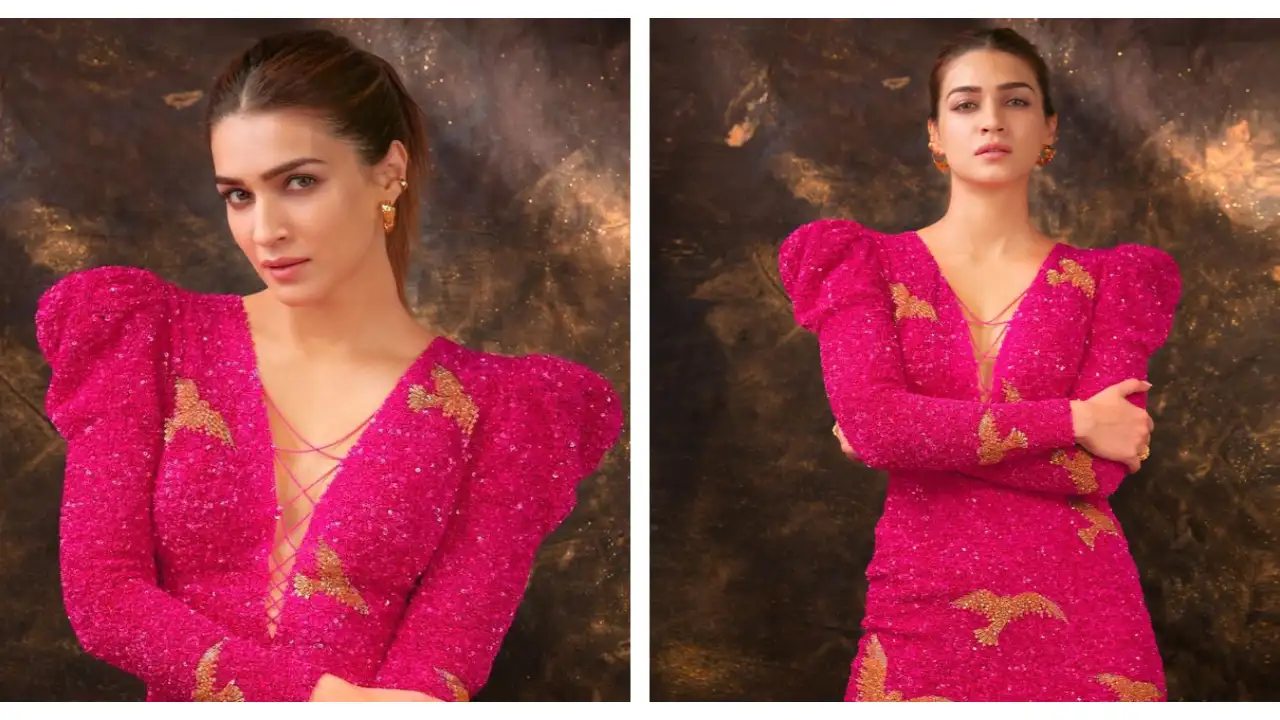 To balance the vibrant bling of Kriti Sanon's Zara Umrigar dress, celebrity stylist Sukriti Grover made strategic choices in the accessory department. The aim was to complement the dress while keeping the focus on the statement-making ensemble.
For earrings, Sukriti opted for classic gold hoops, a timeless choice that adds a touch of elegance without overpowering the outfit. Gold hoops are versatile and can effortlessly elevate any look, making them the perfect choice to enhance Kriti's party ensemble.
In addition to the gold hoops, Sukriti added a pair of helix earrings, providing a subtle and unique detail. The helix earrings contribute to the overall aesthetic, creating interest and enhancing the overall style.
To further accessorize, a few rings were incorporated into the look. These minimalistic rings add a hint of sparkle without competing with the boldness of the dress. The understated elegance of the rings complements the overall look, tying the accessories together harmoniously.
To complete the ensemble, Kriti Sanon wore a pair of matching pink strappy heels. The color coordination with the dress creates a cohesive and polished appearance. The strappy design adds a feminine touch, enhancing the overall party-ready look.
The choice of minimal accessories allows the Zara Umrigar dress to remain the focal point of the outfit. By keeping the accessories understated, the attention is drawn to the dazzling sequin detail, beaded birds, and plunging neckline of the dress, ensuring that it takes center stage.
The puffy shoulders create a strong and structured silhouette, commanding attention and exuding confidence. This design detail adds a touch of drama and brings a fashionable edge to the dress, making it stand out in a crowd. The voluminous shoulders contribute to the overall impact of the ensemble, enhancing its fierceness.
The lengthened sleeves further enhance the dress's fierceness by adding a touch of sophistication and modernity. This design choice creates a sleek and streamlined look, elongating the arms and adding elegance to the overall silhouette. The extended sleeves provide an eye-catching element that balances out the playful nature of the dress.
In conclusion, the puffy shoulders and lengthened sleeves of the dress worn by Kriti Sanon contribute to its fierce and powerful aesthetic. The classic bodycon silhouette and intricate beading bring the dress to life, adding glamour and sophistication. The overall effect is a captivating ensemble that exudes confidence and style, making a strong fashion statement.