Kriti Sanon Embraces the Power of Style with a Rs. 70k Sky-Blue Power Sweatshirt!
Kriti Sanon is undoubtedly a diva known for her ability to look effortlessly gorgeous in a wide range of outfits. Whether she's donning heavily styled ethnic ensembles for important Bollywood events or sporting super basic and casual airport attire, she manages to exude grace and charm.
When it comes to ethnic wear, Kriti Sanon knows how to make a statement. She effortlessly carries off intricately designed sarees, stunning lehengas, and elegant Anarkalis, showcasing her flair for traditional Indian fashion. Her poise and confidence bring these outfits to life, making her a sight to behold on the red carpet or at festive occasions.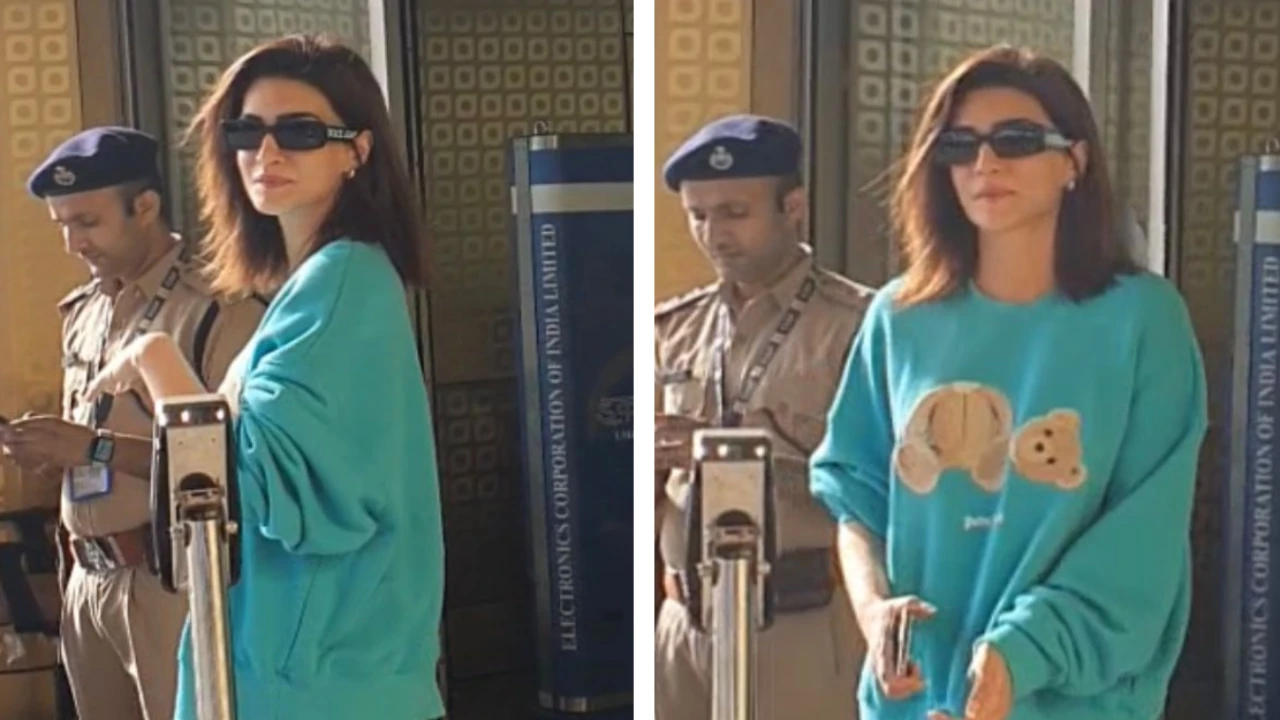 On the other hand, Kriti's fashion choices for airport looks demonstrate her ability to embrace comfort without compromising on style. Whether it's a simple jeans-and-tee combination or a chic tracksuit, she effortlessly pulls off casual attire while maintaining her fashionable aura. Her airport looks are a perfect blend of comfort and style, inspiring others to prioritize both when it comes to travel fashion.
Kriti Sanon's versatility as a fashion icon is evident in her ability to seamlessly transition from glamorous ethnic wear to effortlessly chic casual outfits. Her fashion choices not only showcase her ability to adapt to various styles but also highlight her impeccable sense of fashion and her understanding of what works best for different occasions.
Beyond her fashion sense, Kriti's confidence and charisma add an extra layer of appeal to her looks. Her radiant smile and positive energy bring life to any outfit she wears, making her a true diva in every sense of the word.
Earlier this morning, the Bhediya actress, Kriti Sanon, was spotted and snapped at the Mumbai airport by the paparazzi. She appeared to be in a hurry, not stopping to greet them initially. However, as she neared the entry gate, she couldn't resist the photographers' requests and eventually paused to pose and smile for them. After the quick interaction, she bid them adieu and swiftly made her way to catch her flight.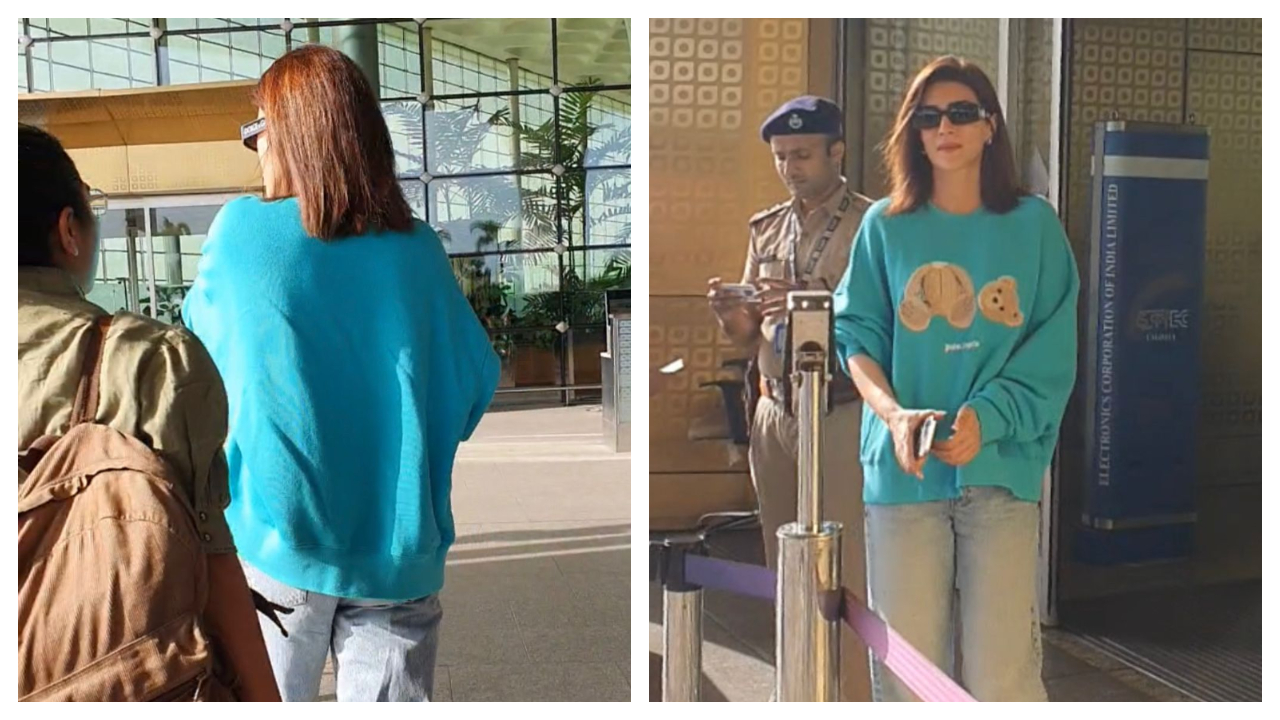 Kriti Sanon's airport appearances often generate excitement among fans and fashion enthusiasts, as they eagerly anticipate her travel style. Her ability to effortlessly blend comfort and style has made her a trendsetter in the realm of airport fashion. While her rush at the airport might have indicated a busy schedule, she graciously took a moment to acknowledge the paparazzi, showcasing her appreciation for their presence.
Kriti's decision to pose and smile near the entry gate highlights her natural grace and charm. Even in a rush, she knows how to engage with the media and maintain a positive and friendly image. This interaction allows her fans to catch a glimpse of her before she embarks on her journey.
As an accomplished actress, Kriti Sanon understands the importance of maintaining a balance between personal space and engaging with the public. While her priority might have been catching her flight on time, she graciously acknowledged the paparazzi's presence and provided them with a brief moment to capture her smile and style.
During her recent airport appearance, Kriti Sanon was once again spotted in a comfortably cool look, showcasing her consistent preference for this aesthetic when it comes to her airport style. She was seen wearing a sky-blue Palm Angels Bear Motif Crew Neck Sweatshirt, which is valued at approximately Rs. 70,996.
Kriti's choice of the Palm Angels sweatshirt highlights her affinity for effortlessly stylish and comfortable attire. The sky-blue hue adds a refreshing touch to the ensemble, creating a laid-back and relaxed vibe. The crew neck and sweatshirt design ensure maximum comfort during travel, allowing her to move freely while maintaining a fashionable edge.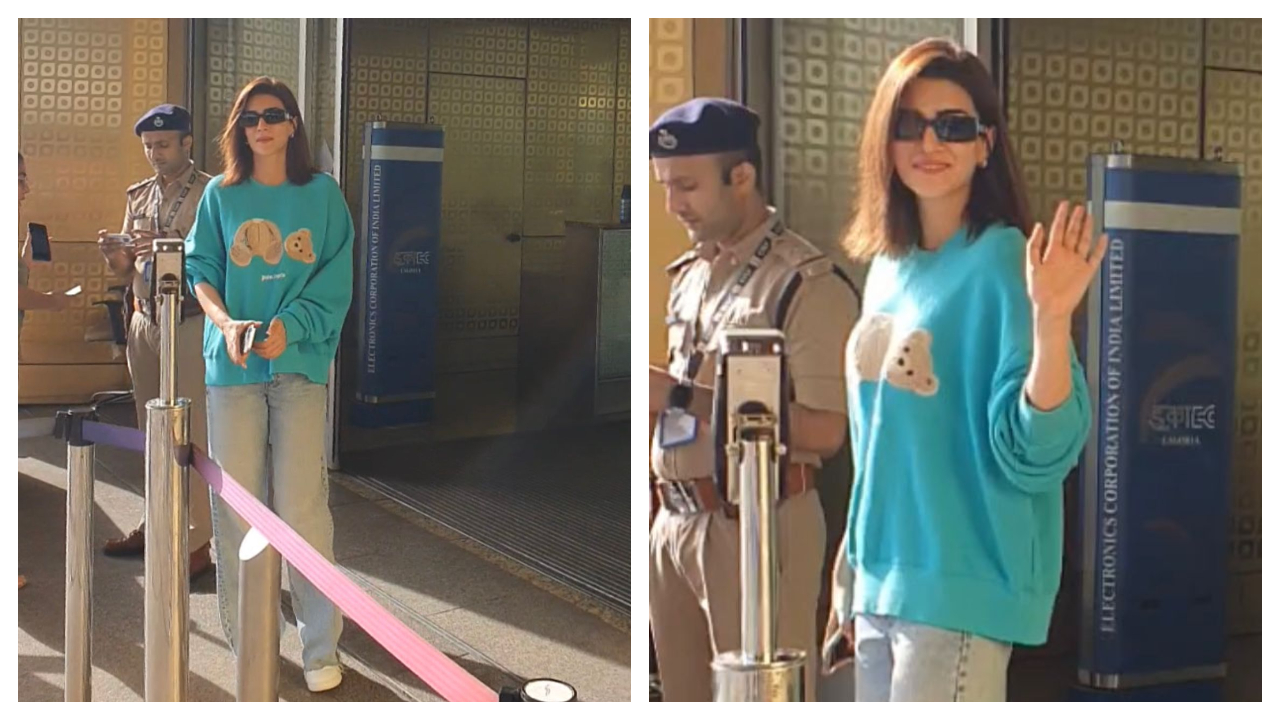 Palm Angels, known for its contemporary streetwear designs, provides a high-end touch to Kriti's airport look. The bear motif on the sweatshirt adds a playful element, infusing the outfit with a sense of youthful charm. The brand's aesthetic resonates with Kriti's style sensibilities, making it a perfect choice for her airport ensemble.
It's evident that Kriti Sanon values both style and comfort when it comes to her airport looks. By opting for a high-end designer piece like the Palm Angels sweatshirt, she effortlessly combines fashion-forward elements with relaxed appeal, setting a trend for comfortable yet chic travel attire.
Indeed, the famous Palm Angels Bear Motif Crew Neck Sweatshirt is known for its relaxed fit, aligning with the brand's casual approach to garments. The crew neck, dropped shoulders, and adorable bear design all contribute to the sweatshirt's streetwear-inspired silhouette, making it look exceedingly cool.
The relaxed fit of the sweatshirt adds to its comfort and easy wearability. It allows for freedom of movement while maintaining a laid-back and effortless look. The crew neck design adds a classic touch, creating a versatile piece that can be styled in various ways.
The dropped shoulders of the sweatshirt contribute to its streetwear aesthetic. This design element creates a slightly oversized and relaxed silhouette, adding to the overall cool and effortless vibe. It enhances the garment's relaxed and casual appeal, making it a go-to choice for those seeking a fashionable and comfortable outfit.
The bear motif on the sweatshirt is a signature feature of Palm Angels, adding a playful and eye-catching element. This design detail injects personality into the garment, giving it a distinct and recognizable look. The bear motif perfectly complements the streetwear-inspired silhouette, further enhancing its cool factor.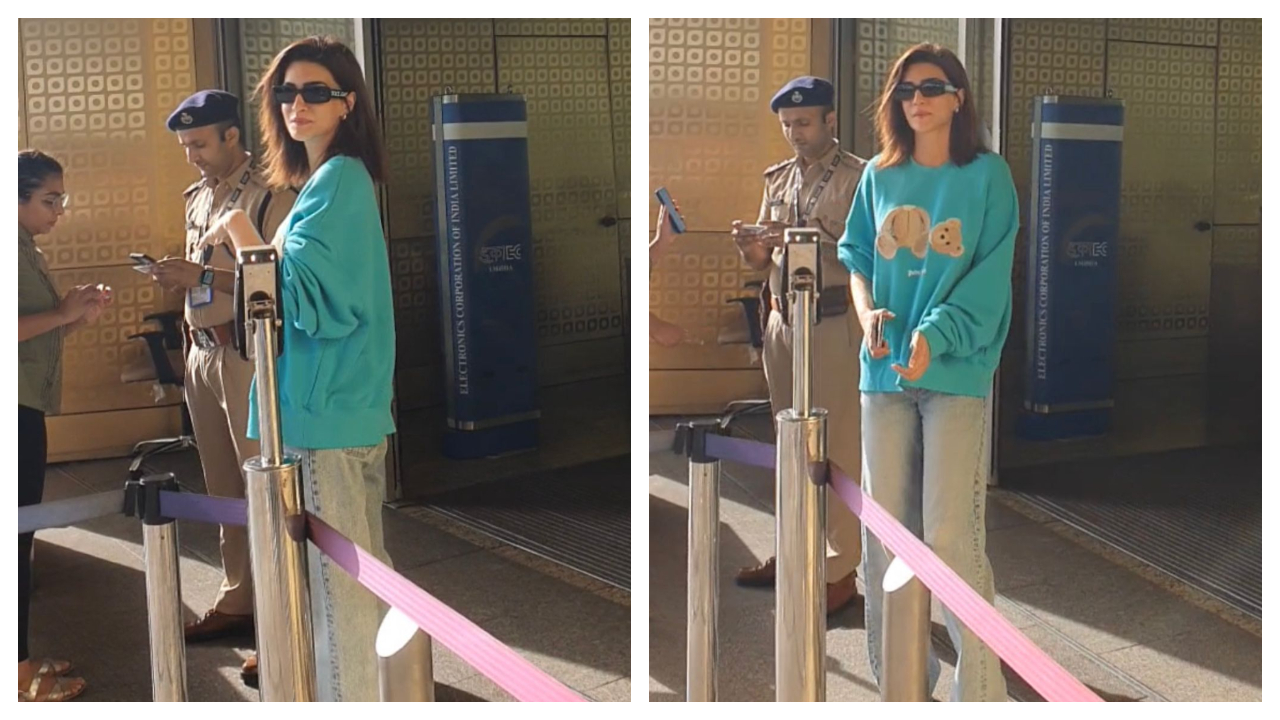 Indeed, Kriti Sanon looks beyond beautiful in her cool airport look. Pairing the Palm Angels Bear Motif Crew Neck Sweatshirt with light blue straight-fit jeans and pearly white sneakers added a sporty spin to her ensemble, giving it a trendy and casual vibe.
The addition of dark shades from Dolce and Gabbana elevates her outfit, adding a touch of sophistication and completing her cool airport look. The Gen Z-approved minimalistic hoop earrings further enhance her style, bringing a trendy and fashionable element to the overall ensemble.
Leaving her silky hair open and flaunting a no-makeup look, Kriti Sanon embraces her natural beauty. This choice allows her radiant features to shine through and highlights her effortless charm and grace.
Kriti Sanon's cool airport look showcases her impeccable sense of style and fashion-forward mindset. The combination of the sweatshirt, jeans, sneakers, and accessories creates a harmonious and stylish ensemble that reflects her personal aesthetic.
It's no surprise that many are obsessed with Kriti Sanon's sense of style. Her ability to effortlessly blend comfort and fashion while staying true to her individuality sets her apart as a style icon. Her cool airport look is a testament to her fashion prowess and her ability to captivate and inspire.
In conclusion, Kriti Sanon looks absolutely stunning in her cool airport look. The combination of the Palm Angels sweatshirt, light blue jeans, and white sneakers, along with the addition of dark shades and minimalistic hoop earrings, showcases her impeccable sense of style. Her natural beauty and confidence further enhance the overall appeal, leaving us all in awe of her fashion choices. It's no wonder that her sense of style has gained such admiration and fascination.