Kriti Sanon STUNS in white Manish Malhotra saree with gold border and pastel hues!
Bollywood's shining star, Kriti Sanon, has consistently proven herself to be a fashion icon who knows how to steal the spotlight with her impeccable style and grace. Her recent appearance at the 69th National Film Awards ceremony in Delhi was a testament to her ability to make a lasting impression both on and off the silver screen. Kriti was honored with accolades for her outstanding performance in the movie "Mimi," and her choice of attire for the occasion was no exception to her reputation for fashion-forward choices.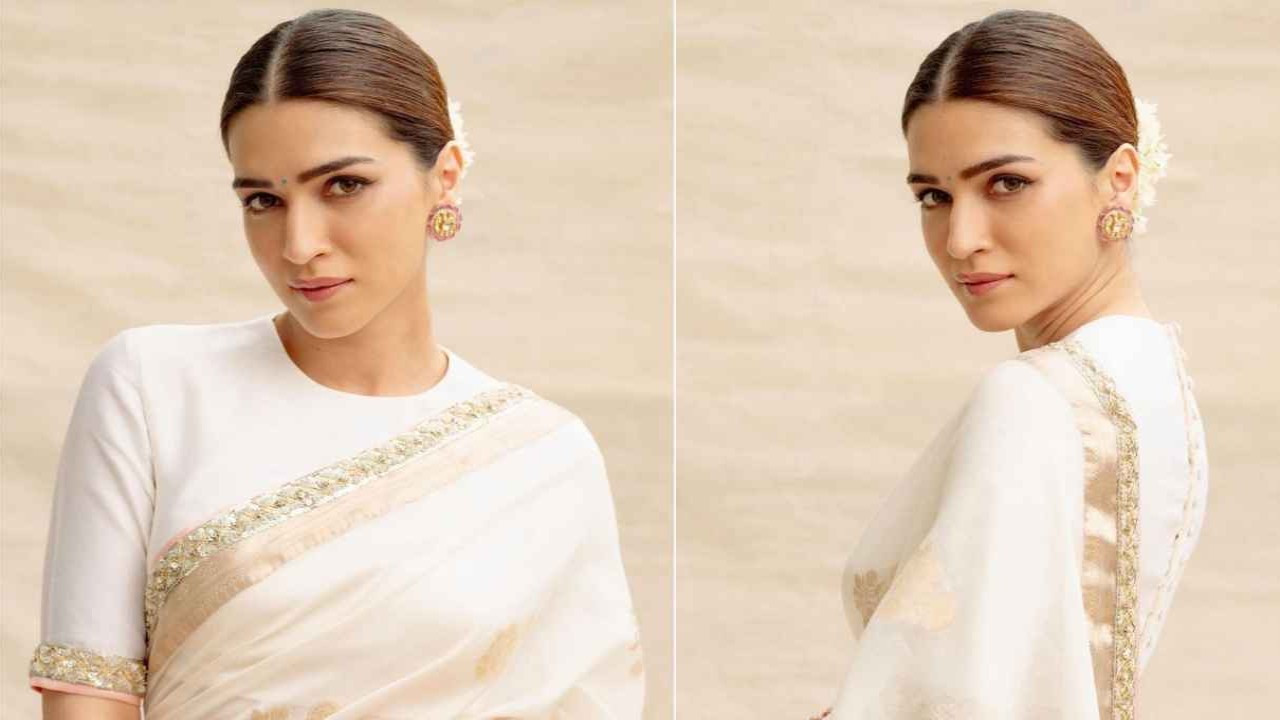 Kriti Sanon's outfit for the National Film Awards ceremony was a white custom Manish Malhotra saree that left everyone in awe. Manish Malhotra, one of India's most renowned fashion designers, is known for his ability to blend tradition with contemporary aesthetics, and Kriti's choice was a striking example of his craftsmanship. The white saree, with its intricate detailing and modern twist, was a true work of art that perfectly complemented Kriti's grace and beauty.
This white Manish Malhotra saree exuded an air of timeless elegance while also offering a contemporary edge. The choice of white, often associated with purity and simplicity, was a refreshing departure from the vibrant colors often seen in Bollywood fashion. The saree was adorned with delicate embroidery and embellishments, adding a touch of opulence and sophistication to the ensemble. Kriti's choice was a testament to her ability to balance tradition and modernity in her style, making her a fashion role model for many.
Kriti Sanon's arrival in Delhi, accompanied by her parents, for the 69th National Film Awards ceremony was a moment of family pride and celebration. As she graced the event, she looked nothing short of ethereal, capturing everyone's attention and admiration. Her choice of attire was a lovely and simply serene white saree, which left onlookers awestruck.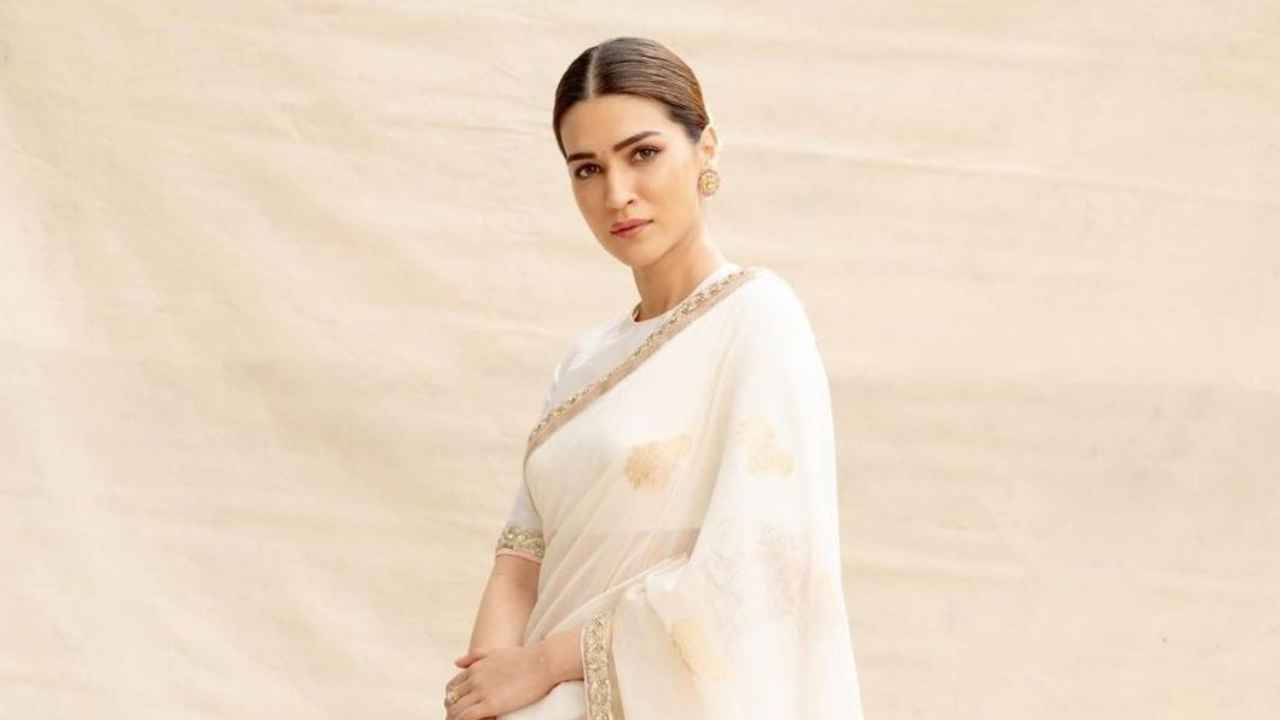 The white saree that Kriti donned for the occasion was a true masterpiece, with beautiful hues of pastel colors adorning the lower half of the piece. The combination of the pure white fabric with the soft and delicate pastel shades created a striking visual contrast, giving the saree a truly captivating appearance. This harmonious blend of colors added a touch of serenity and elegance to her overall look.
Kriti's choice of attire not only highlighted her impeccable sense of style but also showcased her ability to strike a balance between tradition and contemporary fashion. The pastel hues on the saree's lower half brought a sense of freshness and modernity to the classic white saree, making it a perfect choice for a prestigious event like the National Film Awards ceremony.
In her serene and ethereal ensemble, Kriti Sanon demonstrated that simplicity can often be the most powerful statement in the world of fashion. Her graceful appearance alongside her parents added a touch of family warmth and pride to the occasion, making her not just a fashion icon but also a symbol of wholesome and heartwarming elegance.
'Kriti Sanon's attention to detail in her outfit for the 69th National Film Awards ceremony was truly impressive. Along with the stunning white saree with pastel hues, she paired it with a matching pristine white blouse that featured cap sleeves and intricate gold embroidery at the edge of her sleeves. This blouse was a perfect complement to the saree, adding an extra layer of sophistication to the ensemble.
The cap sleeves on the blouse added a touch of modernity to the overall look while ensuring that it remained graceful and elegant. The delicate gold embroidery at the sleeve's edge not only brought a touch of opulence but also provided a seamless transition from the white fabric to the pastel hues of the saree. The attention to detail and craftsmanship in the embroidery added a layer of richness to the ensemble.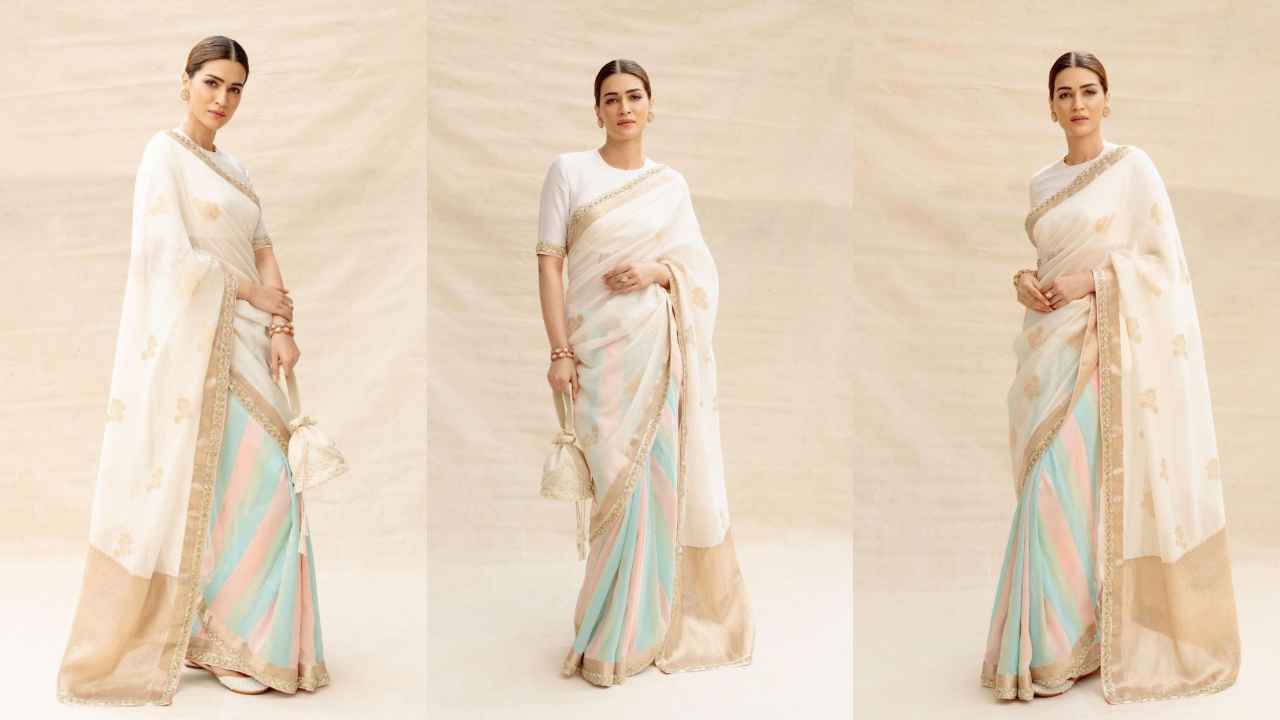 Additionally, the circular neckline of the blouse contributed to the overall appeal of the outfit. This unique neckline not only added a hint of contemporary design but also highlighted Kriti's neck and shoulders, enhancing her overall grace and poise. It was a well-thought-out element that added to the charm of the entire ensemble.
Kriti Sanon's meticulous attention to detail extended beyond her attire. She completed her ensemble for the 69th National Film Awards ceremony with carefully chosen accessories that perfectly complemented her look. To begin with, she opted for white juttis from Fizzy Goblet, a popular choice for traditional Indian footwear. These juttis not only provided comfort but also enhanced the overall ethnic appeal of her outfit.
In addition to the juttis, Kriti carried a matching white potli bag from Needledust. The potli bag is a classic accessory that adds a touch of traditional elegance to any outfit. In this case, it served as a stylish and functional addition to her look, making her outfit both fashionable and practical.
Kriti's choice of jewelry was equally impeccable. She accessorized her outfit with gold traditional bracelets, stud earrings, and matching rings from Amaris by Prerna Rajpal and Multani Jewellers. These accessories provided a hint of glamour and opulence, harmonizing with the gold embroidery on her blouse and the overall richness of her ensemble. Her choice of jewelry was a testament to her ability to pay attention to every detail, ensuring that her entire look was both cohesive and striking.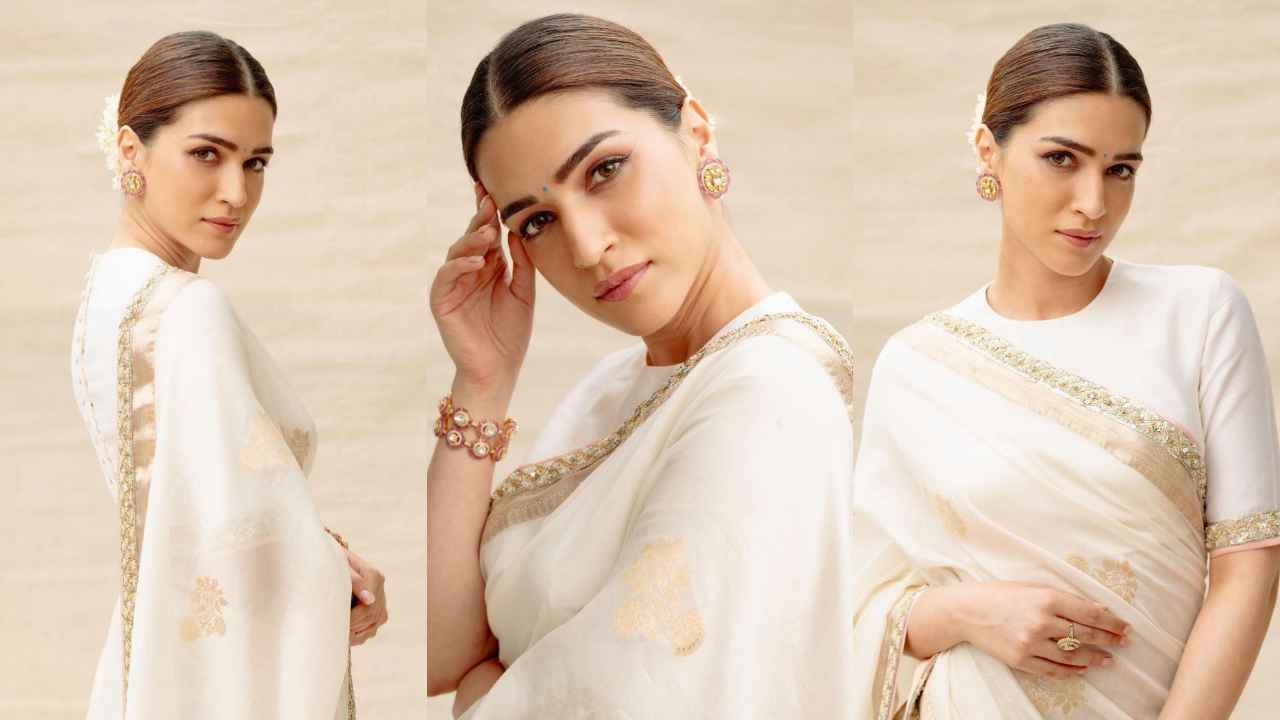 In summary, Kriti Sanon's outfit for the National Film Awards ceremony was a well-thought-out and carefully curated ensemble. Her choice of accessories, from the juttis to the potli bag and the exquisite jewelry, added depth and character to her appearance, making her a true style icon. This attention to detail showcased her commitment to creating a look that was not just beautiful but also meaningful, earning her the admiration of fashion enthusiasts and critics alike.