Ananya Panday stuns in an ethnic anarkali kurta set with statement split sleeves
As the Ganesh Chaturthi season comes to a close, the Bollywood divas once again displayed their impeccable fashion sense, especially when it came to traditional outfits. These stunning ladies graced the festivities with their presence, and their choice of traditional attire was nothing short of spectacular. Among those who caught our attention at the T-Series Ganapati celebrations, it was none other than the lovely Ananya Panday who stole the show. She was dressed to the nines in a classic Anarkali kurta combination, exuding a timeless charm and sophistication.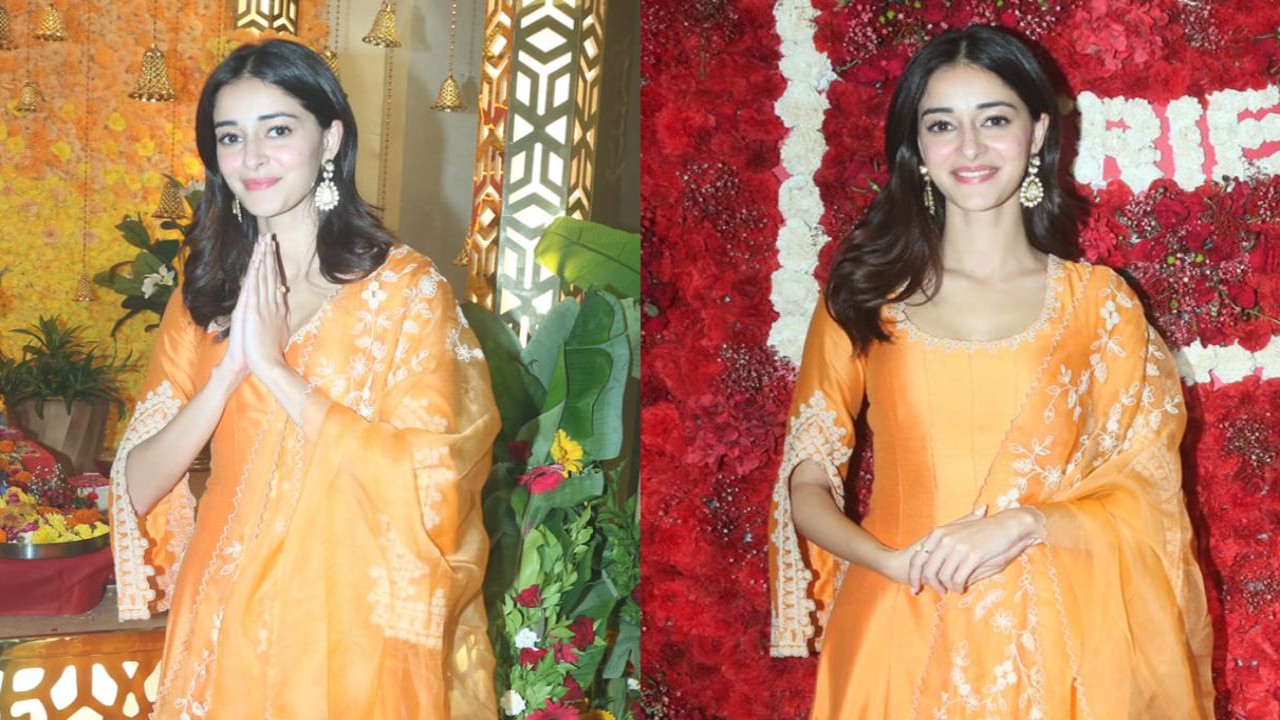 Ananya Panday has a knack for effortlessly capturing attention with her easy elegance and radiant smile. Her fashion choice for this significant occasion was nothing short of flawless, demonstrating her ability to strike the perfect balance between tradition and modern elegance. The Anarkali kurta, a classic Indian silhouette, is renowned for its grace and style. Ananya's choice of this traditional ensemble showcased her respect for heritage, while the contemporary elements in her outfit made her look fresh and on-trend.
Hold on to your trendy hats, because Ananya Panday's latest outfit is an absolute showstopper that has truly captured our attention! The exquisite diva graced the occasion in an anarkali kurta ensemble that left us all in awe. Her choice for the day was an absolutely stunning orange anarkali that featured superb dori artwork embroidery. The intricate embroidery work added a touch of artistry to the ensemble, elevating its aesthetic appeal to a whole new level.
But what truly sets this ensemble apart are the fantastic split sleeves, which provide a delightful touch of drama and flare. The split sleeves add a unique and striking element to the outfit, making it an eye-catching and distinctive choice for the occasion. Ananya's fashion sensibilities were on full display with this outfit, showcasing her ability to make bold and memorable fashion statements.
Indeed, the attention to detail in Ananya Panday's outfit doesn't stop at the stunning orange anarkali. The palazzo trousers with their embroidered hem add a touch of modernity and sophistication to the traditional ensemble. The contrast between the flowing anarkali top and the structured palazzo trousers creates a harmonious and visually appealing balance. It's a contemporary twist on a classic silhouette, demonstrating Ananya's fashion-forward approach.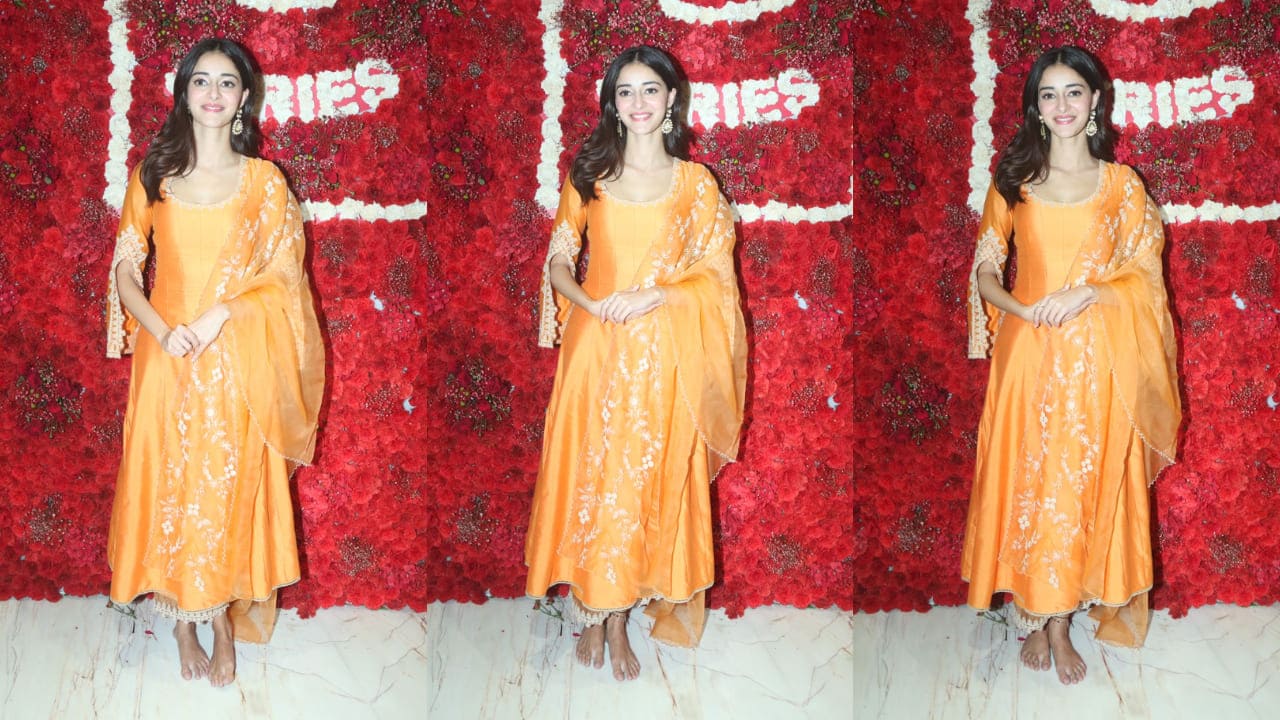 To complete this elegant look, Ananya Panday chose a cutwork dupatta, which is the perfect finishing touch. The cutwork adds a layer of intricate texture and pattern to the outfit, enhancing its overall charm. The combination of cotton silk, shantoon, and organza materials in this kurta set not only makes it visually stunning but also comfortable to wear, which is essential for long festive occasions like Ganapati festivals.
Fashionistas, get ready to be dazzled by the exquisite details of Ananya Panday's jaw-dropping ensemble! The beautiful outfit she wore is the "Orange Cotton Silk Blend Dori Embroidered Sleeve Anarkali Set" from the renowned house of Devnaagri. This designer piece showcases a perfect blend of elegance, tradition, and modernity, making it an ideal choice for those who appreciate fashion with finesse.
Now, let's talk about the price. Hold on to your wallets because this scoop neckline co-ord set comes with a price tag of Rs 28,500. While it might seem on the higher end, the craftsmanship, quality, and the stunning design make it a worthwhile investment for those who want to make a striking fashion statement.
The mesmerizing split sleeve trend is one of the standout features of this ensemble, capturing hearts and creating a unique and unforgettable look. It's a reminder that fashion is an art form, and Ananya Panday's choice of this Devnaagri outfit underscores her ability to make bold and impactful fashion choices that leave a lasting impression.
Ananya Panday's attention to detail truly shines through, even when it comes to her choice of accessories. To complement her already amazing ensemble, she adorned herself with magnificent huge teardrop kundan earrings. These stunning accessories not only added a touch of class to her look but also perfectly complemented the traditional theme of her outfit. The choice of kundan earrings showcased her ability to select accessories that elevate her fashion game to the next level.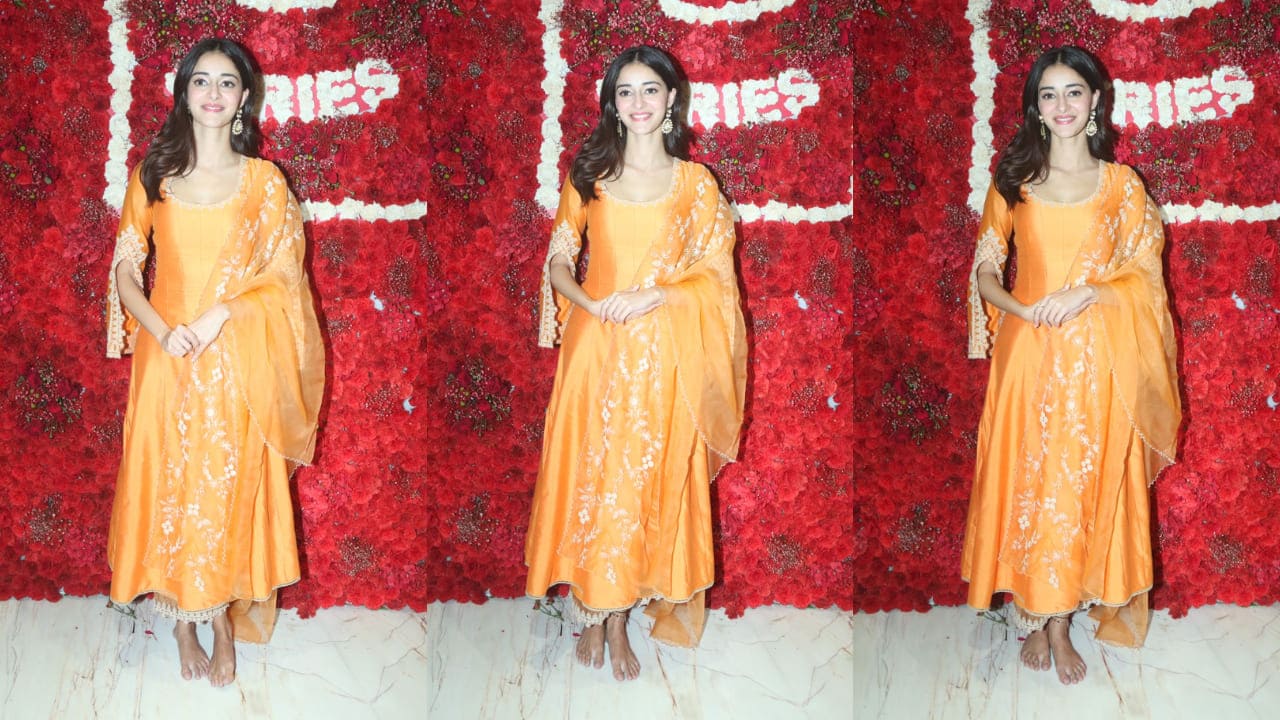 But Ananya's fashion prowess didn't stop with her accessories. Her hairstyle was a picture of simplicity and charm. She opted for a bouncy open hairstyle with a center parting. This classic hairstyle matched her entire outfit flawlessly, creating an effortlessly elegant aura that added to the overall appeal of her ensemble. It's a testament to her ability to make fashion choices that not only stand out but also harmonize with the entire look.
To add an extra touch of vibrancy and charisma to her attire, Ananya Panday chose a bright orange lipstick. The lipstick offered a striking pop of color that enhanced the vivacity of her outfit. It's a clever choice that shows her understanding of how small details can make a big impact on a fashion ensemble.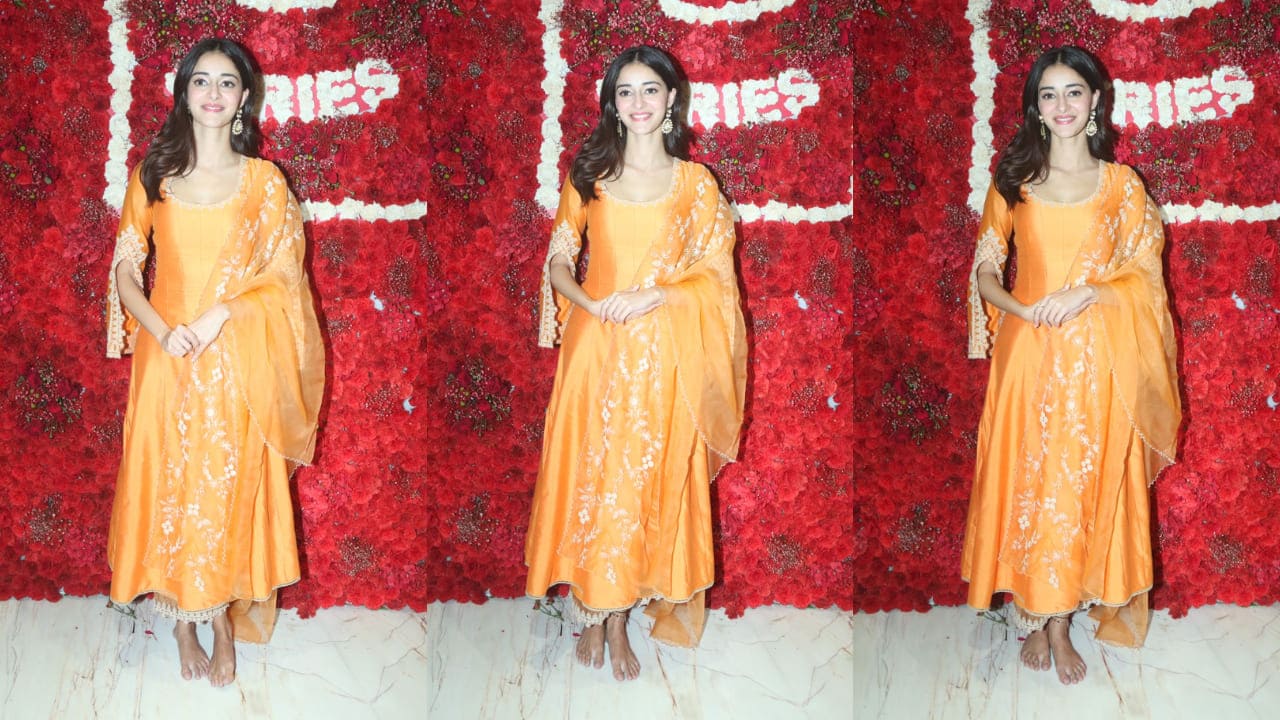 In conclusion, Ananya Panday's impeccable fashion choices extend beyond her clothing. Her selection of accessories, her hairstyle, and her choice of lipstick all contribute to creating a complete and captivating look. Ananya's attention to detail and her ability to harmonize every element of her outfit make her a true fashion icon who excels in the art of turning heads and setting trends.