Shehnaaz Gill channels her inner sunlight in Gauri and Nainika's yellow corseted mini-dress with tulle train
Bollywood has long been a trendsetter when it comes to fashion. Whether it's the ensembles, styles, designs, or colors, the Indian film industry places a high emphasis on perfection and innovation in the fashion realm. Amidst the many stars who grace the silver screen, only a handful of divas can truly capture the essence of extremely vibrant colors like yellow, and Shehnaaz Gill has recently proven that she is indeed one of them.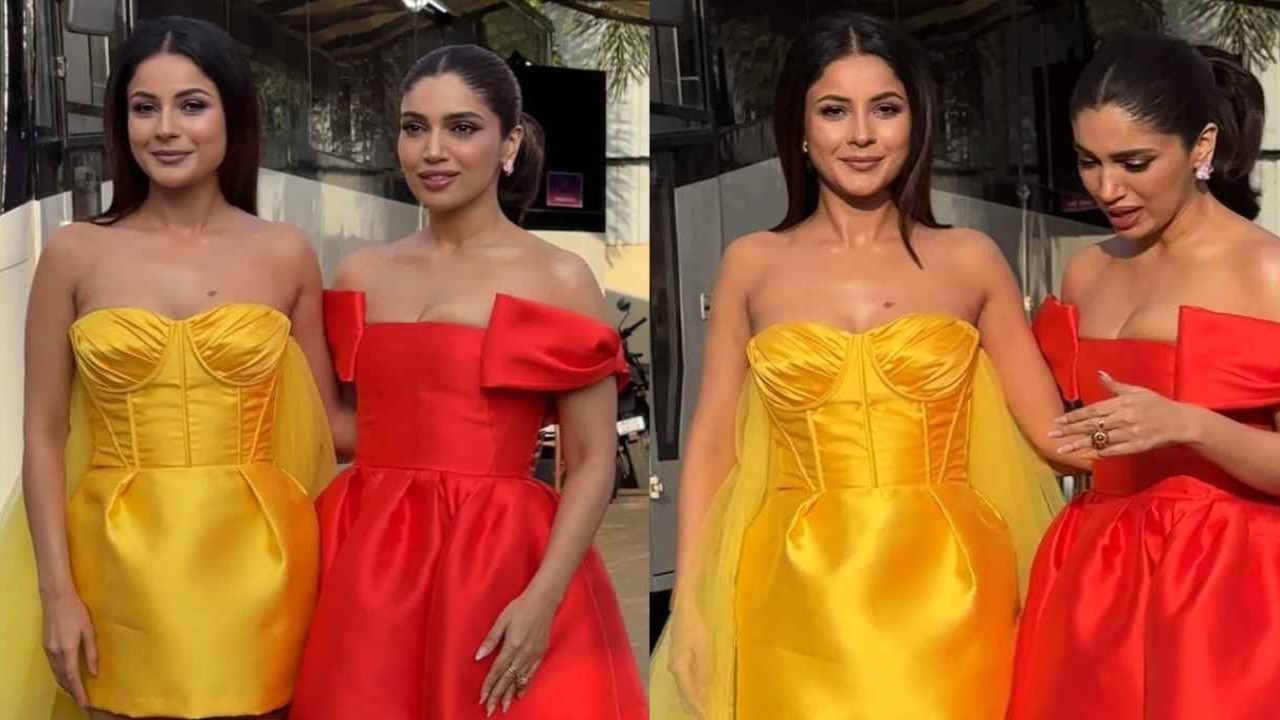 Shehnaaz Gill, the exceptionally talented actress, made a striking fashion statement when she stepped out for the promotions of her upcoming movie, "Thank You For Coming." Her choice of attire was nothing short of spectacular – a glorious yellow dress that can only be described as dreamy beyond compare. The choice of color itself is bold and vibrant, perfectly embodying the spirit of the Bollywood fashion world, where bold choices often receive the industry's stamp of approval.
Yellow is a color that exudes energy, positivity, and a sense of exuberance. Shehnaaz Gill's ability to carry this hue with such grace and charisma is a testament to her fashion sensibilities. The dreamy and ethereal quality of the dress adds a touch of fantasy to her look, making her stand out as a true fashion icon who is unafraid to embrace the extraordinary.
Shehnaaz Gill, the talented actress, made quite an impression as she stepped out to promote her upcoming movie, donning a classy ensemble by the renowned designers Gauri and Nainika. Her choice for this occasion was a strikingly bright yellow strapless mini-dress. This choice immediately caught the eye with its bold and vivacious color, setting the stage for a captivating fashion statement.
What added a touch of elegance and femininity to this ensemble was the graceful flowing tulle train attached to the mini-dress. The contrasting textures of the sleek and fitted mini-dress and the ethereal, flowing train created a delightful juxtaposition. The flowing train not only added a sense of drama and sophistication but also transformed the outfit into a truly glamorous and standout creation.
The choice of Gauri and Nainika for this promotional event is a testament to Shehnaaz Gill's refined taste in fashion. The design duo is known for their ability to create stunning and unique pieces that cater to the contemporary and chic preferences of today's fashion-conscious crowd. Shehnaaz's selection of their creation for this occasion highlights her ability to choose outfits that not only suit her style but also align with the aura of the event.
Shehnaaz Gill's choice of the corseted dress for the movie promotion was not only visually captivating but also flattering to her figure. The dress featured a figure-hugging silhouette that accentuated her curves, showcasing her fashion-forward approach to style. It's a testament to her confidence and comfort with her body, as the dress allowed her to perfectly flaunt her natural curves.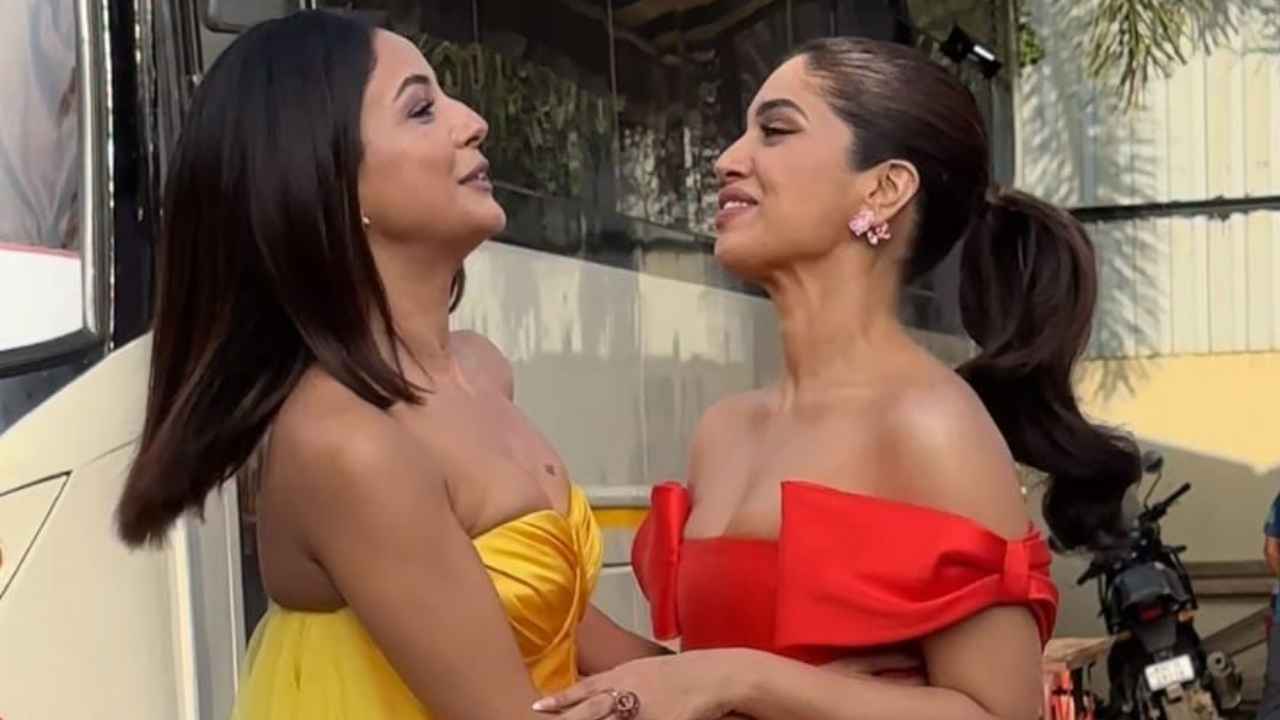 The stylish and vibrant ensemble was further enhanced by its off-shoulder design, which is a timeless and sultry choice in the world of fashion. It added a touch of elegance and allure to her look, revealing her shoulders and framing her neckline in a tasteful manner. The plunging neckline on the dress added a layer of sensuality to the overall outfit, creating a balanced blend of sultry and chic elements.
In this dreamy dress, Shehnaaz Gill undoubtedly radiated an angelic quality. The combination of the vibrant color, the figure-hugging silhouette, and the elegant design elements came together to create a look that was both glamorous and ethereal. Her fashion choices for this event exemplify her ability to make an impact and leave a lasting impression on her audience, both for her talent and her style.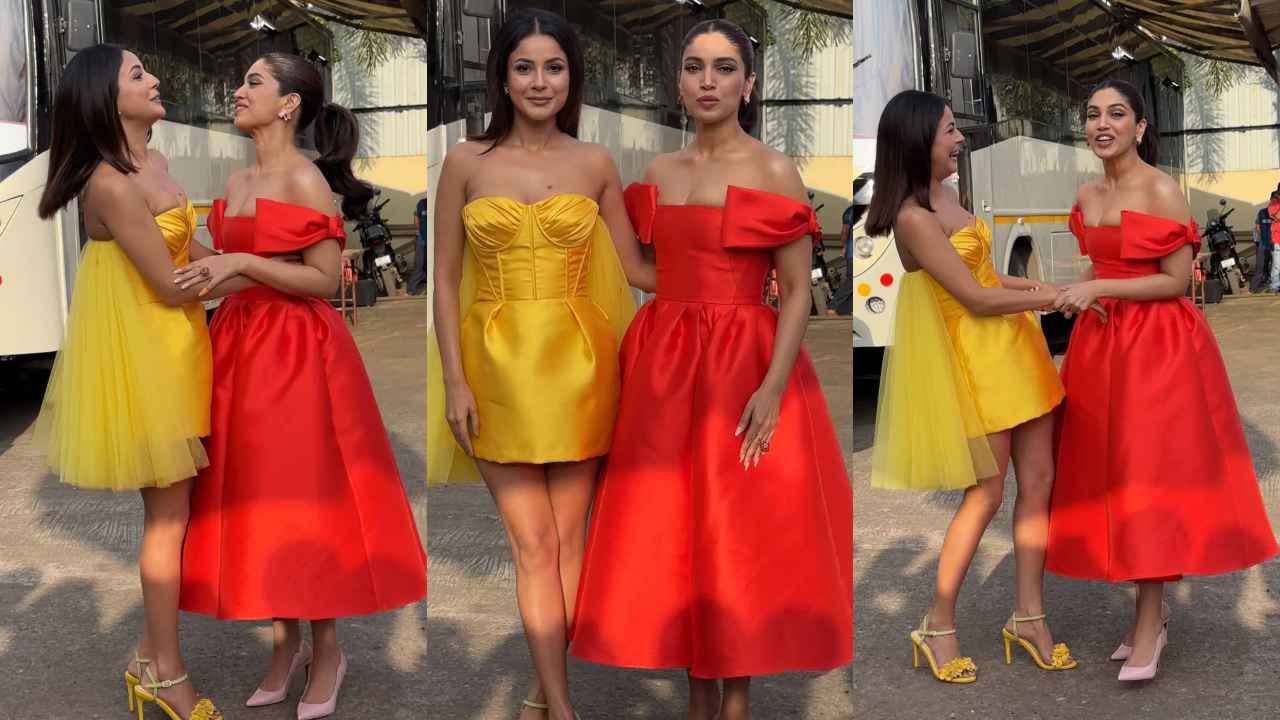 Shehnaaz Gill's attention to detail and her commitment to a stylish and cohesive look are further exemplified by her choice of accessories. To complete her incredibly gorgeous ensemble, she opted for matching flower-laden yellow heels called Iris, by Prisca. These stunning heels, with a price tag of Rs. 7,500, were inspired by the beauty of daisy flowers. They added an extra layer of charm and whimsy to her overall outfit, creating a sense of stepping into a fairytale land. The choice of these heels not only complemented the vibrant yellow dress but also showcased her ability to add unique and delightful elements to her style.
Furthermore, Shehnaaz Gill decided to go the minimalistic route with her accessories. Instead of opting for extravagant pieces, she chose to wear simplistic star-shaped silver stud earrings. These earrings added a subtle touch of bling to her outfit while allowing her sunny ensemble to command all the attention it rightfully deserved. Her decision to keep her accessories understated emphasized her dress and footwear, creating a harmonious and balanced look.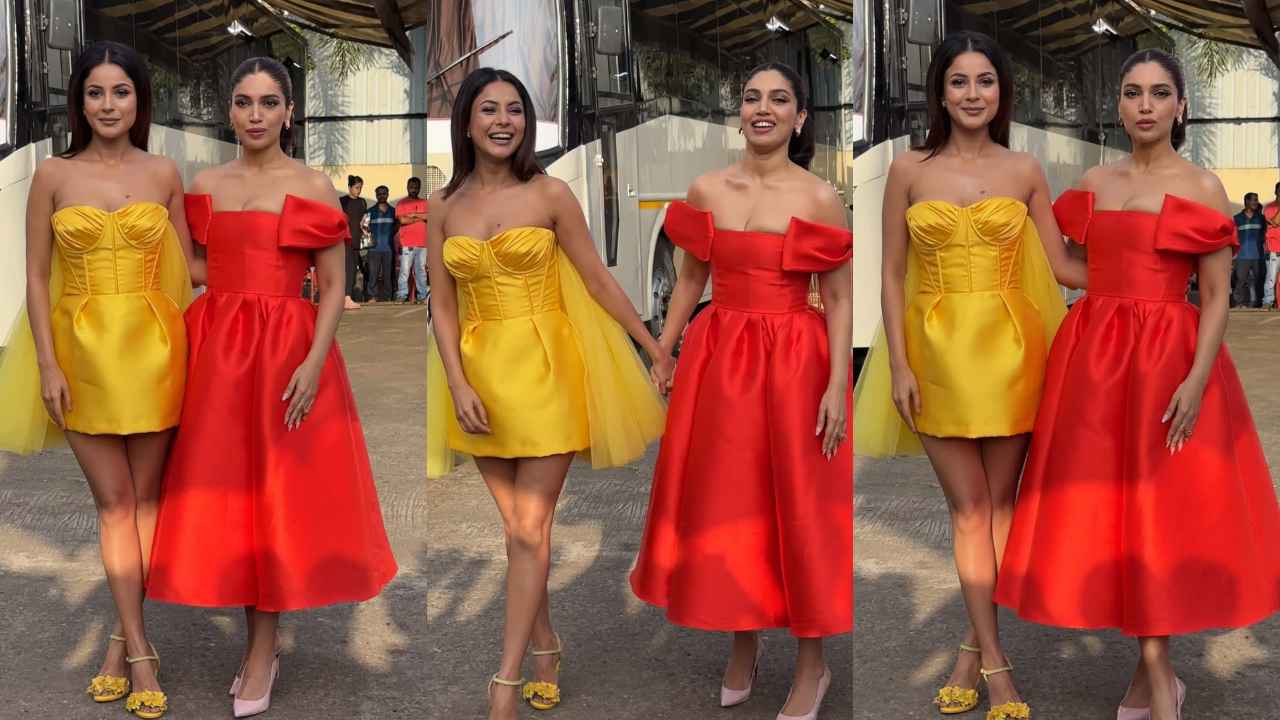 In conclusion, Shehnaaz Gill's fashion choices are a testament to her keen eye for coordination and her understanding of how accessories can enhance an ensemble. Her selection of the Iris heels, inspired by daisy flowers, added a whimsical touch to her look, while her choice of minimalistic silver stud earrings highlighted her ability to let her outfit shine. This attention to detail and balance in her fashion choices reinforces her status as a fashion icon who knows how to create a harmonious and captivating appearance.