Tejasswi Prakash creates modern look in floral drape with mirror work blouse
In the ever-evolving world of fashion, the traditional saree has undergone a series of transformations over the years. This versatile and elegant Indian garment, with its roots dating back centuries, has continually adapted to contemporary fashion trends, showcasing its ability to stay relevant and appealing to different generations. Among the many innovative styles that have graced the fashion scene, one trend that once took the stage by storm was the ruffled saree.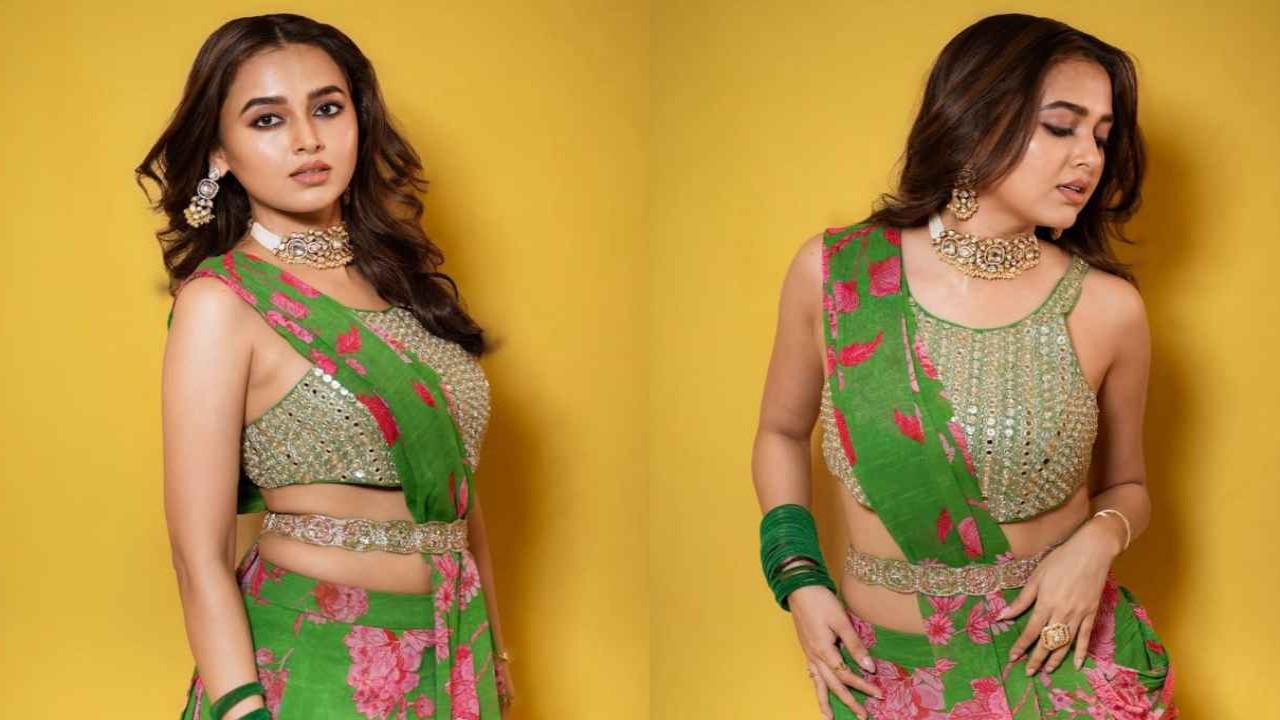 The ruffled saree trend was a captivating fusion of tradition and modernity, where the classic drape of the saree was enhanced with ruffles, adding layers of drama and flair. This trend captured the imagination of fashion enthusiasts and designers alike, offering a fresh perspective on how the saree could be reinvented. However, as time marches forward, fashion trends evolve, and the question arises: Are we done with ruffled sarees?
Leave it to the talented and ever-fashionable Tejasswi Prakash to breathe new life into this iconic Indian attire. Tejasswi Prakash, known for her impeccable style and ability to carry diverse looks with grace and confidence, has rekindled the allure of the ruffled saree. Her unique and contemporary approach to draping and styling this traditional outfit has once again sparked interest in the ruffled saree trend.
Tejasswi Prakash's creative interpretation of the ruffled saree demonstrates that fashion is cyclical, and trends often come back in refreshed forms. Her ability to combine the elegance of the saree with the boldness of ruffles showcases the versatility and timelessness of this garment. As a fashion icon and trendsetter, Tejasswi Prakash's embrace of the ruffled saree is a reminder that fashion is an ever-evolving art, where past trends can resurface and be celebrated in new and exciting ways.
It's quite safe to say that, even though ruffled sarees may have had their peak in the fashion world and could be considered somewhat outdated at this point, the talented Naagin actress has managed to infuse a breath of fresh air into her recent ensemble and truly ace the trend. In the world of fashion, some trends may come and go, but the true mark of style is the ability to take something classic and make it feel contemporary and exciting.
This talented actress, known for her stunning appearances and fashion-forward choices, was recently spotted donning a simply beautiful and vibrant green saree. What makes this ensemble truly remarkable is its blooming floral placement print in pretty hues of pink. The combination of the lively green and the delicate pink hues creates a visually striking contrast that immediately draws attention.
What sets this look apart is the innovative use of a layered and ruffled design in the saree. The ruffled edges bring an element of modernity and freshness to this otherwise traditional garment. It's a testament to the actress's fashion sensibilities and her ability to reinvent and rejuvenate classic styles.
In this particular ensemble, the ruffled saree design evokes a feeling of lightness and contemporary appeal. It showcases how a well-executed trend revival can breathe new life into a garment and keep it relevant in the ever-evolving world of fashion. It's a reminder that fashion is not just about following trends but also about interpreting them in a way that reflects one's unique style and personality.
This easy-to-wear and undoubtedly lightweight piece is not only stylish but also practical for those who love to hit the dance floor with enthusiasm. What sets this ensemble apart is the fact that it's pre-stitched like a dress, ensuring that it stays securely in place even during the most energetic dance moves. This feature adds a level of convenience and comfort, allowing the wearer to enjoy the celebration without worrying about wardrobe malfunctions.
Crafted by the renowned designers Paulmi and Harsh, this saree, valued at Rs. 32,400, is a testament to their skill and creativity. The material used, georgette, is known for its flowy and elegant drape, making it a perfect choice for a lively and comfortable outfit. The georgette drape not only feels light on the body but also offers a graceful and flattering silhouette.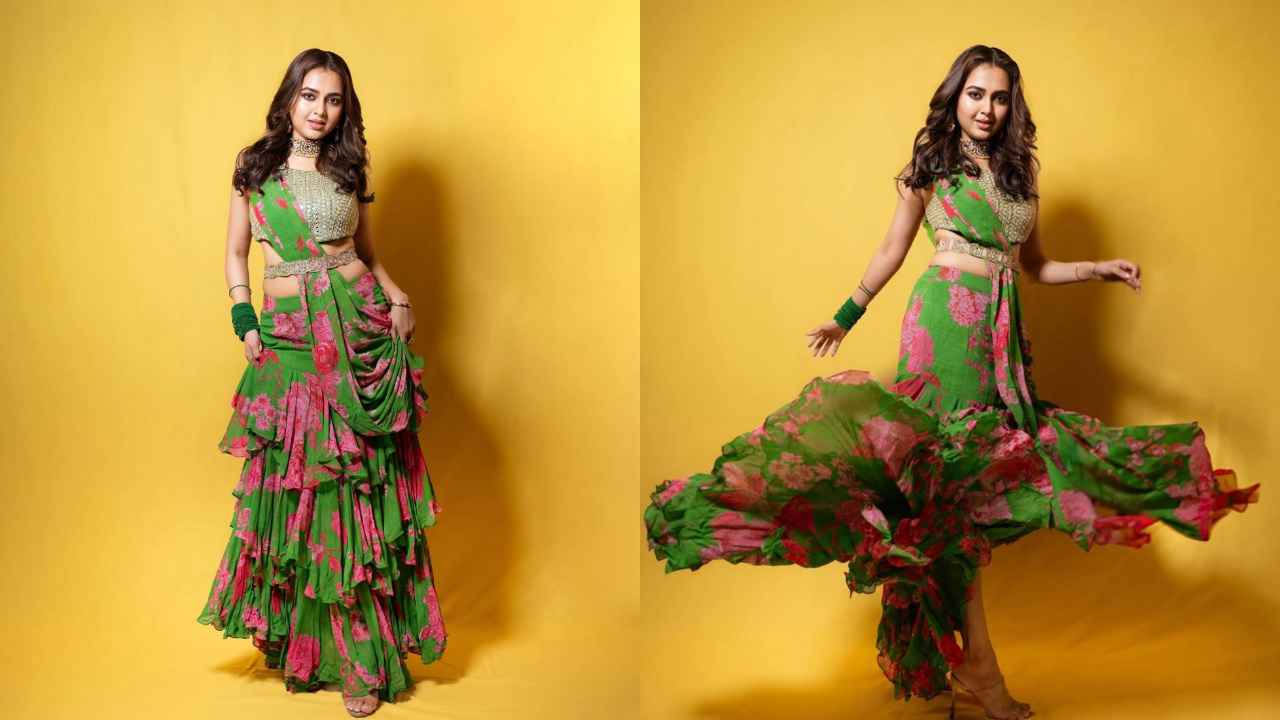 What truly elevates this ensemble is the incorporation of three gorgeous layers. These layers not only add depth and dimension to the saree but also enhance its overall appeal. Additionally, the belted twist provides a contemporary and fashionable touch to the traditional saree, giving it the perfect oomph factor. This fusion of classic and modern elements in one garment is what makes this saree truly exceptional.
Tejasswi Prakash, known for her impeccable style, has showcased her knack for attention to detail by carefully selecting accessories to complement her classy outfit. To complete her look, she opted for beige stiletto heels, a choice that perfectly harmonizes with her ensemble. Beige is a versatile and neutral color that often works well with a wide range of outfits, adding an element of sophistication to her overall appearance. The choice of stiletto heels not only enhances her height but also adds a touch of elegance, creating a harmonious appeal.
In addition to her footwear, the actress also made well-thought-out choices in her jewelry selection. She adorned herself with a gold choker-like necklace encrusted with Kundans, which adds a touch of traditional charm and opulence to her look. The matching dangling earrings, gold bracelet, statement ring, and coordinating green bangles complement her outfit beautifully. These accessories serve to enhance the overall aesthetic of her ensemble, while the pop of green from the bangles adds a refreshing and eye-catching element to the look.
Last but certainly not least, Tejasswi Prakash's hair and makeup choices are essential components of her overall style. While the details of her hair and makeup aren't provided in the description, they play a pivotal role in bringing the entire look together. The perfect makeup and hairstyling can accentuate her features and enhance the overall impact of the outfit, ensuring that she looks stunning and poised for any event or occasion.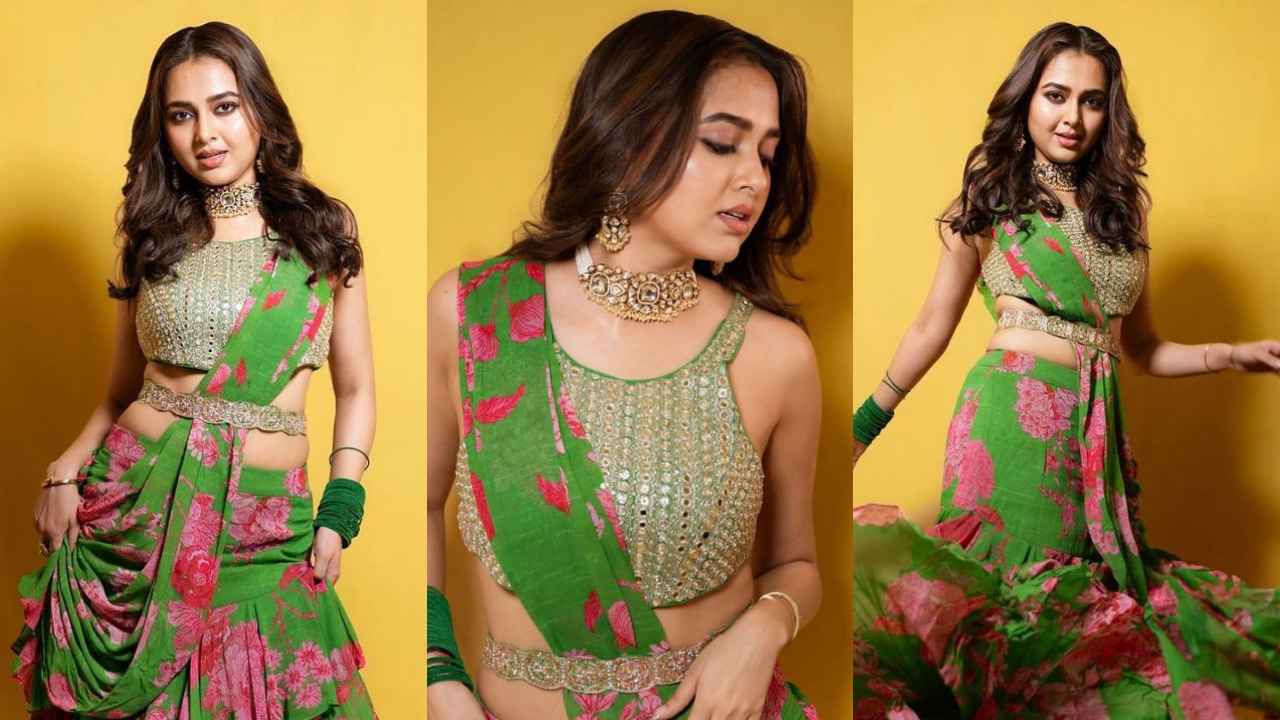 In a world where fashion trends constantly ebb and flow, Tejasswi Prakash's contemporary take on the ruffled saree stands as a shining example that classic attire can always have a place in the modern wardrobe. Her choice not only pays homage to the rich tradition of the saree but also celebrates the freshness and modernity of today's fashion scene. It's a fusion of the timeless and the contemporary, a perfect blend that embodies the evolving nature of style.
As we admire her grace and fashion-forward approach, it becomes clear that the saree is more than just a piece of clothing; it's a canvas for self-expression. Tejasswi Prakash's interpretation of the ruffled saree showcases how one can use this iconic Indian attire to express their personality, style, and individuality. In doing so, she sets an inspiring example for those who seek to embrace tradition while staying on-trend.
The talented actress and model's style choices serve as a reminder that the saree is not limited to a particular era or fashion trend. It can be a symbol of timeless beauty, standing the test of time, while also adapting to the changing winds of fashion. Tejasswi Prakash's fashion statement is a testament to the saree's enduring appeal, its ability to evolve with the times, and its role as a reflection of one's unique personality and taste.
In conclusion, Tejasswi Prakash's contemporary approach to the ruffled saree is a testament to the resilience of classic attire in the ever-evolving world of fashion. Her style choices underscore the saree's status as a versatile canvas for self-expression, capable of embracing both tradition and modernity. It's a reminder that fashion is a dynamic art form that can beautifully balance the past and the present, offering an evergreen space for self-expression and individuality.