Tejasswi Prakash gave masterclass on how to carry bright orange in Rs. 24,500 sleeveless gathered playsuit
In the world of glitz and glamour, there are very few actresses who consistently manage to stay on-trend with their ensembles and leave us yearning for more. Tejasswi Prakash, the super-talented actress, undeniably belongs to that exclusive list.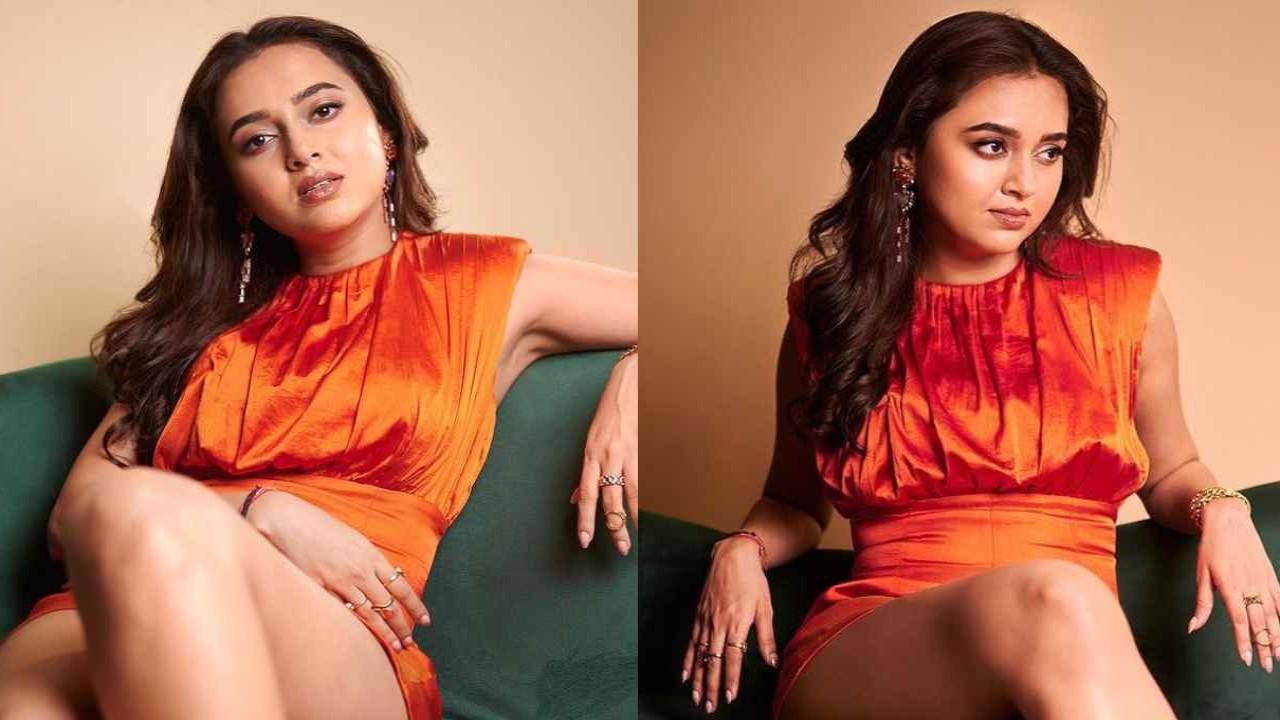 She is a luminous beacon of style and glamour in the entertainment industry, and her fashion choices never fail to captivate the hearts of fans and fashion enthusiasts alike. Tejasswi, who first gained fame as the stylish Swaragini actress, has evolved into a fashion icon, known for setting trends and making headlines with her impeccable style.
Tejasswi Prakash recently graced a celebrated industry event, and as always, her choice of attire was nothing short of perfection. Her presence at such events is not just about her acting prowess but also about the sartorial spectacle she creates. With each appearance, she reaffirms her status as a style maven, setting a high bar for fashion in the industry.
Her ability to effortlessly blend contemporary trends with timeless elegance is a testament to her fashion acumen. Tejasswi Prakash knows how to make a statement with her outfits, and her red carpet appearances are eagerly anticipated by fashion aficionados. Her fashion choices transcend mere clothing; they are a reflection of her charisma and an embodiment of her dynamic personality.
In the world of showbiz, where style and glamour often go hand in hand, Tejasswi Prakash stands out as a trailblazer. Her outfits are not just garments; they are statements, each telling a story of her individuality and confidence. It's safe to say that she belongs to the rare category of stars who continually dazzle us with their fashion sensibilities, leaving us always wanting more.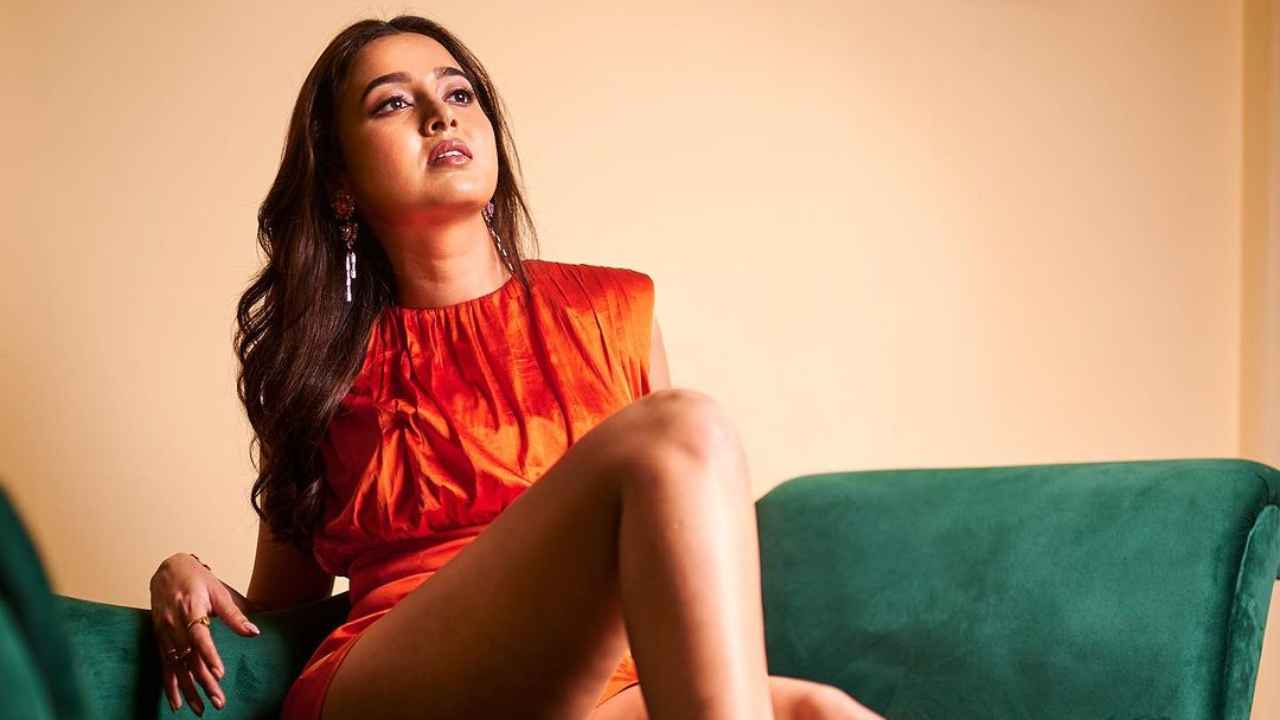 The super-talented Tejasswi Prakash made a striking appearance at a prominent event, showcasing her impeccable fashion sense. For this occasion, she opted for a gathered sleeveless playsuit from Mannat Gupta's couture label, a choice that undoubtedly turned heads. The playsuit, priced at Rs. 24,500, featured a high circular neckline, which added a unique and modern touch to the outfit.
Tejasswi's selection of this playsuit demonstrated her knack for choosing outfits that perfectly balance femininity with a touch of edginess and sophistication. The design was both elegant and contemporary, showcasing her ability to effortlessly blend different style elements into a cohesive and captivating look.
The choice of Mannat Gupta's couture label also underscored Tejasswi's support for emerging designers and her commitment to promoting the work of talented fashion creators. Her fashion choices not only reflect her own style and grace but also highlight her role as an influencer in the fashion industry.
In this ensemble, Tejasswi Prakash once again showcased her status as a fashion icon, leaving us in awe of her style and her ability to make a lasting impression on the red carpet. Her fashion choices are a testament to her charisma, her confidence, and her unique sense of style.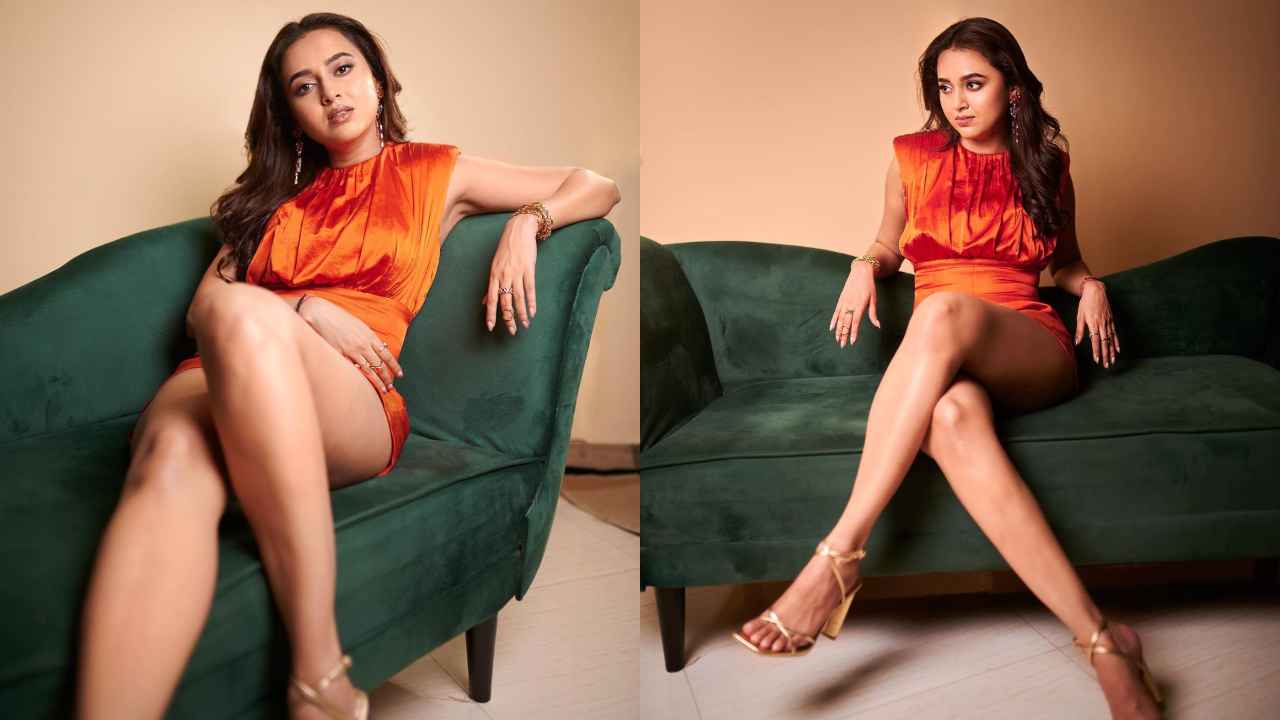 The playsuit that Tejasswi Prakash chose to wear for the event was an instant head-turner, thanks to its vibrant bright orange color. The eye-catching hue added a dynamic and lively quality to her outfit, making her stand out in the crowd. Orange is a color associated with energy and enthusiasm, and it perfectly complemented Tejasswi's vibrant personality.
Moreover, the bodice was impeccably stitched to a pair of high-waisted taffeta mini-shorts. These shorts not only added a trendy element to her outfit but also allowed the gorgeous actress to flaunt her toned legs. The high-waisted style served to elongate her legs and enhance her overall posture, making her look even more statuesque.
In sum, Tejasswi Prakash's choice of the vibrant orange playsuit with its elegant shoulder padding, satin and gathered bodice, and high-waisted taffeta mini-shorts was a fashion statement that showcased her fashion-forward thinking and her ability to turn heads with her choice of attire. Her outfit beautifully balanced style and personality, making her a true fashion inspiration.
In addition to the earrings, Tejasswi selected matching bracelets and rings that perfectly complemented her ensemble. The coordination of her jewelry not only demonstrated her keen eye for detail but also added a sense of completeness to her overall look.
One striking accessory that stood out was her fabulous tangerine watch. This accessory added a pop of color and a sense of playfulness to her outfit, serving as a perfect complement to the vibrant orange playsuit. It's a testament to her ability to balance bold and subtle elements in her attire.
Tejasswi Prakash's choice of accessories, including the gold sandals, earrings, bracelets, rings, and the tangerine watch, was a masterclass in how to accessorize an outfit to perfection. Each element served to enhance and elevate her entire ensemble, making her a true fashion icon and inspiration to fashion enthusiasts.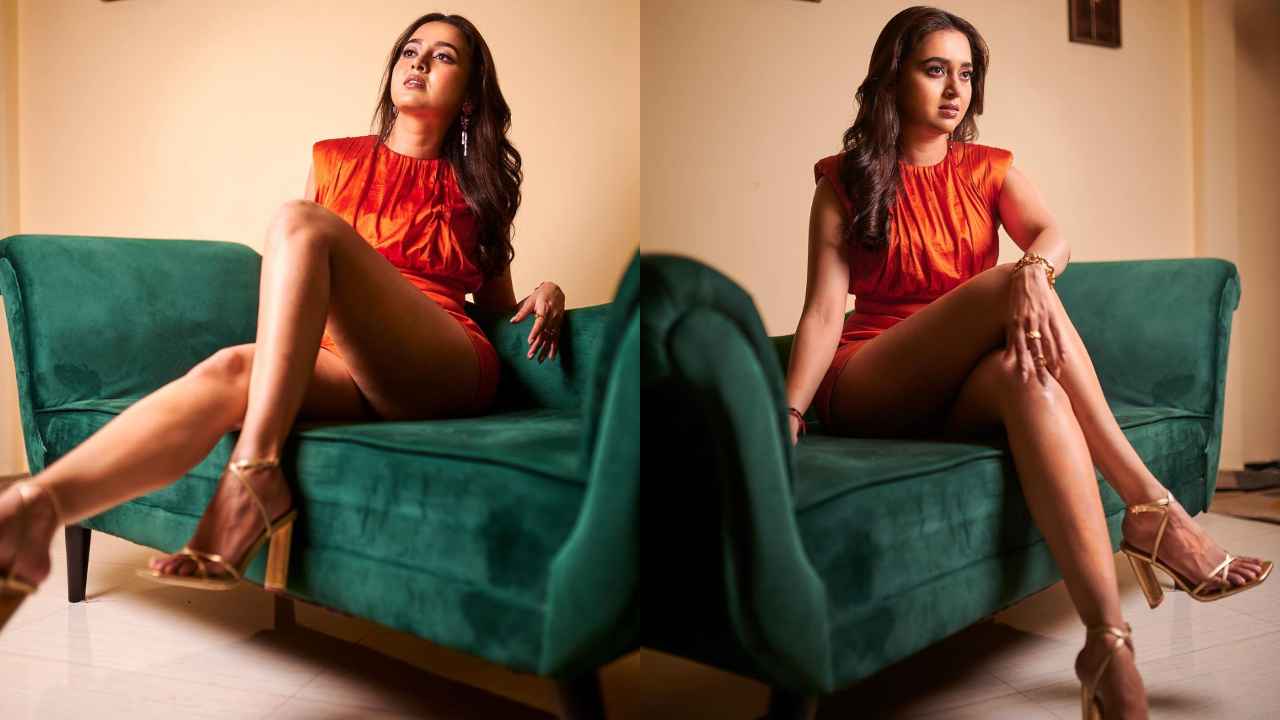 Tejasswi Prakash's attention to detail extended beyond her outfit and accessories to her hair and makeup, which were also on point. The classy actress made a smart choice by leaving her dark tresses open and styling them into loose curls. This hairstyle added a touch of effortless elegance to her appearance, with the curls beautifully cascading down her shoulders. The loose curls not only framed her face but also added a soft and feminine quality to her overall look, enhancing her natural beauty.
Her makeup was equally well-executed, with a focus on bringing out her best features. The diva chose a makeup look that highlighted her eyes and lips without overwhelming her face. This balance allowed her innate beauty to shine through, making her look radiant and confident.
Tejasswi Prakash's fashion choices are consistently accompanied by a well-thought-out hair and makeup strategy. Her commitment to maintaining a polished and well-coordinated appearance showcases her dedication to her overall style, leaving a lasting impression on fashion enthusiasts. Her combination of a flawless hairstyle and makeup served as the perfect finishing touch to an already remarkable ensemble, making her a true fashion icon.
The synergy between her makeup and her outfit was evident in how well they complemented each other. Tejasswi Prakash's impeccable sense of style, both in her attire and her makeup, underlined her incomparable allure and cemented her status as a fashion icon. Her elegance and grace continue to captivate the spotlight, leaving us utterly obsessed with her style and presence.