Mouni Roy Effortlessly Pairs Artsy Co-ord set!
Indeed, Mouni Roy is widely regarded as a fashionista, known for her stunning appearances and ability to effortlessly pull off various aesthetics. Whether it's casual, formal, or occasion wear, Mouni has a knack for selecting comfortably trendy outfits that resonate with her global fan base and inspire them to recreate her looks.
Mouni's fashion choices showcase her versatility and confidence. She has a keen eye for trends and knows how to adapt them to suit her personal style. Her ability to effortlessly blend comfort and style allows her to create looks that are not only fashionable but also practical for everyday wear.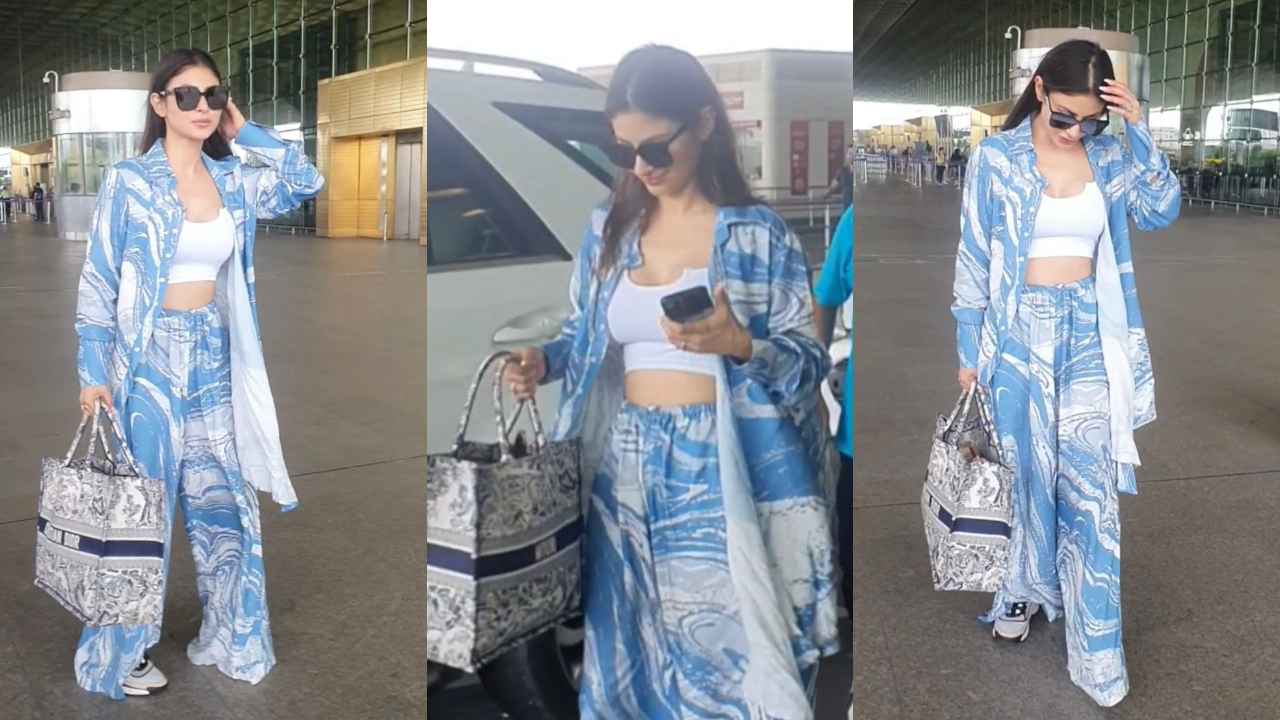 One of Mouni's strengths is her ability to experiment with different styles and aesthetics. She is not afraid to step out of her comfort zone and try new trends, which further establishes her as a trendsetter in the fashion world. Whether she is seen in chic streetwear, glamorous red carpet ensembles, or traditional Indian attire, Mouni carries each look with grace and elegance.
Mouni's fashion sense transcends borders, as she inspires fans and followers globally with her stylish outfits. Her fashion choices are often featured on social media platforms, where fans eagerly recreate her looks and seek fashion inspiration from her on-trend ensembles.
In addition to her outfit choices, Mouni pays attention to details like accessories, makeup, and hairstyles, which enhance the overall impact of her looks. These thoughtful additions further showcase her fashion acumen and attention to styling.
Mouni Roy's stylish appearance at the Mumbai airport, where she showcased a coordinated set and carried a luxurious Dior tote bag. Coordinated sets have become increasingly popular as they offer a cohesive and put-together look effortlessly.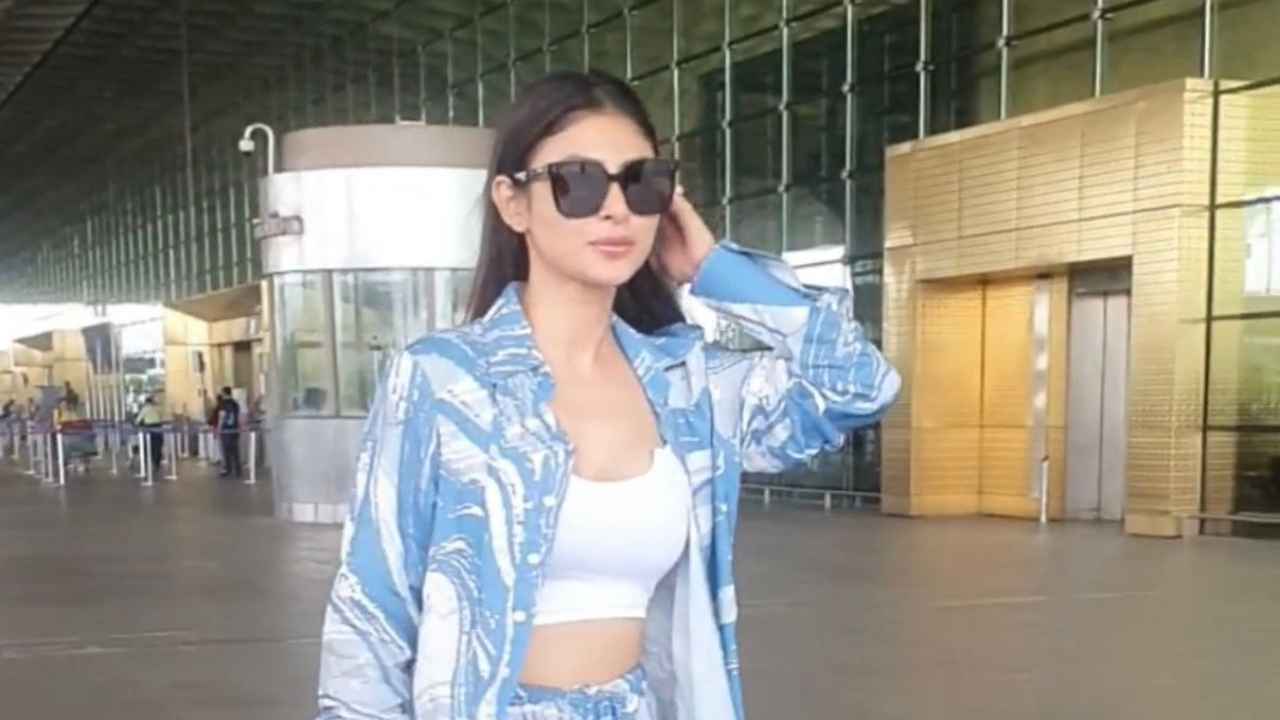 Mouni's choice of a stylish and colorful coordinated set demonstrates her fashion-forward approach and ability to stay on-trend. Coordinated sets often consist of matching or complementary pieces, such as a top and bottom, designed to be worn together. This ensemble choice showcases Mouni's ability to create a cohesive and visually appealing outfit that exudes both style and confidence.
The addition of a seriously expensive Dior tote bag further enhances the overall sophistication of Mouni's look. Dior is renowned for its iconic designs and exquisite craftsmanship, and carrying a Dior tote bag reflects Mouni's appreciation for luxury fashion. The bag serves as a statement accessory, adding a touch of elegance and glamour to her ensemble.
Accessories, especially high-end designer bags, can make a significant impact on an outfit. They elevate the overall look, showcasing a sense of refinement and luxury. Mouni's choice to carry a Dior tote bag exemplifies her eye for detail and her ability to incorporate statement pieces into her ensemble.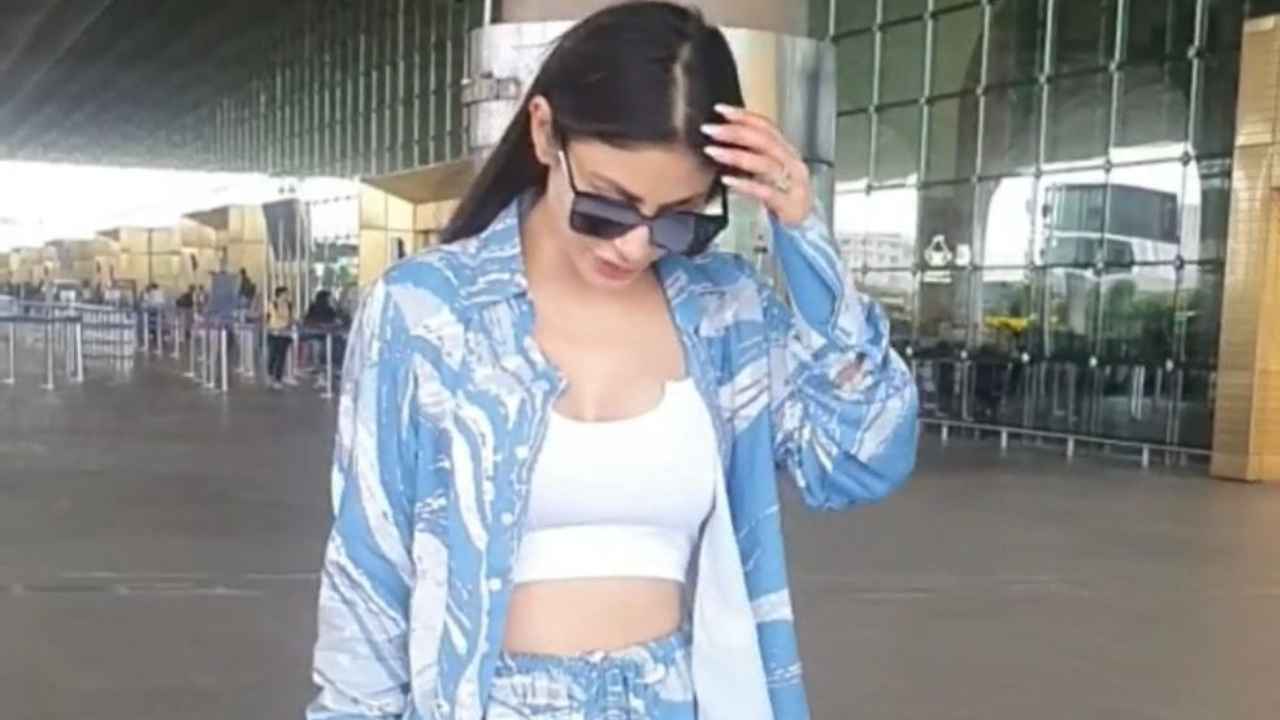 Mouni Roy's appearance at the Mumbai airport, with her stylish coordinated set and luxurious Dior tote bag, exemplifies her fashion-forward and sophisticated style. Her ability to curate ensembles that are both trendy and glamorous allows her to make a lasting impression and inspire her followers in the world of fashion.
Mouni Roy's blue-and-white artsy printed co-ord set from Deme by Gabrielle. Deme by Gabrielle, started by model-turned-designer Gabriella Demetriades, is renowned for its sensual, fun, and edgy clothing.
The blue-and-white artsy printed co-ord set sounds like a visually striking and stylish ensemble. Co-ord sets, consisting of matching or coordinated pieces, have gained popularity for their ability to create a put-together look effortlessly. The artsy print adds a touch of creativity and individuality to the set, making it stand out.
Deme by Gabrielle's focus on sensual, fun, and edgy clothing aligns with Mouni Roy's fashion choices, as she often embraces trendy and stylish outfits. The label's aesthetic resonates with individuals who seek unique and fashion-forward pieces.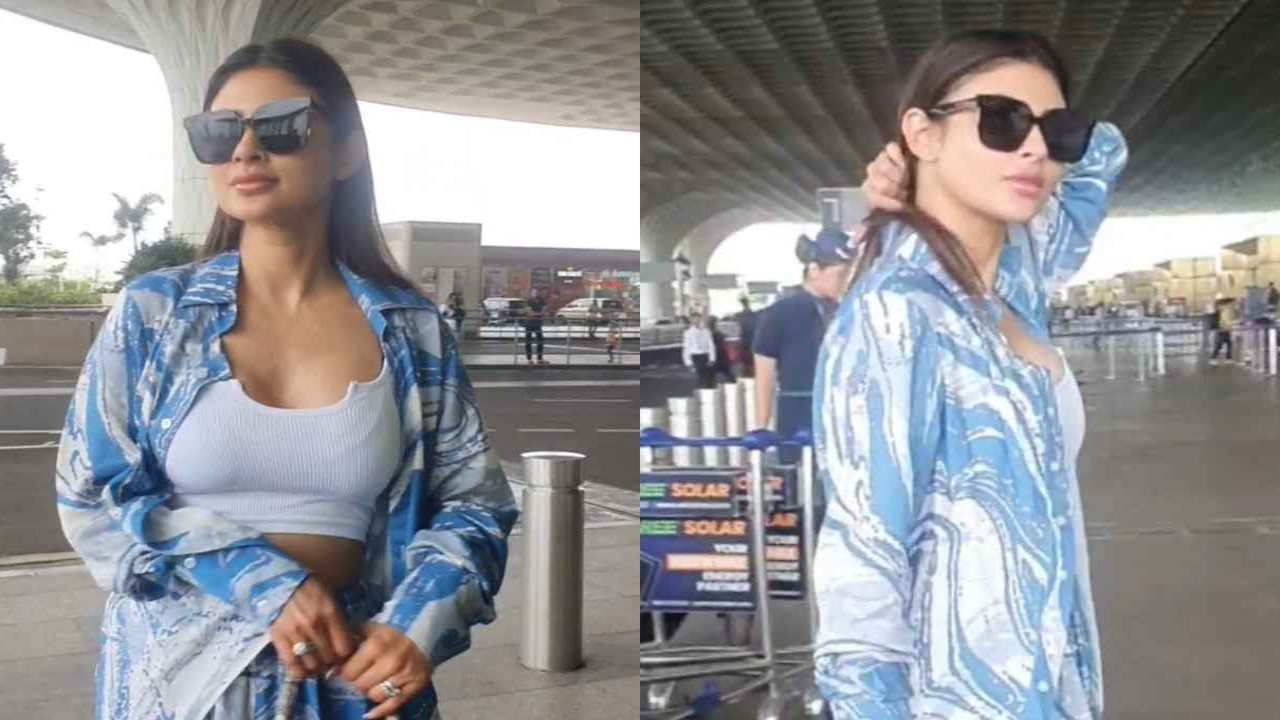 The price point of the co-ord set reflects the brand's commitment to quality craftsmanship and design. Luxury brands like Deme by Gabrielle often prioritize attention to detail, using high-quality fabrics, and offering unique designs that stand out from the crowd.
By opting for this Deme by Gabrielle co-ord set, Mouni Roy showcases her affinity for fashion and her ability to curate outfits that capture attention. It also highlights her support for homegrown luxury brands and her commitment to promoting talented designers in the industry.
Deme by Gabrielle's reputation as a go-to brand for contemporary women's wear in India further highlights its appeal and influence in the fashion industry. The brand's cool and premium styles have resonated with fashion-conscious individuals seeking modern and on-trend clothing.
Mouni Roy's choice to leave the shirt of her co-ord set open and wear a white cropped top inside adds a touch of playfulness and adds an element of layering to her ensemble. Leaving the shirt open showcases her personal style and adds a relaxed and casual vibe to the outfit. By layering a white cropped top underneath, she introduces contrast and adds visual interest to the overall look.
Layering is a popular styling technique that allows for versatility and adds depth to an outfit. Mouni's choice to incorporate layering into her ensemble demonstrates her fashion sense and ability to experiment with different elements to create a unique and personalized look.
The white cropped top provides a neutral base that complements the blue-and-white artsy print of the co-ord set. This combination creates a visually pleasing contrast and draws attention to the details of both pieces.
Mouni Roy's ability to effortlessly style her ensemble with the open-shirt and cropped top showcases her understanding of fashion aesthetics and her knack for creating trendy yet comfortable looks. Her fashion choices often inspire her followers to experiment with their own outfits and incorporate layering techniques into their personal style.
Overall, Mouni Roy's choice to leave the shirt open and wear a white cropped top with her Deme by Gabrielle co-ord set reflects her fashion-forward approach and her ability to incorporate different styling elements into her look. It adds a touch of individuality and further showcases the versatility of the brand's designs.