Shehnaaz Gill shines in pink v-neck crop blazer and bell bottoms
Shehnaaz Gill is undoubtedly on fire and swiftly making her mark as a Bollywood fashion sensation. Alongside her successful film career and other ventures, this talented actress is also making waves in the fashion world. Shehnaaz is turning heads and capturing everyone's attention as she promotes her upcoming film, "Thank You For Coming," set for release on October 6th.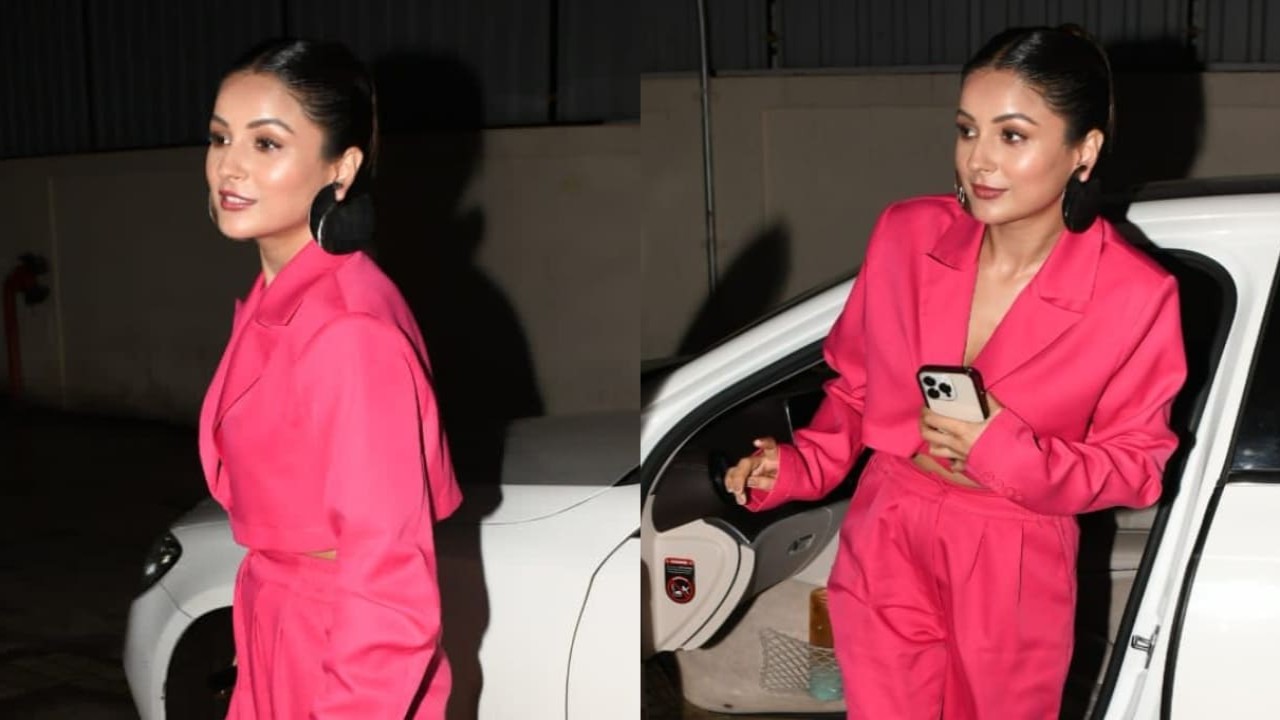 In the ever-evolving world of Bollywood, fashion plays a significant role, and Shehnaaz Gill's fashion choices are resonating with fans and fashion enthusiasts alike. Her ability to make bold and stylish statements through her outfits and appearances showcases her versatility and flair for setting new fashion trends. As she takes the industry by storm, her unique style is becoming an inspiration for many.
Shehnaaz Gill certainly knows how to turn heads and raise glances with her fashion choices. In her latest public appearance, she once again showcased her impeccable sense of style, setting a high standard for fashion enthusiasts everywhere. Her ability to effortlessly blend trendy and classic elements, along with her unshakable confidence, is a winning combination that leaves a lasting impression.
Shehnaaz's fashion choices have become a source of inspiration for many, and she continues to push the boundaries of style with each appearance. Her willingness to experiment with different looks and her versatility in carrying off any type of clothing demonstrates her fearlessness and fashion-forward approach.
As fans eagerly anticipate Shehnaaz's next stylish treat, her consistent evolution as a fashion icon keeps everyone on the edge of their seats. Her unique style choices, coupled with her infectious confidence, make her a true trendsetter in the world of fashion.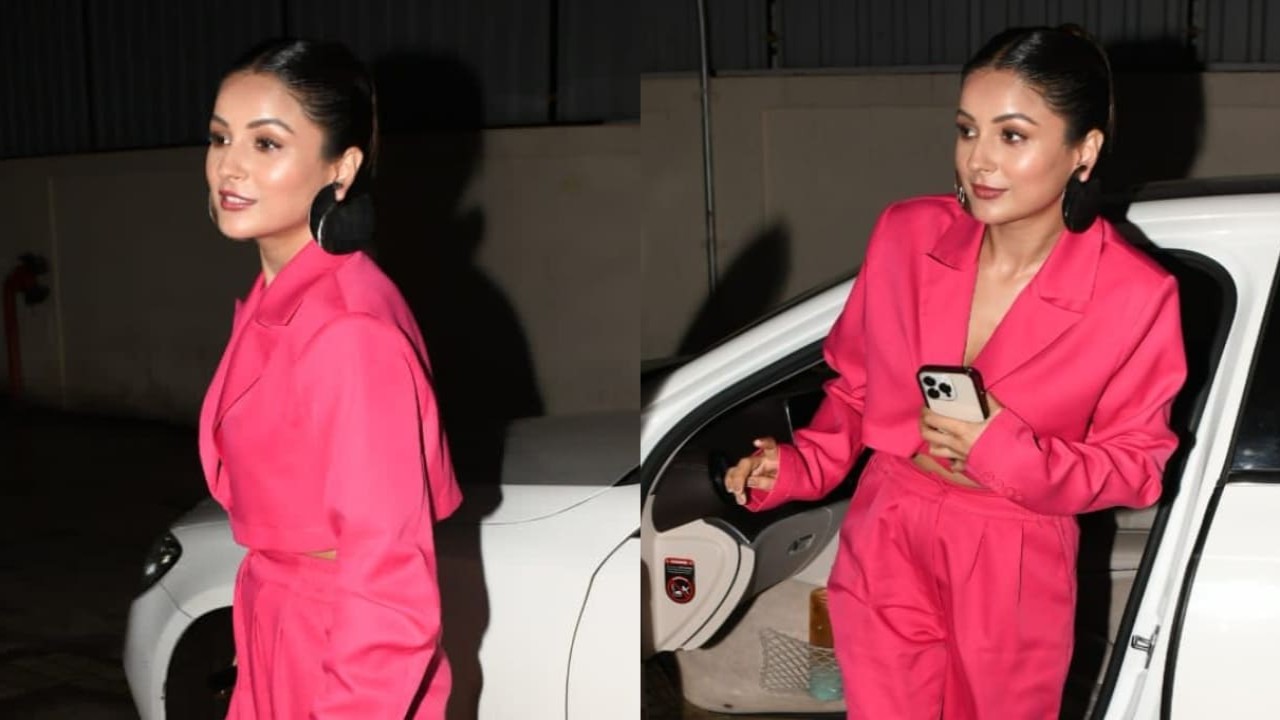 Shehnaaz Gill has a keen understanding of how to create a dramatic fashion statement, and her choice of a solid pink crop blazer combo is a testament to her impeccable style. The blazer features a notched lapel collar, which adds a sense of refinement to the entire design. This small but significant detail elevates the overall look, making it both chic and sophisticated.
The blazer, with its long sleeves, strikes a perfect balance between elegance and comfort. It not only exudes a professional and polished vibe but also ensures that Shehnaaz remains at ease while making her fashion-forward statement. The choice of solid pink for the blazer is bold and eye-catching, further reinforcing her fashion-forward approach.
Shehnaaz's wide-leg bell-bottom trousers are the ideal complement to the blazer. These trousers are not only fashionable but also provide the comfort needed for long public appearances. The combination of the blazer and trousers showcases her ability to wear a stylish and sophisticated ensemble while ensuring that comfort is not compromised.
Shehnaaz Gill's attention to detail in accessorizing her already great appearance was truly remarkable. She opted for large black opaque statement earrings, which added a touch of drama and intrigue to her overall look. These statement earrings not only drew attention but also complemented her outfit beautifully, enhancing the bold fashion statement she was making.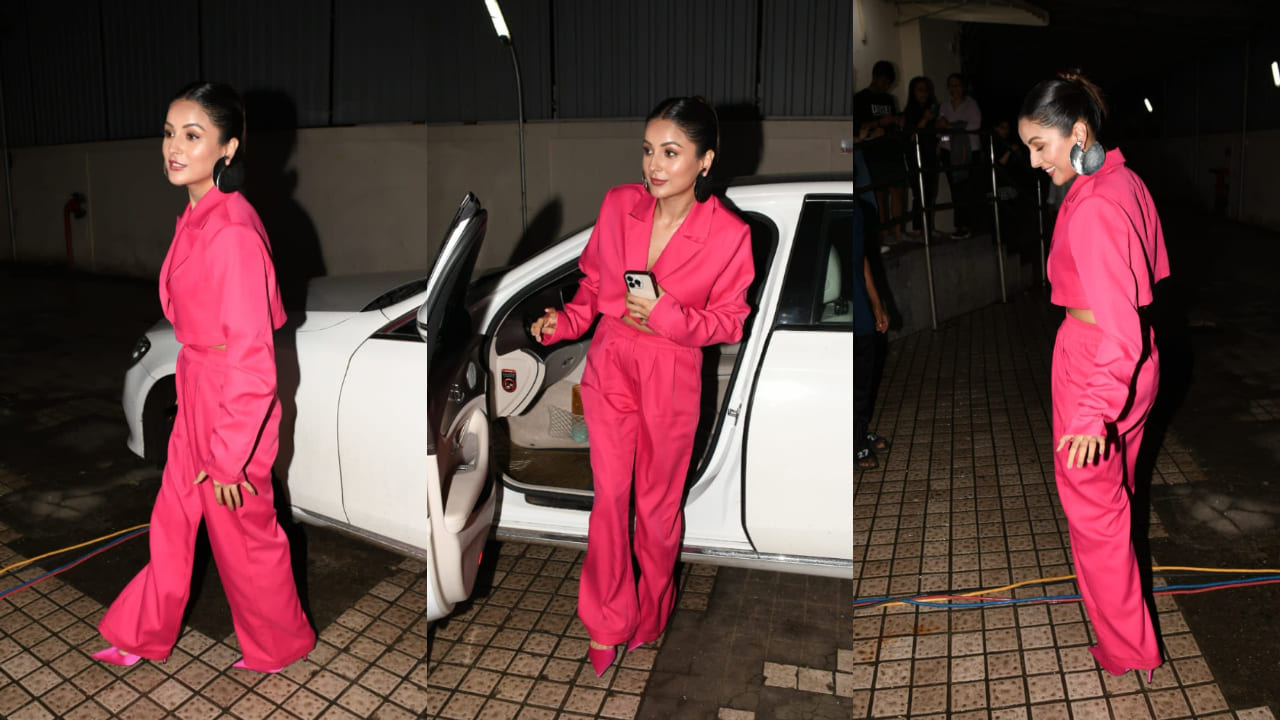 To complete her style, Shehnaaz chose pointed-toe hot pink colored heels. These shoes not only added a splash of matching lively color to her entire appearance but also created a cohesive and harmonious look. The choice of these heels displayed her knack for coordination and her ability to bring the entire outfit together in a visually striking manner.
Her makeup was nothing short of flawless, with a dewy finish that accentuated her brow and cheekbones, giving her a radiant and healthy glow. She emphasized her eyes with brown eyeshadow and fine eyeliner, which added depth and allure. Her choice of rich red lipstick offered a dramatic and elegant touch, highlighting her lips and completing the look.
In conclusion, Shehnaaz Gill's fashion choices are a testament to her attention to detail and her commitment to creating a complete and striking appearance. Her choice of statement earrings and hot pink heels, along with her impeccable makeup, made her look truly stunning.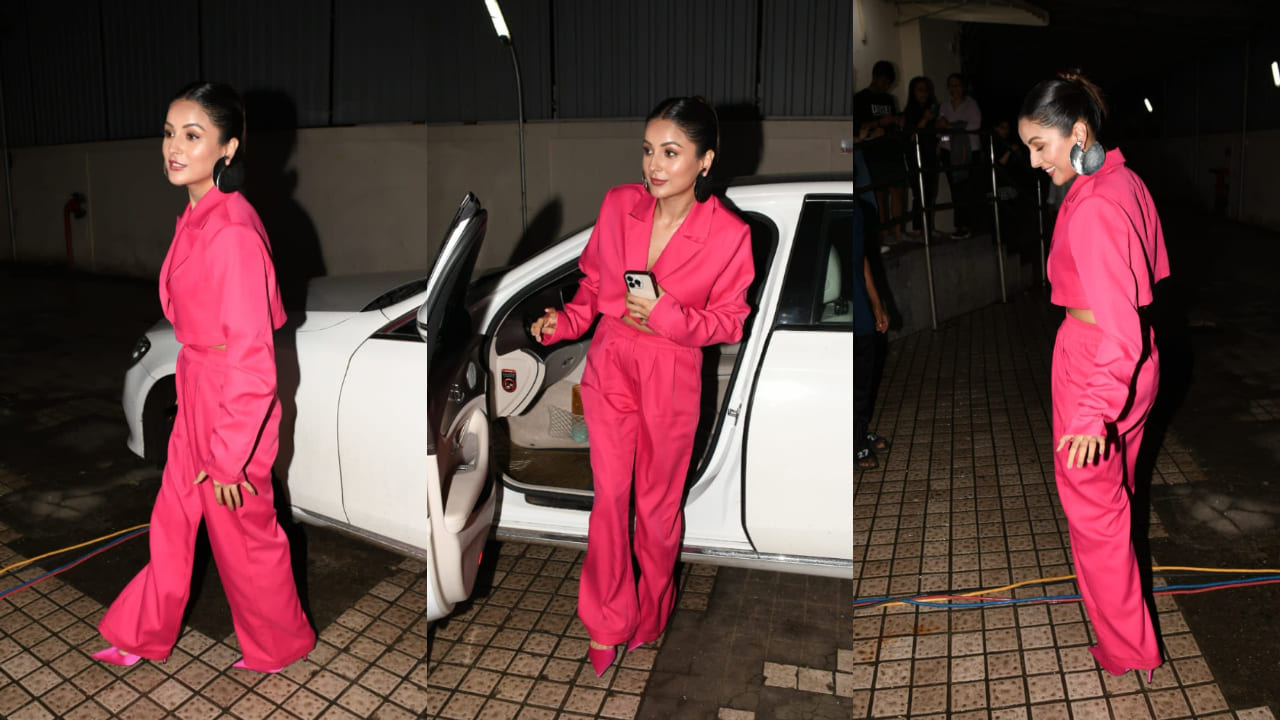 Shehnaaz continues to prove that she has an innate ability to make bold and memorable fashion statements, leaving a lasting impression on fashion enthusiasts everywhere.