Kareena Kapoor and Kiara Advani ace a sporty look in athleisure wear
The concept of athleisure has revolutionized the fashion industry, blurring the line between workout clothes and everyday wear. It's not surprising that Bollywood celebrities are embracing this trend for both its comfort and style. Here, we have two Bollywood actresses who independently chose blue athleisure outfits for their airport looks, demonstrating how this trend has become a go-to choice for casual and travel attire.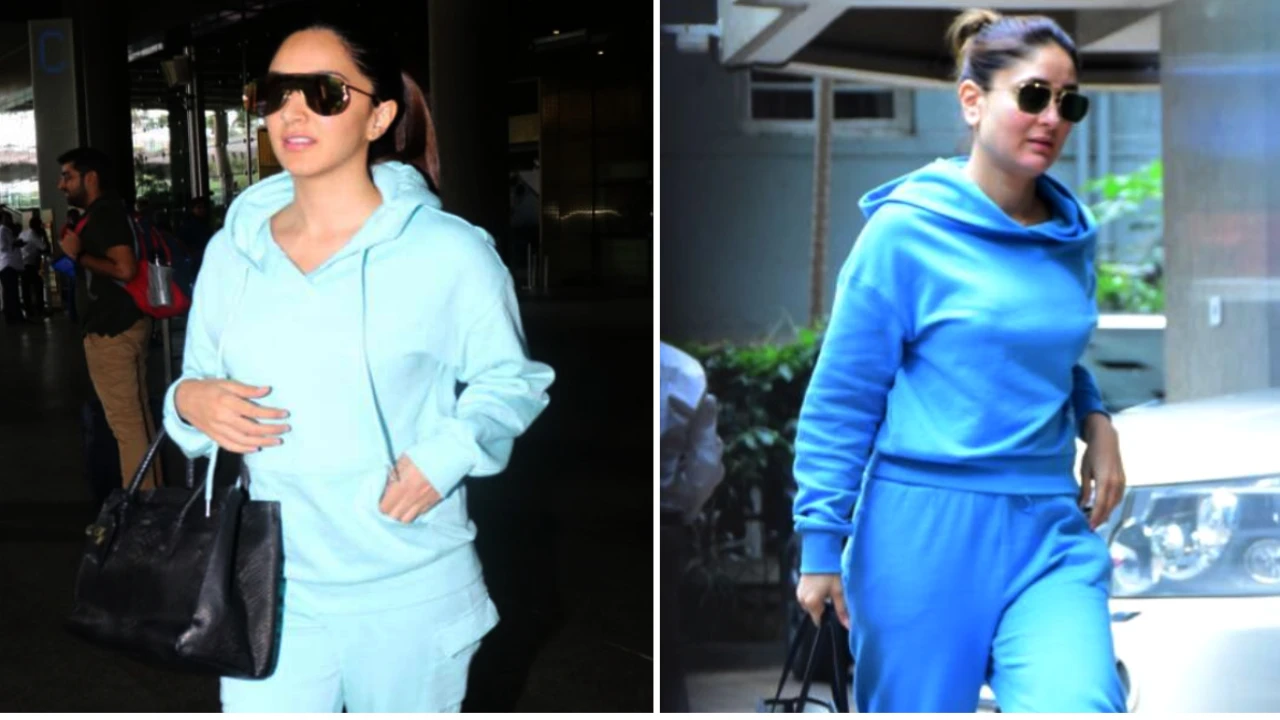 Both actresses opted for coordinated sets in shades of blue, showcasing their fashion-forward approach. Coordinated sets are not only stylish but also convenient, as they eliminate the need to mix and match separates while ensuring a cohesive and polished appearance.
Additionally, both celebrities chose to accessorize their athleisure looks with black handbags. This smart styling choice not only adds a touch of contrast but also contributes to the overall sophistication of their outfits. Black handbags are versatile and timeless accessories that can complement a wide range of looks, making them a perfect choice for travel and casual wear.
Kareena Kapoor Khan's return to town, along with her 'The Crew' team, is always a moment of anticipation for her fans and fashion enthusiasts alike. Known for her simple and minimalist style, Kareena Kapoor's daily spottings are indeed a fashion treat.
Her choice of a coordinated sweatsuit for this occasion highlights her affinity for this particular style. Coordinated outfits have become a significant part of her wardrobe, and they're a reflection of her relaxed yet chic approach to fashion. The sweatsuit she donned for her arrival showcases the comfort and ease that this style offers.
Kareena Kapoor's fashion choices often convey a sense of practicality and effortlessness. Coordinated outfits are not only easy to put together but also create a polished and put-together look. It's no surprise that she has a substantial collection of such outfits, as they align perfectly with her fashion preferences.
It's always interesting to see how different celebrities put their own spin on similar fashion trends. In this case, both Kareena Kapoor and Kiara Advani opted for ribbed sweatshirts with hoods, but the subtle differences in their outfits made them unique.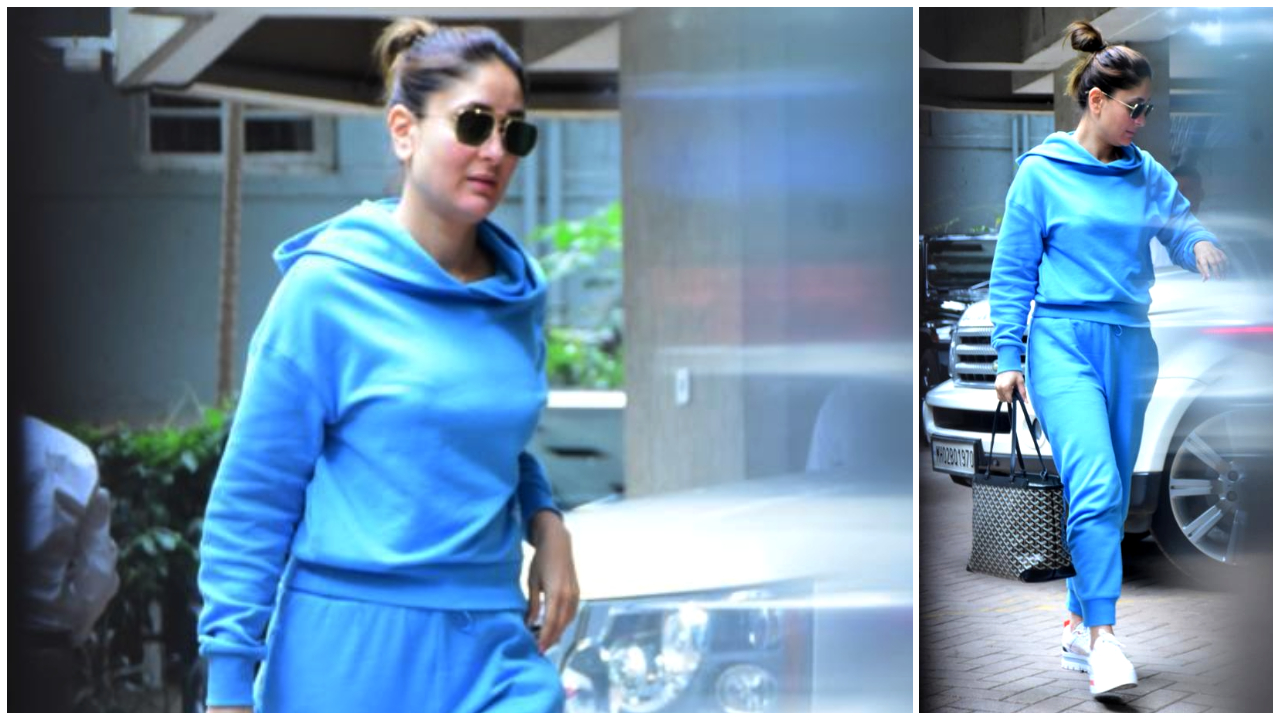 Kareena Kapoor's sweatshirt may have been similar in style, with ribbed detailing and a hood, but it had its distinct charm with a different shade of blue. The choice of color can significantly impact the overall look and feel of an outfit, allowing each celebrity to express their individual style preferences.
The fact that Kiara Advani was photographed at the airport in a similar outfit last year suggests that ribbed sweatshirts with hoods are a popular choice among celebrities for casual and travel wear. It's a testament to the comfort and versatility of this style, making it a go-to option for both stars.
In the world of fashion, subtle variations and personal touches can make all the difference, even when celebrities appear to be wearing similar outfits. It's a reminder that fashion is not just about the clothes but also about how individuals interpret and style them to suit their unique personalities and preferences.
Kiara Advani's style has certainly captured the attention of fashion enthusiasts, and her ability to seamlessly blend traditional and contemporary elements is one of the reasons behind her fashion success. Her versatile and cool style choices make her a constant topic of conversation.
When it comes to choosing a travel outfit, comfort and practicality are indeed paramount. Kiara's fashion sensibility aligns perfectly with this principle, emphasizing the importance of selecting clothing that allows for ease of movement and breathability.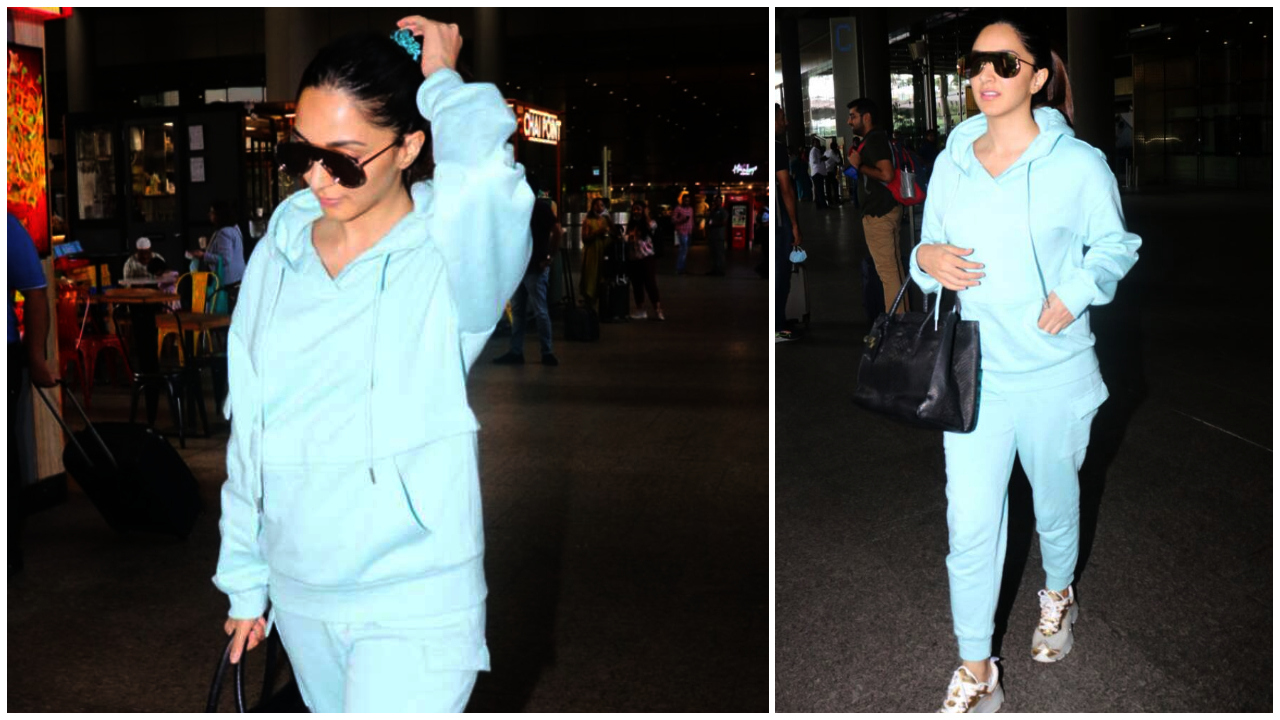 Comfortable and breathable clothing not only enhances the travel experience but also ensures that one arrives at their destination feeling relaxed and at ease. Kiara's support for such vibes reflects her practical approach to fashion, where comfort is never compromised for style.
Kiara Advani's choice of a sweatshirt as part of her travel outfit is not only fashionable but also practical, especially for evening flights when the temperature can drop. Her decision to wear a two-piece pastel combo consisting of straight-fit joggers with ribbed cuffs and a matching hoodie is both stylish and comfortable.
The sweatshirt with a hoodie, drawstrings, and a kangaroo pocket adds a layer of warmth and coziness, making it an excellent choice for staying comfortable during a flight. The kangaroo pocket provides added convenience for keeping hands warm or storing small essentials, such as a phone or travel documents.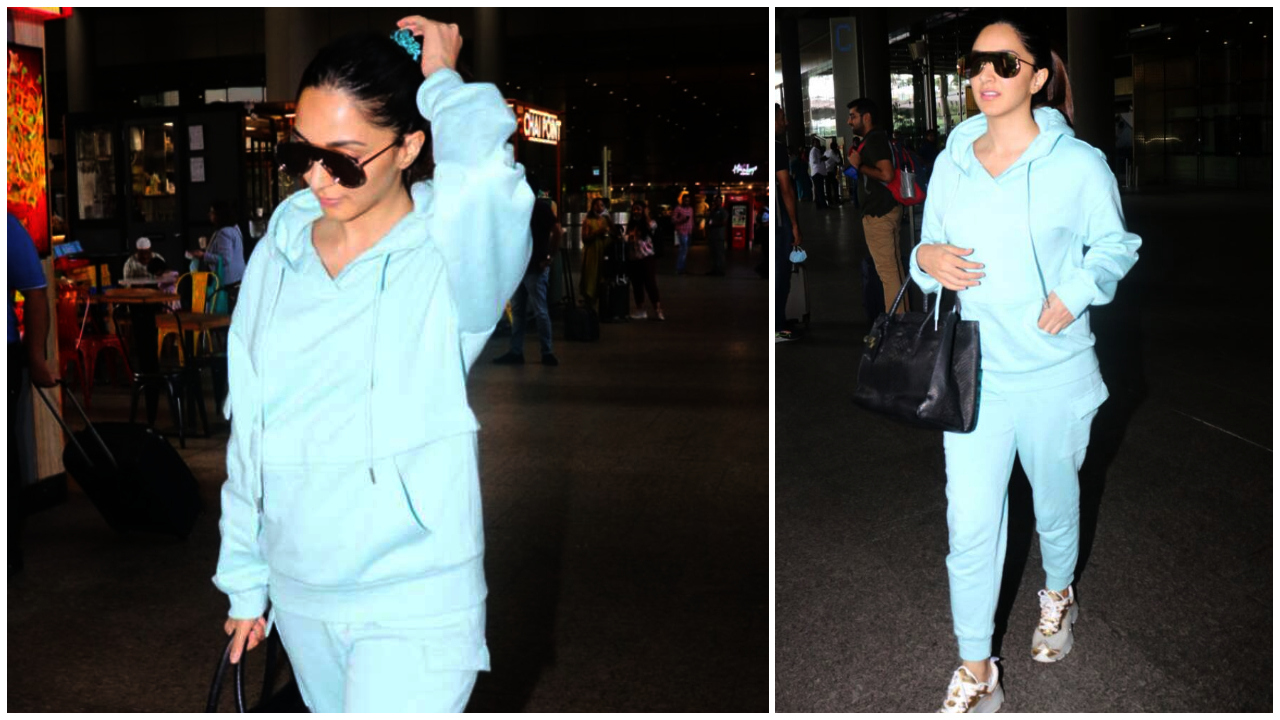 The elasticated cuffs on both the hoodie and pants ensure a snug fit, helping to retain warmth and preventing any chilly drafts. This attention to detail enhances the overall practicality and comfort of the outfit.
In summary, Kiara Advani's travel outfit is a smart and understandable choice, combining style with practicality to ensure comfort during the journey. The pastel combo and the inclusion of a sweatshirt with a hoodie, kangaroo pocket, and ribbed cuffs demonstrate her fashion-forward approach to travel attire, allowing her to stay both cool and cozy.