Karisma Kapoor's The Loom co-ordinated set is all kinds of colour-blocking cool
The arrival of summer often brings with it a burst of vibrant and bright hues that instantly uplift one's mood and wardrobe. Karisma Kapoor's recent fashion choice perfectly captures the essence of this colorful season and provides an uncomplicated hack to infuse energy into your closet.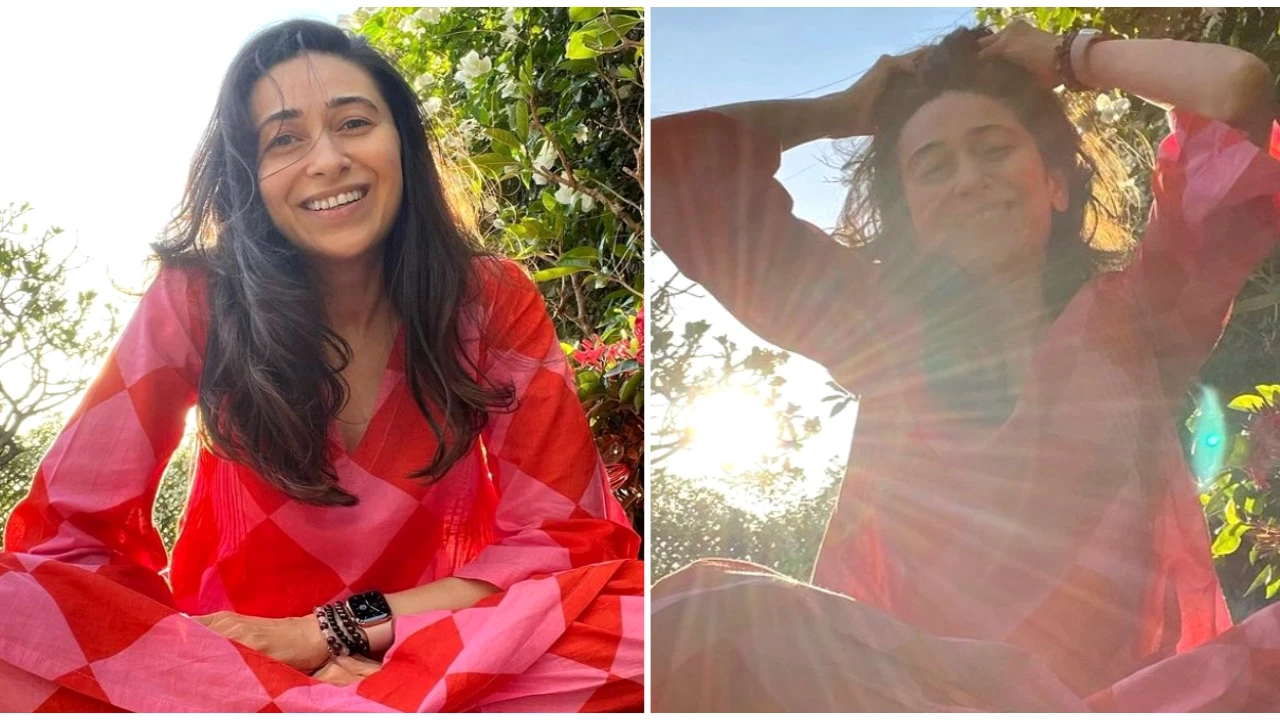 Karisma Kapoor chose to don a coordinated set by The Loom, demonstrating her keen sense of style. Her choice to embrace the vibrant colors of summer showcases her fashion-forward approach and her ability to stay in tune with the current trends.
Karisma Kapoor's style has always been a reflection of elegance and sophistication, and her recent fashion choice is no exception. Her fashion sensibility typically combines classic and contemporary elements, emphasizing clean lines, minimalism, contrasting colors, and meticulous attention to detail. This approach to fashion is what sets her apart as a style icon.
Karisma Kapoor's fashion choice in a printed ensemble from The Loom showcases her timeless elegance and fashion-forward approach. As a style icon who continues to capture hearts, she proves once again why she's regarded as "Style Heroine No. 1."
Her choice of a two-piece outfit from The Loom is a testament to her impeccable taste in fashion. She not only looks pretty but also offers a valuable style tip. Karisma emphasizes the importance of opting for sets made from light and breezy fabrics like cotton or linen, especially during the warm summer months. This tip is practical and aligns perfectly with the comfort and style needs of the season.
Karisma Kapoor's ability to effortlessly blend comfort, fashion, and style is what makes her a timeless fashion icon. Her choice of a printed ensemble serves as an inspiration for those looking to embrace the summer season with grace and flair.
Karisma Kapoor's ensemble, priced at Rs 3,450, showcased a charming and versatile design. The outfit featured a long, knee-length shirt that could easily pass for a kurta due to its style and elegance. This choice is not only visually appealing but also practical, making it suitable for various occasions, especially a luncheon.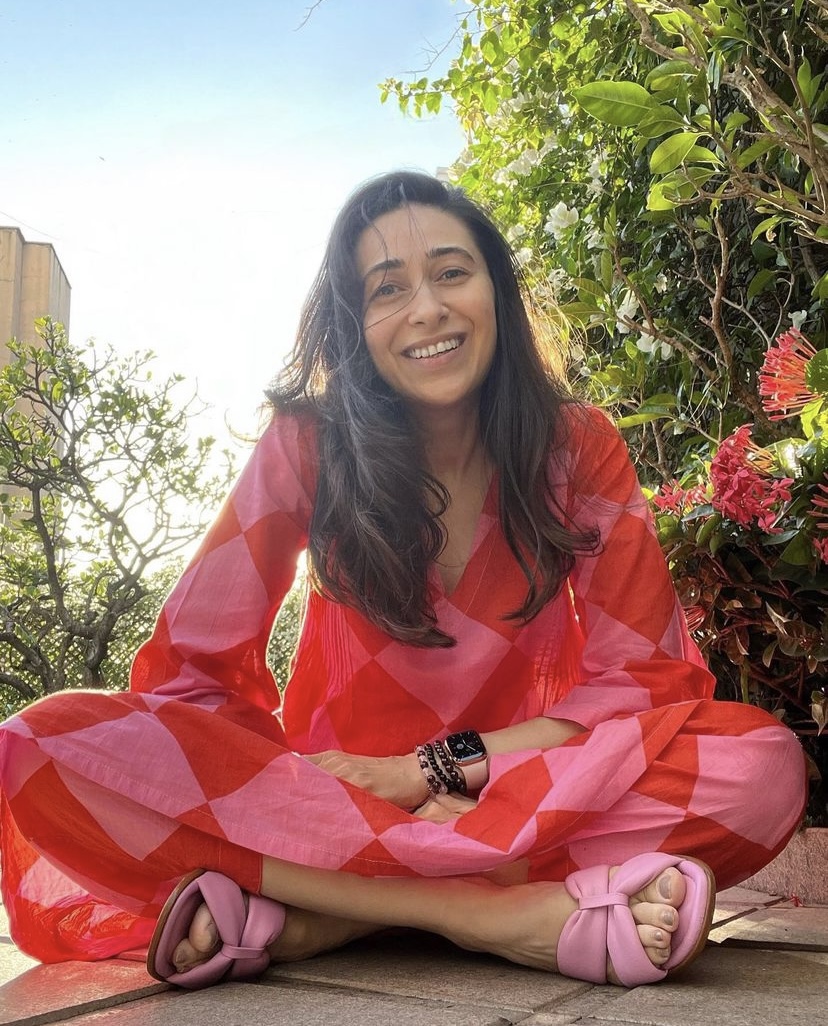 The shirt was thoughtfully designed with three-quarter balloon sleeves, adding a cute and fashionable touch to the overall look. Balloon sleeves are known for their stylish and playful appearance, making them an excellent choice for those who want to add some flair to their outfit.
The shirt also boasted a V neckline, buttons, and a straight hem, all of which contributed to its timeless and classic design. The V neckline is a flattering choice that suits various body types, while the buttons and straight hem provide a neat and polished finish to the ensemble.
Karisma Kapoor's choice of a lightweight fabric for her shirt/kurta is not just about style but also functionality. Lightweight fabrics are an excellent choice for warm weather, as they provide enough coverage to protect the skin from the sun while allowing for breathability. This balance is crucial for comfort, especially during hot days when tight-fitting shirts can trap heat and make you feel uncomfortable. Karisma's shirt, with its relaxed fit, exemplifies the ideal summer outfit, ensuring that your arms can breathe and you stay cool even in the heat.
The decision to avoid tight-fitting shirts in hot weather is a wise one, as it prevents overheating and discomfort. Loose, flowing garments like the one Karisma wore are the perfect antidote to scorching temperatures. They not only keep you comfortable but also add an element of relaxed sophistication to your look.
Karisma Kapoor paired her stylish shirt with straight-fit pants featuring pleated hems. This choice balances the flowy nature of the shirt with a structured and tailored bottom, creating a harmonious and fashionable ensemble. Pleated hems can add a touch of elegance to the outfit, making it suitable for a luncheon or similar occasions.
In summary, Karisma Kapoor's choice of lightweight fabric and a loose-fitting shirt is a smart and stylish approach to staying cool and comfortable during warm weather. Her fashion sense reflects an understanding of both aesthetics and practicality, making her outfit a definite yes for the summer season.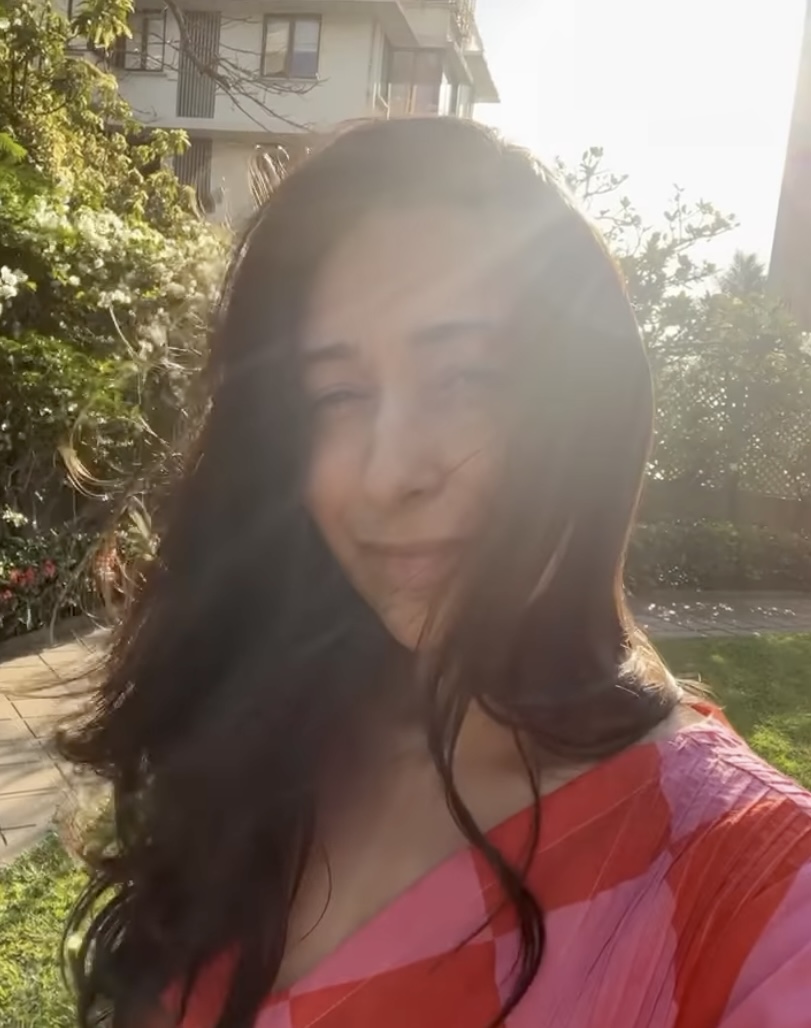 Absolutely, taking a moment to appreciate the print on Karisma Kapoor's outfit and how it aligns with the Summer fashion theme is worth it. Printed clothes are a delightful and stylish addition to any wardrobe, especially during the warm and vibrant summer season.
Prints come in a wide variety, including floral, animal, geometric, and abstract designs, offering endless possibilities for creating eye-catching and unique outfits. In Karisma's case, the print on her shirt/kurta added a playful and summery touch to her ensemble, enhancing the overall appeal of her look.
When wearing printed clothing, it's wise to follow the advice of keeping the rest of your outfit simple. This approach allows the print to take center stage and become the most appealing detail of your look. By pairing printed garments with neutral or solid-colored pieces, you strike a balance that ensures the print is the focal point of your outfit.
Karisma Kapoor's attention to detail in styling her look with accessories and her natural beauty truly make her stand out. Her choice of pink flats added a pop of color and playfulness to her ensemble, complementing the vibrant print of her shirt/kurta. The flats not only contributed to her overall comfort but also added a trendy and chic element to her outfit.
The addition of beaded bracelets showcased her appreciation for subtle embellishments that can elevate an outfit. Beaded bracelets are a versatile accessory that can add texture and personality to a look without being overwhelming.
Her smartwatch added a modern and functional touch to her appearance, aligning with the practicality and style of her outfit. It's a reminder that technology can seamlessly blend with fashion, enhancing both form and function.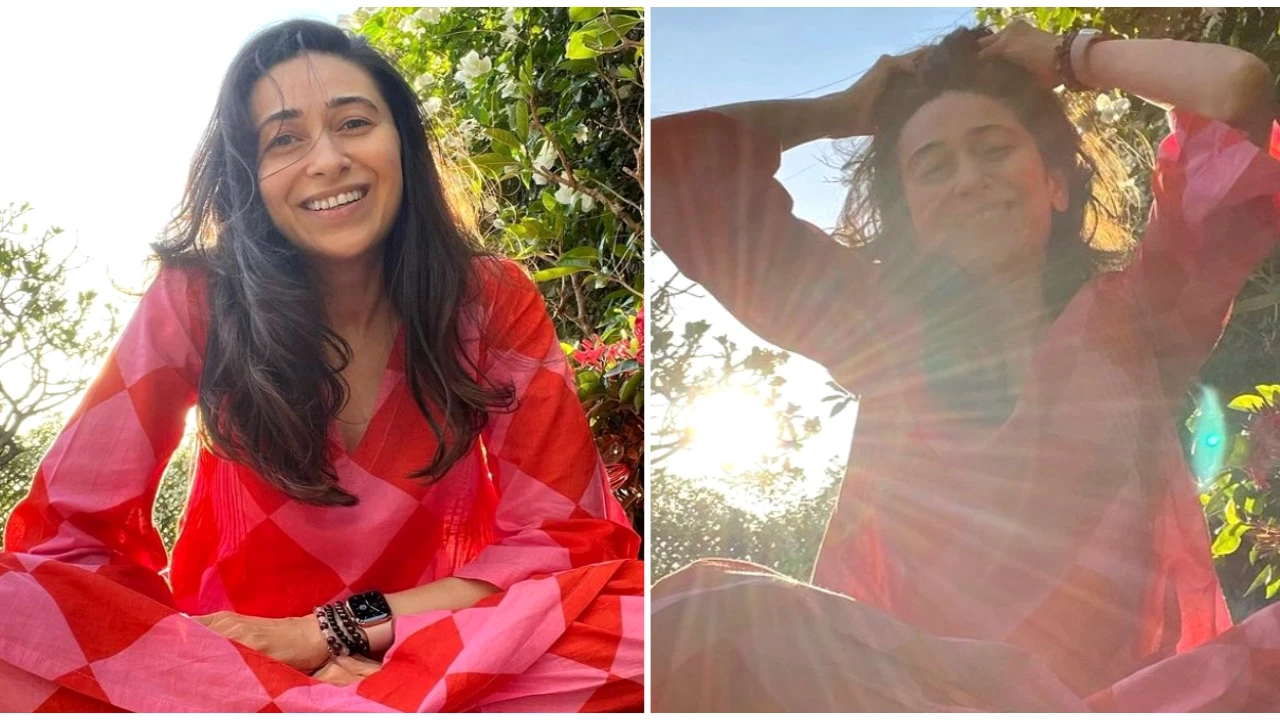 Karisma Kapoor's natural beauty and her decision to go makeup-free are a testament to her confidence and timeless elegance. Embracing one's natural beauty is a bold and refreshing choice that showcases her inner radiance.
Her hairstyle with a side partition added a finishing touch to her look. It's a classic and elegant hairstyle that complements the overall simplicity and sophistication of her ensemble.
In summary, Karisma Kapoor's attention to detail in accessorizing her outfit, her natural beauty, and her well-chosen hairstyle all contribute to making her a fashion icon who effortlessly blends style, comfort, and elegance.