Deepika Padukone proved Stripes is a forever glam print deal
Deepika Padukone, known for her impeccable style, has showcased various looks in stripes that have left a lasting impression on fashion enthusiasts.
Stripe prints offer incredible versatility, allowing for the creation of diverse fashion aesthetics. From classic and preppy to bold and modish, Deepika has demonstrated how stripes can be incorporated into different styles with ease. Whether it's a sophisticated striped pantsuit or a casual striped tee paired with denim, she has proven that stripes are always in vogue.
What's more, stripes can be playfully mixed and matched with other patterns and textures to create intriguing visual contrasts and add depth to an outfit. Deepika's experimentation with stripes and her ability to blend them seamlessly with other elements of her ensemble is a testament to her fashion expertise.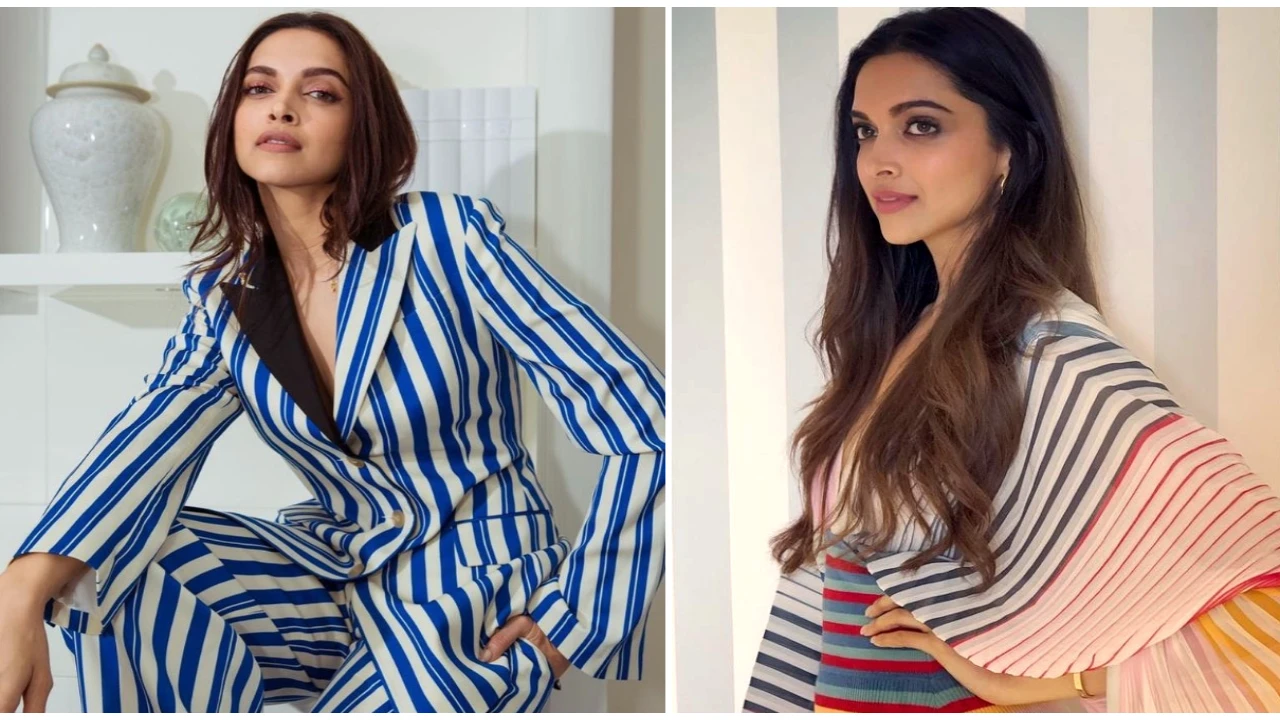 Shirt dresses are indeed a popular choice for summer, offering both comfort and style. Deepika Padukone's tea-length dress from The Frankie Shop exemplifies this trend perfectly. Her 'Cala' outfit, priced at Rs 10,965, featured vertical stripes in shades of yellow and white, creating a bright and cheerful summer look.
The choice of vertical stripes not only adds a stylish touch but also has a flattering effect, elongating the silhouette. The combination of yellow and white is refreshing and in line with the vibrant and sunny vibes of summer.
To complete her travel look, Deepika Padukone opted for a selection of high-end accessories in a rich brown hue. Her oversized sunglasses added a touch of glamour and sophistication, while the tie-up flats offered comfort and ease for her journey. The Louis Vuitton leather tote bag added a luxurious and chic element to her ensemble, making it a perfect travel companion.
Deepika Padukone's choice of a pantsuit is indeed deserving of a shout-out for its skillful combination of colors and style. While pantsuits are often considered appropriate for cooler weather, Deepika's look proves that they can be a fashionable choice for summer with the right selection of fabric, color, and styling.
In this particular outfit styled by Shaleena Nathani, Deepika Padukone wore a coordinated set from Loewe. The ensemble was split into a blazer with a peak lapel and a pair of trousers, creating a sleek and sophisticated look. The choice of colors and coordination of the outfit contributed to its standout appeal.
The key to wearing pantsuits in the summer is selecting lightweight and breathable fabrics that keep you comfortable in warm weather. Additionally, opting for brighter and more summery colors, as seen in Deepika's ensemble, can add a refreshing touch to the classic pantsuit.
Deepika Padukone's attention to detail in accessorizing her pantsuit ensemble truly made it a standout look. Her choice of accessories added a chic and fashionable dimension to her outfit, and the color-blocking was particularly noteworthy.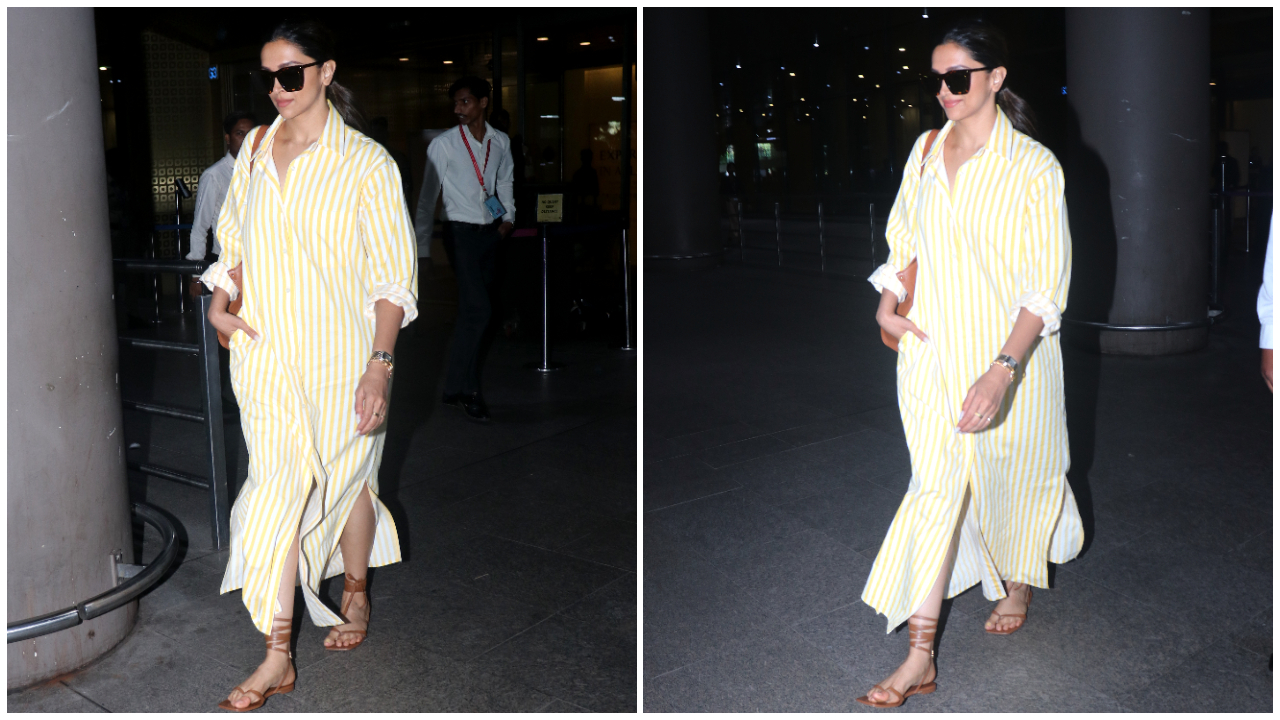 The orange pointed-toe pumps from Stuart Weitzman not only provided a pop of color but also demonstrated an excellent example of color-blocking. The contrast between the orange pumps and the ensemble's color palette created a visually striking effect that added vibrancy and excitement to her overall look.
The addition of black sunglasses and gold duster earrings further enhanced her outfit. Black sunglasses added a touch of sophistication and mystery to her appearance, while the gold duster earrings introduced an element of glamour and elegance. Together, these accessories elevated the entire look, showcasing Deepika's keen sense of style.
Deepika Padukone has had numerous fan-favorite fashion moments, from her stunning Sabyasachi Mukherjee creations to her impeccable styling of stripes. Among her memorable looks, her Cannes appearance in a sequin and stripe saree certainly stands out as a showstopper.
The Cannes sequin and stripe saree look was undoubtedly a highlight and received widespread acclaim. Deepika's ability to combine the traditional elegance of a saree with the modern allure of sequins and stripes was a fashion masterpiece.
However, it's not just the Cannes appearance that has captured hearts. Deepika Padukone has also left a lasting impression with her archival looks in red and white ethnic attire. These ensembles, featuring broad stripes, showcased her ability to effortlessly carry off bold patterns and create a fabulous frame with her fashion choices.
Deepika Padukone's choice of a multi-colored Tome NYC midi dress for a party or date night is undoubtedly a stylish and safe bet. This ensemble reflects a balance of vibrant colors and flattering design elements that make it a standout choice for a special occasion.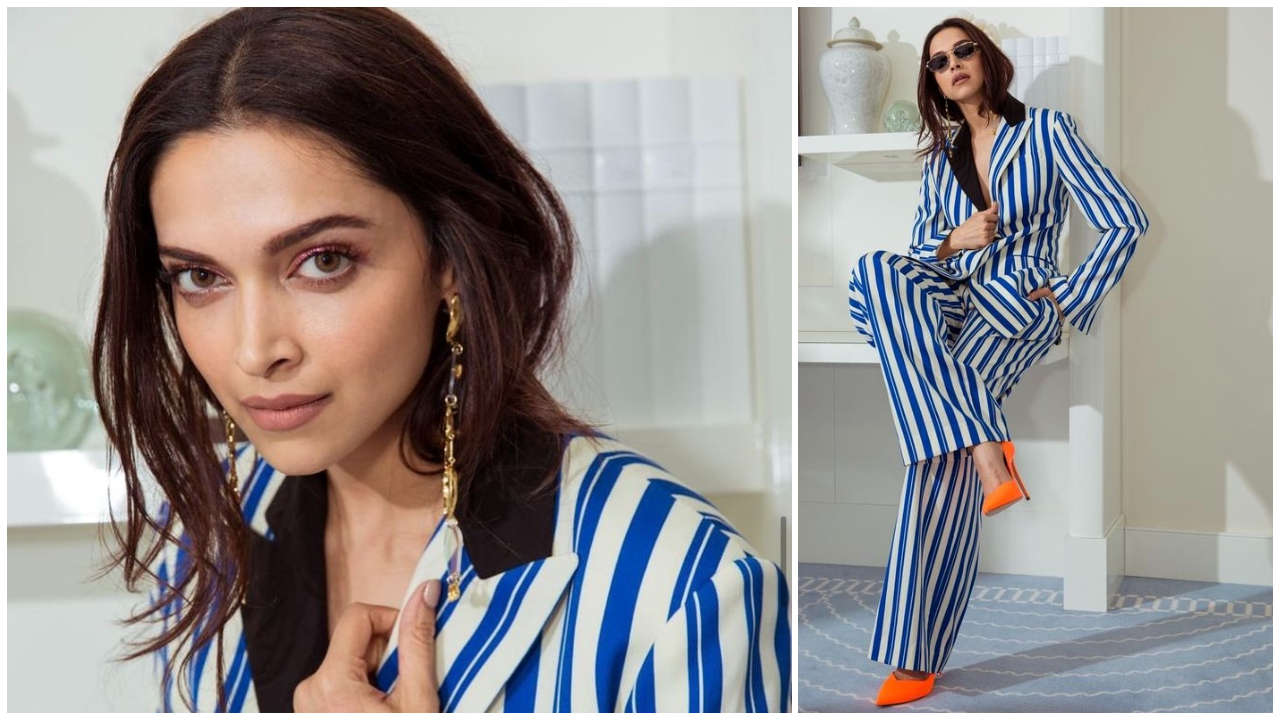 The multi-colored dress with a bodycon silhouette, V neckline, and batwing sleeves adds a touch of sophistication and femininity to her look. The batwing sleeves provide an elegant and slightly dramatic flair, while the pleats add texture and depth to the outfit, enhancing its overall appeal.
The addition of red pointed-toe pumps from Christian Louboutin not only complements the colorful dress but also adds a bold and confident element to her footwear choice. The pop of red brings an extra layer of excitement to the ensemble.
To complete her look, Deepika accessorized with rings and earrings, adding a touch of sparkle and elegance. This attention to detail showcases her commitment to creating a well-coordinated and visually appealing outfit.
Deepika Padukone's ability to master the monochrome trend with stripes and polka dots is a testament to her impeccable sense of style. Monochrome is a classic fashion choice that never goes out of style, and Deepika's interpretation of this trend for brunches and dinners offers plenty of inspiration.
Whether it's stripes or polka dots, Deepika shows how to use these patterns to create stylish and visually appealing monochromatic looks. Her versatility in choosing from these patterns allows her to adapt to different occasions while staying true to the monochrome theme.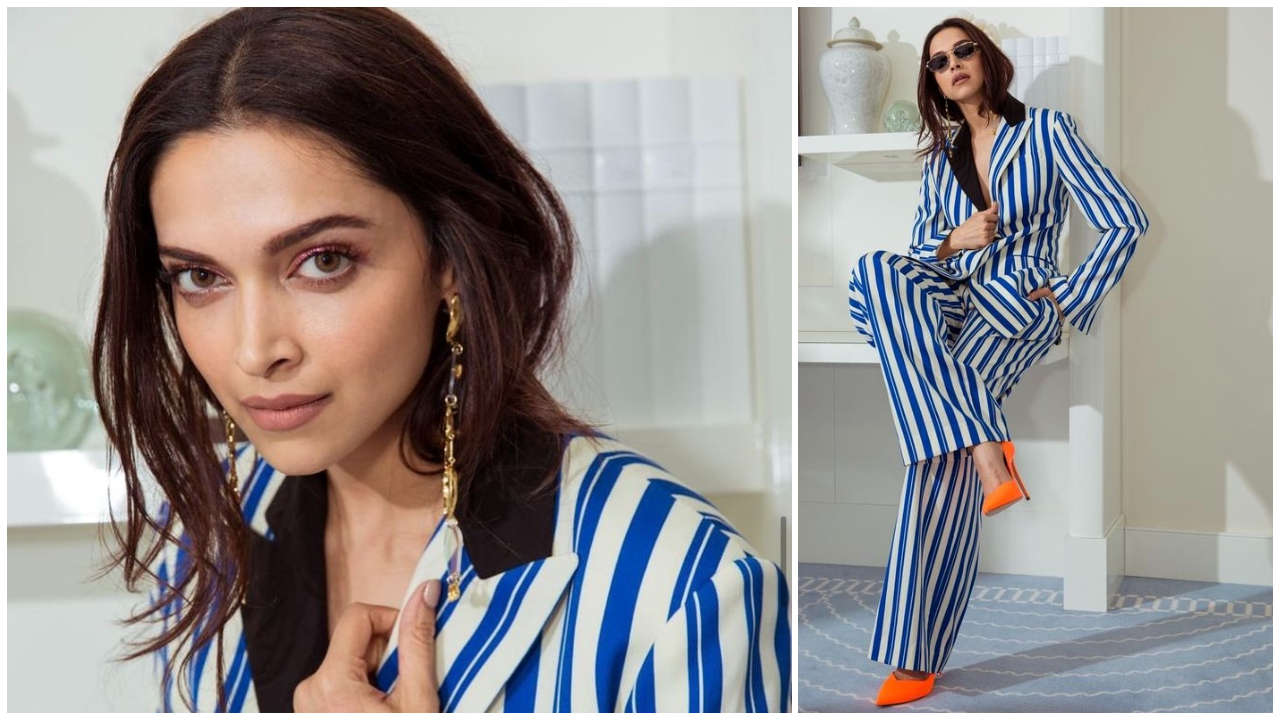 Additionally, her choice of a strapless top and palazzo pants from Johanna Ortiz, accessorized with a gold chain, exemplifies how monochrome outfits can be elevated with the right accessories. The gold chain adds a touch of elegance and sophistication to the ensemble, making it suitable for more formal gatherings.
In conclusion, Deepika Padukone's mastery of the monochrome trend with stripes and polka dots showcases her fashion prowess and her ability to create versatile looks suitable for various occasions. Her choice of a Johanna Ortiz ensemble and gold chain accessory further demonstrates how attention to detail can make a monochrome outfit stand out beautifully.