Shilpa Shetty serves STYLE with a side of DRAMA by pairing a hot pink saree with matching gloves and bustier
Shilpa Shetty Kundra has indeed established herself as a true artist in the realm of fashion, consistently pushing boundaries and redefining elegance with her distinctive style choices. Her recent appearance in a resplendent hot pink saree, complete with elbow-length gloves and a captivating bustier blouse, is a testament to her innovative approach to fashion.
This ensemble goes beyond being a mere outfit; it's a canvas on which Shilpa Shetty Kundra has painted a narrative of style that's poised to leave an indelible mark on the world of haute couture. Let's break down the elements that make this look truly remarkable:
Hot Pink Saree: The choice of a hot pink saree as the centerpiece of the ensemble is bold and eye-catching. The vibrant color adds an element of drama and exuberance to the outfit.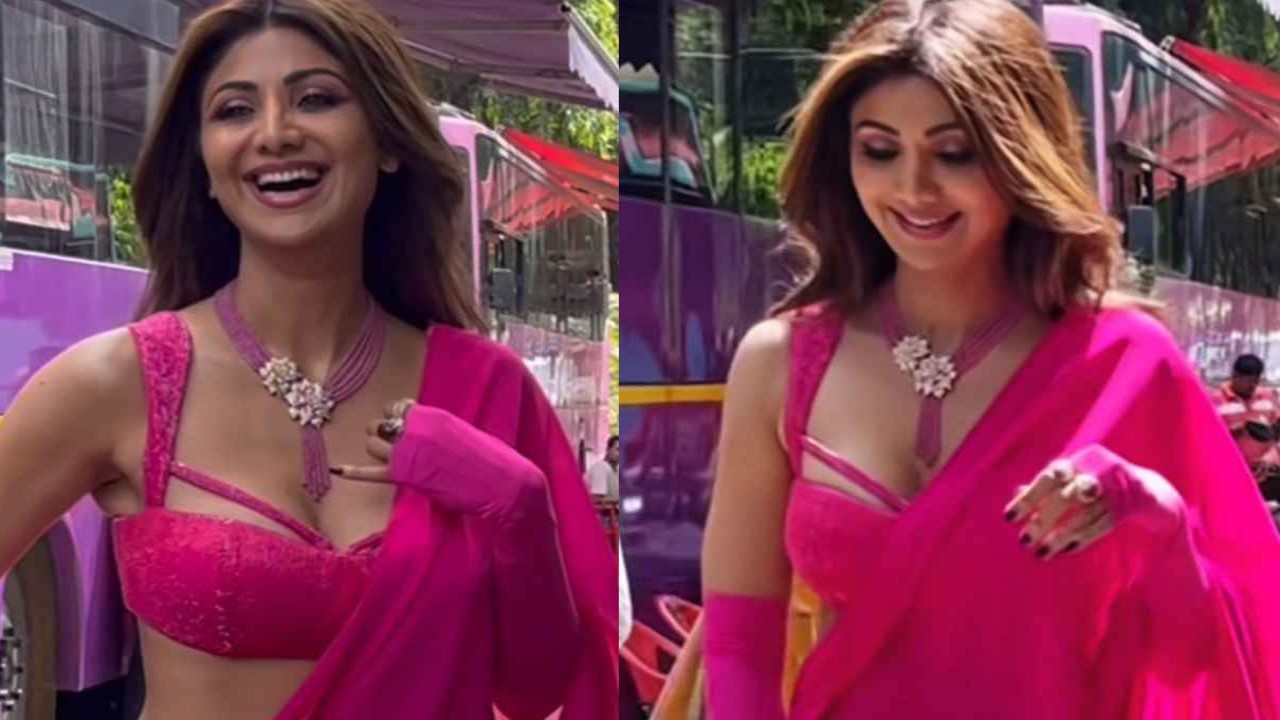 Elbow-Length Gloves: The addition of elbow-length gloves is a striking and unexpected touch. It introduces a sense of high fashion and couture into the traditional saree ensemble, creating a blend of tradition and modernity.
Bustier Blouse: The captivating bustier blouse adds a contemporary and sensuous twist to the outfit. It not only enhances the silhouette but also showcases Shilpa's confidence in embracing innovative designs.
Narrative of Style: Shilpa Shetty Kundra has effectively used this ensemble to tell a story of style that defies convention and reimagines the possibilities of traditional Indian attire. It's a fashion statement that challenges norms and captivates the imagination.
Impact on Haute Couture: This look is poised to leave an indelible mark on the world of haute couture by showing that fashion can be both artistic and boundary-pushing. Shilpa's ability to merge tradition with avant-garde elements has the potential to influence future fashion trends.
Shilpa Shetty Kundra's fashion choices continue to inspire and innovate, demonstrating that fashion is a dynamic and evolving art form. Her recent appearance is a testament to her artistic approach to style, and it's a clear reminder that she is a trailblazer in the world of fashion and haute couture.
Shilpa Shetty's choice of a gorgeous hot pink saree with a flowing pallu and matching bralette blouse is undoubtedly a show-stopper. The saree's vibrant color and chiffon fabric contribute to its elegance and grace, while the flowing pallu adds a touch of drama and movement to the ensemble.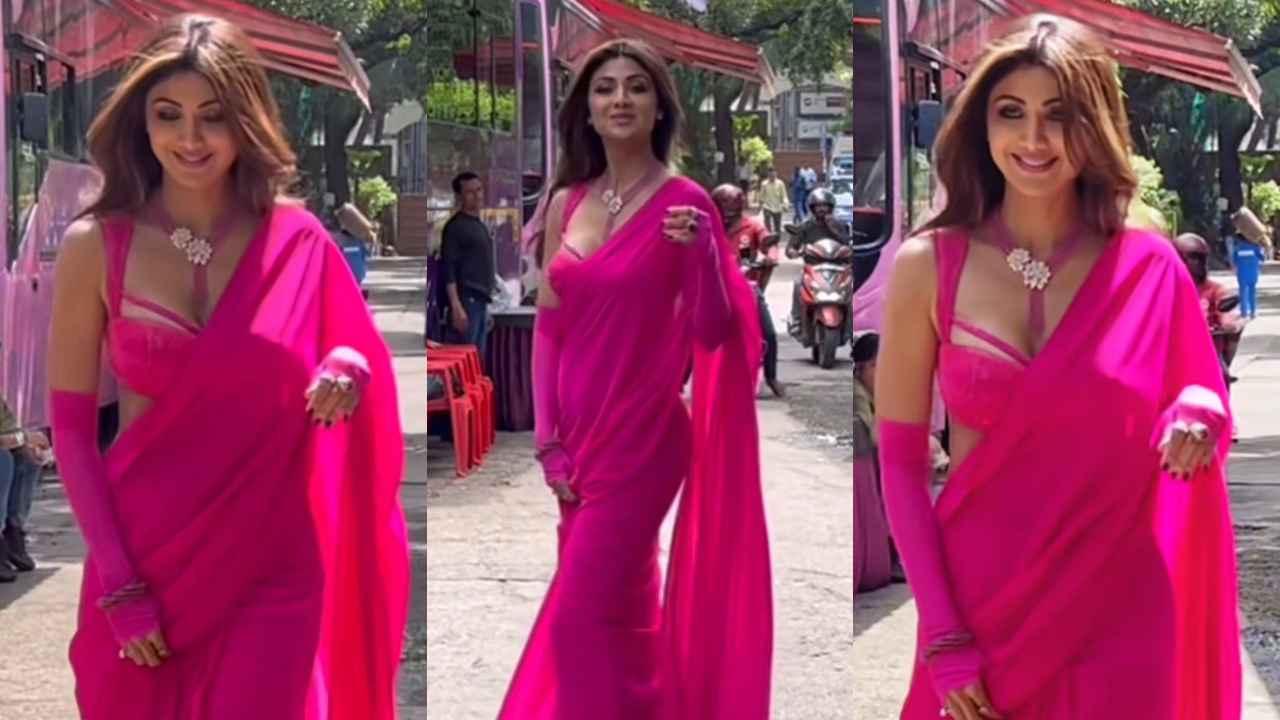 The bralette blouse with its criss-cross design on the chest and deep plunging neckline is a bold and sensuous choice, adding a contemporary twist to the traditional saree. This design element showcases Shilpa Shetty's confidence and willingness to embrace innovative and daring fashion.
Together, the saree and blouse create a harmonious blend of tradition and modernity, making a fashion statement that's both captivating and unforgettable. Shilpa Shetty's ability to carry this six yards of pure wonder with grace and sass reaffirms her status as a true fashion icon, constantly pushing the boundaries of style and redefining elegance in the world of haute couture.
Shilpa Shetty's expert draping of the hot pink saree, with ruched pleats in the front and the pallu cascading over her shoulder, showcases her mastery of the art of saree styling. This technique not only enhances the overall look but also adds a touch of sophistication and glamour.
The blouse, with its sleeveless design, sequin-laden style, cropped hem, and gracefully fitted bust-line, plays a crucial role in elevating the entire look of her classy outfit. The sequins likely add a shimmering and dazzling effect, making her ensemble even more striking.
To complete her classy outfit, Shilpa Shetty opted for supremely stylish hot pink pumps with spectacular high heels. This choice of footwear not only adds height but also perfectly complements the hot pink saree, creating a seamless and chic look from head to toe.
Shilpa Shetty's attention to detail in draping, blouse selection, and choice of footwear demonstrates her fashion expertise and ability to create a cohesive and visually stunning ensemble. Her fashion choices are a source of inspiration for those seeking to elevate their style game with elegance and flair.
Shilpa Shetty's impeccable accessorizing takes her outfit to another level of perfection. Let's delve into the details of her accessories: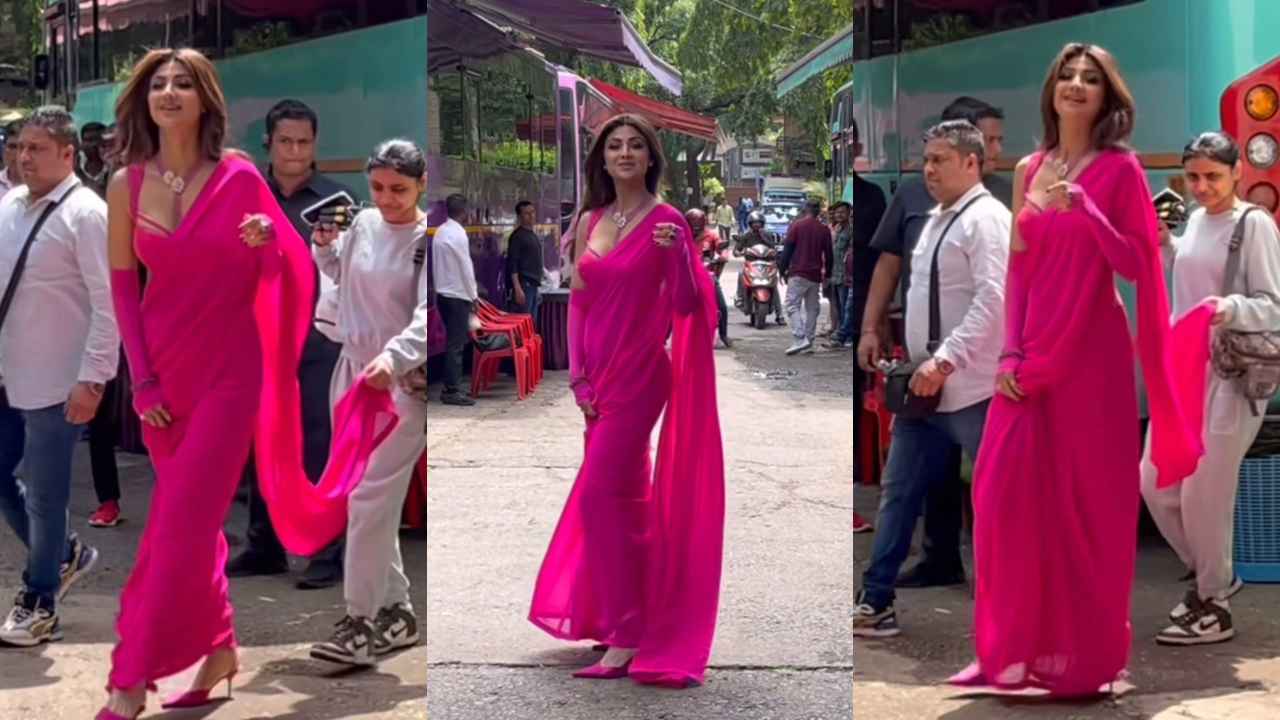 Matching Elbow-Length Gloves: The choice of matching elbow-length gloves is a bold and high-fashion statement. It adds a sense of drama and sophistication to the ensemble, making it a standout feature of her look.
Statement Rings and Bracelets: The matching statement rings and bracelets likely serve as exquisite accents that complement the outfit. These accessories not only add a touch of luxury but also highlight her attention to detail.
Statement Beaded Necklace with Floral Attachment: The statement beaded necklace with a floral attachment is a striking centerpiece that draws attention to her neckline. It's a unique and eye-catching accessory that adds an element of artistic flair to the entire look.
Shilpa Shetty's choice of accessories reflects her meticulous approach to styling and her ability to enhance her outfit with carefully curated pieces. These accessories play a crucial role in elevating the overall aesthetic of her ensemble, showcasing her fashion-forward sensibilities and her knack for creating unforgettable looks.
Shilpa Shetty's hairstyling and makeup choices add the final touches to her stunning ensemble:
Center-Parted Loose Waves: Her choice to style her hair into a center-parted look with exceptional loose waves that cascade down her shoulder adds a touch of romanticism and elegance to her appearance. This hairstyle complements the overall vibe of her outfit and adds to its allure.
Makeup Look: Shilpa Shetty's makeup look is a masterpiece in itself, designed to flawlessly complement her entire ensemble. Let's break down her makeup:
Shimmering Pink Eye Shadow: The shimmering pink eye shadow likely enhances the brightness and allure of her eyes, contributing to a captivating gaze.
Bold Eyeliner and Kohl-Lined Eyes: The bold eyeliner and kohl-lined eyes create depth and intensity, making her eyes pop and adding a hint of drama.
Mascara on the Lashes: Heavy mascara on the lashes accentuates her eyes, making them appear larger and more expressive.
Well-Darkened Brows: Well-defined and darkened brows frame her face beautifully, enhancing her features.
Pink Lip Shade: The pink lip shade complements the hot pink saree, creating a harmonious color palette.
Well-Blushed Cheeks: The well-blushed cheeks likely add a healthy and youthful flush to her complexion.
Beaming Highlighter: Beaming highlighter likely contributes to a luminous and radiant complexion, elevating the overall makeup look.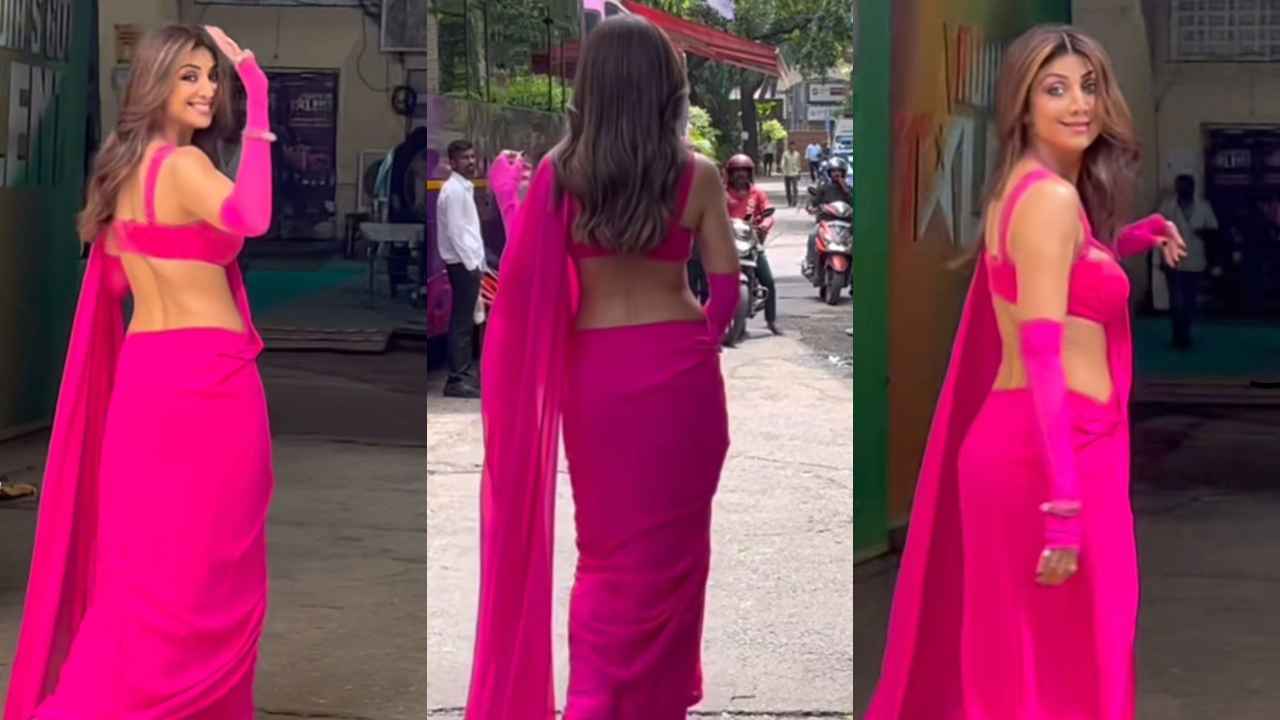 Shilpa Shetty's makeup and hairstyling choices perfectly elevate her entire outfit, enhancing her natural beauty and harmonizing with the dramatic and stylish elements of her ensemble. Her attention to detail in every aspect of her look is a testament to her status as a true fashion icon and trendsetter.