Kiara Advani wows in elegant curve-hugging velvet dress that brings nostalgic charm
Bollywood's leading ladies are known for their ability to make a bold and unforgettable fashion statement, and Kiara Advani is undoubtedly one of the super fashionable divas in the industry. Her recent appearance at the success party of "Gadar 2" once again showcased her impeccable sense of style and left everyone in awe.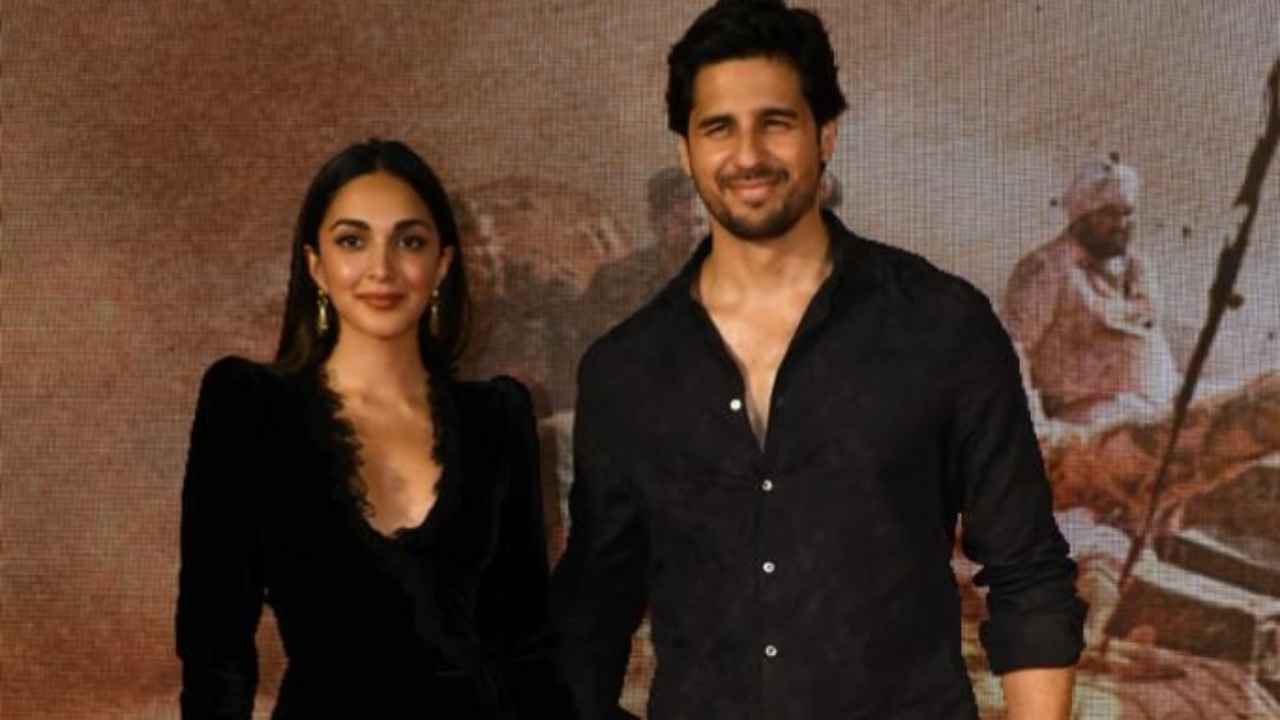 The "Satyaprem Ki Katha" actress not only attended the event but also turned heads with her stunning choice of attire. Her curve-hugging velvet dress not only accentuated her figure but also exuded a nostalgic charm that added depth and sophistication to her look. Velvet is a fabric known for its rich texture and vintage allure, making it a perfect choice for creating a statement look.
Kiara Advani's ability to effortlessly blend classic elements with contemporary fashion is a testament to her fashion-forward approach. Her fashion choices consistently garner attention and set new trends, making her a style icon in the industry. It's evident that she knows how to make a lasting impression with her impeccable sense of style.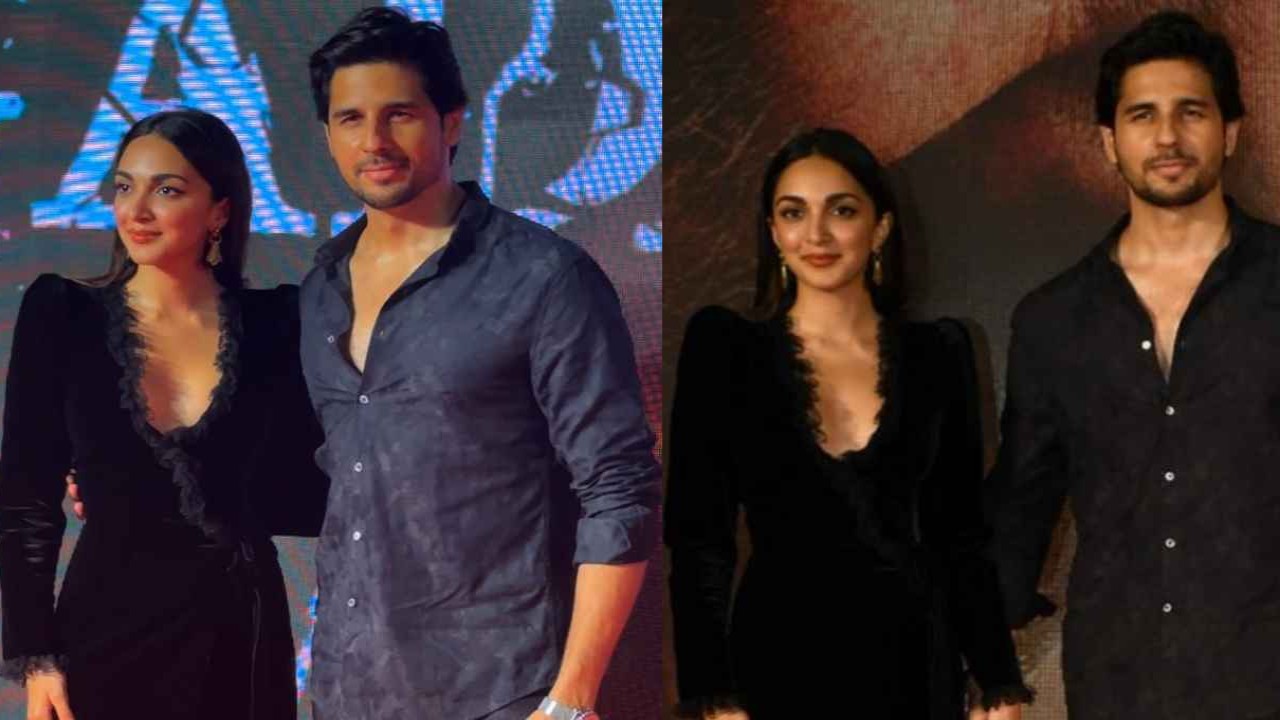 Kiara Advani, the talented "Bhool Bhulaiyaa 2" actress, indeed bedazzled everyone at the Gadar 2 success party with her choice of attire—a stunning black dress from the renowned fashion house, Saint Laurent. This exquisite couture piece was crafted entirely from sumptuous velvet, setting the tone for a truly luxurious appearance that's perfect for such a celebration.
The dress's captivating V-neck design highlighted Kiara's graceful neckline, adding an alluring touch to the ensemble. The V-neck is a classic choice that beautifully frames the face and neck, enhancing the overall elegance of the look.
One of the standout elements of this dress was the tasteful belt cinched at the waist, adorned with delicate lace grills. This belt not only accentuated Kiara's waist but also added a touch of femininity and sophistication to the outfit, showcasing
The tasteful belt cinched at the waist not only added a touch of femininity but also emphasized Kiara's hourglass figure, enhancing the overall allure of her look. The cinched waist is a flattering choice that brings attention to the narrowest part of the body, creating a balanced and elegant silhouette.
The full sleeves of the dress, adorned with intricate zip details, added a modern and edgy twist to the classic velvet ensemble. These zip details brought a contemporary element to the outfit, showcasing Kiara's fashion-forward approach and her ability to blend traditional materials like velvet with edgier, more contemporary design elements. It's clear that every aspect of the dress was carefully chosen to create a striking and memorable appearance.
Kiara Advani's choice of a wrap dress for the Gadar 2 success party beautifully combined practicality with elegance, making it a standout ensemble. The inclusion of discreet pockets is a feature cherished by fashion-conscious women as it adds an element of functionality to the outfit, allowing for convenience without compromising style.
The dress's padded shoulders contributed to a powerfully chic silhouette, adding a touch of boldness and sophistication to the overall look. Padded shoulders have made a comeback in fashion, reminiscent of the '80s power dressing era, and they can make a statement by enhancing the wearer's posture and confidence.
To ensure utmost comfort and opulence, the dress featured a black silk lining on the interior, providing a soft and luxurious feel against the skin. This attention to detail reflects the commitment to both style and comfort.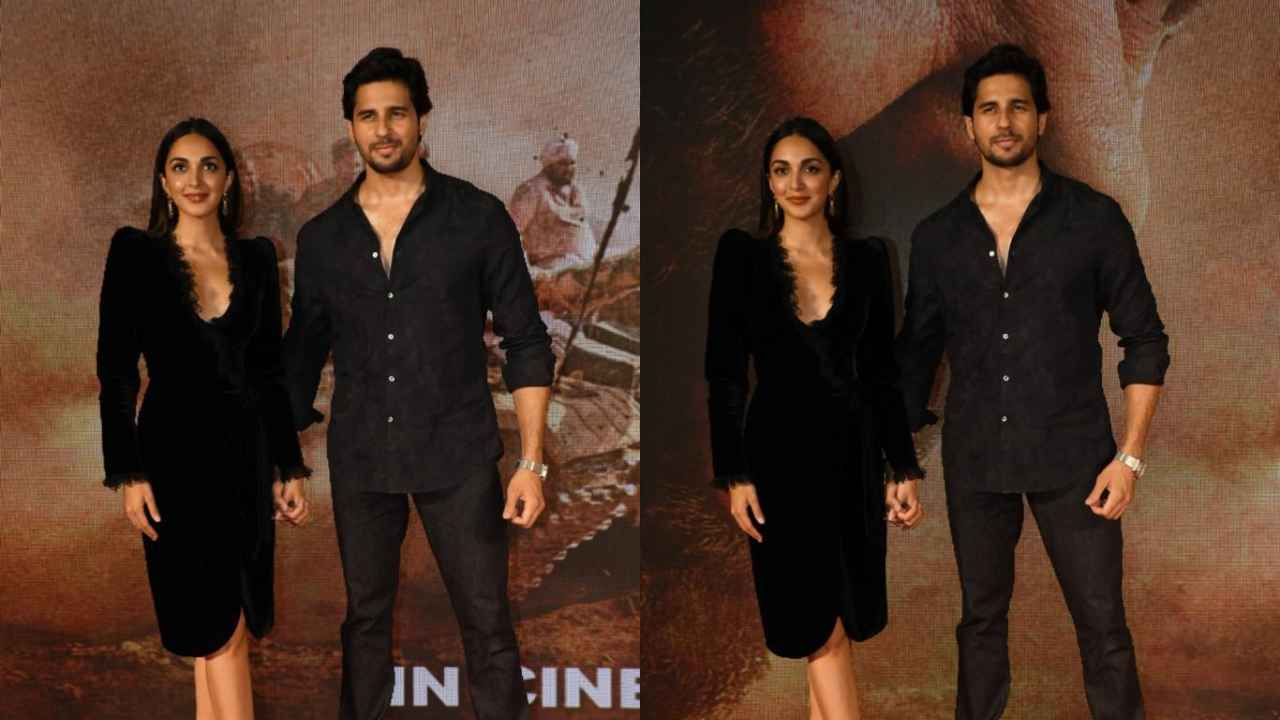 While the price of approximately Rs. 2,98,682 for this dress may be staggering, for fashion enthusiasts and aficionados, it represents an investment in elegance and style that is well worth it. High-quality materials, meticulous craftsmanship, and timeless design all contribute to the value of such couture pieces, making them treasured additions to any fashion-conscious individual's wardrobe.
Kiara Advani, the "Kabir Singh" actress, made an impeccable choice to complete her stunning ensemble by pairing the black wrap dress with black Christian Louboutin Suede Crystal Star Gravitanita Pointed Toe Pumps. These exquisite heels, adorned with crystals and stars, added a touch of celestial allure to her overall look, elevating it to new heights of glamour and sophistication.
The designer shoes, priced at approximately Rs. 90,550, are indeed a luxurious addition to her outfit. Christian Louboutin is renowned for its craftsmanship and distinctive red soles, making their footwear highly coveted in the fashion world. The crystals and stars on these pumps added a unique and eye-catching element to her look, perfectly complementing the elegance of her dress.
Kiara Advani's choice of footwear demonstrates her keen eye for detail and her ability to select accessories that enhance her overall appearance. The combination of the designer pumps with the velvet dress created a look that was both stylish and captivating, reflecting her status as a fashion icon in the industry.
Kiara Advani, known for her role in "Lust Stories," exhibited her impeccable sense of style by accessorizing her look with gold earrings and a classy ring. These jewelry pieces were chosen with care to complement her elegant dress without overpowering it.
The choice of understated yet sophisticated gold earrings and a classy ring added a touch of refinement to her overall appearance. Such jewelry pieces can subtly enhance the overall look without stealing the spotlight, allowing the focus to remain on the dress and the ensemble as a whole.
Kiara's ability to strike the perfect balance between fashion elements, whether it's her dress, shoes, or accessories, exemplifies her fashion finesse and her understanding of how to create a cohesive and stunning look. Her choice of jewelry demonstrates her attention to detail and her commitment to a harmonious and elegant appearance.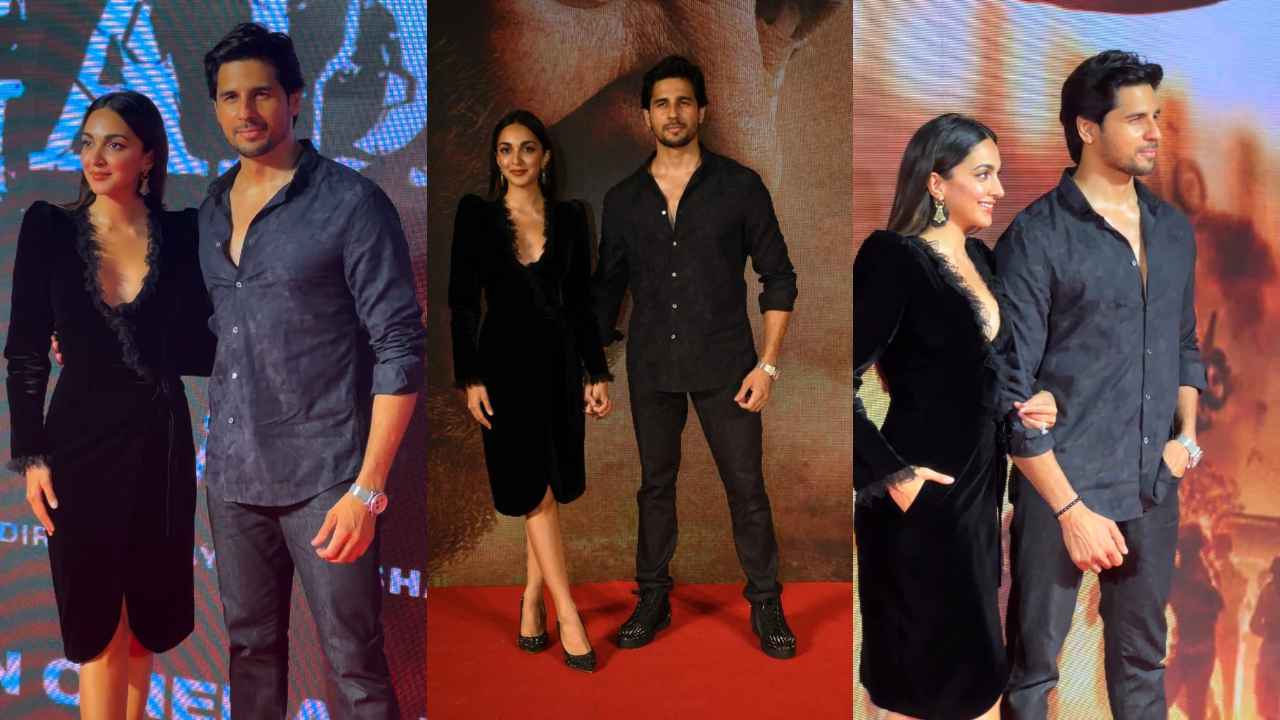 Kiara Advani, the talented "Govinda Naam Mera" actress, consistently shines with her hair and makeup choices, and her appearance at the Gadar 2 success party was no exception.
Her choice of sleek and straight hair offered a modern contrast to the vintage charm of her velvet dress, creating a dynamic and eye-catching effect. This hairstyle not only complemented her overall look but also added a contemporary touch to the ensemble.
Kiara's makeup was indeed a work of art, showcasing her flawless beauty and her makeup artist's expertise. With perfect blush, highlighter, eyeshadow, and peach lipstick, every element harmonized flawlessly with the rich black of her attire. Her makeup choices not only enhanced her natural beauty but also perfectly complemented the color and texture of her dress.
As a fashion icon, Kiara Advani continues to inspire and impress with her sartorial choices, setting new trends with every appearance. Her elegant ensemble at the success party was a testament to her timeless beauty and fashion sensibility, making her a true diva of Bollywood's fashion scene. Her ability to curate a look that balances classic and contemporary elements is a key factor in her fashion success.