Tamannaah Bhatia brings back neon candy colors with Sabyasachi modernized saree and halter-neck blouse
In the realm of the Indian entertainment and fashion industry, numerous global icons have emerged, and among the most iconic names is undoubtedly that of Tamannaah Bhatia. She is not only celebrated for her remarkable talent but is also recognized as a fashionista known for her innate ability to stay on-trend. Whether gracing the red carpet, strutting down the runway, or even just strolling through the airport, the Lust Stories 2 actress consistently proves that her fashion game is always on point.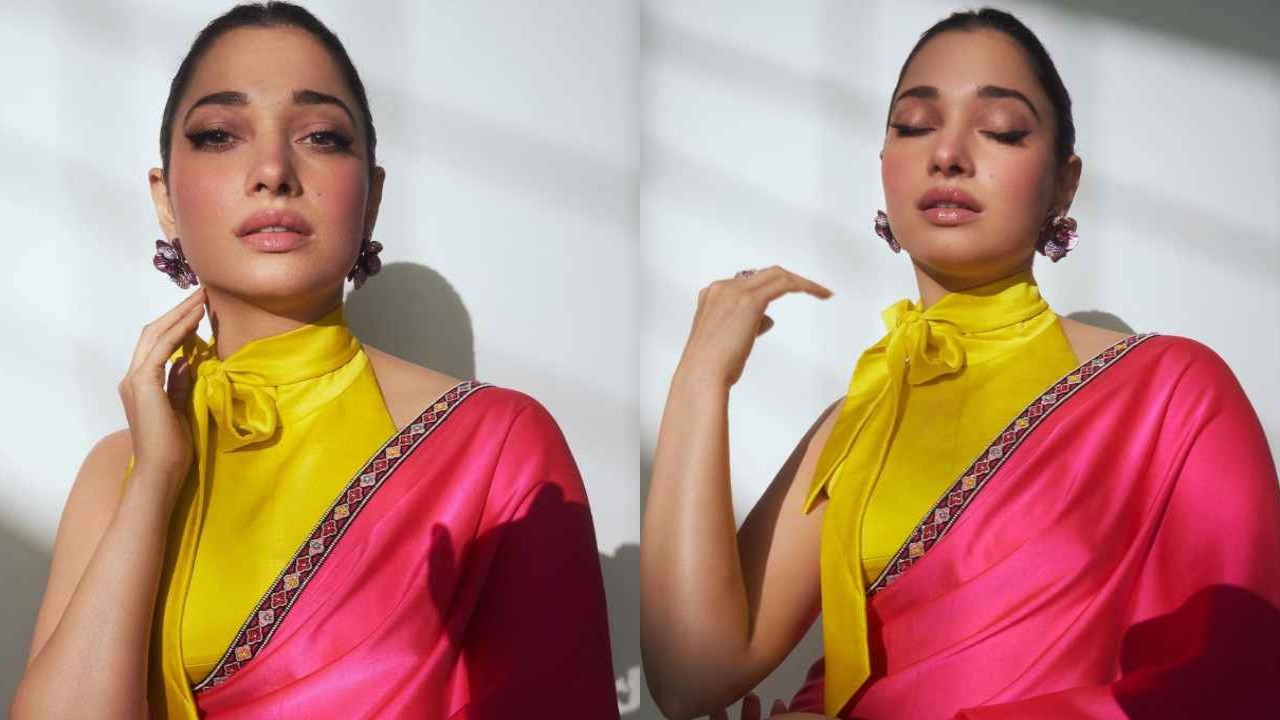 Tamannaah Bhatia's sense of style has consistently been a topic of conversation, and her recent outfit further solidified her position as a fashion trendsetter. The outfit in question set the internet on fire, attesting to her ability to capture the attention of fashion enthusiasts and make headlines with her sartorial choices. Her fashion choices transcend the boundaries of traditional norms, showcasing her confidence and innovation, while setting the bar high for the evolving fashion landscape.
In a world where fashion is a form of personal expression and a powerful tool for making a statement, Tamannaah Bhatia's influence is undeniable. She not only excels in her craft but also shines as a beacon of style and sophistication, setting the standards for what it means to be a modern-day fashion icon. Her ability to constantly remain on-trend is a testament to her versatility and creativity, reminding us that the world of fashion is dynamic and ever-evolving, just like the talented actress herself.
Tamannaah Bhatia, known for her classy and sophisticated style, recently made a striking fashion statement by donning a stunning neon pink-colored saree created by none other than the fashion maestro, Sabyasachi. The choice of this vibrant hue immediately caught the eye and added a dash of modernity to the traditional attire, reflecting her ability to seamlessly blend classic and contemporary elements in her fashion choices.
The saree was a visual delight, featuring a unique embroidered border with intricate beadwork that added an extra layer of elegance to the ensemble. Sabyasachi's craftsmanship was evident in the exquisite detailing, highlighting the designer's signature style of combining traditional Indian motifs with modern aesthetics. It was a perfect fusion of craftsmanship and artistry.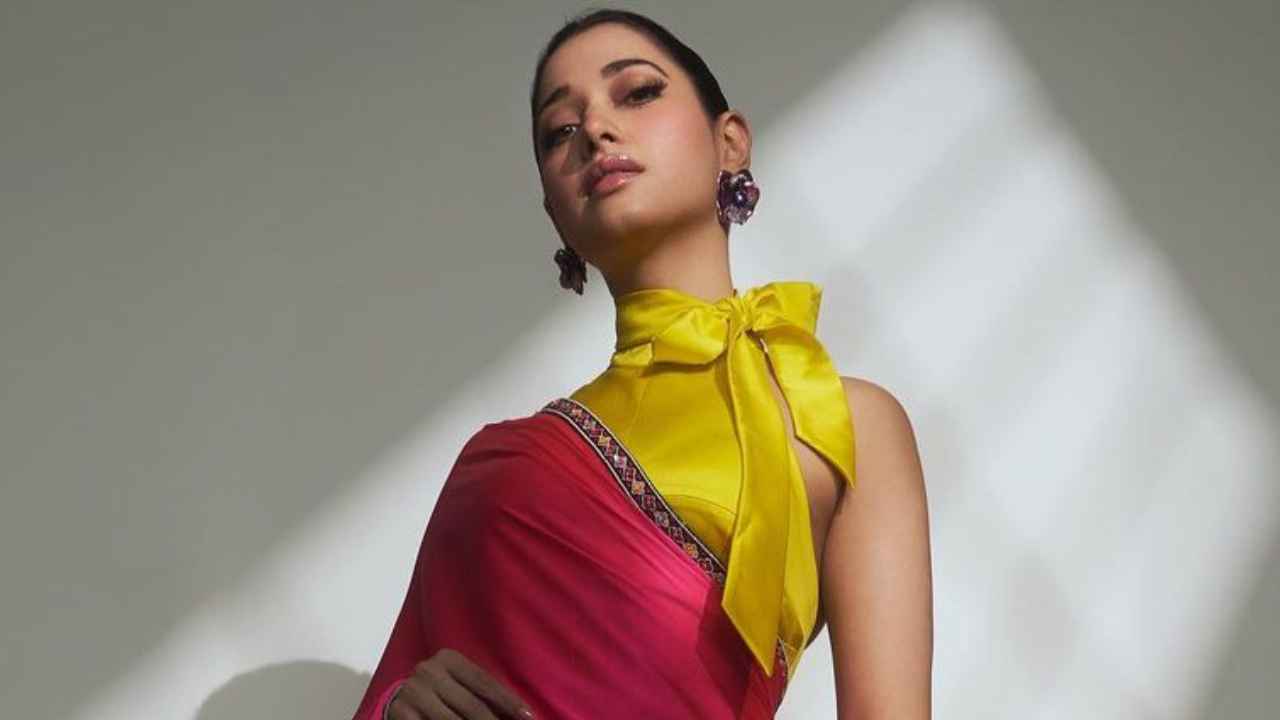 The saree was not just about color and embellishments; it was masterfully draped to enhance Tamannaah Bhatia's grace and poise. The ruched skirt and the gorgeously expanded pallu were expertly styled, creating a balanced and captivating silhouette. The pallu, elegantly resting on the talented diva's shoulder, added a touch of regal charm to the overall look, completing the visual narrative of a fashion-forward icon who knows how to make an entrance and leave a lasting impression. This choice of attire by Tamannaah Bhatia perfectly exemplifies her fashion prowess and her ability to make traditional Indian attire the epitome of style and sophistication.
In her quest to redefine traditional attire, Tamannaah Bhatia made another bold choice by pairing the stunning neon pink saree with a vibrant neon yellow sleeveless blouse. This decision demonstrated her keen eye for color coordination and her willingness to break free from convention. The blouse featured an alluring halter neck design that accentuated her neckline and added a modern twist to the ensemble.
What made the blouse even more captivating was the unique front tie-up, which the gorgeous actress skillfully fashioned into a bow on the side, resembling a stylish scarf. This creative styling not only added a playful and unconventional touch to the outfit but also showcased her ability to infuse a fresh sense of innovation into traditional attire.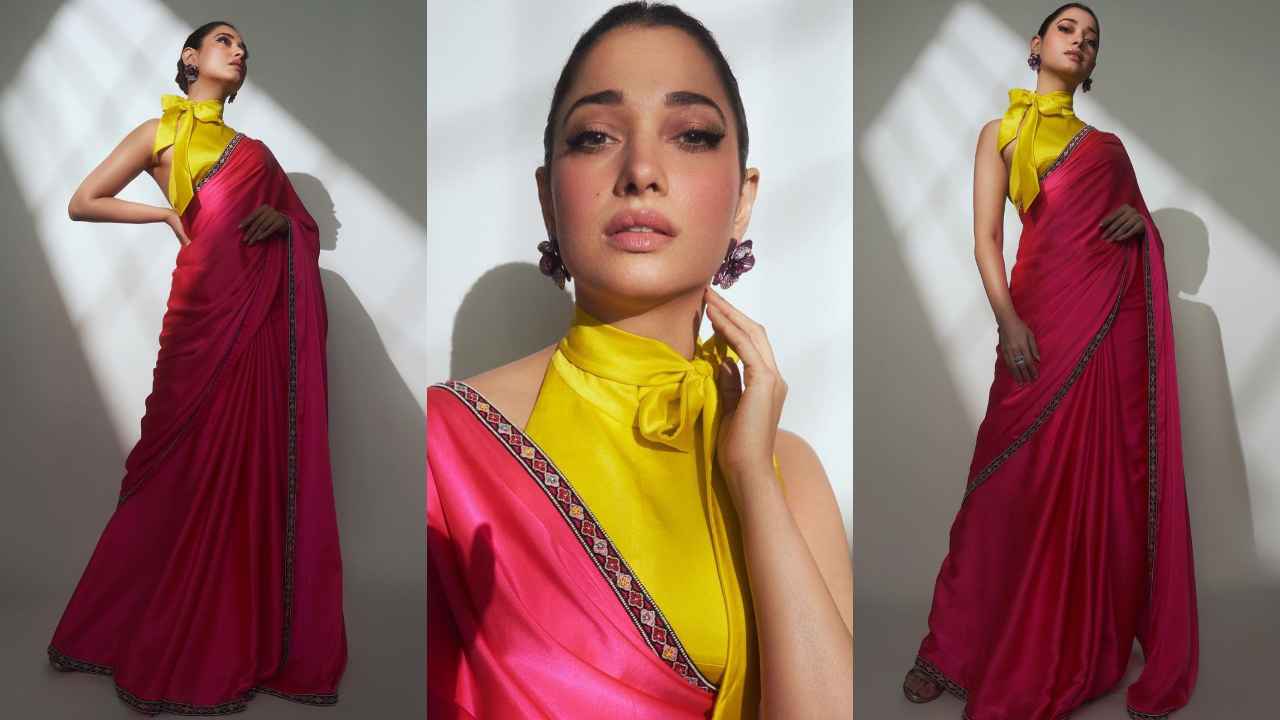 The modernized blouse also featured a sultry backless style, taking the saree ensemble to a new level of elegance and sensuality. The backless design was a striking contrast to the traditional look of the saree, offering a contemporary edge that perfectly complemented Tamannaah Bhatia's fashion-forward persona. The combination of the neon pink saree and the vibrant neon yellow blouse looked simply stunning on the fashion queen, reinforcing her status as a trendsetter and a fearless explorer of style.
To complete her classy and vibrant ensemble, Tamannaah Bhatia made a wise choice by selecting metallic gold sandals that harmonized perfectly with her outfit. The metallic gold accents added a touch of opulence and balanced the vivid colors of the saree and blouse, offering a stylish and cohesive look from head to toe. Her choice of footwear not only enhanced her overall appearance but also highlighted her keen attention to detail and her ability to accessorize thoughtfully.
But the fashion brilliance of Tamannaah Bhatia didn't stop at her choice of sandals. The exceptionally beautiful diva also opted for a minimalistic yet statement approach to accessories. She adorned herself with matching metallic pink floral earrings and a coordinating ring from Diosa Paris. These accessories added a touch of elegance and glamour to her look, without overshadowing the beauty of the saree. The choice of accessories showcased her ability to strike the perfect balance between simplicity and making a fashion statement, proving that sometimes, less is indeed more.
Tamannaah Bhatia's attention to every aspect of her ensemble, from the choice of footwear to the meticulously selected accessories, highlighted her exceptional sense of style and her ability to create a cohesive and striking look. Her fashionable choices continually reinforce her status as a trendsetter and a true icon in the world of fashion.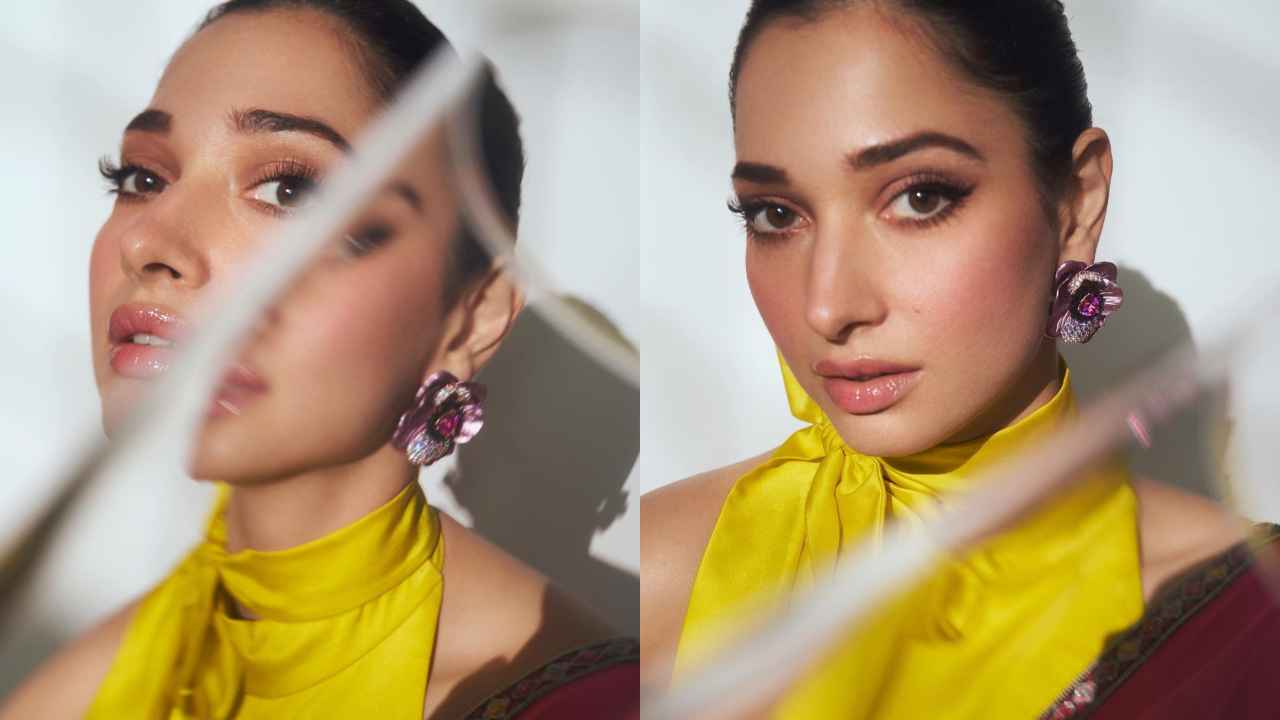 It's impossible not to admire Tamannaah Bhatia's fashion choices in this ensemble, as they not only looked great but also served a crucial purpose. By selecting metallic gold sandals and minimalistic yet stunning metallic pink floral accessories, she skillfully ensured that her colorful and vibrant ensemble remained the undeniable focal point. This deliberate decision showcased her exceptional fashion sensibility, understanding that the accessories should enhance the outfit rather than overpower it.
In making this strategic choice, Tamannaah Bhatia allowed the hues of her neon pink saree and neon yellow blouse to take center stage, shining brightly and grabbing all the attention they so undoubtedly deserved. It was a testament to her understanding of the art of fashion, demonstrating that sometimes, the perfect accessories are those that allow the main ensemble to shine, showing off its brilliance to the fullest.
This particular fashion moment is a clear example of how the right choices can elevate an outfit to a whole new level. Tamannaah Bhatia's decision to let her colorful ensemble steal the show while adding just the right touch of elegance and glamour with her accessories is a lesson in mastering the art of fashion and showcasing the power of thoughtful style decisions.
Tamannaah Bhatia's overall look, from her elegant bun to her flawlessly executed makeup, was a masterclass in sophistication and modernity. It left a lasting impression as a perfect blend of classic and contemporary elements, reinforcing her status as a fashion icon and inspiring admiration from fashion enthusiasts and enthusiasts alike. Her meticulous attention to every detail showcased her as a true trendsetter in the world of fashion and beauty.