Neena Gupta looks HOTTER THAN EVER in green polka-dotted dress with side slit
From the very beginning of Bollywood's existence, it has seen a continuous parade of fashionistas who have made significant impacts on the industry. However, only a handful of actresses manage to remain timelessly iconic. Among the most beautiful and iconic on this list is the fabulous Neena Gupta. The talented actress, known for her role in Lust Stories 2, has a remarkable ability to break through the so-called rules created by society, transcending all expectations with her fashion-forward outfits. Neena Gupta has consistently demonstrated her unique and fearless approach to fashion, setting her apart as a trailblazer in the world of style.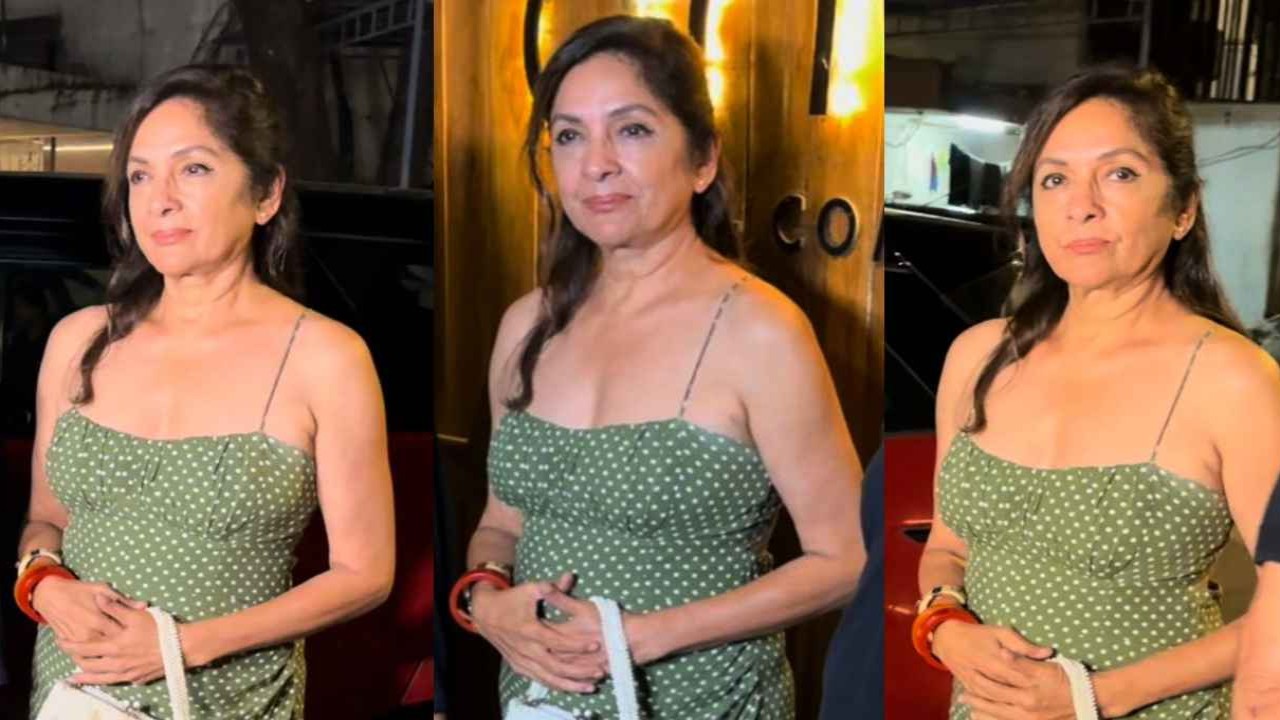 Her ability to shatter conventions and defy societal norms with her fashion choices has made her a standout figure in the industry. Whether it's her daring ensembles or her fashion-forward outlook, Neena Gupta consistently makes a statement and inspires others to embrace their own individuality. Her influence extends beyond the red carpet and the runway; she encourages the world to embrace diversity and authenticity with open arms.
Neena Gupta's fashion choices go hand in hand with her radiant smile, creating a mesmerizing combination. Her outfits not only reflect her extraordinary sense of style but also her vibrant and confident personality, leaving a lasting impression on fans and fashion enthusiasts alike. Her fashion legacy is a testament to the ever-evolving and boundary-pushing nature of the Bollywood industry, with Neena Gupta standing proudly as an iconic figure who has made her mark in the world of fashion and beyond.
Neena Gupta, renowned for her beauty and timeless style, was recently spotted donning a pale green maxi dress adorned with charming white polka dots. This lovely dress was a perfect choice for showcasing her grace and fashion finesse. The white polka dots, set against the soothing green backdrop, gave the ensemble a classic and playful touch, reminiscent of vintage glamour.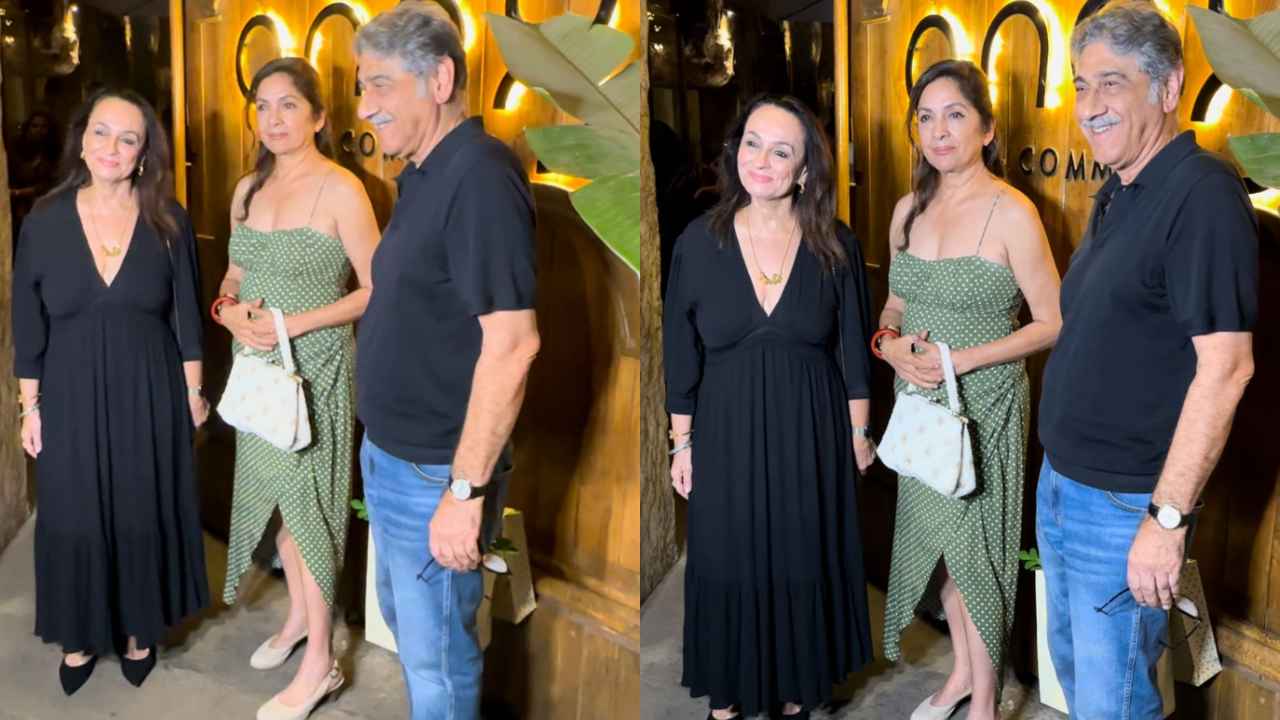 One of the standout features of the dress was its plunging V-neckline, enhanced with sleek straps. This design element not only added a hint of sensuality but also contributed to the dress's overall appeal. It showcased Neena Gupta's ability to balance elegance and fashion-forward style, making her look both sophisticated and chic.
The pale green maxi dress with white polka dots was a delightful choice that encapsulated the essence of Neena Gupta's fashion sense – a perfect blend of classic elements with a modern twist. Her fashion choices consistently reflect her eye for timeless beauty, making her a style icon for many who admire her impeccable taste and ability to effortlessly command attention with her outfits.
Moreover, the sleeveless calf-length dress boasted not just a beautiful pattern but also a sultry front slit at the hem. This element added a touch of allure and a hint of playfulness to the overall look, perfectly reflecting Neena Gupta's ability to balance elegance with a dash of modern sensuality. The front slit not only allowed for ease of movement but also showcased her confidence and poise.
The dress's open back with ties was another striking feature, elevating the ensemble's charm. Neena Gupta's choice of an open back design was a bold and fashionable statement, revealing her fearless approach to style. The ties added a unique detail that drew attention to her back and emphasized the outfit's overall sophistication and sex appeal.
The fitted corsetry-like silhouette of the dress accentuated the actress's figure with grace and precision. It complemented her like a second skin, accentuating her curves and providing an effortlessly chic and stylish appearance. Neena Gupta's fashion choices in this dress were not just about what she wore; they were a reflection of her self-assured persona and her ability to flaunt her natural beauty and confidence.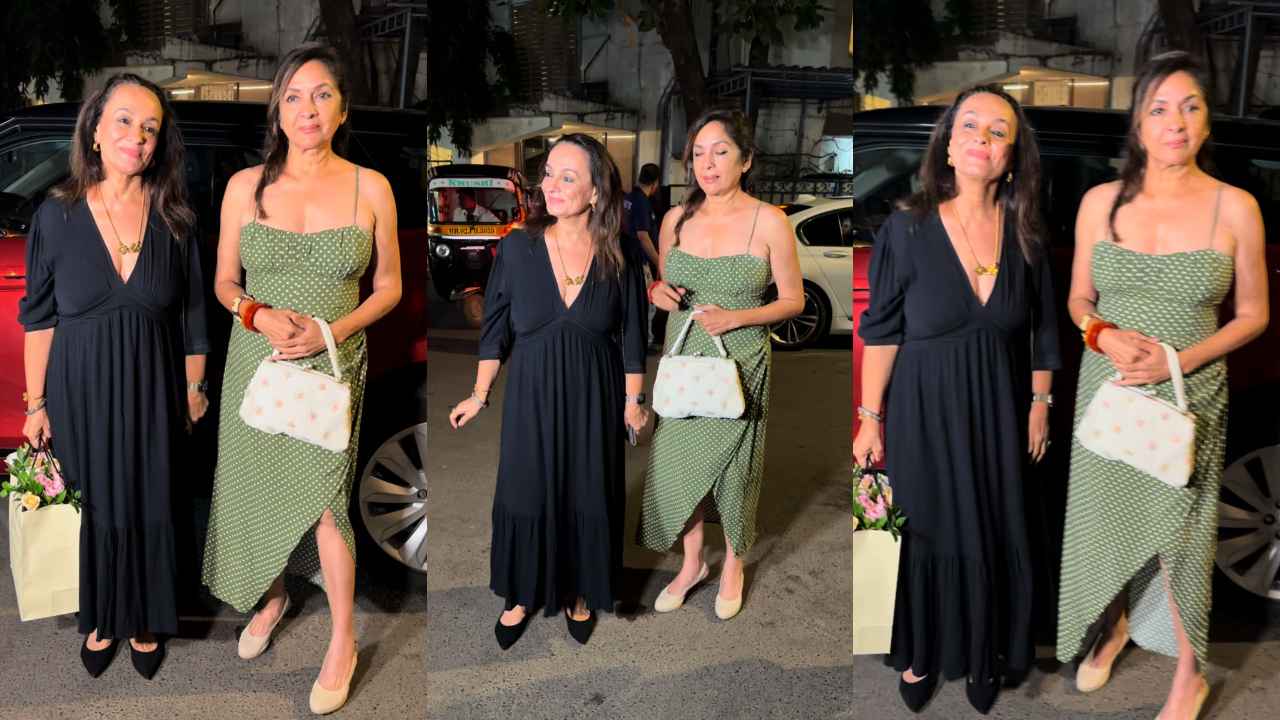 One of the standout accessories was Neena Gupta's choice of a vintage 1950s Antique Ivory Floral Patterned Beaded Purse from Sororité, with an approximate worth of Rs. 10,395. The purse was more than just an accessory; it was a statement piece that brought a harmonious flair to her entire look. The antique design, with intricate beading and a floral pattern, added a touch of timeless elegance to her ensemble. It was a beautiful blend of vintage charm and modern sophistication, showcasing her ability to combine different eras in her fashion choices.
Neena Gupta's choice of accessories demonstrated her attention to detail and her commitment to creating a cohesive and stunning look. Her purse, in particular, was a testament to her impeccable taste and her ability to infuse her outfits with a touch of classic beauty and individuality. This attention to accessories added the perfect finishing touch to her already remarkable ensemble, making her fashion statement truly unforgettable.
In keeping with her commitment to a cohesive and balanced look, Neena Gupta opted for minimalistic accessories to ensure that the focus remained squarely on her striking outfit. She chose to wear simple stud earrings and a subtle bracelet, effectively allowing her dress and overall ensemble to take center stage.
The decision to keep her accessories understated and minimal was a smart move that paid off beautifully. It allowed the vibrancy of her dress and the unique design of her purse to shine without any distractions. This choice showcased her understanding of the art of fashion and the importance of striking the right balance between clothing and accessories.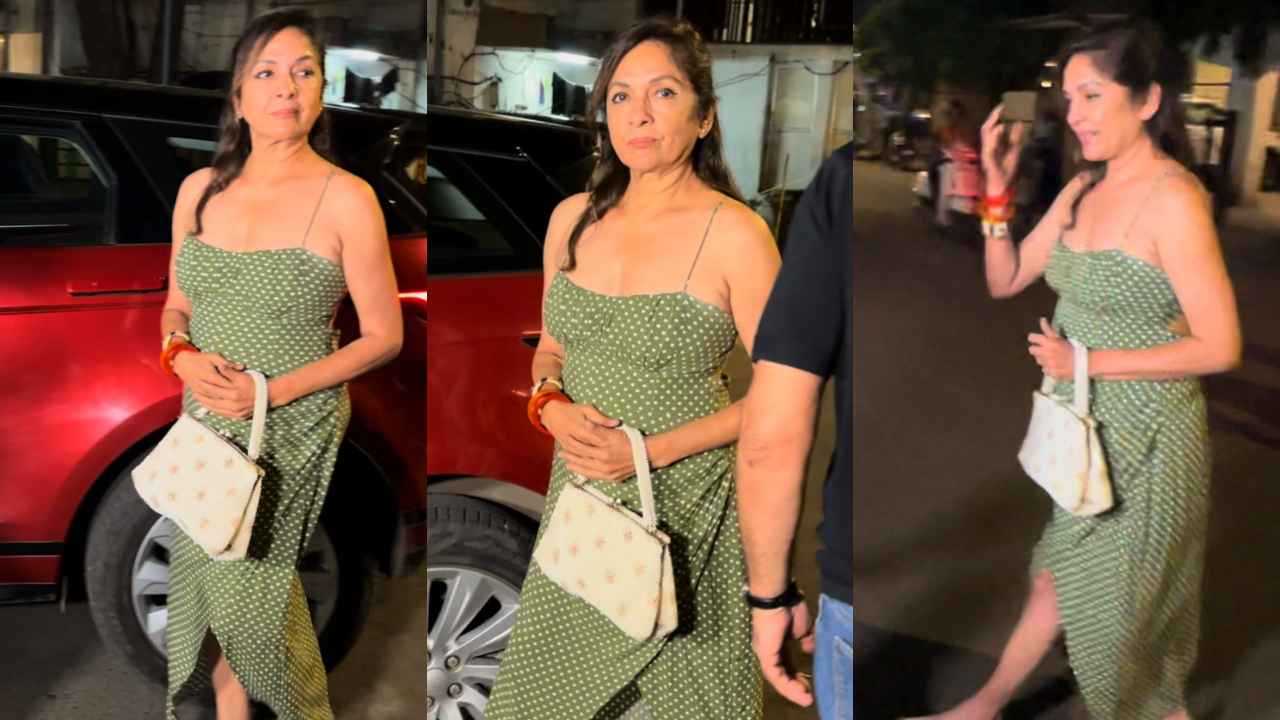 In addition to her impeccable hairstyle, her makeup was equally flawless and played a significant role in elevating her entire ensemble. Neena Gupta's subtle makeup look featured light eyeshadow that beautifully enhanced her eyes, well-shaped eyebrows that framed her face perfectly, eyeliner on fleek that added a touch of drama, rouged cheeks for a healthy and radiant glow, a dab of highlighter that brought out her features, and a glossy nude-colored lipstick that completed the overall look with grace. This makeup not only accentuated her natural beauty but also harmonized with the vibrant colors of her outfit, creating a harmonious and striking appearance.
Neena Gupta's overall look was undeniably breathtaking, and it undoubtedly left a lasting impression. It's a testament to her ability to effortlessly challenge societal fashion norms and set new trends. Her remarkable fashion choices, whether in clothing, hair, or makeup, consistently reflect her bold and fearless approach to style, making her a true fashion icon and an inspiration to those who appreciate her extraordinary sense of style.