Karisma Kapoor channels her inner glistening gold in jumpsuit with unique jacket at Lakme Fashion Week debut
Hello, fashion enthusiasts! Get ready to be captivated as the highly anticipated Lakmé Fashion Week takes center stage. It's time for a front-row seat to a fashion extravaganza that promises to be nothing short of spectacular. The runway is set to be graced by an array of awe-inspiring creations, and you won't want to miss a moment of it. The country's capital is abuzz with the glitz and glamour of this prestigious event, and the excitement is palpable.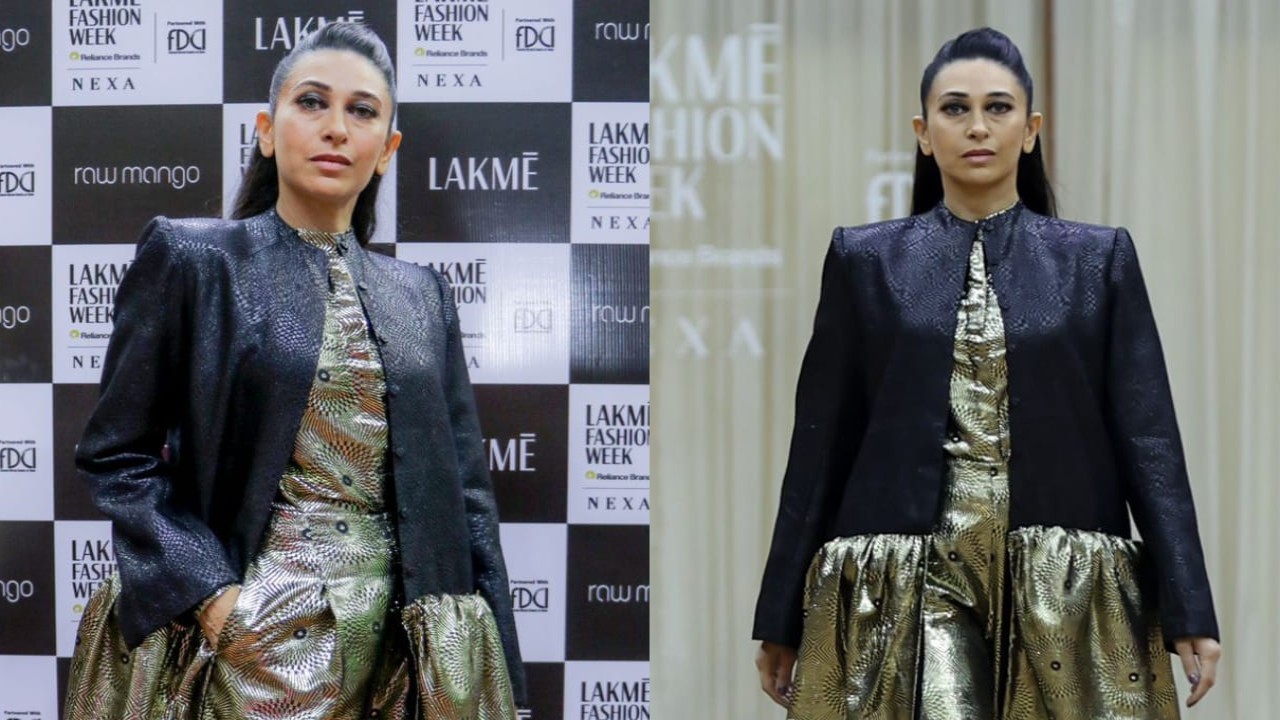 This is the moment every fashionista dreams of, where creativity and style converge in a dazzling display of art and innovation. Lakmé Fashion Week is a melting pot of designers, models, and fashion aficionados, all coming together to celebrate the boundless potential of the fashion world. The stage is set, and the runway is ready to come alive with the most incredible masterpieces.
Stay tuned for the latest updates and highlights from this fashion extravaganza. We're about to witness the magic of design, the allure of style, and the ever-evolving art of fashion. Brace yourself for a fashion-forward journey that's bound to leave you awestruck and inspired by the incredible talent on display.
Karisma Kapoor, the Bollywood icon, recently graced the runway at Lakmé Fashion Week, leaving a trail of awe and admiration in her wake. She strutted with an air of elegance for Raw Mango's collection, and in a sparkly golden jumpsuit, she looked nothing short of divine. Her presence radiated confidence, capturing the essence of a true goddess of fashion. The golden jumpsuit was not only glamorous but also perfectly accentuated her graceful figure, showcasing her impeccable style.
But there's more to this dazzling appearance! Karisma Kapoor didn't stop at just the golden jumpsuit. She added a touch of glitz and glamour by donning a cape color-blocked in gold and black. This additional layer not only brought a sense of drama to her ensemble but also served as a striking contrast to the golden jumpsuit. The color-blocked cape was a bold and fashion-forward choice that further elevated her appearance, making it unforgettable and unique.
Karisma Kapoor's walk down the runway at Lakmé Fashion Week was not just a fashion statement; it was an awe-inspiring moment that showcased her timeless beauty and her flair for making a powerful impact with her fashion choices. Her appearance in the sparkly golden jumpsuit and the striking color-blocked cape left the audience and fashion enthusiasts in absolute awe. It was a testament to her enduring status as a style icon and a reminder that she continues to set the bar high in the world of fashion.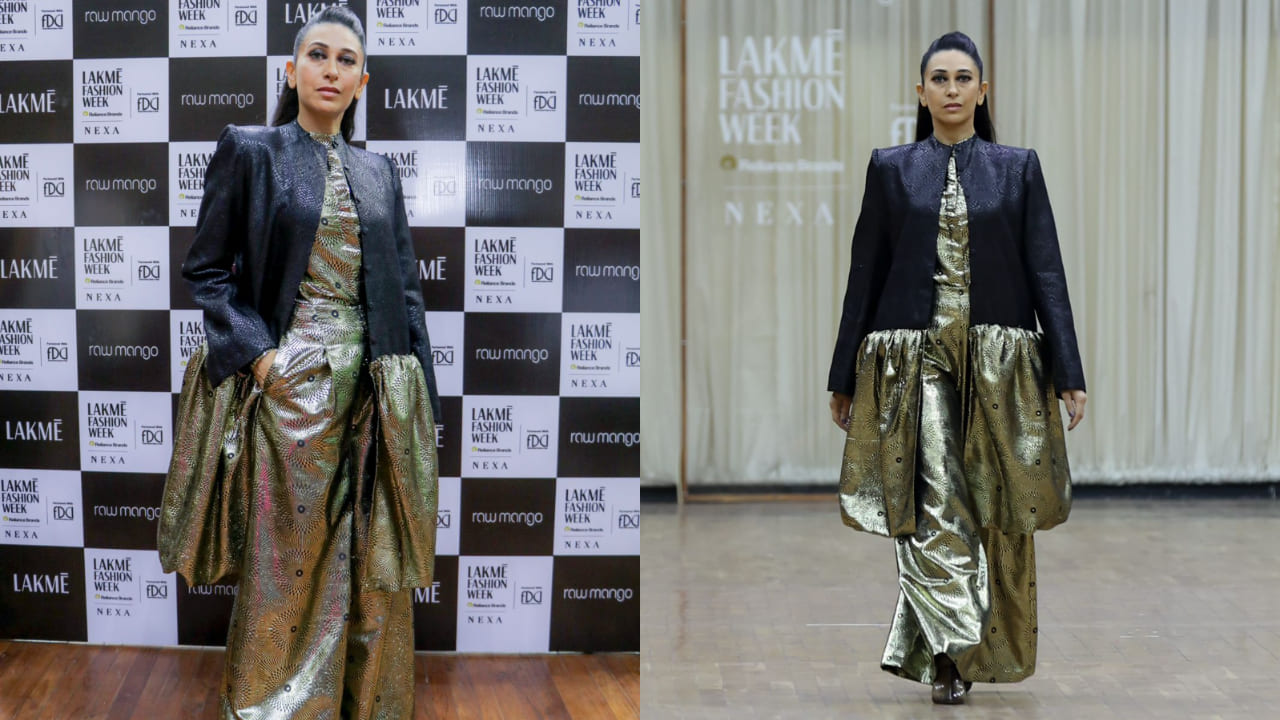 Kalki Koechlin, known for her unique style and artistic sensibility, made a remarkable appearance on the Lakmé Fashion Week runway. She walked the ramp for the 'Children Of The Night' collection, and her presence was nothing short of show-stopping. Kalki donned an asymmetrical neckline gown that perfectly embodied charm and grace. The gown was a testament to her ability to seamlessly blend elegance and a modern flair, creating a captivating and sophisticated look.
But what truly made this ensemble a standout was the intricately woven design of the fabric. This elaborately woven pattern added an artistic touch to the suit, elevating it from a mere garment to a wearable masterpiece. The artistic design lent a sense of depth and creativity to the gown, capturing the essence of Kalki's individuality and her penchant for embracing the unconventional.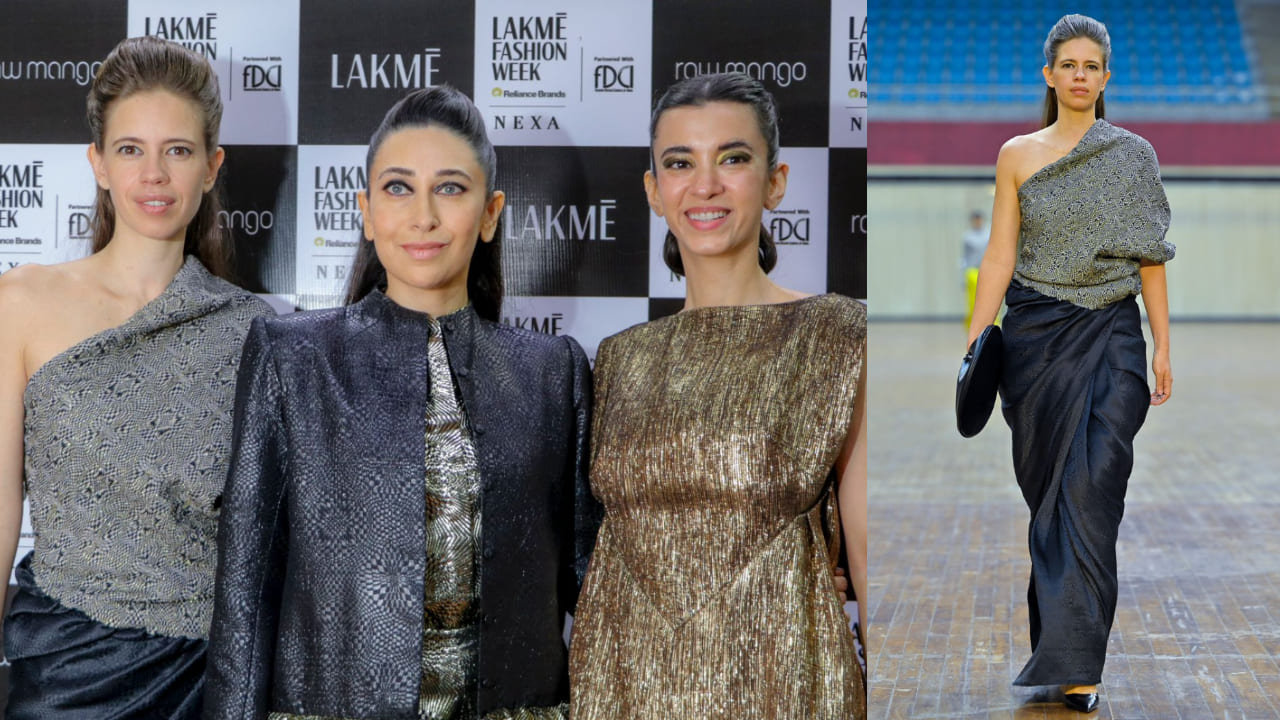 Kalki Koechlin's appearance on the runway was a splendid demonstration of her distinctive style and her ability to make a bold fashion statement. Her choice to wear the asymmetrical gown with the intricate woven design not only showcased her fashion-forward thinking but also left a lasting impression on the audience. Her presence was a reminder of the artistic and experimental nature of the fashion world, where garments become canvases for self-expression and creativity.
Saba Azad, a name synonymous with style and elegance, took center stage at Lakmé Fashion Week, captivating the audience with her dazzling appearance. She graced the runway dressed in a golden, glistening co-ord outfit that left everyone in awe. Her choice of attire was nothing short of a showstopper, radiating opulence and exuding an aura of sheer glamour.
The golden co-ord ensemble she wore was a masterpiece of design, perfectly tailored to accentuate her figure and enhance her beauty. Its shimmering fabric added a touch of luxury, making her look like a golden goddess. Her presence on the Lakmé Fashion Week stage was a mesmerizing sight, a testament to her impeccable taste and her innate ability to make a statement through fashion.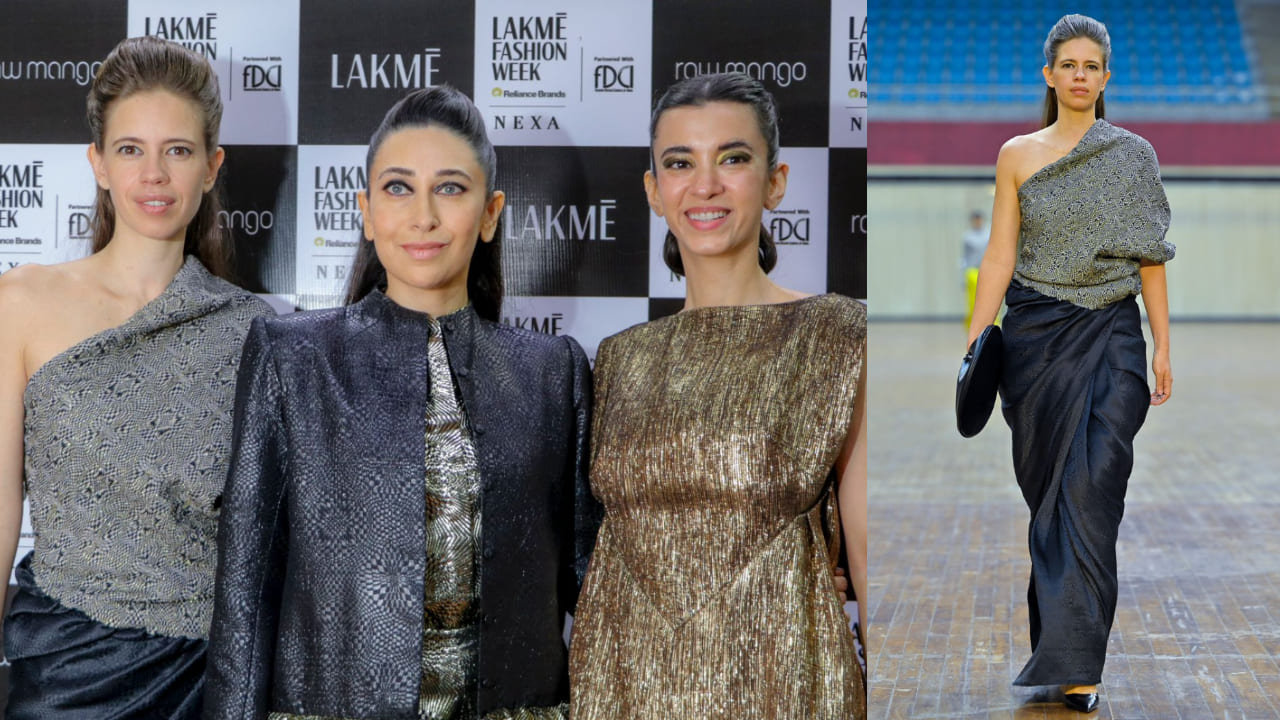 Saba Azad's stunning appearance showcased her as a true fashion icon, someone who knows how to effortlessly command attention with her outfits. Her golden co-ord outfit was a shining example of the power of fashion to make a grand entrance and capture the hearts of those who appreciate the artistry and extravagance of high fashion.