Janhvi Kapoor Looks Absolutely Incredible in All-Denim Outfit!
Indeed, Janhvi Kapoor has emerged as a rising star in the Bollywood industry, captivating audiences not only with her acting prowess but also with her impeccable sense of style. The young actress has become a fashion icon in her own right, consistently leaving her fans and fashion enthusiasts speechless with her chic and trendsetting ensembles.
Janhvi Kapoor's fashion choices exude elegance, sophistication, and a touch of youthful exuberance. She effortlessly pulls off a diverse range of looks, from glamorous red carpet gowns to casual and chic street style outfits.
With each public appearance, Janhvi Kapoor manages to turn heads and make a lasting impact. Her ability to curate stylish ensembles that perfectly complement her personality and the occasion showcases her keen fashion sensibility.
As a young actress, Janhvi's style evolution has been remarkable, and she fearlessly experiments with different silhouettes, colors, and trends. Her fashion choices reflect her confidence and willingness to take fashion risks, making her a true trendsetter among her peers.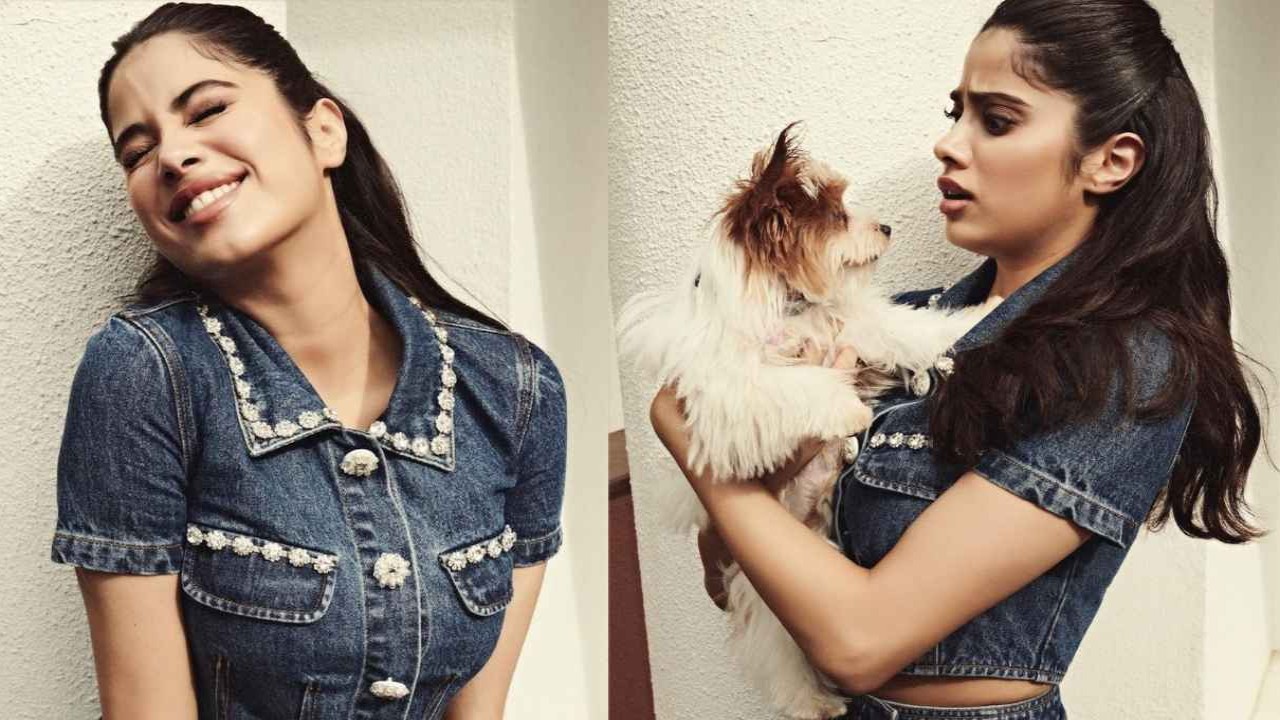 Janhvi Kapoor's collaborations with renowned designers and her presence as a front-row regular at fashion events further solidify her status as a prominent figure in the fashion industry. Her social media presence also plays a significant role in showcasing her style to a wider audience, inspiring fashion enthusiasts to recreate her looks.
Whether she's dressed in traditional Indian wear or contemporary Western outfits, Janhvi Kapoor's innate sense of style continues to captivate and inspire. As she continues to rise in the Bollywood industry, her fashion journey promises to be a fascinating one, leaving fans and fashion enthusiasts eagerly awaiting her next stylish appearance.
Janhvi Kapoor's latest all-denim outfit is a testament to her style prowess and fashion-forward sensibility. The talented actress once again proves her ability to make a bold and chic fashion statement.
The pairing of a cropped denim top with a matching denim mini-skirt from the renowned fashion brand Self-Portrait showcases Janhvi's ability to effortlessly embrace contemporary trends while maintaining a touch of sophistication.
The all-denim ensemble is a modern take on the classic denim-on-denim look, demonstrating Janhvi's willingness to experiment with different styles and create fresh and exciting combinations.
The cropped denim top adds a youthful and playful element to the outfit, perfectly complementing the mini-skirt's trendy and flirty silhouette. This combination strikes a balance between casual and chic, making it suitable for a variety of occasions.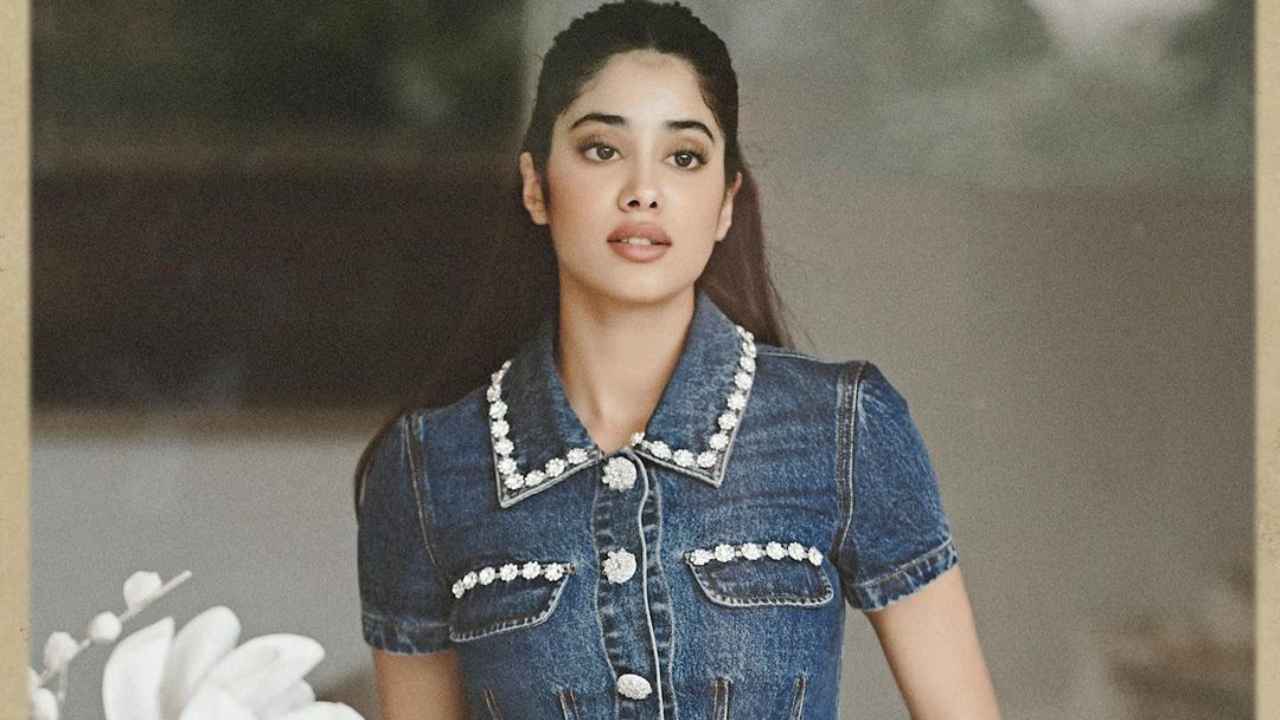 By choosing pieces from Self-Portrait, Janhvi Kapoor aligns herself with a brand known for its modern and edgy designs. This further showcases her fashion-forward mindset and her collaboration with leading fashion brands.
Janhvi's all-denim outfit is not only a fashion statement but also an inspiration for young individuals to experiment with their own style and have fun with fashion.
As Janhvi Kapoor continues to dazzle us with her impeccable fashion choices, her all-denim ensemble is yet another example of her style prowess, capturing attention and setting trends in the fashion world. Her ability to confidently embrace different styles and make them her own cements her position as a true fashion icon in the Bollywood industry.
Self-Portrait is renowned for its exquisite craftsmanship and high-quality designs, and Janhvi Kapoor's all-denim outfit is a perfect example of the brand's ability to cater to the fashion-forward crowd.
The denim cropped top's slim-fit silhouette and intricate detailing are a testament to the brand's attention to design and craftsmanship. Self-Portrait's commitment to creating unique and sophisticated pieces is evident in the thoughtful elements incorporated into the outfit.
The detailing on the denim cropped top adds a touch of sophistication, elevating the overall look and making it stand out as a fashion-forward choice. Self-Portrait's emphasis on quality ensures that the outfit not only looks stylish but also feels comfortable and luxurious to wear.
With its dedication to offering a range of products that appeal to individuals with a keen sense of style, Self-Portrait has solidified its position as a go-to brand for fashion enthusiasts seeking contemporary and trendsetting pieces.
Janhvi Kapoor's choice to wear this all-denim ensemble from Self-Portrait highlights her fashion-forward mindset and her ability to select outfits that reflect her own style sensibility while aligning with a reputable and innovative fashion brand.
As Self-Portrait continues to create designs that blend sophistication with modern aesthetics, its collaboration with style icons like Janhvi Kapoor further enhances its appeal among fashion enthusiasts who seek well-crafted and on-trend pieces for their wardrobes.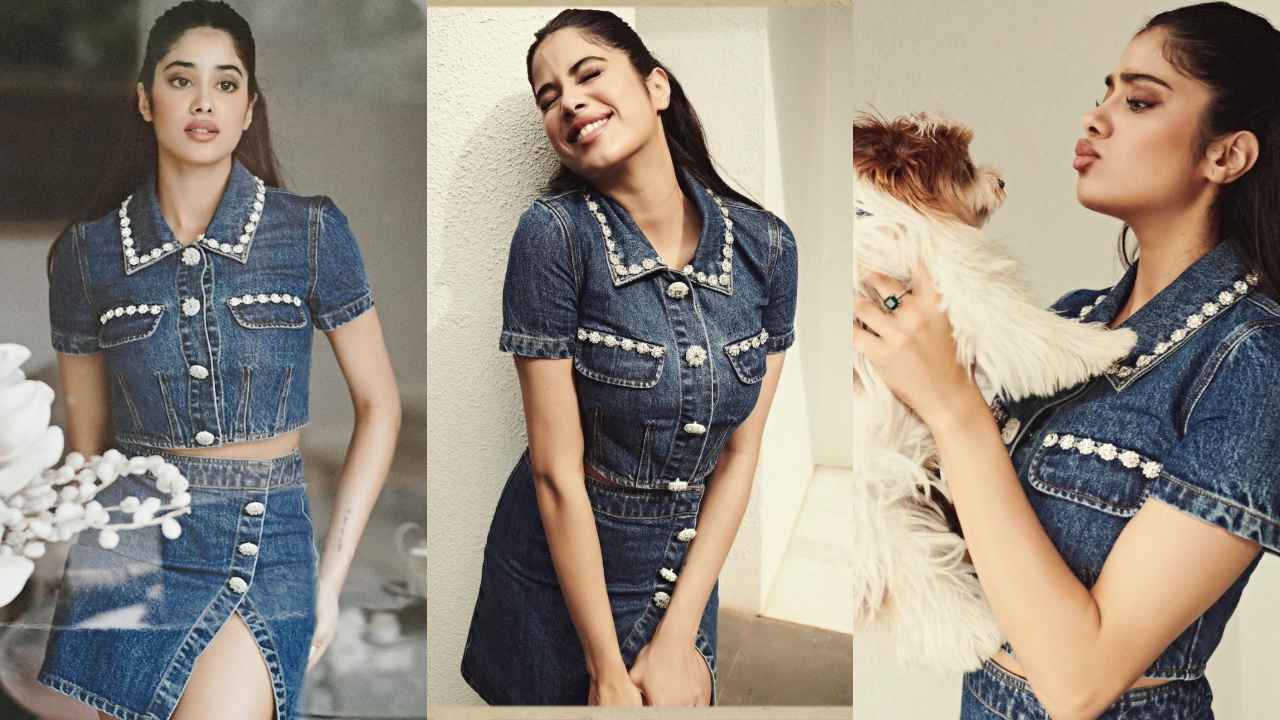 The contrasting stitching and the brand's signature buttons on the denim cropped top undoubtedly added a touch of refinement and unique flair to Janhvi Kapoor's ensemble. Self-Portrait's attention to detail and design elements showcased their commitment to creating fashionable and high-quality pieces.
Janhvi Kapoor's confident and radiant personality shone through as she effortlessly carried the denim cropped top and paired it with the matching denim mini-skirt. Her poise and charisma further elevated the outfit, making it a standout choice that exudes both style and confidence.
The denim mini-skirt's tailored perfection and sleek fit beautifully accentuated Janhvi's figure, demonstrating the brand's expertise in creating flattering and well-fitted garments. This attention to tailoring and fit ensures that the outfit not only looks fashionable but also feels comfortable and flattering to wear.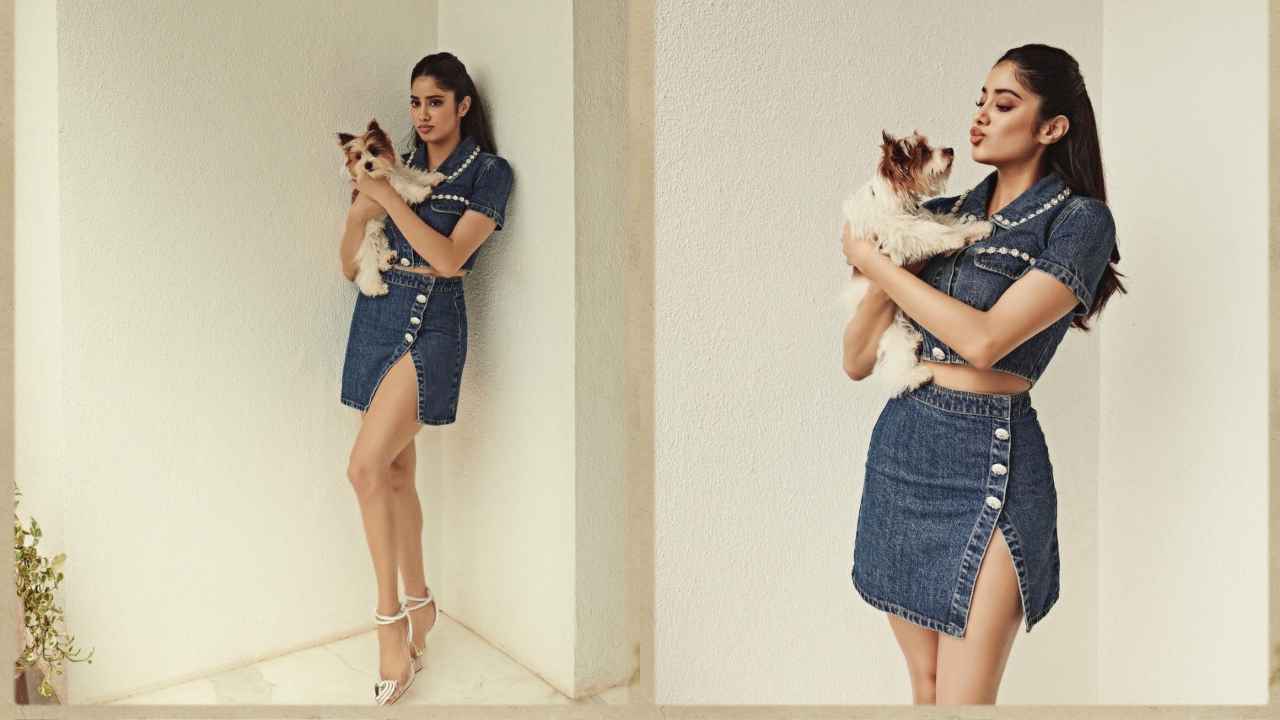 Janhvi Kapoor's choice to wear the denim mini-skirt with the cropped top showcases her ability to curate chic and cohesive ensembles that highlight her fashion sensibility. The ensemble's cohesive design and the brand's commitment to quality make it a noteworthy fashion statement that resonates with style-conscious individuals.
As the Roohi actress continues to set trends and captivate the fashion world with her impeccable style choices, her collaboration with Self-Portrait demonstrates how the brand's designs complement her radiant personality and make her a true style icon in the Bollywood industry. Their partnership showcases the perfect blend of modern aesthetics and attention to detail, appealing to the fashion-forward crowd and inspiring others to experiment with fashion fearlessly.
Indeed, Janhvi Kapoor's entire aesthetic in the denim ensemble was on point and complemented her outfit beautifully. The addition of translucent heels with hearts from Mochi added a playful and whimsical touch to the look, enhancing its overall charm and style.
Her hair styled in a middle-parted, slicked look, tied at the back, provided a polished and sophisticated touch to the ensemble. The sleek hairstyle perfectly accentuated her features and allowed the outfit to take center stage.
Janhvi Kapoor's makeup choice was equally on fleek, highlighting her natural beauty while remaining subtle and elegant. The subtle pink blush on her dewy skin added a healthy glow, and the brushed-back brows framed her face flawlessly.
Her choice of bare lips maintained a fresh and youthful appearance, allowing the focus to remain on her captivating eyes. The strong eyeliner and voluminous mascara emphasized her eyes, adding a touch of drama and complementing the denim ensemble's chic vibe.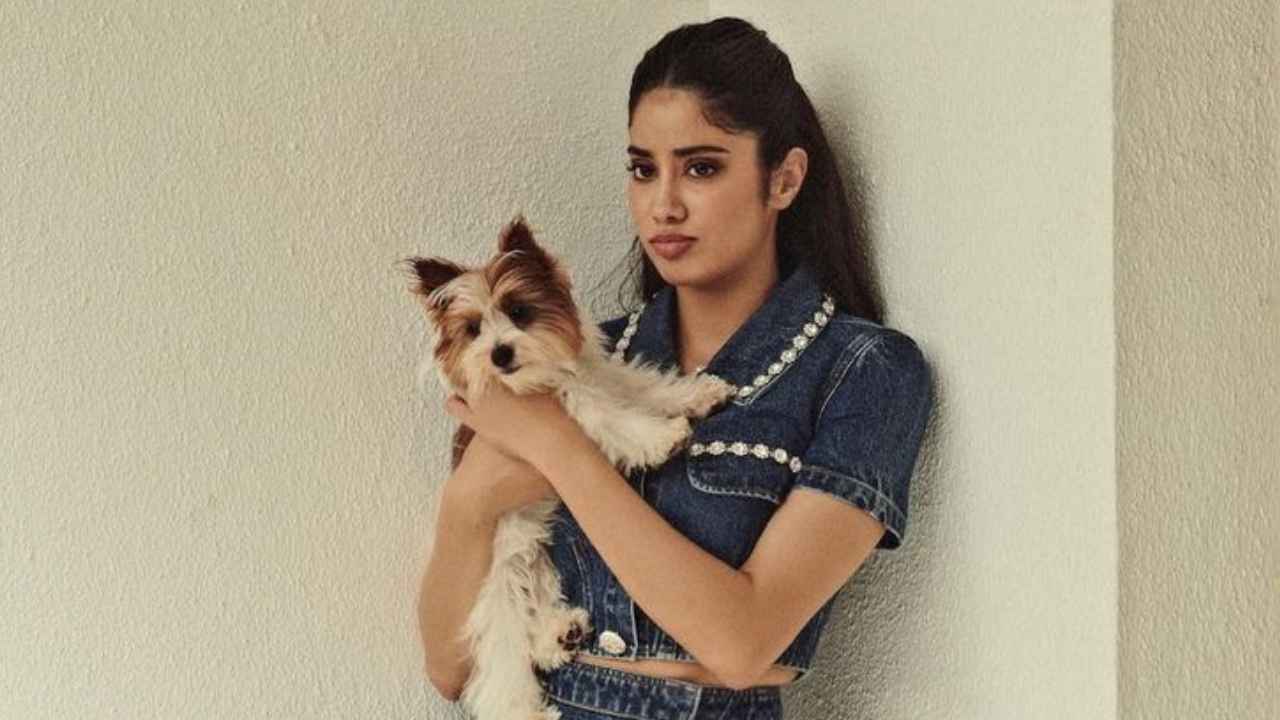 Overall, Janhvi Kapoor's impeccable sense of style was evident in every aspect of her appearance, from the outfit to the hair and makeup. The cohesive and well-curated aesthetic showcased her fashion-forward sensibility and ability to effortlessly pull off chic and trendy ensembles, solidifying her status as a true style icon in the Bollywood industry.