Pooja Hegde serves hotness with a side of minimalism in nude suit dress with a sultry feminine drape
Pooja Hegde, the talented actress known for her roles, including "Kisi Ka Bhai Kisi Ki Jaan," recently took the internet by storm with a series of captivating photos featuring her in a resplendent nude-colored gown. Her fashion choices have always been closely scrutinized and widely celebrated, and this recent appearance was no exception. The gown, a true masterpiece in minimalism and sophistication, has become the focal point of admiration on social media and beyond.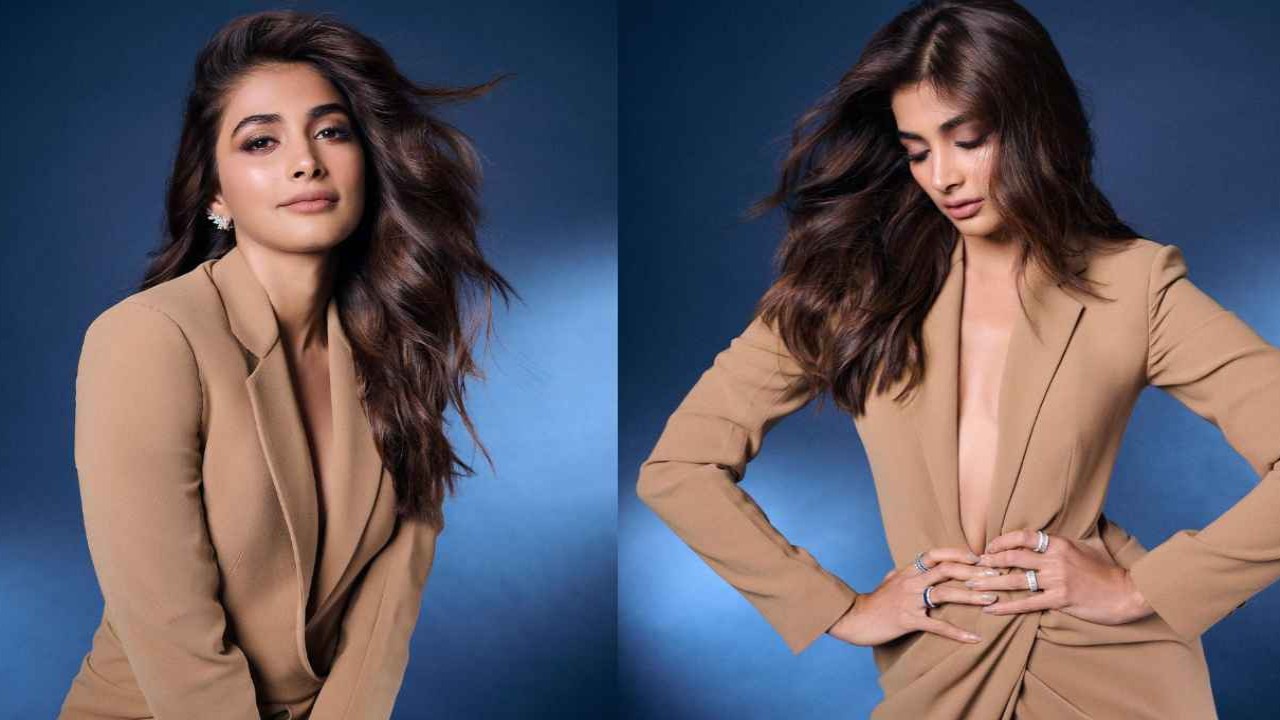 The nude-colored gown worn by Pooja Hegde exemplified elegance and understated glamour. The simplicity of the design, coupled with the richness of the nude hue, created a timeless and refined look. The gown accentuated her graceful silhouette, allowing Pooja to effortlessly command attention with her poised and regal presence.
The captivating photos circulating on social media showcase Pooja Hegde's ability to make a strong style statement while maintaining an air of subtlety. The minimalist approach to the gown, combined with the actress's natural beauty, resulted in a fashion moment that resonated with fans and fashion enthusiasts alike. Pooja Hegde's choice of attire serves as a reminder that sometimes, less is indeed more when it comes to making a lasting impact in the world of fashion.
As the Kisi Ka Bhai Kisi Ki Jaan actress continues to captivate audiences both on and off the screen, her fashion choices remain a source of inspiration, setting trends and elevating her status as a style icon in the entertainment industry. Pooja Hegde's resplendent nude-colored gown has undoubtedly left an indelible mark, adding another feather to her cap in the realm of celebrity fashion.
Pooja Hegde took to Instagram to share pictures of herself adorned in the incredible ensemble, giving her followers a glimpse into her fashion-forward choices. The gown, a creation from the fashion house Antithesis, stands out not only for its stunning design but also for its luxury and exclusivity, as reflected in its price tag of Rs. 27,500.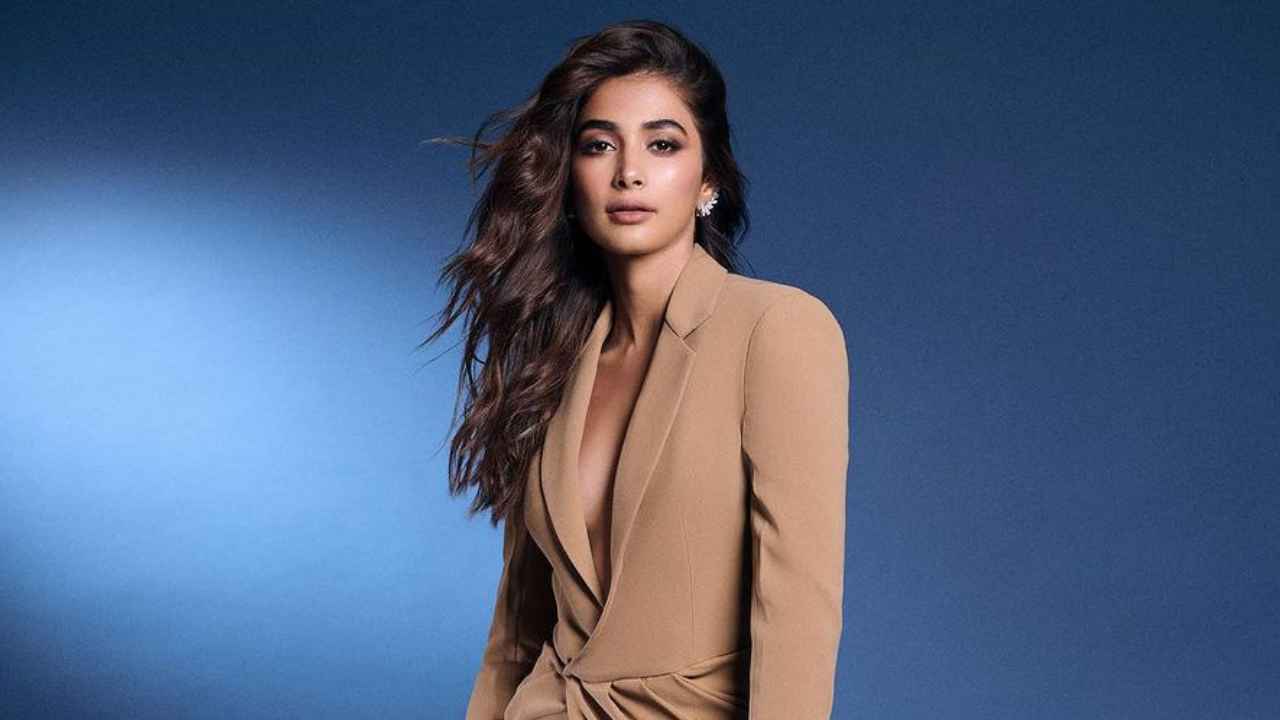 What makes this outfit particularly noteworthy is its ingenious combination of contrasting elements. The gown features a robust and tailored bodice that exudes strength, paired with a sultry and feminine drape that adds a touch of sensuality. This juxtaposition of strength and sensuality creates a harmonious blend, making the gown the perfect choice for a high-profile event. Pooja Hegde's choice of this ensemble not only showcases her keen fashion sense but also emphasizes her ability to embrace and effortlessly carry off diverse styles.
The gown from Antithesis serves as a testament to the creativity and innovation within the fashion industry. Its distinctive design, coupled with the actress's grace and poise, elevates the ensemble to a work of art. Pooja Hegde's selection of this outfit reinforces her status as a trendsetter, unafraid to experiment with fashion and make bold choices that resonate with both elegance and modernity.
As the actress continues to share her fashion moments on social media, her collaborations with renowned fashion houses like Antithesis only add to her allure as a style icon. Pooja Hegde's ability to curate looks that seamlessly blend contrasting elements further solidifies her influence in shaping the narrative of contemporary celebrity fashion.
Pooja Hegde's discerning fashion sense extends beyond the exquisite gown itself. The actress showcased her keen eye for styling by pairing the ensemble with glittery silver-colored heels, injecting a generous dose of glamour into the overall look. The choice of footwear not only added a touch of sparkle but also complemented the nude hue of the gown, creating a seamless and harmonious visual impact.
The attention to detail in Pooja Hegde's attire is evident, with every element thoughtfully selected to enhance the overall aesthetic. The glittery silver-colored heels not only brought a sense of sophistication but also contributed to the ensemble's cohesive and visually striking appeal. The careful coordination of the gown and heels showcased the actress's commitment to creating a polished and well-orchestrated look.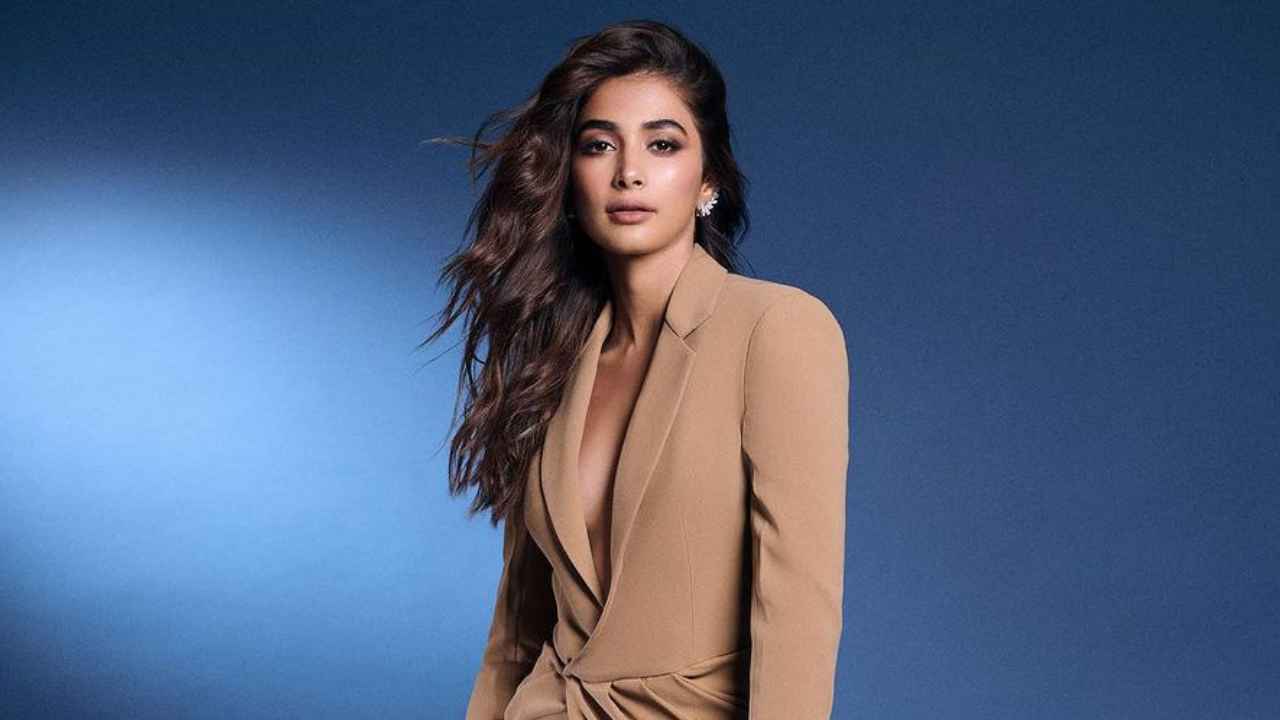 By paying meticulous attention to every aspect of her attire, Pooja Hegde once again demonstrated her ability to elevate a fashion moment into a true style statement. The combination of the resplendent gown and glittery silver heels not only reflects her flair for fashion but also reinforces her status as a fashion-forward trendsetter in the industry.
As the actress continues to make sartorial choices that captivate audiences, her commitment to detail and the cohesive coordination of her ensembles solidify Pooja Hegde's position as a style icon. Whether on the red carpet or on social media, she consistently manages to strike the perfect balance between elegance and modernity, leaving a lasting impression on the ever-evolving landscape of celebrity fashion.
The design of the gown chosen by Pooja Hegde features a daring plunging neckline, a bold choice that the Radhe Shyam actress carries with grace and confidence. The neckline, plunging with sophistication, allowed her to elegantly showcase her contours, adding a hint of allure to the ensemble. Pooja Hegde's ability to carry off such a bold design with poise speaks volumes about her confidence and style sensibilities, proving that she is unafraid to embrace daring elements in her fashion choices.
In addition to the daring neckline, another standout feature of the gown is the strategically placed thigh-high slit. This design element adds an extra layer of glamour to the outfit, providing a glimpse of leg and further enhancing the overall allure. The thigh-high slit not only adds a touch of drama but also contributes to the gown's contemporary and red carpet-ready appeal.
Pooja Hegde's choice of a gown with a daring neckline and a thigh-high slit is a testament to her willingness to push fashion boundaries and make bold statements. The actress's ability to balance allure with sophistication in her ensemble reflects her understanding of how to create a memorable and impactful fashion moment. As she continues to experiment with different styles and designs, Pooja Hegde remains a trailblazer in the world of celebrity fashion, leaving a lasting impression with her fearless and glamorous choices.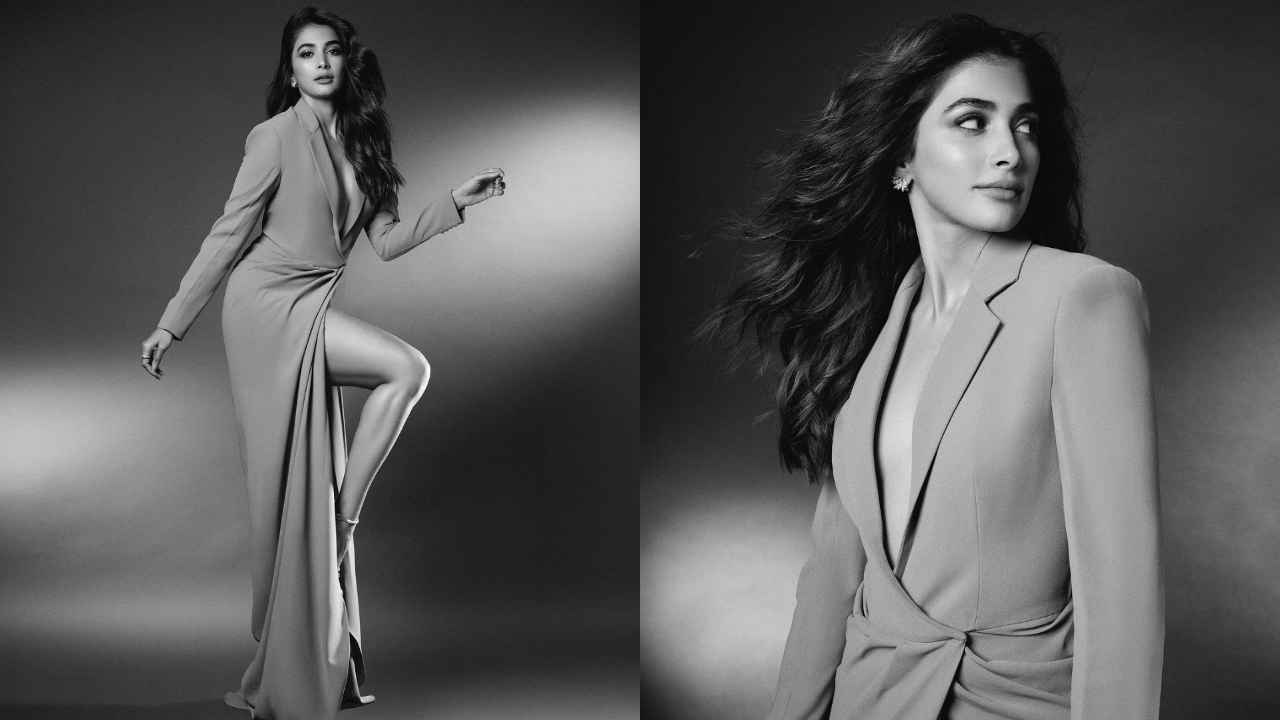 Pooja Hegde's fashion finesse extends beyond the gown's design; her choice of minimal makeup and subtle jewelry accentuates her natural beauty, allowing the gown to take center stage. The Mohenjo Daro actress opted for a look that enhances rather than overpowers, showcasing a perfect balance between sophistication and simplicity. By keeping the makeup understated and the jewelry minimal, Pooja Hegde allowed the resplendent gown to be the focal point, further emphasizing her commitment to letting the outfit tell its own story.
The Instagram post featuring this captivating attire received an outpouring of admiration from fans and style enthusiasts alike. The images captured not just a fashion moment but a narrative—a story of a woman who effortlessly balances strength and femininity. Pooja Hegde's fashion choices often transcend mere clothing; they become a form of self-expression that resonates with her personality and style ethos.
The Mohenjo Daro fame's ability to make a sartorial statement that surpasses the boundaries of clothing is a testament to her influence in the world of fashion. Her choice to let the gown shine while subtly enhancing her natural beauty speaks to a level of sophistication and self-assuredness that goes beyond the surface. Pooja Hegde's fashion narrative extends beyond trends; it is a reflection of her individuality, making her a true icon in the ever-evolving landscape of celebrity style. As she continues to grace the public eye with her distinctive fashion choices, Pooja Hegde remains a captivating force, captivating hearts not just with her on-screen performances but also with her timeless and impactful presence in the world of fashion.