Tamannaah Bhatia's airport style: Dark green comfort meets luxe with statement bag
Tamannaah Bhatia, the renowned and elegant actress known for her excellent dress sense in both the South and Bollywood film industries, recently made heads turn at Manish Malhotra's Diwali celebration. The actress graced the occasion in a stunning saree, exuding an aura of elegance and charm. Tamannaah's choice of attire at the Diwali celebration showcased not only her appreciation for traditional wear but also her ability to carry it with grace and sophistication. The actress is often celebrated for her fashion choices, and this occasion was no exception as she effortlessly captured attention with her impeccable style.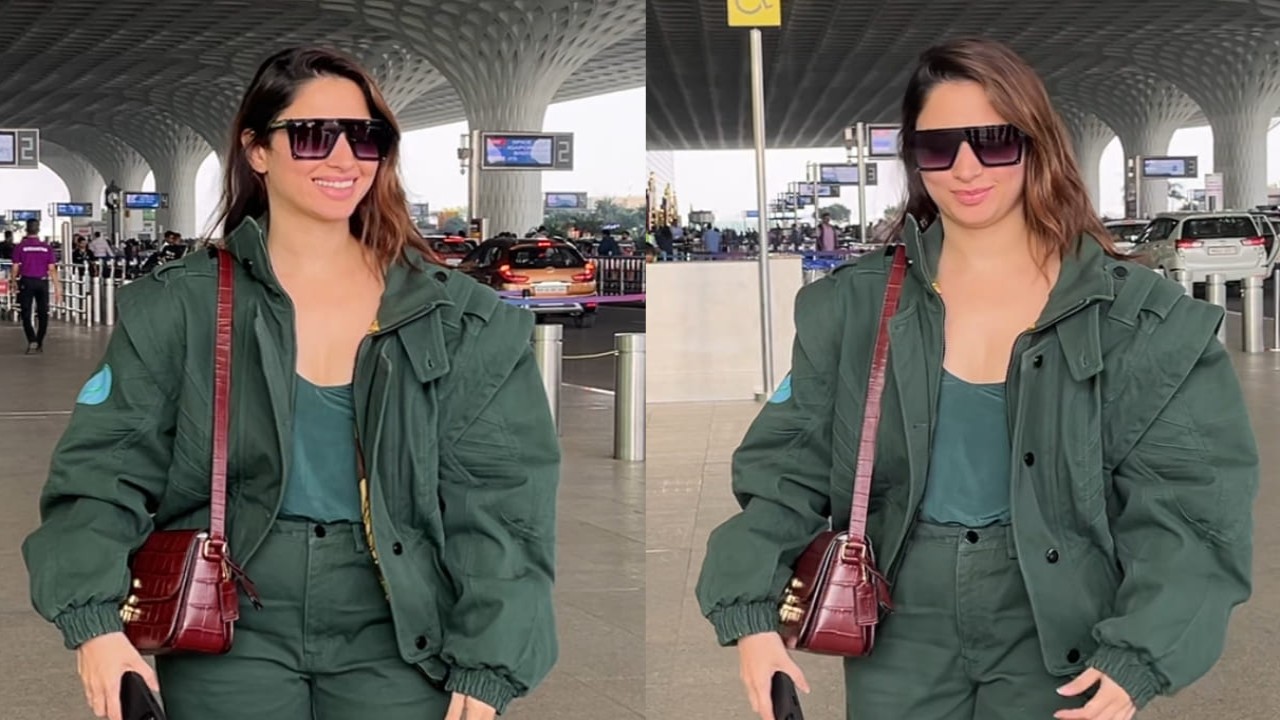 Adding to her style portfolio, Tamannaah was also spotted at the airport wearing a beautiful dark green co-ord outfit, showcasing her jet-set flair. The co-ord set not only reflected her fashion-forward sensibilities but also highlighted her knack for comfortable yet stylish travel attire. The dark green hue added a touch of richness and versatility to the ensemble, and Tamannaah's confident demeanor further enhanced the overall impact of her airport look.
Tamannaah's fashion choices have consistently resonated with fans and fashion enthusiasts alike, and her appearances at both the Diwali celebration and the airport exemplify her versatility in navigating different style landscapes. Whether it's traditional wear for festive occasions or chic and comfortable co-ords for travel, the actress continues to be a trendsetter, effortlessly blending elegance with modern trends. As Tamannaah continues to captivate audiences on and off the screen, her fashion journey remains an exciting aspect of her overall star persona.
Tamannaah Bhatia's influence in the fashion world extends beyond the silver screen, as she continues to inspire and set trends with her effortless fashion choices. The versatile actress has proven time and again that she is not only a superb performer but also a bona fide style star. Tamannaah's fashion sensibilities consistently make a lasting impact, showcasing her ability to seamlessly navigate both classic and contemporary looks with equal finesse.
One notable example of Tamannaah's fashion prowess can be seen in her airport attire, where she effortlessly combines comfort with style. The actress has a knack for choosing outfits that are not only chic but also practical, making a statement with her travel wardrobe. Whether it's the choice of colors, silhouettes, or accessories, Tamannaah's airport looks are a testament to her keen fashion sense and her ability to make even casual attire a fashion statement.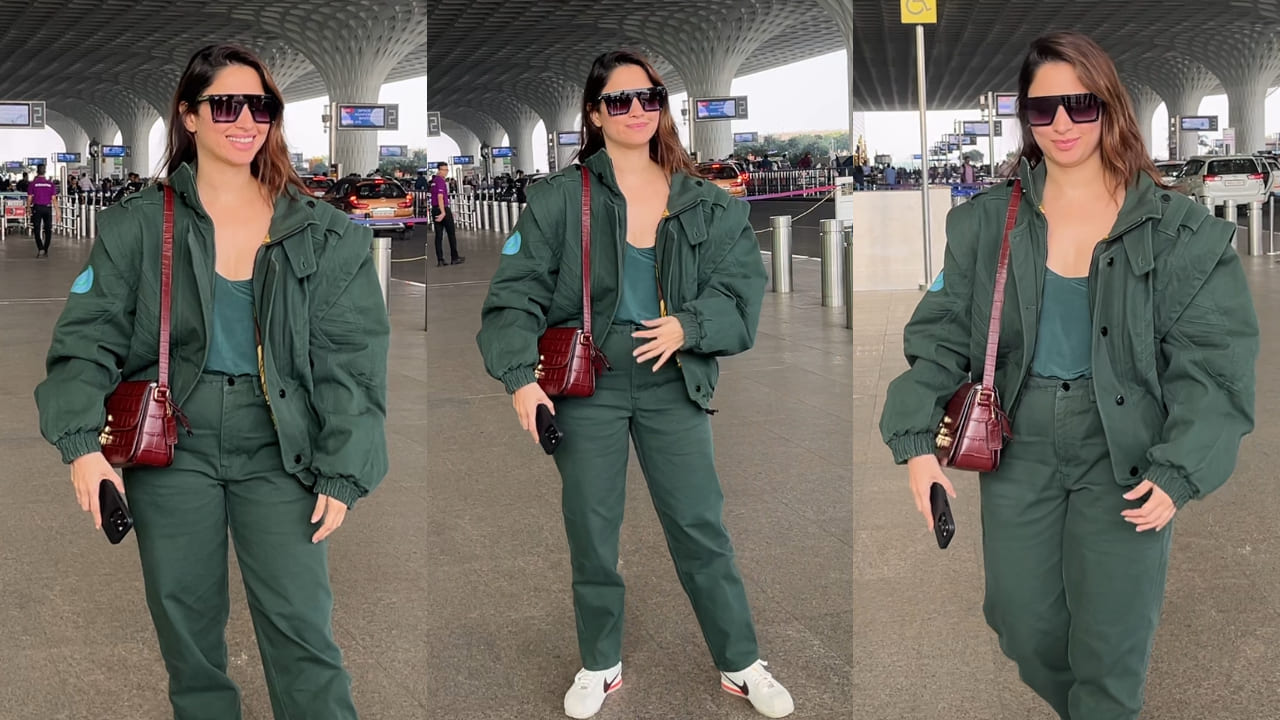 By consistently making unique and memorable fashion choices, Tamannaah has solidified her status as a trendsetter in the industry. Her outfits serve as inspiration for fans and fashion enthusiasts, proving that she has an innate understanding of what works for her and the occasion. Tamannaah's fashion journey continues to be a delightful exploration of style, showcasing her versatility and leaving an indelible mark on the ever-evolving landscape of celebrity fashion. As she effortlessly combines classic and contemporary elements, Tamannaah Bhatia remains a true style icon who continues to captivate with her distinctive and influential fashion choices.
Tamannaah Bhatia was an epitome of style as she stepped out dressed to the nines in a stunning dark green co-ord outfit. Her impeccable fashion sense was on full display, showcasing a perfect blend of comfort and trendiness. The actress opted for a puffy jacket that featured a sizable flap collar and long sleeves, adding a touch of glamour to the ensemble. Tamannaah made a bold statement by leaving the jacket open, revealing a deep scoop neckline top in the same enticing dark green hue.
The deep scoop neckline top not only added a hint of allure to the overall look but also emphasized Tamannaah's confident and contemporary style. The choice of the matching green trousers with a normal fit provided a cohesive and well-balanced appearance, completing the chic co-ord set. The ensemble not only highlighted the actress's fashion-forward choices but also showcased her ability to effortlessly carry off bold and vibrant colors with grace.
Tamannaah's dark green co-ord outfit is a testament to her keen eye for fashion and her willingness to experiment with different styles. The coordinated set not only exuded a trendy and put-together vibe but also reflected the actress's knack for staying ahead of the fashion curve. As Tamannaah continues to make stylish appearances, her ability to pull off such striking looks solidifies her status as a true fashion icon in the entertainment industry.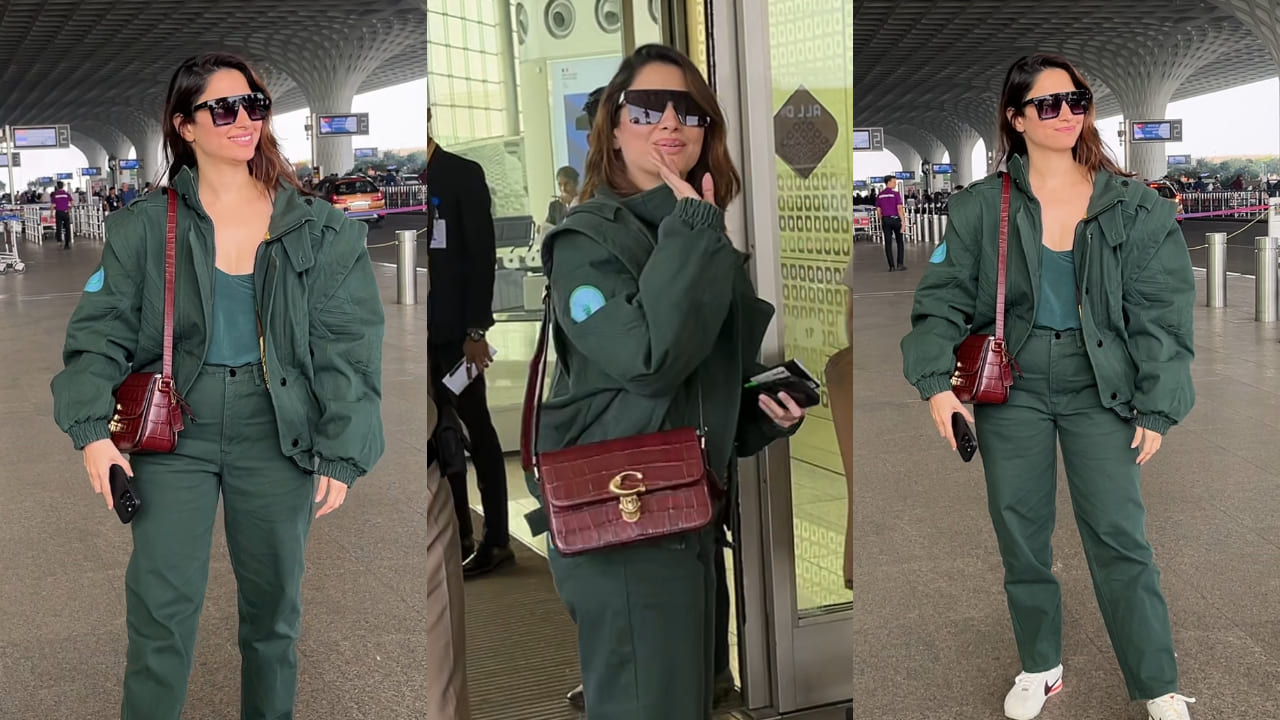 Tamannaah Bhatia effortlessly showcased her knack for making airport appearances both chic and professional. The actress curated a beautiful and polished look, adding a touch of glamour with a pair of elegant black sunglasses. The choice of eyeglasses not only contributed to the overall sophistication of her appearance but also added an element of mystery, elevating the ensemble to a whole new level. Tamannaah's attention to detail in selecting accessories demonstrated her commitment to a well-thought-out and cohesive look.
The addition of the elegant black sunglasses not only served a practical purpose but also became a stylish statement piece, enhancing the actress's airport fashion. The sunglasses not only shielded her eyes but also exuded an aura of confidence and charisma, reflecting Tamannaah's understanding of how accessories can elevate a simple ensemble.
Not to be overlooked, Tamannaah's choice of a lovely brown purse further accentuated her airport look. The bag emanated elegance and flair with its glossy texture finishing, adding a touch of luxury to the overall aesthetic. The carefully selected purse not only complemented the dark green co-ord outfit but also showcased Tamannaah's commitment to combining style and functionality in her fashion choices.
In sum, Tamannaah Bhatia's airport appearance demonstrated her mastery in creating a professional yet stylish look, with the addition of elegant sunglasses and a chic brown purse serving as the perfect finishing touches. The actress continues to set the bar high not only in her on-screen performances but also in her ability to make a statement with her impeccable fashion sense, leaving a lasting impression on fashion enthusiasts and fans alike.
Tamannaah Bhatia's airport look was not only elevated by her fashion choices but also by the addition of a standout accessory – a Coach sling bag. The elegant sling bag not only added a touch of sophistication to her ensemble but also served as a focal point that complemented her overall look. The price tag of Rs. 54,889 reflected the luxury and exclusivity of the accessory, showcasing Tamannaah's penchant for high-end fashion.
The Coach sling bag seamlessly integrated into her outfit, enhancing its overall appeal and demonstrating the actress's keen eye for coordinating accessories. The bag's glossy texture and design elements resonated with the elegance of the dark green co-ord set, creating a harmonious and well-curated look.
In addition to the standout sling bag, Tamannaah completed her airport accessories with a pair of white trainers. This choice not only added a sense of comfort to her ensemble but also infused a stylish attitude, creating a perfect balance between sophistication and casual chic. The white trainers provided a modern and trendy touch to the overall look, showcasing Tamannaah's ability to blend different elements seamlessly.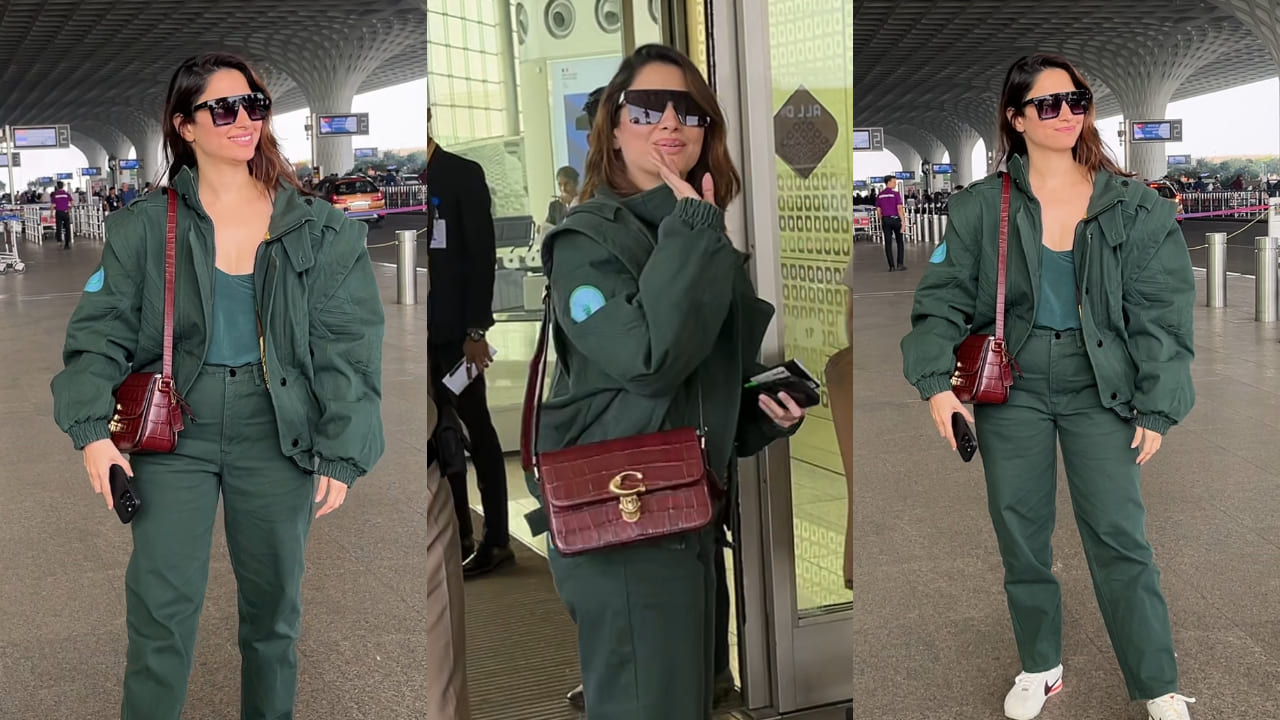 Tamannaah Bhatia's airport appearance, punctuated by the Coach sling bag and white trainers, exemplified her mastery in accessorizing and creating a well-rounded and stylish ensemble. The actress continues to be a trendsetter, effortlessly combining luxury, comfort, and style in her fashion choices, leaving a lasting impression on fashion enthusiasts and setting new benchmarks in celebrity airport fashion.