Katrina Kaif shines bright in a romantic print yellow mini dress that is nothing but a PROPER SLAY
Katrina Kaif, while not typically associated with floral designs, has a knack for captivating attention when she does choose to wear them. Her Instagram handle serves as a canvas for experimentation with various in-trend styles, yet her love for blazers remains evident. The Bollywood diva consistently demonstrates an understanding of how to radiate easy elegance, seamlessly blending the appeal of a wonderfully fitted jacket with exquisite floral designs. Her sartorial choices on Instagram often showcase her versatility and willingness to explore diverse fashion realms.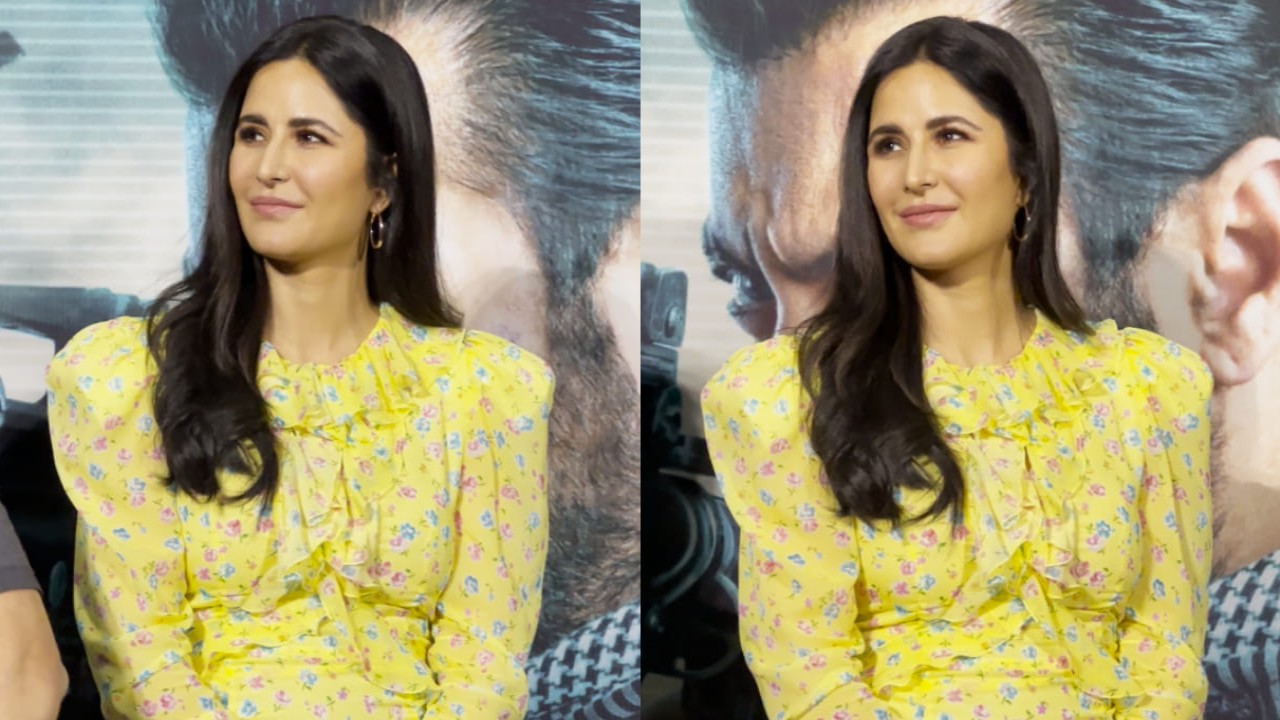 Recently, at an event commemorating the premiere of her latest flick Tiger 3, Katrina Kaif's attire emanated utter flawlessness and more. Her appearance was indeed a sight to behold, with every element expertly put together. The blend of the floral design with the sophistication of a well-tailored blazer showcased the actress's ability to strike the perfect balance between trendy and timeless.
Katrina Kaif's fashion choices at the event not only highlighted her style evolution but also affirmed her status as a fashion icon in the industry. The ensemble she chose for the Tiger 3 premiere reflected her meticulous attention to detail, from the choice of floral patterns to the flawless fit of the blazer. Katrina Kaif's fashion journey continues to captivate audiences, proving that she can effortlessly transition between various styles while exuding an air of easy elegance that sets her apart in the world of Bollywood fashion.
In her newest look, Katrina Kaif, known for her role in Bharat, exudes elegance in a gorgeous flower-patterned short dress. The dress, crafted from sumptuous silk fabric, features a classic round neckline and a narrow-fit style, accentuating the actress's graceful silhouette. The choice of a short dress reflects a playful yet sophisticated fashion approach, allowing Katrina to showcase her fashion versatility.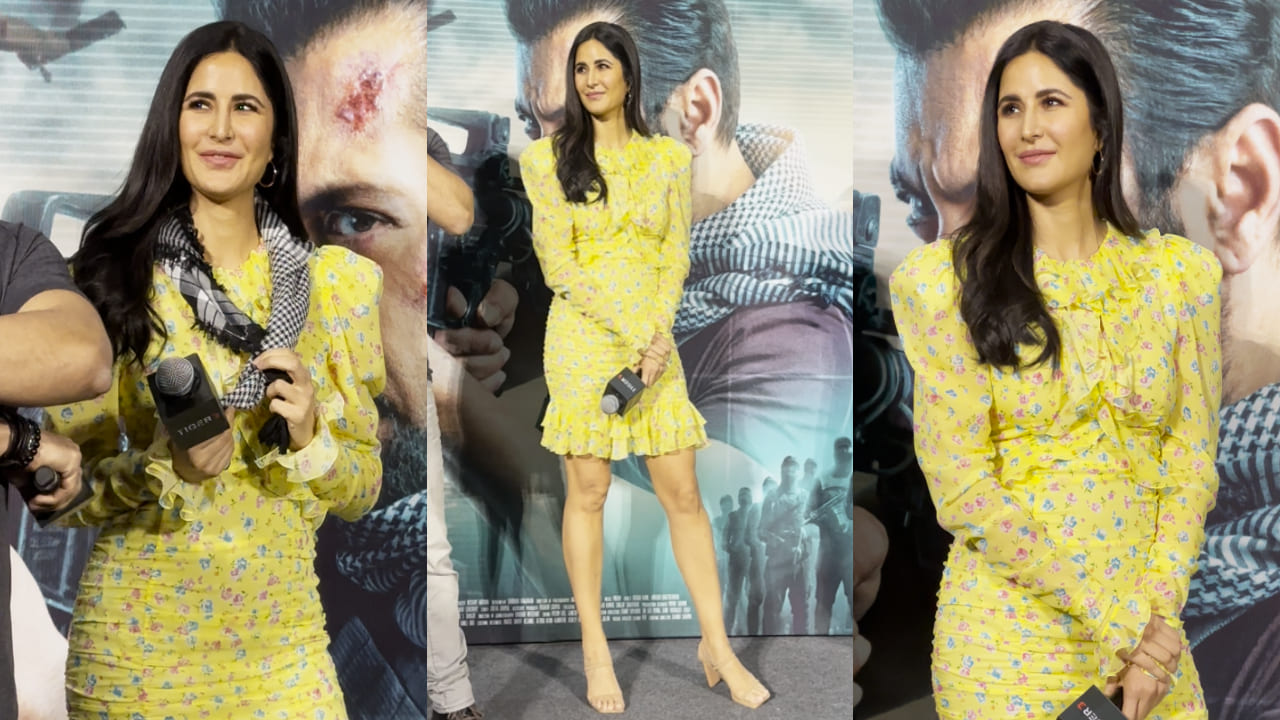 The full-length sleeves with beautiful leg-o-mutton sleeves add a touch of drama to the entire design, creating a dynamic and eye-catching silhouette. This bold sleeve style not only adds a fashionable element but also contributes to the overall charm of the dress, showcasing Katrina Kaif's willingness to experiment with diverse and statement-making details.
The dress's subtle ruffled and ruched details further enhance its grace and elegance, creating a harmonious blend of sophistication and modernity. These thoughtful design elements showcase the attention to detail in Katrina Kaif's fashion choices, making her appearance not only stylish but also a visual delight.
Overall, Katrina Kaif's flower-patterned short dress exemplifies her ability to embody elegance and charm in every fashion choice. The blend of luxurious silk, classic yet daring neckline, and unique sleeve details highlights the actress's keen sense of style, making her a trendsetter in the realm of Bollywood fashion. As she continues to captivate audiences on and off the screen, Katrina Kaif's fashion evolution remains a source of inspiration for fashion enthusiasts worldwide.
In Katrina Kaif's newest look, it's the hem of the gorgeous flower-patterned short dress that steals the show, featuring two layers of frills that make it irresistibly appealing. The hemline adds a playful and feminine touch to the ensemble, creating movement and adding to the overall charm of the dress. The thoughtful inclusion of these frills showcases the meticulous attention to detail in the design, elevating the outfit to a higher level of sophistication.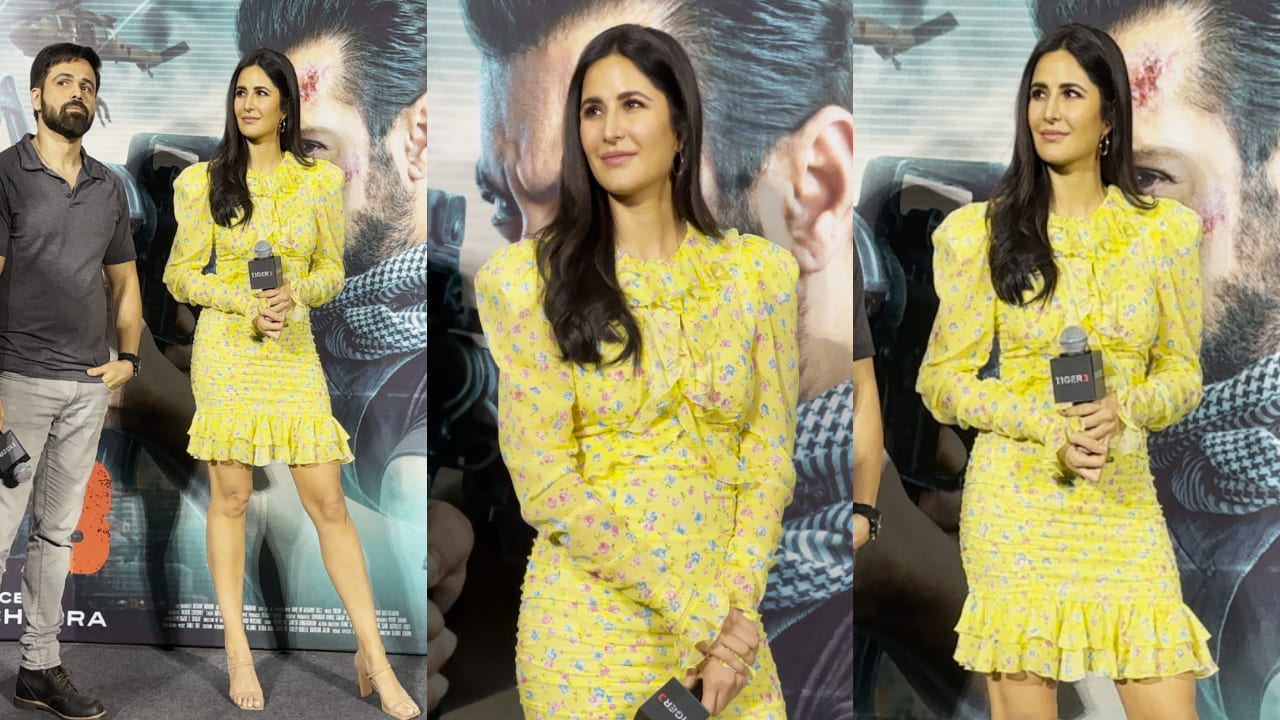 This stunning piece is sourced from the renowned fashion house Alessandra Rich, known for its immaculate designs and commitment to luxury. The brand is synonymous with high-quality craftsmanship and trend-setting creations, and Katrina Kaif's choice of this dress is a testament to her appreciation for exquisite fashion.
However, the opulence of this outfit comes with a price tag of Rs. 1,65,791, undoubtedly placing it in the category of lavish choices. The investment in a piece from Alessandra Rich reflects not only the brand's prestige but also Katrina Kaif's commitment to curating a wardrobe that exudes luxury and style.
In essence, Katrina Kaif's flower-patterned short dress from Alessandra Rich combines playful elements with high-end fashion, showcasing the actress's ability to make a statement with her wardrobe choices. The hemline frills, in particular, add a touch of whimsy and romance to the ensemble, making it a standout piece that seamlessly blends sophistication and contemporary flair. As Katrina continues to set fashion trends, her collaboration with renowned brands like Alessandra Rich solidifies her status as a tastemaker in the world of celebrity fashion.
To complement her breathtaking attire, Katrina Kaif carefully selected accessories that perfectly suited her clothing. Adorning her ears with gorgeous enormous golden hoops, the Bollywood star added a touch of glitter to her overall look. The choice of bold earrings was not only a statement-making move but also served to seamlessly pull the entire look together, creating a coherent and fashionable atmosphere. The golden hoops added a hint of glamour, accentuating the elegance of the flower-patterned short dress and contributing to the overall visual appeal of Katrina's ensemble.
In addition to her stunning earrings, Katrina Kaif nailed her footwear choice with a beautiful pair of beige heels. The neutral tone of the heels not only complemented the color palette of the dress but also added a sense of sophistication to the entire look. The well-thought-out selection of accessories, from the statement earrings to the elegant heels, demonstrated Katrina's keen eye for detail and her ability to elevate her fashion choices with carefully curated elements.
Katrina Kaif's attention to accessories further solidified her status as a fashion icon. The strategic pairing of bold golden hoops and chic beige heels showcased her ability to strike the perfect balance between bold statements and subtle elegance. As she continues to make style statements both on and off the red carpet, Katrina Kaif's mastery in accessorizing contributes to her timeless and impactful presence in the world of Bollywood fashion.
For her appearance, Katrina Kaif chose a basic yet effortlessly gorgeous haircut that perfectly complemented her overall look. The Bollywood star opted for a hairstyle that allowed her gorgeous curls to fall freely, flowing over her shoulders and perfectly parted in the middle. This simple yet elegant hairstyle added a touch of natural beauty to her ensemble, aligning seamlessly with the overall vibe of her flower-patterned short dress. Katrina's choice of a well-coordinated haircut demonstrated her understanding of how even the simplest styles can enhance and complete a fashionable look.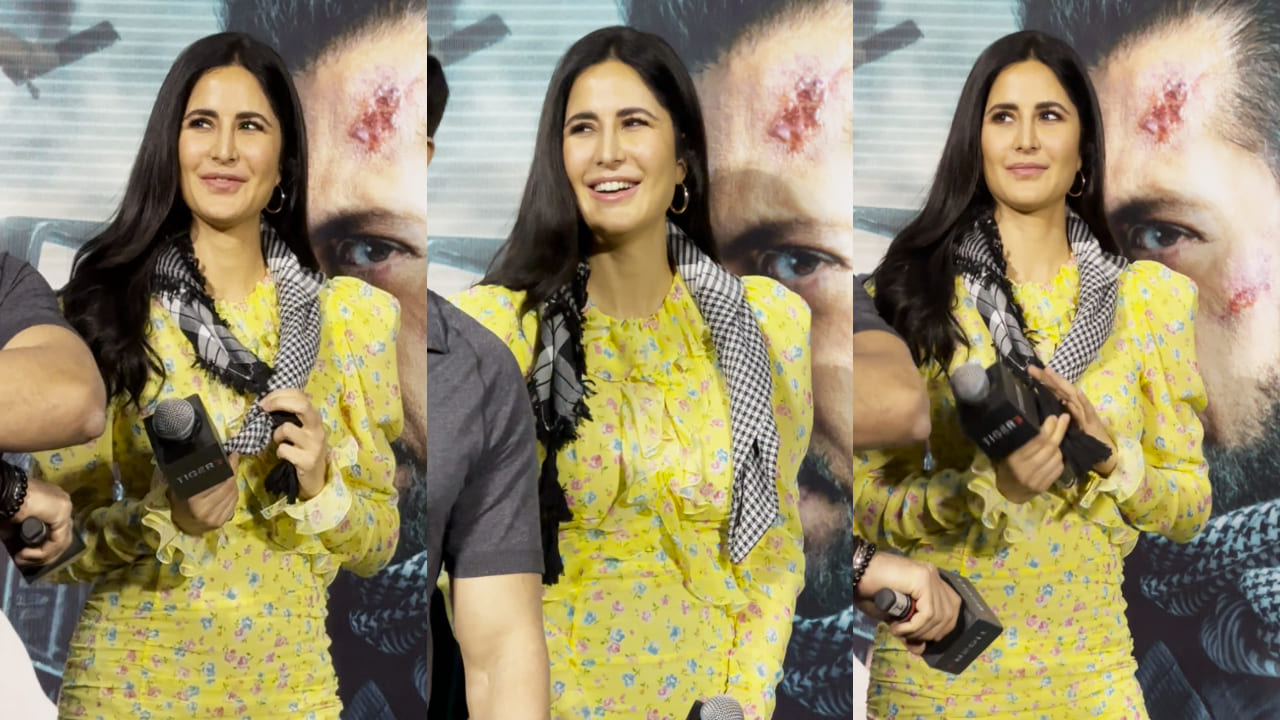 Moving on to her makeup, Katrina Kaif's selection was nothing short of flawless. Her makeup included a shimmering foundation that gave her skin a bright sheen, creating a radiant and luminous complexion. The choice of a shimmering foundation not only highlighted her natural beauty but also added a touch of glamour to the overall appearance. The flawless makeup application showcased Katrina's commitment to achieving a polished and well-put-together look for the event, emphasizing her facial features without overpowering the elegance of her attire.
Katrina Kaif's attention to both her hairstyle and makeup further underscored her commitment to presenting a cohesive and impactful appearance. The simplicity and effortlessness of her chosen haircut, paired with the flawless makeup application, contributed to an overall aesthetic that was both chic and timeless. As she continues to captivate with her fashion choices, Katrina Kaif's ability to enhance her natural beauty through thoughtful styling and makeup application remains a key element of her enduring appeal in the world of Bollywood fashion.