Tracing Pashmina Roshan's Oh-So-Glam Looks that Powerfully Scream Party Wear!
Pashmina made quite the fashion statement with her vacation outfit in Dubai. The sleeveless metallic silver and grey gown with a thigh-high slit must have been a show-stopper, exuding elegance and glamour.
Metallic dresses have a way of catching the light and adding a touch of luxury to any outfit, making it a perfect choice for a special vacation occasion. The silver and grey combination likely added a sophisticated and modern touch to the gown, making it stand out from the crowd.
The thigh-high slit is a bold and daring detail that can elevate the overall look, giving it a touch of sensuality and allure. It also allows for a playful movement and adds a dose of drama to the outfit.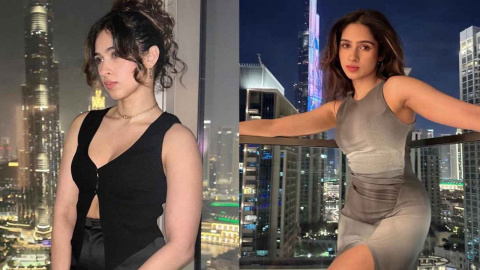 Pairing the gown with subtle makeup and a pretty pink lip sounds like a smart choice, as it would keep the focus on the gown and let it be the center of attention. Subtle makeup can enhance natural features without overpowering the overall look, creating a balanced and elegant appearance.
Pashmina Roshan's choice of a beautifully serene white gown with a supremely seductive thigh-high slit sounds like a stunning and captivating ensemble. White gowns have a timeless and elegant appeal, often associated with purity and grace, making them a popular choice for special occasions and events.
The thigh-high slit adds a touch of sensuality and allure to the outfit, creating a bold and daring look. Thigh-high slits have the power to elongate the legs and add a sense of drama to the gown, making it an eye-catching and statement-making feature.
The combination of the serene white color and the seductive thigh-high slit would create a striking contrast, balancing elegance with a touch of daring and playfulness.
Pashmina's choice of this gown suggests that she embraces a confident and stylish approach to fashion, making her stand out in any event she attends.
Such a gown would be perfect for a red carpet event, a glamorous party, or any occasion where Pashmina wanted to make a statement and turn heads with her fashion choice.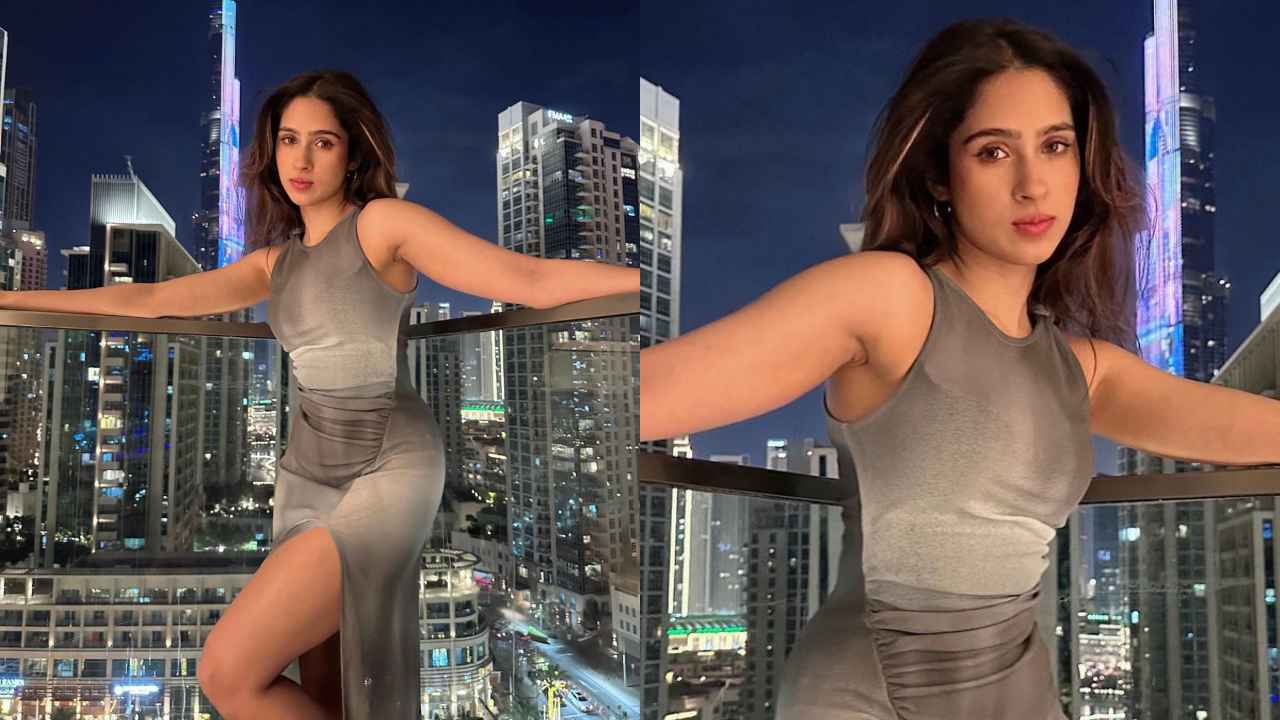 Black is indeed one of the most charming and timeless colors in fashion. It exudes elegance, sophistication, and versatility, making it suitable for a wide range of occasions.
Pashmina Roshan's choice of an amazing co-ord set in black sounds like a perfect fashion idea for fun parties. Co-ord sets, which consist of matching tops and bottoms, offer a stylish and put-together look without much effort.
The black color of the co-ord set adds a sense of allure and chicness, making it a classic choice for parties and social gatherings. Whether it's a night out with friends, a celebration, or a special event, a black co-ord set can easily elevate the fashion quotient and make a statement.
The beauty of a black co-ord set lies in its versatility. It can be paired with different styles of bags, from clutches to sling bags or even statement handbags, depending on the occasion and personal preferences. This allows for creative expression and customization of the overall look.
Pashmina's choice of the black co-ord set suggests that she appreciates the elegance and timelessness of this color and understands its impact on making a stylish impression.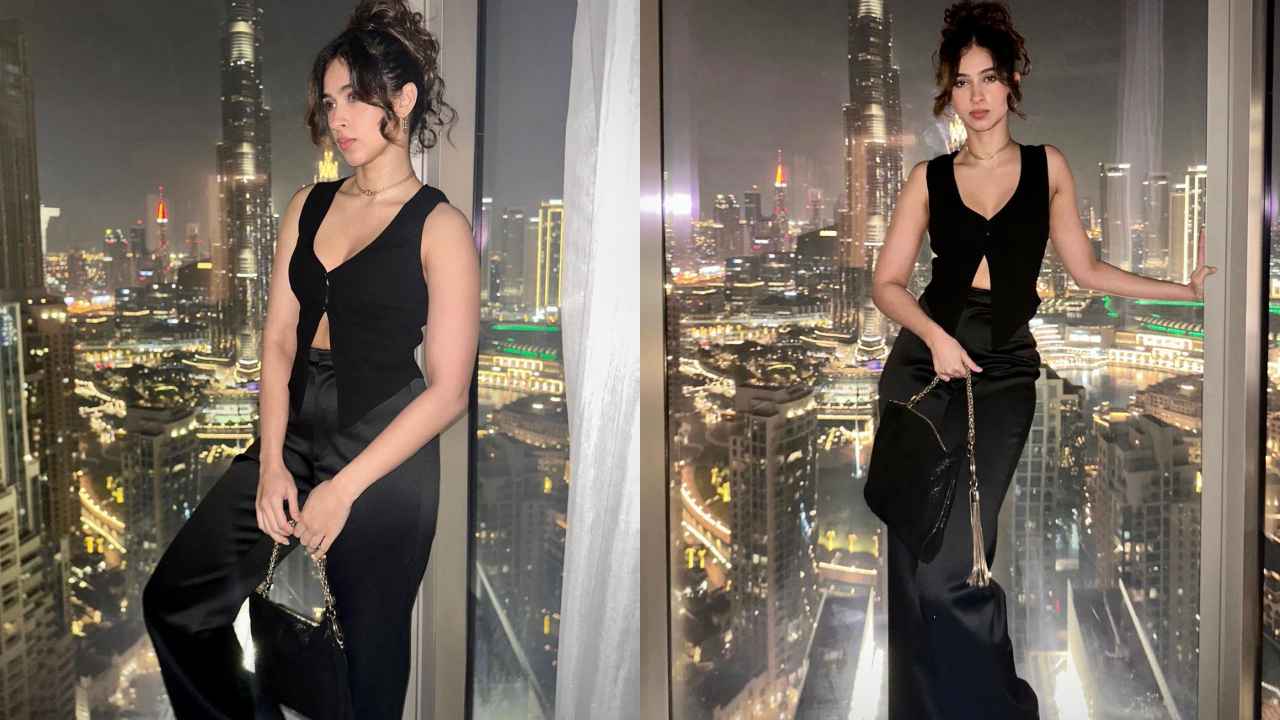 Long gowns are indeed a fantastic choice for dressing up for parties, as they offer a touch of glamour and elegance to any occasion. The free-flowing silhouettes of long gowns add a sense of grace and sophistication, making them a go-to option for many fashion-conscious individuals.
Pashmina Roshan's black gown with a metallic leather look from Gaby Charbachy's collection sounds like a show-stopping and fashion-forward choice. The black color exudes timeless charm, while the metallic leather look adds a modern and edgy touch, making the gown stand out in a crowd.
The thigh-high slit adds a seductive and bold element to the gown, creating a captivating and statement-making look. Thigh-high slits are known for their ability to add drama and allure to an outfit, making them a popular feature in evening wear.
Such a gown would be perfect for fashionable parties and events, where making a stylish impression is a top priority. The combination of the metallic leather look, black color, and thigh-high slit would undoubtedly turn heads and draw attention, making Pashmina Roshan the center of admiration.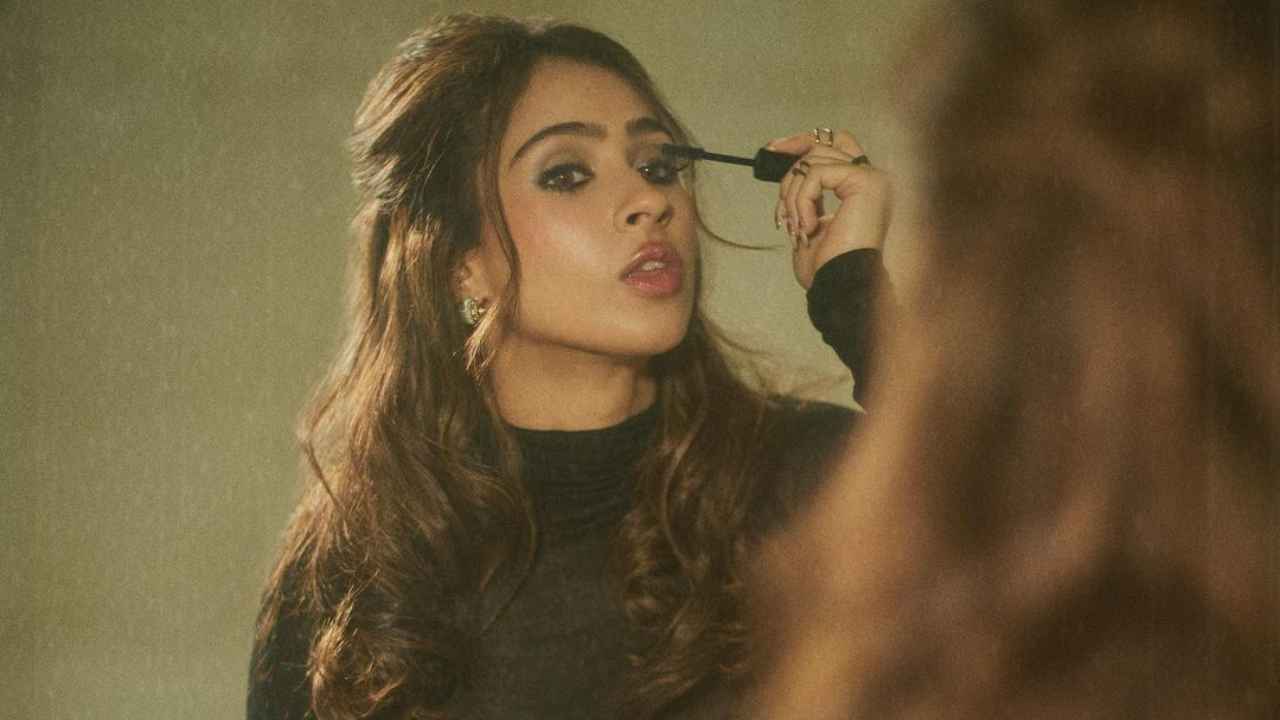 The gown's design from Gaby Charbachy's collection likely showcases exquisite craftsmanship and attention to detail, further elevating the overall look and creating a memorable fashion moment.
Indeed, sheer fabric can add a touch of elegance and sensuality to any outfit, making it a versatile choice for various events. Pashmina Roshan's outfit, featuring a black, figure-hugging top from Beeglee and a skirt from Flirtatious India, demonstrates how sheer fabric can create a striking and captivating look.
The black color of the outfit adds a timeless and sophisticated charm, while the figure-hugging design enhances Pashmina's silhouette, creating a flattering and alluring appearance.
Sheer fabric, when used tastefully, allows for a subtle display of skin, adding a touch of intrigue and glamour to the outfit without being too revealing.
By opting for minimal accessories, Pashmina allows her outfit to take the spotlight. This approach is a smart choice, as it keeps the focus on the sheer fabric and the unique design of the top and skirt.
The combination of the figure-hugging top and the flowing skirt creates a beautiful contrast in textures, making the ensemble visually interesting and eye-catching.
Pashmina's decision to keep the accessories minimal also allows her to maintain a sleek and polished appearance, highlighting the sheer fabric's sophistication.
Pashmina Roshan's glamorous party wear looks are indeed an inspiration for fashion enthusiasts worldwide. Her impeccable fashion sense and effortless style have solidified her status as a true style icon in the world of fashion and entertainment.
Pashmina's ability to effortlessly carry any outfit, whether it's a chic co-ord set, a seductive gown with a thigh-high slit, a figure-hugging sheer ensemble, or a sophisticated metallic leather look, showcases her versatility and confidence in experimenting with diverse styles.
As a fashion icon, she has a keen eye for detail and a deep understanding of fashion trends, which is evident in her choice of designer ensembles from well-known collections.
Her party wear looks are known for their glamour, sophistication, and elegance, and she knows how to make a statement while attending various events and parties.
Fashion enthusiasts around the world look up to Pashmina Roshan for her impeccable style and fashion-forward approach. Her ability to consistently deliver stunning and memorable looks on different occasions has made her a prominent figure in the fashion industry.
Pashmina's influence extends beyond Bollywood, making her a global fashion inspiration for those seeking to elevate their style and make bold fashion statements.
Pashmina Roshan's fashion choices, ranging from classic black gowns to playful prints and chic cocktail dresses, reflect her versatile and captivating style. Her ability to effortlessly carry different looks with grace and confidence has dazzled the fashion world, establishing her as a trendsetter and a style icon.
Her classic black gowns exude elegance and timeless charm, while her playful prints showcase her ability to embrace bold and eye-catching patterns. Whether it's chic cocktail dresses or glamorous ensembles, Pashmina has proven her fashion prowess and understanding of diverse styles.
As she continues to make her mark on the fashion industry, fashion enthusiasts around the world eagerly await her future party-wear looks. Pashmina's evolving style journey is an exciting one to watch, as she consistently surprises and delights with her unique and captivating choices.
Her influence extends beyond the Bollywood fashion scene, inspiring fashion enthusiasts globally to experiment with their style and embrace their individuality.
Pashmina's ability to create stunning party-wear looks reflects her deep passion for fashion and her innate sense of style. As she continues to grace us with her fashion-forward choices, she will undoubtedly leave a lasting impact on the fashion world and remain a source of inspiration for fashion enthusiasts and aspiring style icons.
Overall, Pashmina Roshan's fashion journey is a testament to her fashion flair and her ability to make bold and captivating style statements. The anticipation for her future party-wear looks is high, as she continues to dazzle and enchant the fashion industry with her unique and captivating style.