Janhvi Kapoor Looks Like a Modern-Day Queen in Holographic Custom Vintage Gown!
Janhvi Kapoor, the rising star of Bollywood, has earned widespread admiration not only for her acting prowess but also for her impeccable fashion sense. From the moment she stepped into the limelight, Janhvi has been making waves with her distinctive style choices and sartorial elegance.
Janhvi's fashion journey has been marked by her fearlessness in pushing boundaries and her eagerness to experiment with diverse styles. From traditional Indian attire to contemporary Western wear, she effortlessly embraces various looks, infusing each with her unique charm and elegance. Her ability to seamlessly switch between different fashion genres showcases her versatility and confidence.
With each public appearance, Janhvi Kapoor sets new trends and sets herself apart as a trendsetter. Whether she's attending red carpet events, fashion shows, or promotional activities, she captivates her fans and followers with her fashion-forward choices. Her innate sense of style and fashion acumen make her a favorite among designers and fashion enthusiasts.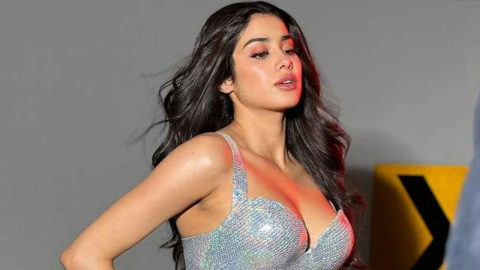 Janhvi's fashion choices are often characterized by their youthful exuberance, yet they maintain a touch of sophistication and elegance. Her attention to detail in accessorizing and styling further enhances the impact of her outfits, creating a captivating overall look.
As an influencer and role model for many, Janhvi Kapoor's fashion journey goes beyond just clothes; it represents the journey of self-expression and empowerment. Her ability to embrace her individuality and experiment with different styles inspires her fans to do the same.
In the world of Bollywood and fashion, Janhvi Kapoor's rapid rise as a style icon is a testament to her talent, grace, and innate sense of style. As she continues to make bold fashion choices and set new trends, there's no doubt that she will remain an influential figure in the industry, leaving her fans and followers forever mesmerized by her impeccable fashion sense.
Janhvi Kapoor's recent appearance at the screening of her upcoming movie, "Bawaal," undoubtedly left a lasting impression with her choice of attire. The talented actress opted for a custom vintage gown designed by the renowned fashion maestro, Marc Bouwer. The gown showcased a perfect blend of classic elegance and contemporary allure, perfectly complementing Kapoor's distinctive style.
The custom creation by Marc Bouwer exuded timeless glamour, featuring intricate details and impeccable craftsmanship. The gown's design must have been a sight to behold, tailored to accentuate Kapoor's graceful figure and radiate an aura of sophistication.
As Janhvi Kapoor stepped onto the red carpet, she was a vision of ethereal beauty, making her presence felt among the fashion elite. The exquisite vintage gown exuded a sense of grandeur and luxury, perfectly befitting the occasion.
The choice of attire served as a canvas for Kapoor's elegant persona, showcasing her impeccable fashion sense and individuality. The gown's design, curated by Marc Bouwer, captured the essence of Janhvi's style, making her shine bright like a diamond amidst the glitz and glamour of the event.
The intricate details and timeless appeal of the gown must have undoubtedly garnered attention and admiration from fashion enthusiasts and critics alike. Janhvi Kapoor's fashion choices consistently resonate with her fans, and this outfit was no exception, leaving them in awe of her elegance and poise.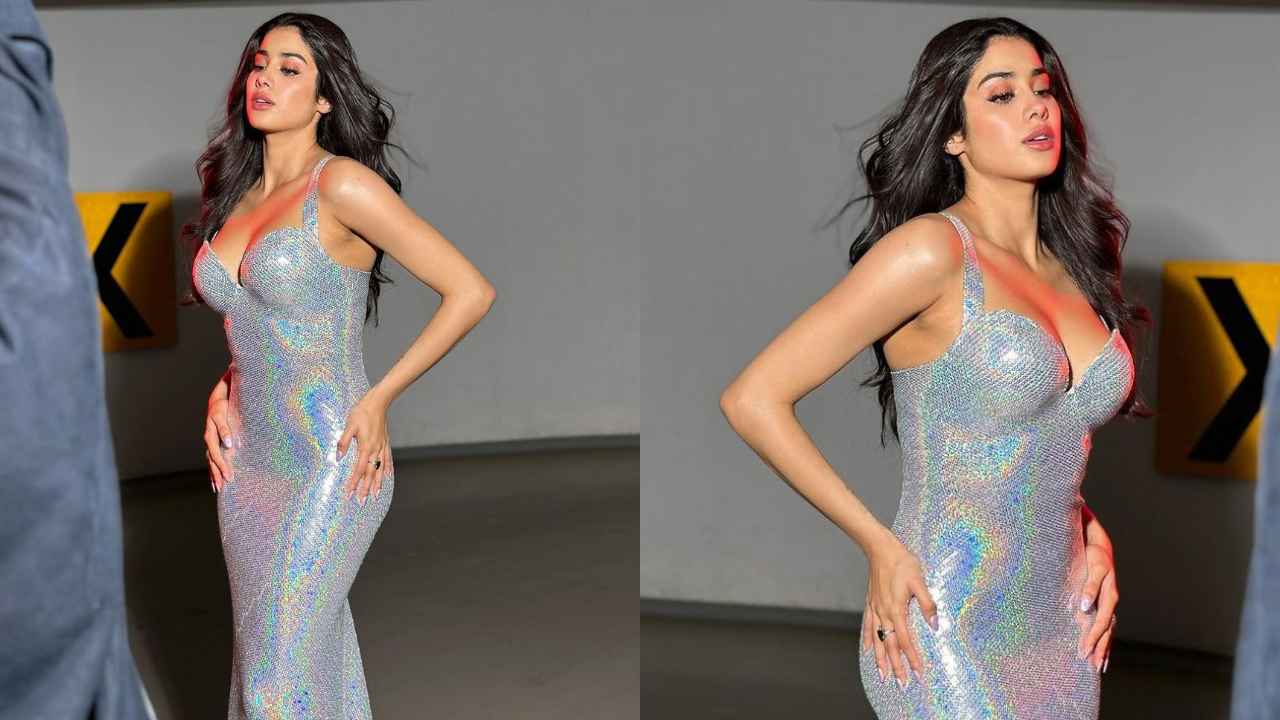 With her appearance at the "Bawaal" screening, Janhvi Kapoor once again proved why she is considered a true fashion icon in the industry. As she continues to make bold and stylish fashion statements, her presence on the red carpet and beyond will undoubtedly be eagerly anticipated, setting new trends and leaving us in awe of her impeccable fashion sense.
Janhvi Kapoor's appearance at the premiere of her upcoming movie was nothing short of mesmerizing, and her choice of attire undoubtedly stole the spotlight. The custom vintage gown by the renowned designer Marc Bouwer showcased a perfect amalgamation of classic charm and contemporary allure.
The holographic silver gown was a true showstopper, reflecting light in a captivating manner and making Kapoor shine like a star on the red carpet. The gown's train, elegantly sweeping the floor, added a touch of regal elegance to her ensemble, creating a stunning visual impact.
The figure-hugging silhouette with a plunging neckline accentuated Kapoor's graceful frame, exuding confidence and poise. The gown's design must have turned heads as it perfectly enhanced her natural beauty, making her stand out among the crowd.
The choice of vintage fabric was a stroke of genius, adding a sense of nostalgic charm to the outfit. It also ensured that Kapoor's look was one-of-a-kind, setting her apart as a true fashion icon with a distinctive style.
As Janhvi Kapoor graced the premiere in this exquisite gown, she undoubtedly left a lasting impression on the fashion fraternity and her fans. Her impeccable fashion sense and ability to carry herself with grace and elegance continue to solidify her position as one of Bollywood's most stylish and talented actresses.
Janhvi Kapoor's fashion choices are always carefully curated, and her appearance at the movie premiere was no exception. By choosing not to wear any accessories, she allowed the stunning custom vintage gown by Marc Bouwer to be the sole focus of attention. This decision emphasized the gown's captivating holographic silver color, its figure-hugging silhouette, and the elegant train that gracefully swept the floor.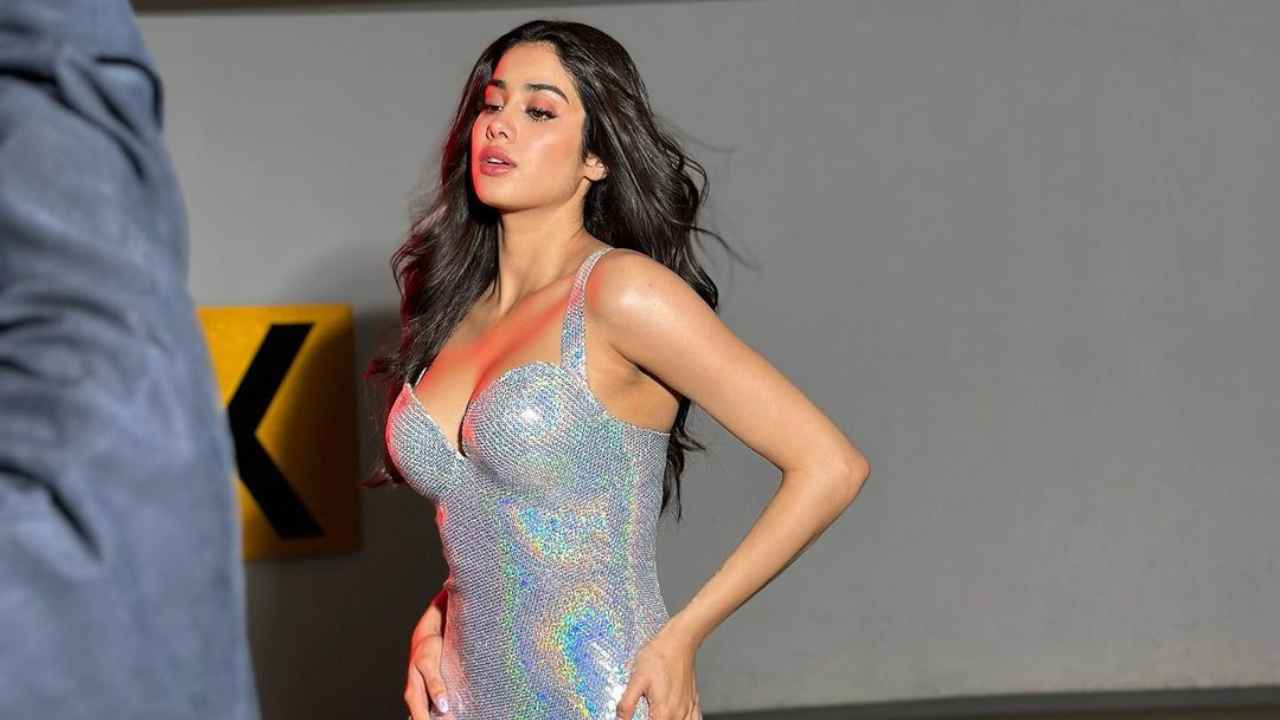 Her hairstyling perfectly complemented the overall look. The loose waves cascading down her shoulder exuded a sense of effortless elegance, adding a touch of softness and femininity to the ensemble. The simple and chic hairdo allowed the gown to take center stage and highlighted Kapoor's radiant beauty.
In terms of makeup, Janhvi Kapoor opted for a minimalistic approach, further enhancing the overall sophistication of the outfit. The gorgeous mascara emphasized her striking eyes, while the blush added a subtle flush of color to her cheeks, enhancing her natural glow. The pink eyeshadow complemented the holographic silver of the gown, adding a subtle pop of color to her look. The perfect pink lipstick completed the ensemble, lending a touch of understated glamour to her lips.
With this well-thought-out combination of hairstyling and makeup, Janhvi Kapoor showcased her understanding of fashion as an art form. Her minimalistic approach allowed the custom gown to be the standout element, while her makeup accentuated her natural beauty, creating a harmonious and enchanting overall look.
Janhvi Kapoor's fashion choices always showcase her impeccable understanding of style and her ability to enhance her natural beauty. The color palette of the holographic silver gown was undoubtedly a brilliant choice, as it complemented her radiant complexion and added a mesmerizing sparkle to her overall look. The subtle yet striking shade of the gown perfectly suited her skin tone, making her shine even brighter under the event's lights.
Her decision to opt for minimalistic jewelry and a sleek hairstyle allowed the gown to take center stage and emphasized her innate sense of fashion. Kapoor's styling choices demonstrated her confidence in letting the outfit speak for itself, showcasing her understanding of fashion as an art form.
As Janhvi Kapoor's fashion journey continues to evolve, we can anticipate more stunning and awe-inspiring looks from her. Her ability to shine like a diamond in any ensemble is a testament to her talent and innate fashion sense. With each public appearance, she leaves a lasting impact and remains a true inspiration for fashion enthusiasts worldwide.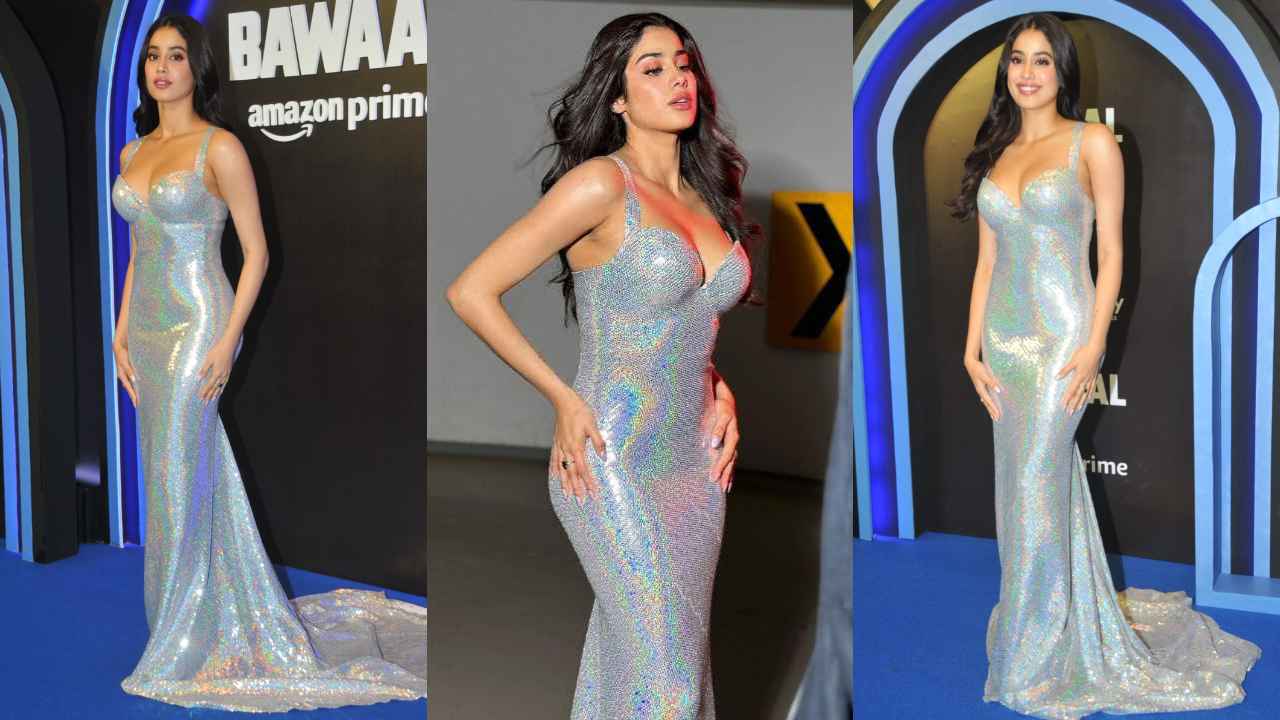 Janhvi Kapoor's influence on the fashion landscape is undeniable, and her presence as a style icon continues to grow. Her passion for fashion and her willingness to experiment with different styles make her a beloved figure in the industry. As she continues to push boundaries and make bold fashion statements, there's no doubt that Janhvi Kapoor will remain at the forefront of the fashion scene, inspiring countless individuals with her impeccable style and timeless elegance.