Mouni Roy raises the temperature in a multi-colored flower-laden gown by Rocky Star.
Mouni Roy's fashion sense is a captivating blend of elegance, sophistication, and trend-setting style. With each appearance, she manages to effortlessly capture attention and leave a lasting impression on fashion enthusiasts.
Known for her impeccable sartorial choices, Mouni exudes a timeless charm that transcends current fashion trends. Whether it's traditional Indian wear or contemporary Western outfits, she effortlessly carries herself with grace and poise.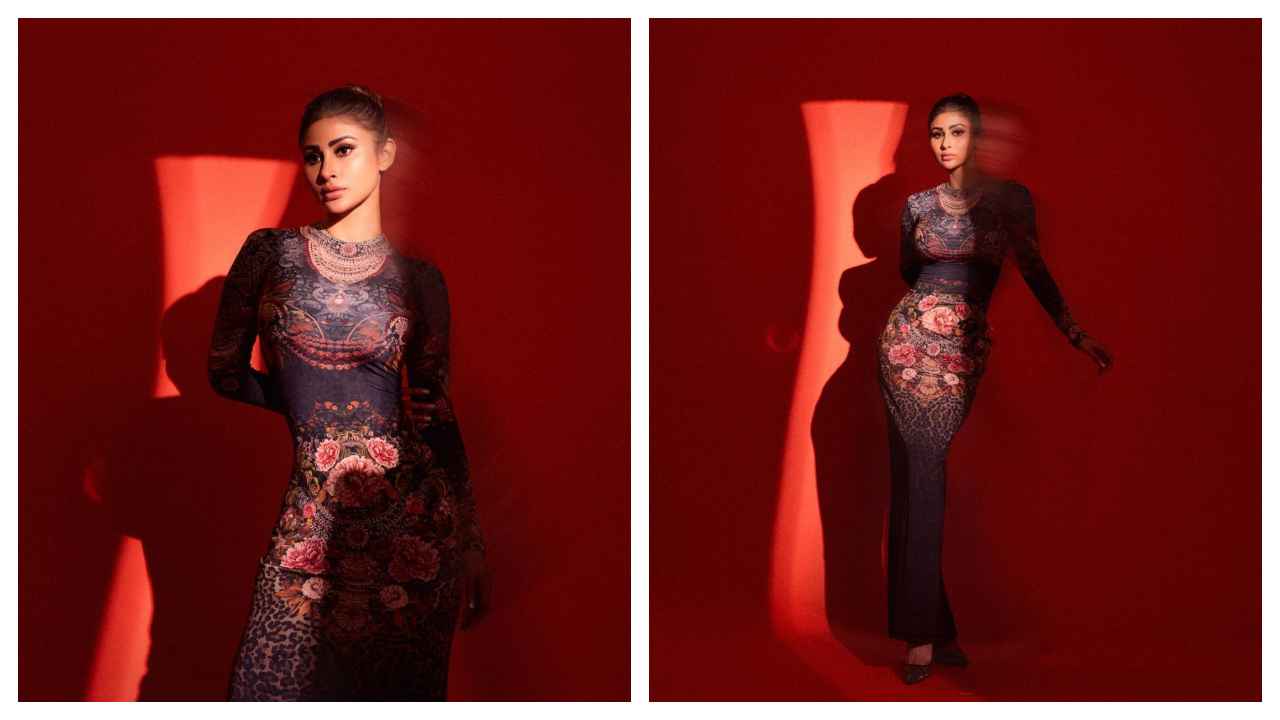 Mouni has an innate ability to experiment with different silhouettes, colors, and patterns, showcasing her versatility and confidence in embracing diverse fashion styles. From ethereal lehengas and intricately embroidered sarees to chic jumpsuits and red-carpet gowns, she effortlessly pulls off every look with panache.
What sets Mouni apart is her attention to detail. She pays careful attention to accessorizing, ensuring that every element of her ensemble complements and enhances the overall look. Her choices of statement jewelry, elegant handbags, and stylish footwear complete the picture and add an extra touch of sophistication to her outfits.
Mouni Roy's fashion sense also reflects her ability to blend tradition with modernity. She often incorporates traditional Indian elements into contemporary ensembles, striking the perfect balance between cultural heritage and contemporary fashion sensibilities.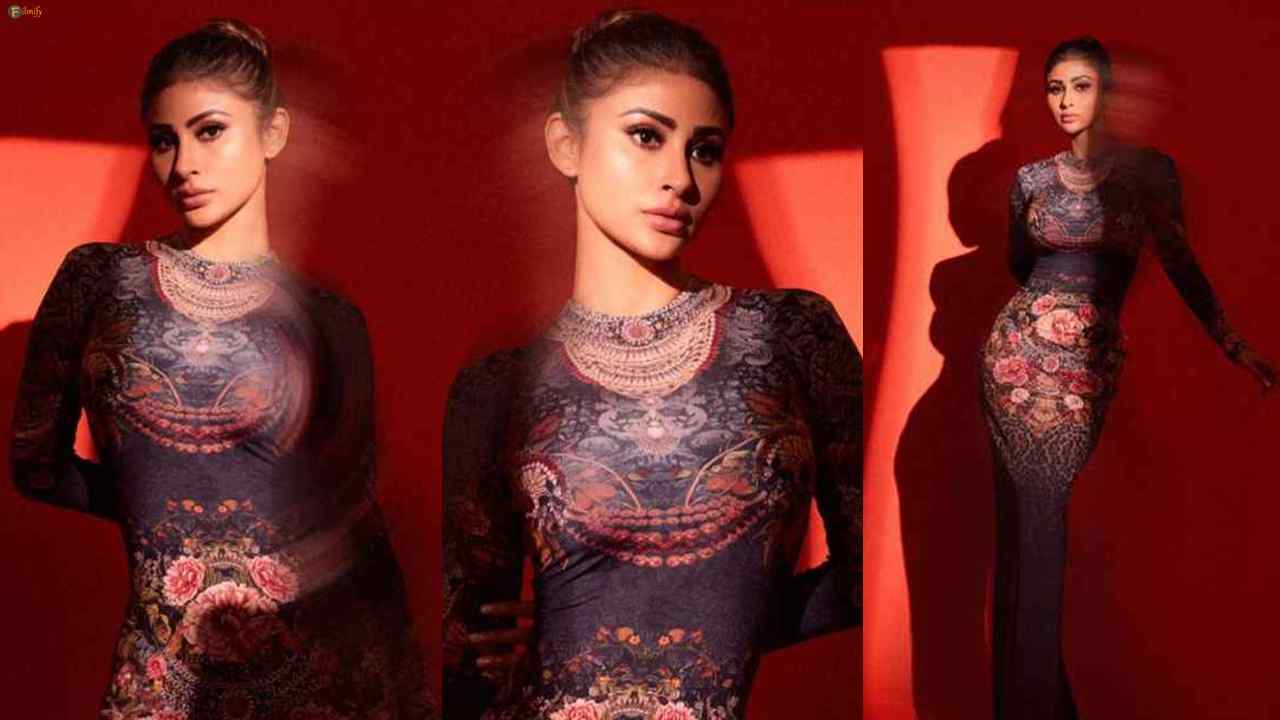 Beyond her fashion choices, Mouni Roy's confidence and radiant personality shine through, making her an inspiration for fashion enthusiasts worldwide. Her ability to carry herself with grace, coupled with her bold fashion experimentation, makes her a true trendsetter.
Whether she's gracing the red carpet or stepping out for a casual outing, Mouni Roy's fashion sense never fails to make a statement. She continues to evolve and push boundaries, captivating the fashion world with her unique style and leaving an indelible mark in the realm of fashion and style.
Mouni Roy, the talented and stylish actress, continues to captivate her social media followers with her impeccable fashion choices. Recently, she set new fashion goals by donning a mesmerizing multi-colored gown designed by Rocky Star. The gown, adorned with beautiful flowers, showcased Mouni Roy's ability to effortlessly exude glamour, sophistication, and a touch of playfulness.
Rocky Star is a renowned fashion designer known for his innovative and unique designs. By choosing one of his creations, Mouni Roy not only showcased her fashion-forwardness but also supported the talent and artistry of the Indian fashion industry.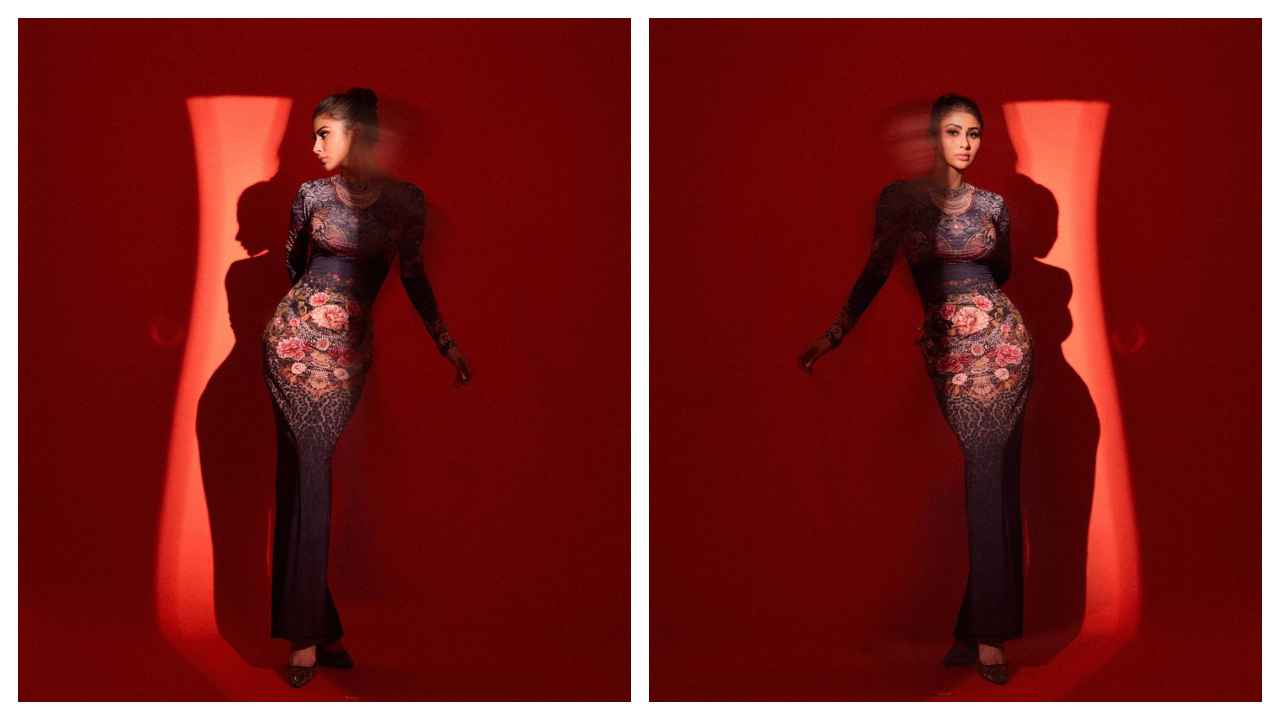 The multi-colored gown worn by Mouni Roy not only caught everyone's attention but also raised the temperature with its vibrant hues. The choice of floral embellishments added a touch of femininity and elegance to the ensemble, making Mouni Roy appear like a true fashion diva.
Mouni Roy's style statements have always been a topic of discussion among her fans and fashion enthusiasts. Her ability to effortlessly carry any outfit with grace and confidence has made her a trendsetter in the entertainment industry. Whether it's traditional Indian attire or contemporary western outfits, Mouni Roy knows how to make a statement and leave a lasting impression.
With her stunning appearance in the Rocky Star gown, Mouni Roy once again proved her fashion prowess, leaving her followers and admirers in awe. Her fashion choices continue to inspire and set new trends, making her a true fashion icon in the industry.
Mouni's gown, designed by Rocky Star, captivated the attention of onlookers with its resplendent beauty. The gown showcased a remarkable combination of colors, skillfully blended together to create a harmonious visual spectacle. The intricate placement of flowers added a touch of elegance and femininity to the ensemble, while the inclusion of leopard print injected a bold and daring element.
The gown radiated a fresh and vibrant aura, perfectly reflecting Mouni's lively and effervescent personality. Its unique design and meticulous craftsmanship demonstrated the expertise of Rocky Star, a renowned designer known for his ability to create exquisite and eye-catching outfits.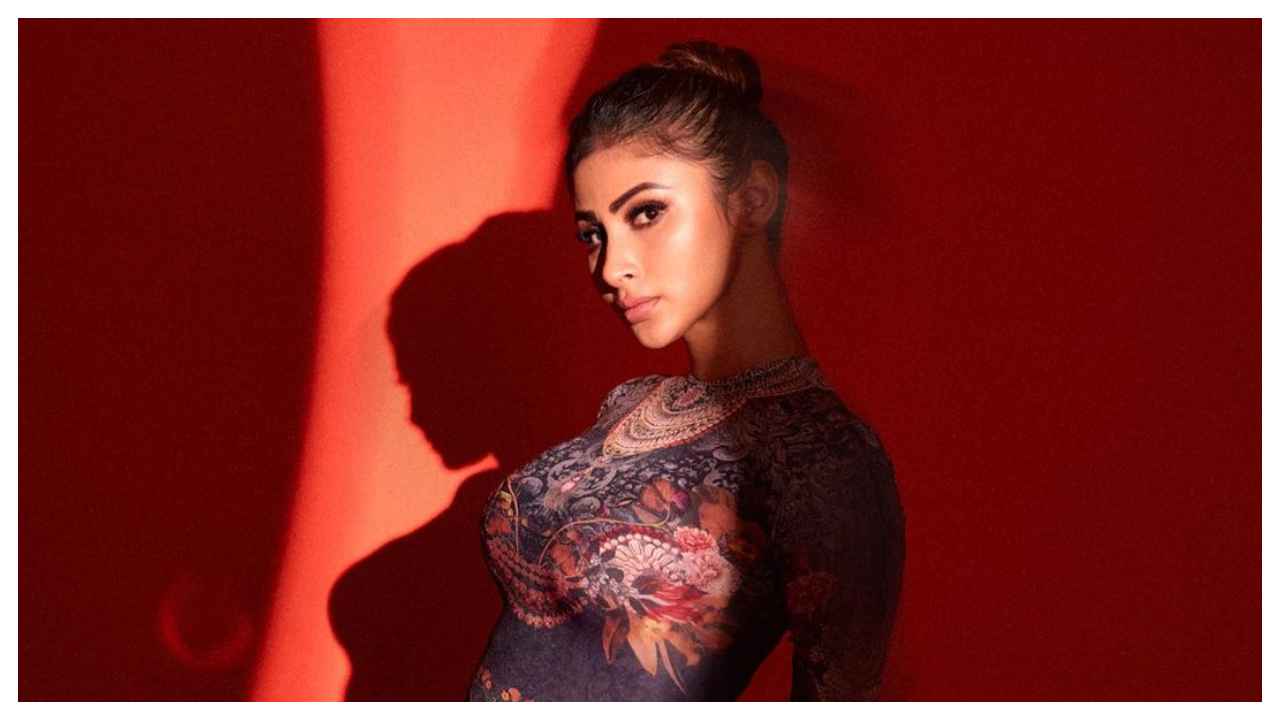 As Mouni showcased the gown through her pictures, it undoubtedly became the center of attention, leaving observers in awe of its beauty and the actress' impeccable sense of style.
Indeed, the color palette of Mouni's gown was a standout feature that contributed to its overall visual impact. The clever combination of bold and vibrant hues such as reds, pinks, blues, and yellows created a striking and captivating effect.
The inclusion of reds added a sense of passion and energy to the gown, while the pinks infused a touch of femininity and playfulness. The blues brought a serene and tranquil vibe, while the yellows introduced a cheerful and sunny element.
Together, these colors formed a harmonious blend that created a visually stimulating and joyful experience for onlookers. The vibrant hues evoked warmth, liveliness, and a sense of celebration, perfectly aligning with the atmosphere of the occasion and reflecting Mouni's vibrant personality.
The clever use of color in the gown added depth, dimension, and a captivating visual appeal, making it a true feast for the eyes and leaving a lasting impression on those who beheld it.
Indeed, the infusion of multiple colors in Mouni Roy's gown symbolized her ability to shine brightly in any setting. It showcased her confidence and willingness to make a bold statement through her fashion choices.
If you're seeking to raise the temperature and make a statement on your next evening out, drawing inspiration from Mouni Roy's style can be a great idea. Opt for an outfit that speaks volumes and reflects your own unique personality.
Consider choosing a vibrant color palette that exudes energy and captures attention. Experiment with bold combinations such as reds, pinks, blues, or yellows, or explore other striking color combinations that resonate with your personal taste.
Additionally, look for outfits that feature intricate details, such as floral embellishments or unique prints, to add an element of visual interest. Focus on finding garments that fit well and flatter your figure, enhancing your confidence and ensuring that you feel comfortable throughout the evening.
Remember, the key is to choose an outfit that resonates with your individual style and makes you feel empowered. Embrace your own ability to shine brightly and make a statement, just like Mouni Roy did with her resplendent gown.