Sobhita Dhulipala Empowers the Barbiecore Era!
Sobhita Dhulipala is indeed a talented Indian actress who is admired for her acting prowess and impeccable style.
Her recent showcase of love for the world of Barbie while promoting her series, Made In Heaven, demonstrates her ability to blend elegance with boldness. To draw inspiration from her style for a chic and fashionable look, consider the following tips.
Playful Color Palette: Embrace a playful color palette inspired by Barbie's world. Think pastel shades like pink, lilac, mint green, or baby blue. These colors exude a fun and youthful vibe, perfect for a date night with a touch of elegance.
Statement Ruffles and Frills: Sobhita Dhulipala often wears outfits with statement ruffles and frills that add drama and flair to her look. Incorporate a ruffled dress, top, or skirt to add a touch of playful femininity to your outfit.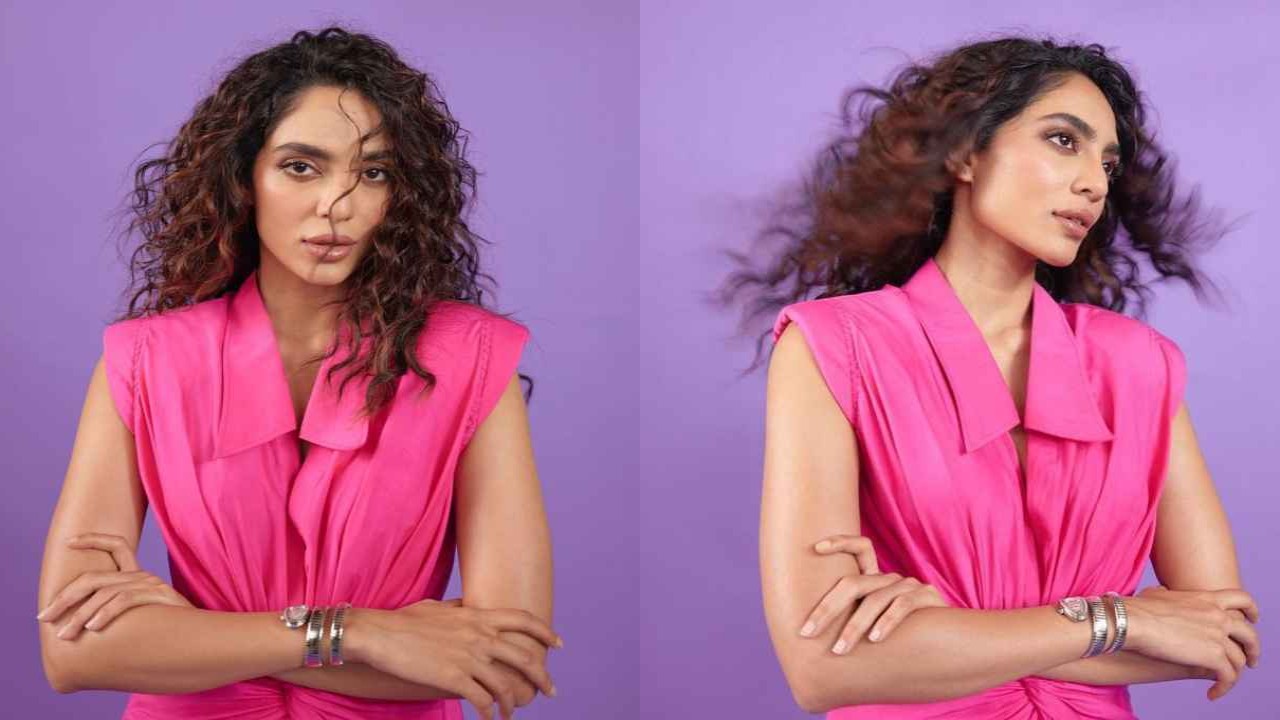 Tailored Separates: Dhulipala also embraces tailored separates with clean lines and sharp cuts. Consider a tailored blazer or a pair of high-waisted trousers paired with a blouse for a sophisticated and chic ensemble.
Bold Prints: Experiment with bold prints like polka dots, stripes, or floral patterns to add a pop of excitement to your outfit. Keep the rest of your look simple to let the print take center stage.
Barbie-Inspired Accessories: Take inspiration from Barbie's iconic accessories and incorporate them into your outfit. Opt for statement earrings, colorful belts, or playful handbags that add a touch of whimsy to your overall look.
Confidence in High Heels: Sobhita Dhulipala often rocks high heels that accentuate her long legs and add a touch of elegance to her style. Choose a pair of heels that you feel comfortable in and that complements your outfit.
Effortless Hair and Makeup: Dhulipala's beauty looks are often natural and effortless. Embrace a fresh-faced makeup look with a rosy blush and a hint of lip color.
For your hair, consider loose waves or a sleek ponytail that complements your outfit.
Embrace Individuality: Like Sobhita Dhulipala, embrace your individuality and mix and match different elements to create a look that represents your unique style and personality.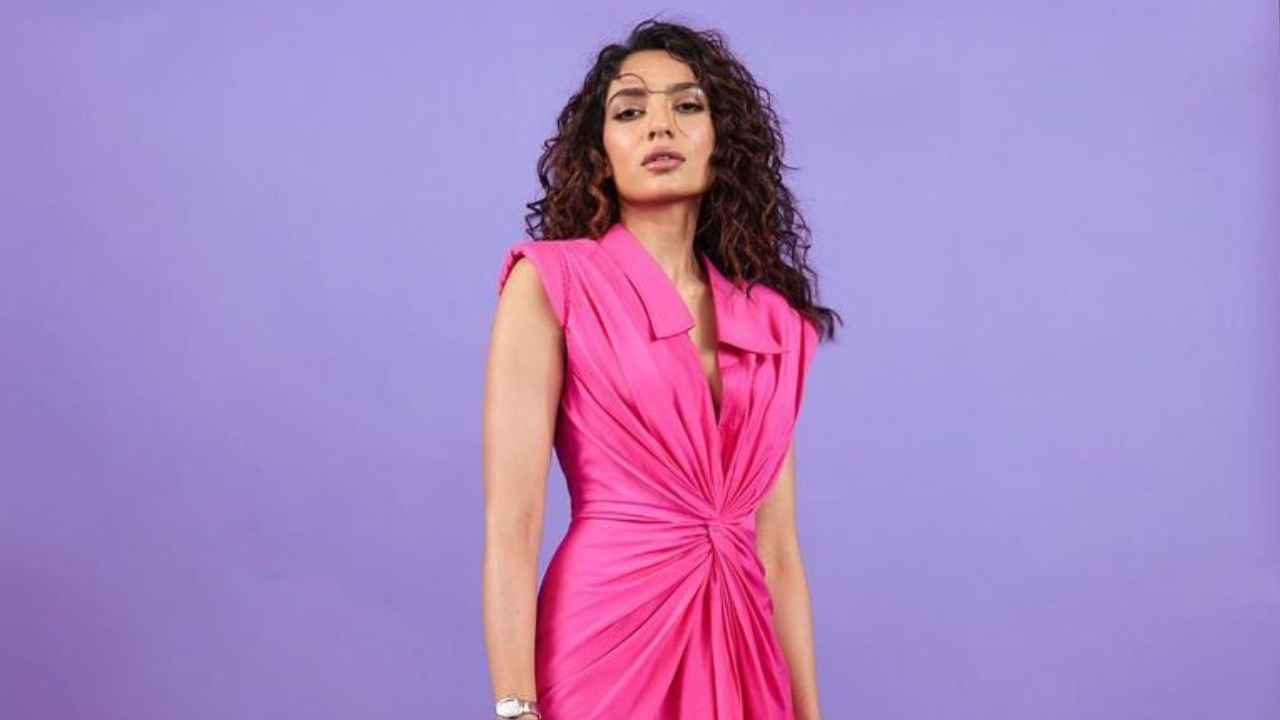 Barbiecore is indeed a fascinating fashion movement that celebrates the iconic Barbie doll's exaggerated femininity, vibrant colors, and playful aesthetics.
Rooted in 90s nostalgia, this trend has seen a resurgence and captivated fashion enthusiasts worldwide.
Sobhita Dhulipala's recent choice of a deconstructed maxi dress aligns perfectly with the essence of Barbiecore, as it beautifully blends elements of classic elegance with a touch of avant-garde.
To embrace Barbiecore and draw inspiration from Sobhita Dhulipala's fashion choices, consider the following tips:
Exaggerated Silhouettes: Barbiecore is all about embracing exaggerated and playful silhouettes.
Look for maxi dresses, skirts, or tops with voluminous ruffles, dramatic flares, or puffed sleeves. These bold shapes add a sense of drama and whimsy to your outfit.
Vibrant Colors: Channel Barbie's love for vibrant colors by opting for bright hues like hot pink, electric blue, sunny yellow, or pastel shades. Don't be afraid to mix and match colors for a playful and eye-catching look.
Mix Classic with Avant-garde: Like Sobhita Dhulipala's deconstructed maxi dress, try incorporating elements of classic elegance with avant-garde details.
This blending of styles creates a unique and contemporary look that is both fashionable and daring.
Fun Prints and Patterns: Barbiecore embraces fun prints and patterns. Look for pieces with polka dots, gingham, or quirky graphics that add a sense of playfulness to your ensemble.
Accessories with Flair: Elevate your look with accessories that have flair. Choose bold statement jewelry, oversized sunglasses, and playful handbags that complement the Barbiecore vibe.
Platform Heels: Barbie's iconic high heels are a staple of this trend. Opt for platform heels or shoes with chunky heels to add height and a touch of nostalgia to your outfit.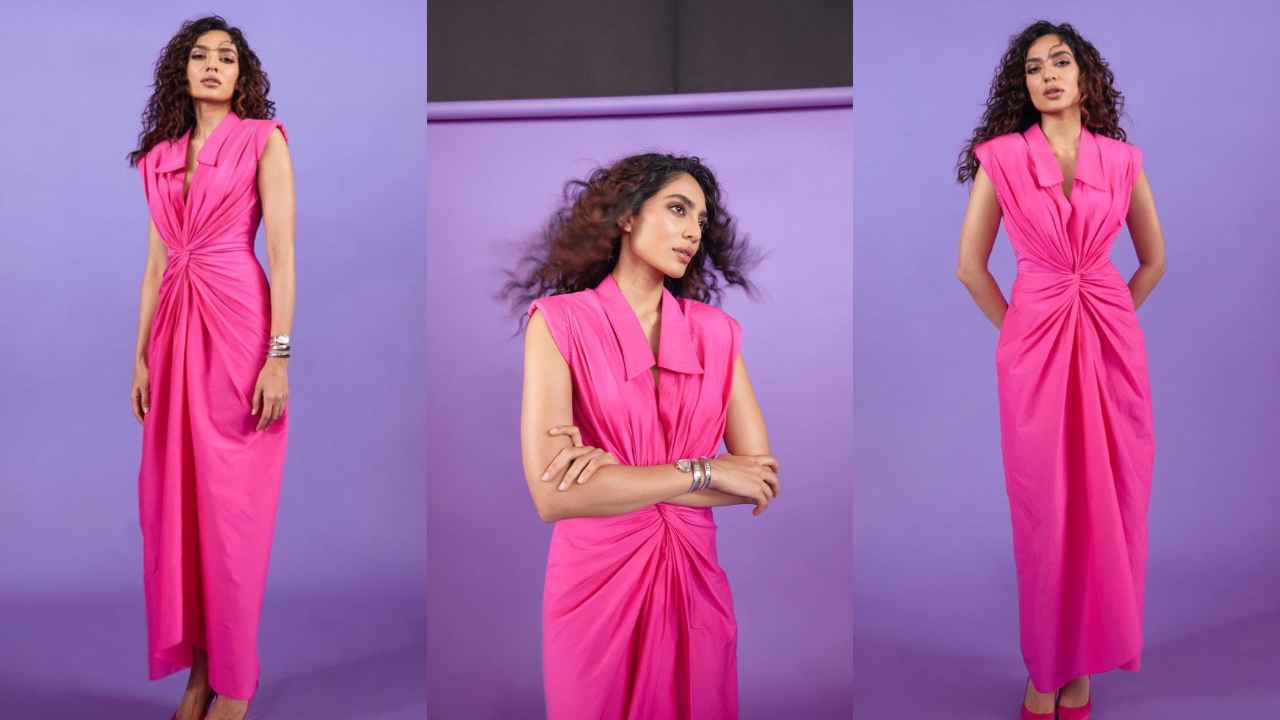 Confident Hair and Makeup: Barbiecore is all about embracing confidence and self-expression. Experiment with bold makeup looks, such as colorful eyeshadow or a bright lip color.
For your hair, consider fun updos, braids, or voluminous curls that complement your overall style.
Embrace Individuality: As with any fashion trend, make Barbiecore your own by embracing your individuality and mixing different elements to create a look that represents your unique style and personality.
Barbiecore is a fashion movement that allows you to have fun with your style and celebrate femininity in a bold and empowering way.
By incorporating elements of classic elegance and avant-garde details, inspired by Sobhita Dhulipala's fashion choices, you can create a striking and captivating Barbiecore look for your date night or any special occasion.
The actress from The Night Manager 2 made a bold and stunning fashion choice by wearing an all-pink outfit, featuring the Deconstructed Tehmet Dress from Rishta by Arjun Saluja.
The description of the dress with ruched details on the front side, a deep V-neck, and a well-placed collar indicates an eye-catching and fashionable design.
The use of the color pink, especially in an all-pink ensemble, can exude a sense of femininity, playfulness, and confidence.
The deep V-neck adds a touch of sensuality to the outfit, while the ruched details on the front side might add texture and visual interest to the dress.
The well-placed collar likely elevates the overall look, adding a touch of elegance and structure.
The fact that the dress is from Rishta by Arjun Saluja suggests that it's a designer piece, which could explain its price of Rs. 28,900.
Designer dresses often come with unique and intricate craftsmanship, high-quality materials, and exclusive designs, making them coveted pieces in the fashion world.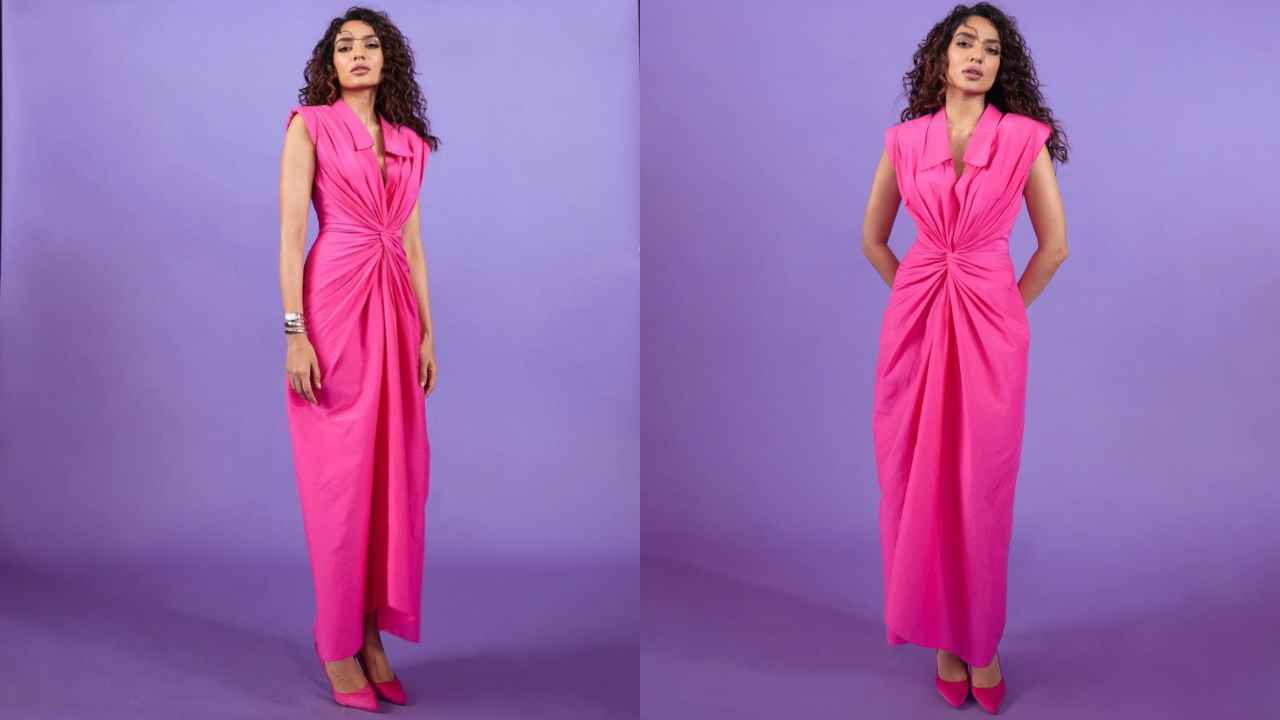 For fans of the actress or anyone looking to recreate a similar stunning look, the Deconstructed Tehmet Dress from Rishta by Arjun Saluja could be an excellent choice for a special event or a date night.
It's important to note that fashion is about individual expression, and one can always add personal touches and accessories to make the outfit their own.
Matching candy-pink heels sound like the perfect choice to complement the all-pink outfit and elevate the actress's entire look.
Coordinating the shoes with the dress creates a cohesive and polished appearance, enhancing the overall impact of the outfit.
Candy-pink heels not only add a pop of color but also tie the entire ensemble together, creating a harmonious and stylish appearance.
The color coordination between the dress and the shoes can make a bold and confident fashion statement, capturing attention and leaving a lasting impression.
When choosing matching heels to complete a monochromatic outfit like this, it's essential to consider the style and comfort of the shoes.
The right pair of heels can add height and elegance while also providing comfort for the wearer during the event or occasion.
In addition to the dress and shoes, accessories and hairstyle can also play a crucial role in enhancing the overall look.
It's possible that the actress might have chosen complementary accessories, such as statement jewelry or a chic clutch, to further enhance her outfit.
The actress's choice of styling her hair in gorgeous curls sounds like a wonderful complement to her all-pink outfit.
Curls can add a touch of sophistication and glamour to any look, and it seems like they worked perfectly to suit her overall appearance.
The subtle eyeshadow choice for her makeup look is likely to have enhanced her natural beauty without overpowering the outfit.
Subtle eyeshadow shades, such as neutral tones or soft pinks, can create a soft and romantic look that complements the feminine and playful vibe of the all-pink ensemble.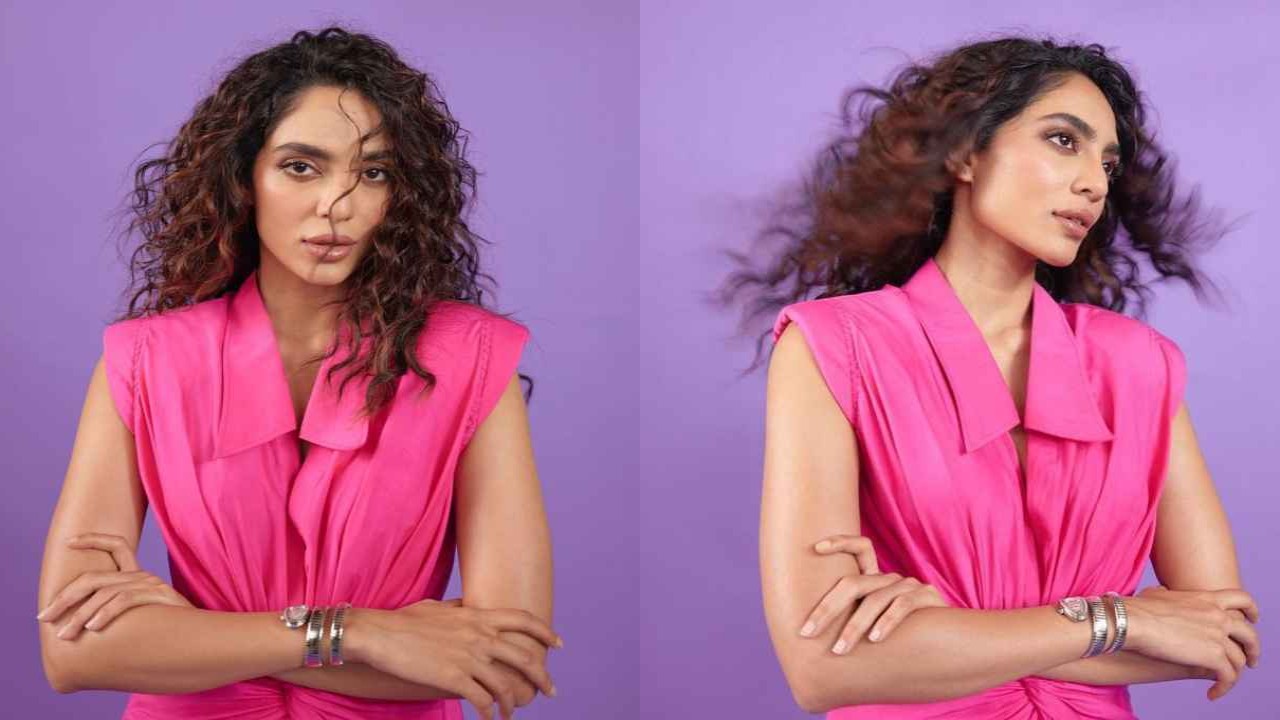 By confidently stepping into the Barbiecore trend and celebrating exaggerated femininity, vibrant colors, and playful aesthetics, Dhulipala encourages others to embrace their unique styles and break free from restrictive fashion stereotypes.
Fashion can be a means of self-expression, and her choice to embrace Barbiecore exemplifies how one can use style to express their individuality and personality.
As a trendsetter in the industry, Dhulipala's fashion choices can inspire others to be more daring and bold in their fashion choices, encouraging them to embrace their own distinctive tastes and preferences.
This empowerment extends beyond fashion, as it can inspire people to feel more confident in expressing themselves in all aspects of their lives.
Fashion has the power to make a statement, and Dhulipala's choice to embrace Barbiecore showcases that fashion can be fun, fearless, and expressive. It challenges traditional norms and shows that there is beauty in embracing one's uniqueness.
As she continues to captivate the world with her fashion choices, Sobhita Dhulipala establishes herself as a trendsetter, leaving an indelible mark on the industry and inspiring others to step out of their comfort zones and celebrate their own individuality.
Her influence in fashion extends to promoting self-confidence and empowerment, making her not only a stylish icon but also an empowering role model for many.