Kriti Sanon flaunts ribbed knit dress obsession in elegant bodycon silhouette
Kriti Sanon is undeniably a fashionista worth keeping an eye on. Her fearless approach to experimenting with various styles and trends sets her apart in the world of fashion, and she consistently looks stunning. Lately, she has been making waves with her fashion choices during the promotions of her upcoming film, Ganapath. Each appearance has been a showstopper, and she doesn't shy away from making bold and unforgettable fashion statements.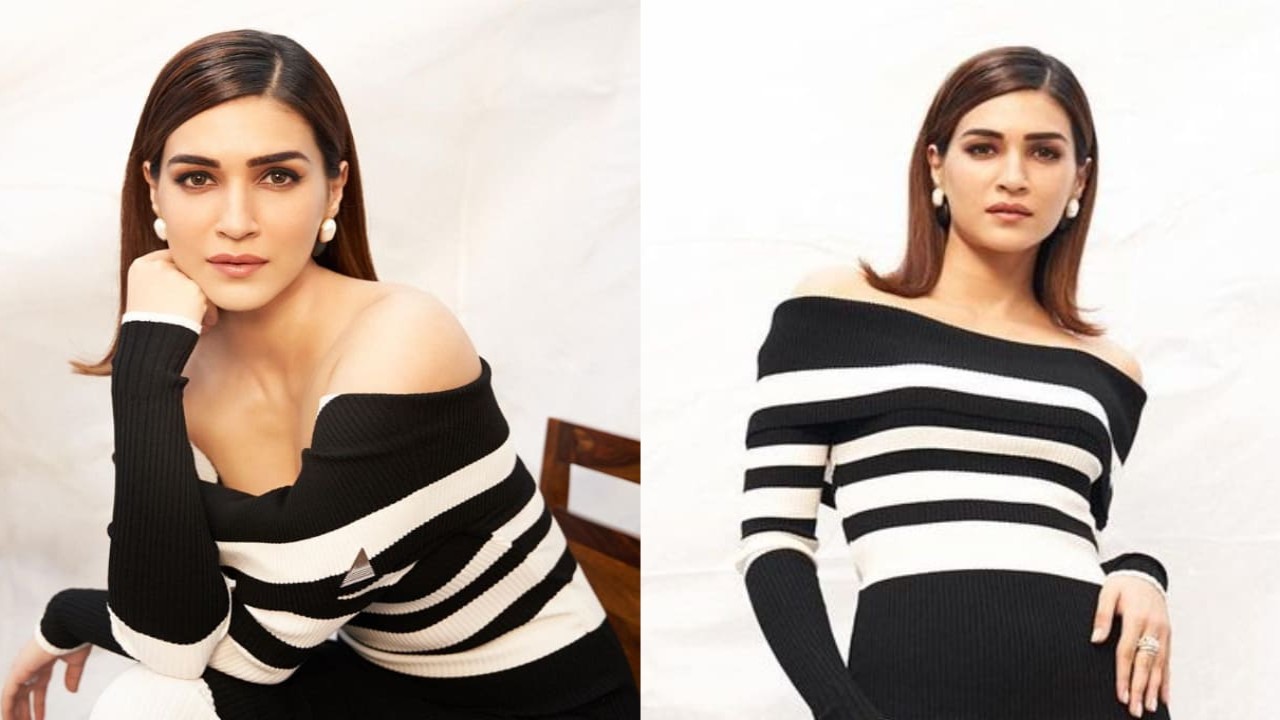 Kriti's ability to pull off diverse looks is truly commendable. She's not confined to a single style, and she has the versatility to effortlessly switch from classic elegance to contemporary chic. Her fearless attitude when it comes to trying out new trends and styles is an inspiration to fashion enthusiasts and a testament to her evolving fashion journey.
The upcoming film, Ganapath, is not the only thing that's been garnering attention – Kriti's fashion choices are just as much in the spotlight. Her jaw-dropping looks and bold fashion choices are a testament to her confidence and impeccable sense of style. She's a fashion icon in the making, and her fans eagerly anticipate her next sartorial statement.
Kriti Sanon's reputation for impeccable fashion sense was reaffirmed once more with her latest outfit choice. She donned a ribbed bodycon dress featuring horizontal wide lines on the upper portion and a sleek black lower section. The dress, undoubtedly, was a total show-stopper, and Kriti looked absolutely stunning in it.
The ribbed bodycon dress is a bold and stylish choice that highlights Kriti's confidence and willingness to experiment with her looks. The horizontal lines on the upper part add a unique visual dimension to the outfit, making it eye-catching and fashion-forward.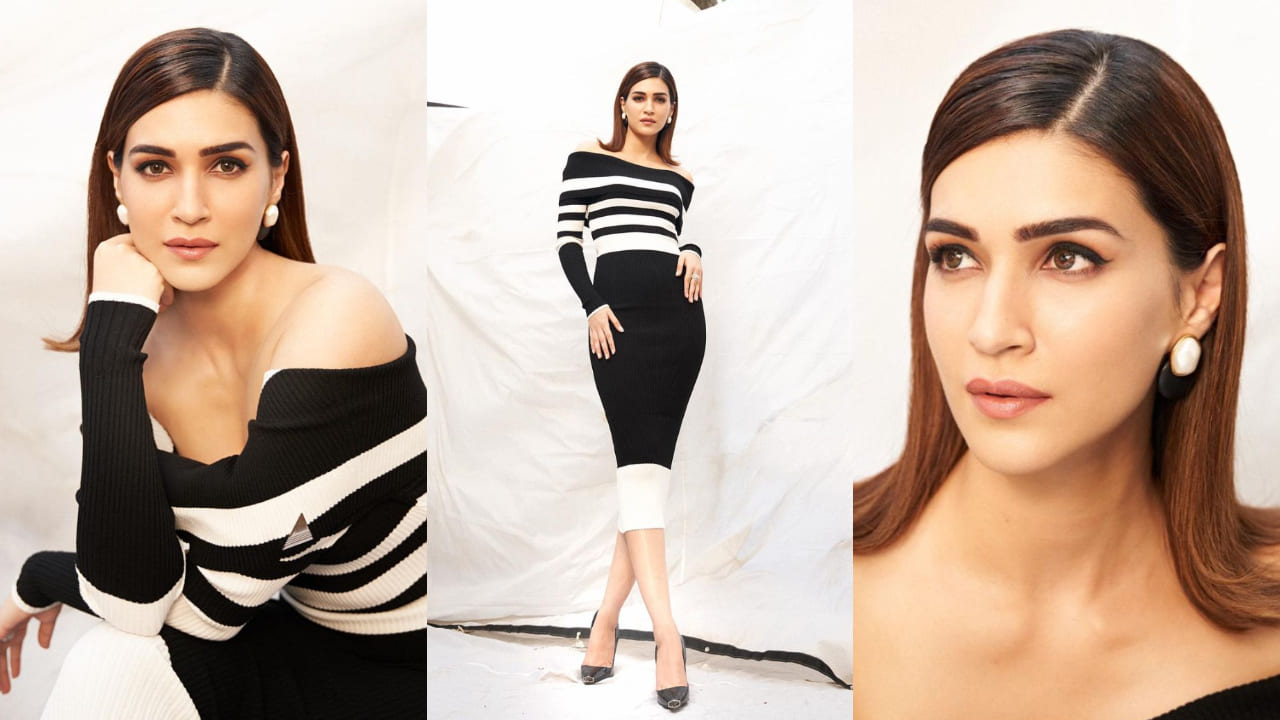 Kriti Sanon's ability to carry off such a striking dress with grace and poise further solidifies her status as a fashion icon. Her latest outfit is yet another example of her fashion prowess, and it's no wonder that she continues to turn heads and inspire fashion enthusiasts with her stunning choices.
Kriti Sanon's off-the-shoulder ribbed bodycon dress was truly flawless. The way it draped her figure was nothing short of mesmerizing, accentuating her natural beauty and grace. The dress, with its off-the-shoulder design, showcased her stunning collarbones, adding a touch of allure and elegance to her overall look.
What made this outfit stand out was the addition of long sleeves. This not only added an element of sophistication but also provided a perfect balance to the sexy silhouette of the bodycon dress. The combination of bare shoulders and long sleeves created a unique and captivating visual contrast, making Kriti's ensemble a true work of art.
Kriti Sanon's overall look that day was a perfect blend of style and sexiness. The dress's body-hugging fit emphasized her curves, and the off-the-shoulder design added a dash of sensuality, while the long sleeves maintained an air of class and refinement. Her choice of this outfit undoubtedly set some major fashion goals, leaving an unforgettable impression and reminding us that fashion can be both alluring and tasteful. Kriti's ensemble was a testament to her impeccable sense of style and her ability to make a fashion statement with grace and confidence.
Kriti Sanon's off-the-shoulder ribbed bodycon dress made a stunning fashion statement. The dress, designed to accentuate her figure, was truly flawless in its execution. The off-the-shoulder style was particularly captivating as it highlighted her stunning collarbones, drawing attention to one of her most striking features.
What made this outfit even more remarkable was the addition of long sleeves. This not only provided a sense of balance to the dress but also infused an element of sophistication into the overall look. The combination of bare shoulders and long sleeves created a harmonious blend of sensuality and elegance, making Kriti's appearance both alluring and refined.
Kriti Sanon, with her choice of this ensemble, set some major fashion goals. Her outfit was a perfect example of how style and sexiness can go hand in hand. The bodycon fit of the dress accentuated her curves, while the off-the-shoulder design added a touch of allure, and the long sleeves exuded a sense of class. Kriti's fashion choices on that occasion showcased her impeccable style and her ability to make a memorable fashion statement that resonated with fans and fashion enthusiasts alike.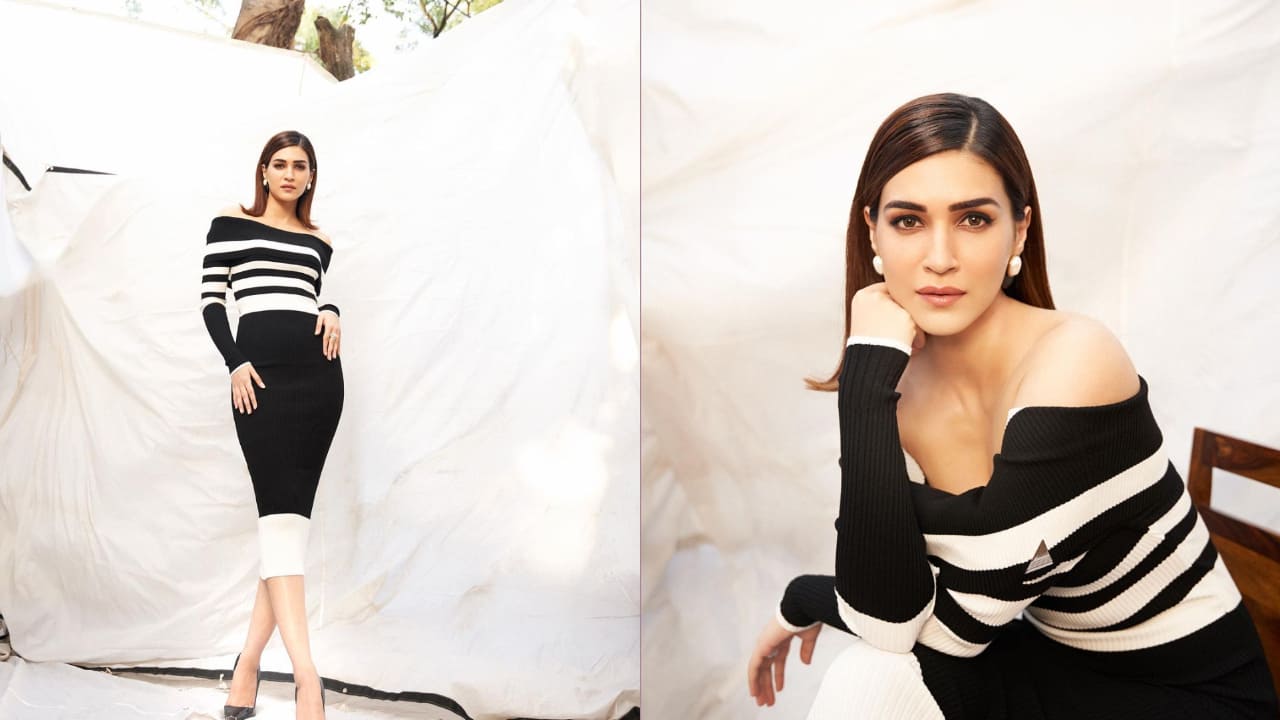 Kriti Sanon's attention to detail in completing her ribbed bodycon dress look was impeccable. She chose to accessorize with pearl studs, a decision that added a touch of timeless elegance to her overall appearance. The subtle shimmer of the pearls complemented the dress's sophistication and highlighted her grace and beauty.
To further enhance the ensemble, Kriti opted for black glossy polished pointed-toe heels. These heels not only matched the dress perfectly but also had the added benefit of elongating her legs, creating a more statuesque and glamorous look. The choice of black for the heels was a smart one, as it coordinated seamlessly with the dress, giving the outfit a cohesive and polished finish.
Credit must also go to Kriti's stylist, Sukriti Grover, who played an essential role in curating this flawless look. Grover's choice of accessories was spot-on, striking a perfect balance between elegance and style. The combination of pearl studs and black heels, under Grover's guidance, added a finishing touch that elevated the outfit to a new level of sophistication, ensuring Kriti's fashion statement was not only memorable but also impeccably styled.
Absolutely, Kriti Sanon's hairstyle and makeup played a pivotal role in completing her stunning appearance. The credit goes to the talented hairstylist, Aasif Ahmed, who worked magic with her locks. Kriti's straight hairstyle, neatly split on the side, was nothing short of perfection. This hairstyle exuded a sense of class and sophistication, perfectly complementing the elegance of her ribbed bodycon dress.
Aasif Ahmed's expertise in hairstyling not only ensured Kriti's hair looked flawless but also added an extra layer of refinement to the entire ensemble. The straight, side-parted hairstyle was a harmonious choice that accentuated Kriti's facial features and framed her face beautifully, highlighting her natural beauty and grace.
It's evident that the combination of the stunning dress, well-chosen accessories, and Aasif Ahmed's hairstyling expertise came together to create a cohesive and unforgettable look for Kriti Sanon. Her appearance on this occasion was a testament to the artistry of the professionals involved and showcased how the right hairstyle can elevate an outfit to a whole new level of sophistication and glamour.
Kriti Sanon's makeup was undeniably flawless, serving as the perfect complement to her ribbed bodycon dress. Her choice of makeup enhanced her overall appearance, and it was a work of art in itself. Dark black eyeliner was one of the standout features of her makeup, intensifying her eyes and giving them a seductive and captivating allure. This eye makeup choice not only added depth but also accentuated her gaze, creating a magnetic focal point.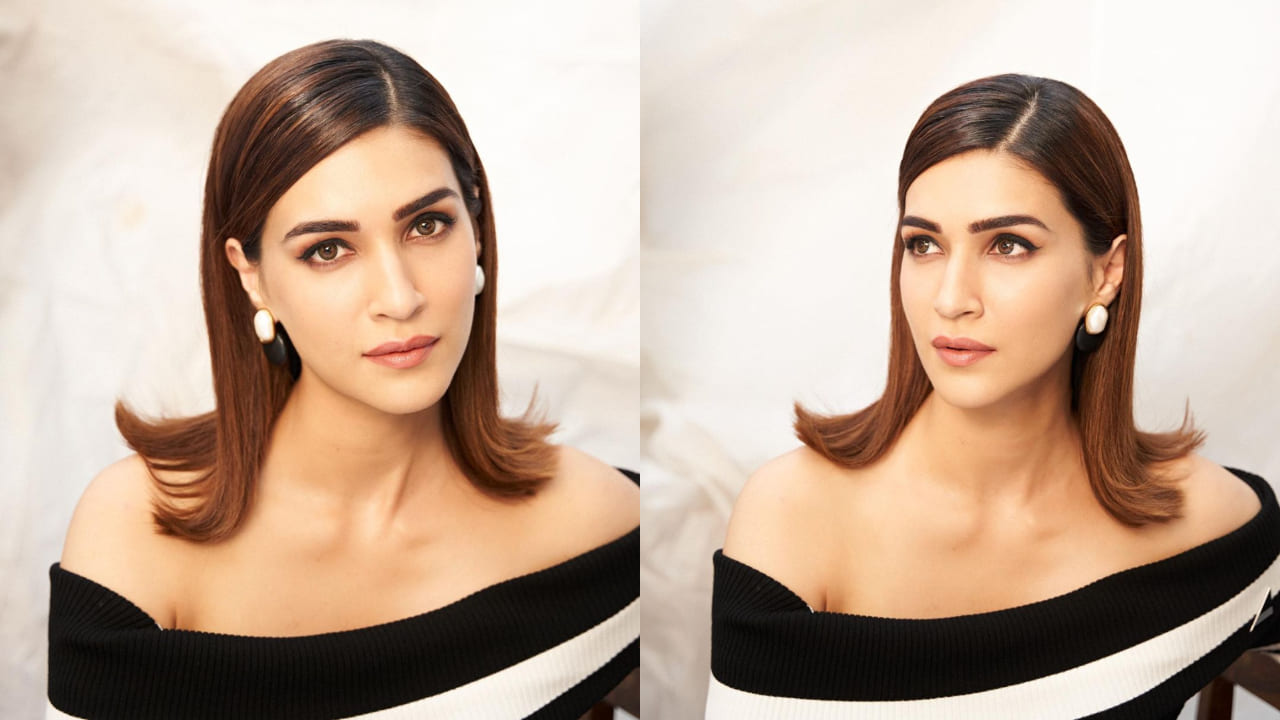 The subdued pink lipstick was another masterful touch that added a modest and delicate hint of color to her look. It struck the right balance, ensuring her lips were not overpowering, allowing the emphasis to remain on her eyes and the elegant dress. The soft pink shade harmonized perfectly with the overall theme of sophistication and style.
Credit is due to Kriti's makeup artist, Adrian Jacobs, who demonstrated an exceptional level of skill and artistry in crafting her makeup. Jacobs' choice of colors and techniques was spot-on, enhancing Kriti's natural beauty and creating a glamorous yet understated look. The makeup completed the ensemble beautifully, contributing to a captivating and memorable overall appearance that showcased Kriti's charm and sophistication.