Samantha Ruth Prabhu's Empowering Look in Kunal Rawal Outfit Redefines Formal Elegance!
Samantha Ruth Prabhu's fashion sense is nothing short of exceptional, showcasing her innate ability to effortlessly blend contemporary trends with traditional elements. A prominent figure in the entertainment industry, Samantha has consistently stunned audiences with her diverse and impeccable style choices. Known for her bold experimentation and willingness to push fashion boundaries, she exudes confidence and individuality in every look she dons.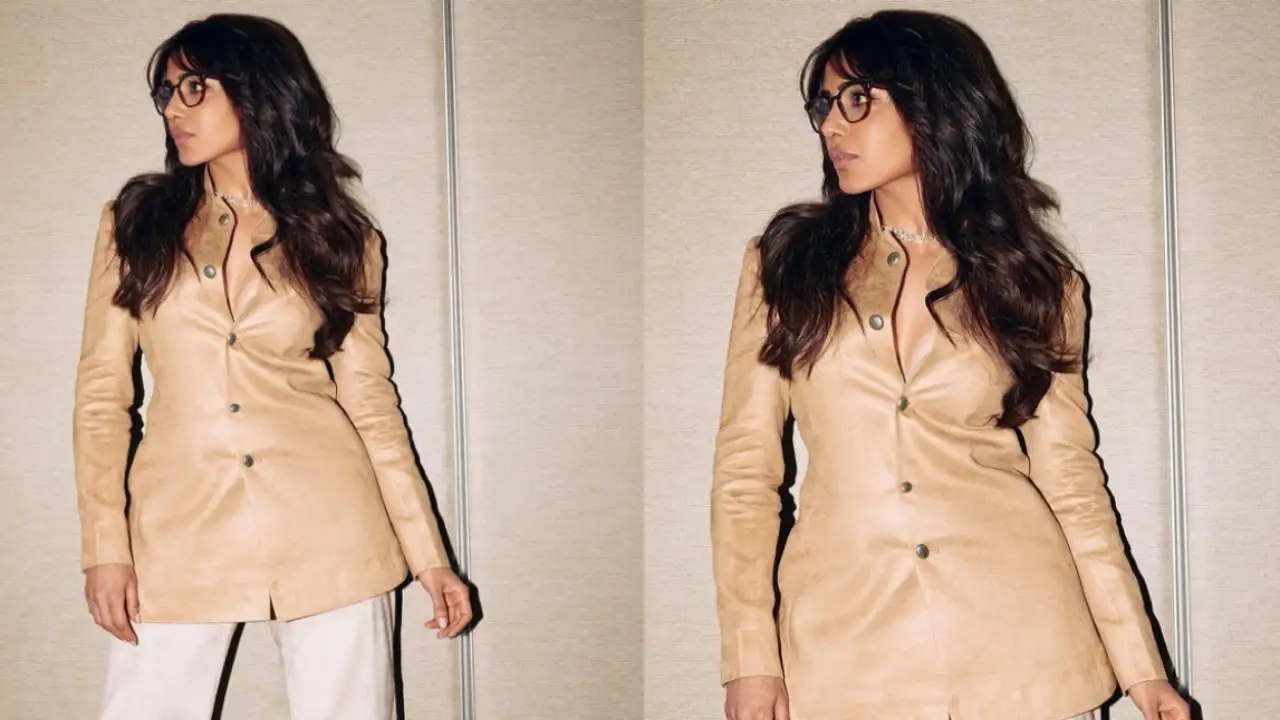 One of the striking aspects of Samantha's fashion journey is her knack for embracing a variety of styles, from chic and casual to ethereal and glamorous. Her preference for organza sarees, often adorned with intricate embroidery and contemporary twists, has become a signature element of her wardrobe. These choices not only celebrate the elegance of traditional Indian wear but also reflect her keen understanding of how to infuse a modern touch into timeless classics.
Samantha's affinity for mixing high-end designer pieces with more accessible brands exemplifies her relatability and relishes in the blend of luxury and practicality. This unique fusion of elements showcases her versatile approach to fashion, making her a true trendsetter for the younger generation.
Her candidness about her go-to style being "tonal, trendy, polished, and simple to put together" reveals her commitment to comfort and confidence. Samantha's emphasis on accessories and minimal yet impactful additions to her outfits demonstrates her grasp of the idea that even small details can elevate an entire look. Her mantra of stepping out of one's comfort zone to experiment with new styles encourages individuals to embrace their uniqueness and express themselves freely through fashion.
Furthermore, Samantha's recent appearance in a Kunal Rawal blazer, often associated with men's formal wear, showcased her fearless attitude towards fashion. By effortlessly styling it with ankle-length flared pants, she defied gender norms and emphasized that fashion has no boundaries. Her willingness to take risks and successfully pull off unconventional choices adds another layer to her fashion legacy.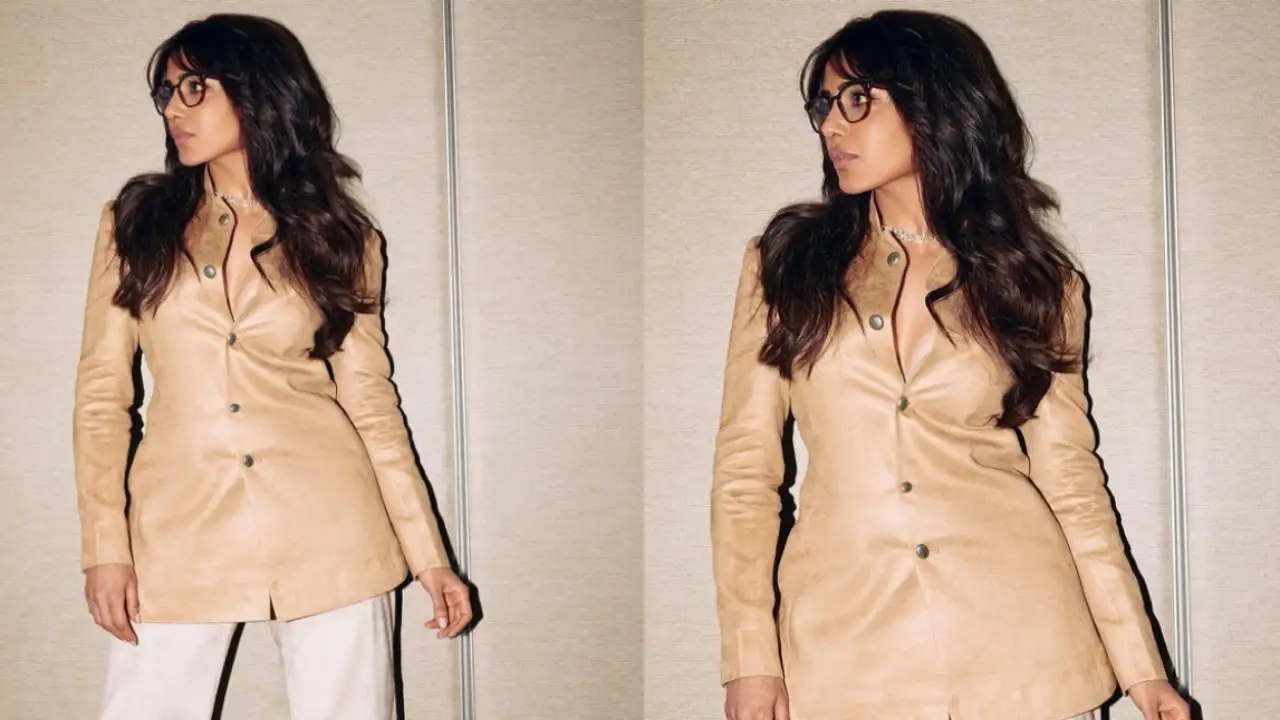 In essence, Samantha Ruth Prabhu's fashion sense represents a harmonious blend of tradition, modernity, and individuality. Her ability to effortlessly transition from traditional Indian wear to cutting-edge contemporary outfits while maintaining an air of elegance and confidence is a testament to her status as a true fashion icon. Her journey through fashion speaks volumes about her creativity, audacity, and ability to continuously evolve her style, inspiring countless individuals to explore their personal fashion statements with the same kind of enthusiasm and flair.
Absolutely, Pan-India star Samantha Ruth Prabhu has made a significant mark in the fashion world with her impeccable style choices and innovative approach to dressing. Just like other prominent divas in the film industry, Samantha's fashion sense is both unique and impactful. She shares the stage with fashion-forward icons like Sonam Kapoor and Deepika Padukone, who are known for their experimental and trend-setting styles.
Samantha's style file is a testament to her ability to seamlessly blend traditional elements with contemporary aesthetics. From gracefully carrying traditional sarees to confidently sporting chic western ensembles, Samantha's fashion choices reflect her versatility and confidence. She has the knack for exploring interesting silhouettes like blazers and suits, giving them her own distinct twist.
What sets Samantha apart is her consistent ability to surprise her fans with her diverse looks, each of which showcases her creativity, individuality, and a deep appreciation for fashion. Like other divas in the industry, Samantha Ruth Prabhu's style is not just about the outfits she wears, but the way she carries herself with grace, confidence, and a touch of glamour that leaves a lasting impression on everyone who follows her journey in the world of fashion.
Samantha Ruth Prabhu's recent promotional look for her upcoming film Shaakuntalam indeed showcased her fearless approach to fashion. Collaborating with stylist Pallavi Singh, Samantha opted for a bold and unconventional outfit from designer Kunal Rawal's collection.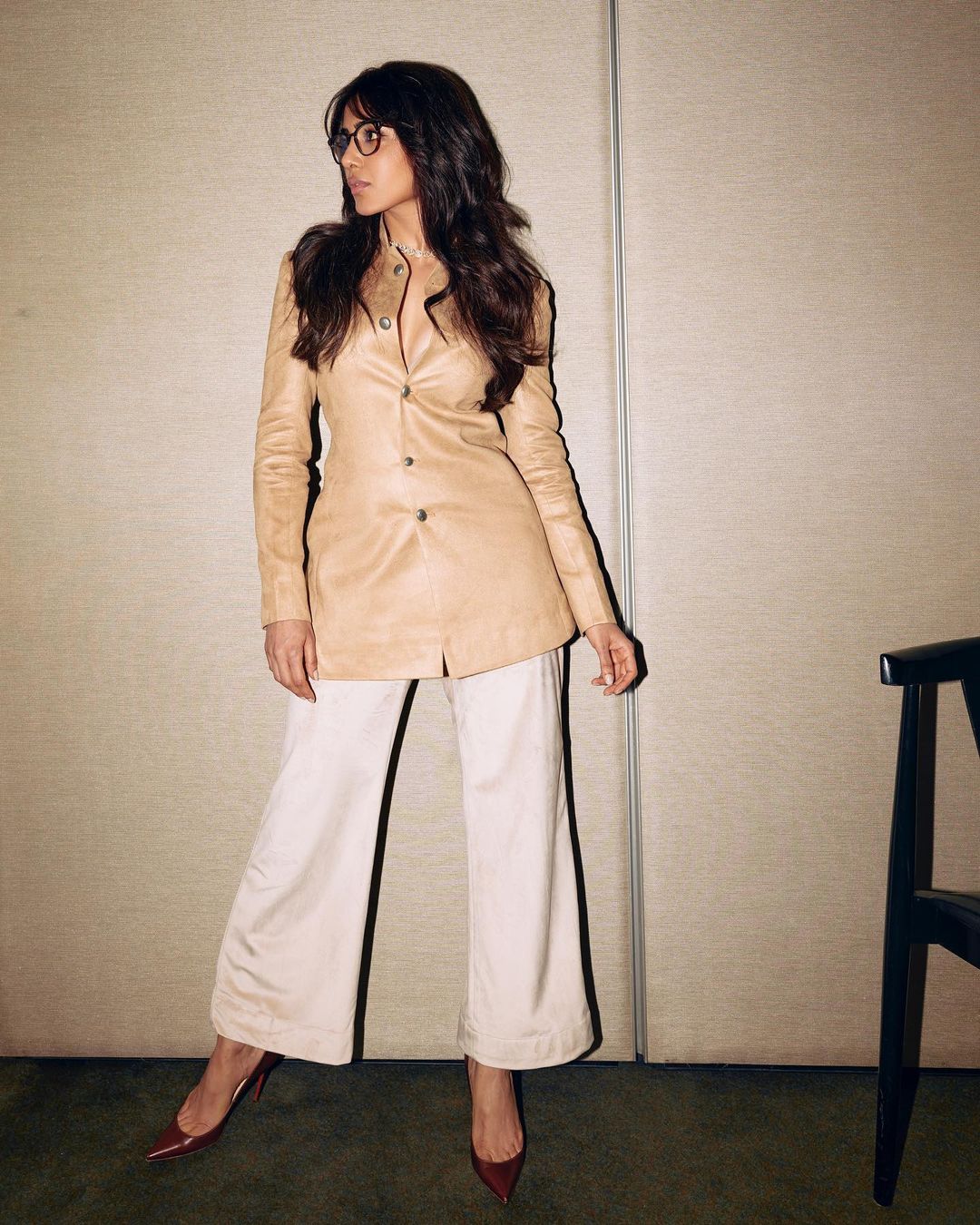 The choice of a suede power blazer paired with ankle-length flared pants was a departure from the usual promotional attire. This daring ensemble demonstrated Samantha's ability to push boundaries and make unconventional choices while maintaining a strong sense of confidence. By donning a blazer and pants combination traditionally associated with men's formal wear, Samantha highlighted the evolving dynamics of fashion and how women can confidently embrace and redefine classic styles.
Samantha's outfit not only added a touch of sophistication and edge to her promotional appearance but also sent a powerful message about breaking traditional fashion norms. Her ability to effortlessly carry such a statement look shows her prowess in choosing outfits that are both fashionable and empowering. This Kunal Rawal ensemble undoubtedly contributes to the ongoing shift in perceptions about women's fashion choices, proving that blazers are no longer limited to being a men's go-to formal wear but can be a stylish and impactful choice for women as well.
Samantha Ruth Prabhu's previous look for the promotions of her film displayed her flair for contemporary and chic fashion. In this instance, she opted for a custom-made white cut-out dress by designer Namrata Joshipura, which added a touch of modernity and boldness to her appearance.
The white cut-out dress featured strategic openings and slits that highlighted Samantha's confident and graceful presence. The dress, tailored to her specifications, showcased her ability to make fashion choices that complement her individual style. By opting for a custom creation, Samantha ensured that the dress perfectly encapsulated her vision and personality.
To complete the ensemble, she paired the dress with iconic glass pumps by Amina Muaddi, known for their distinctive designs and exquisite craftsmanship. These pumps not only added a touch of glamour but also aligned with Samantha's penchant for incorporating unique and standout accessories.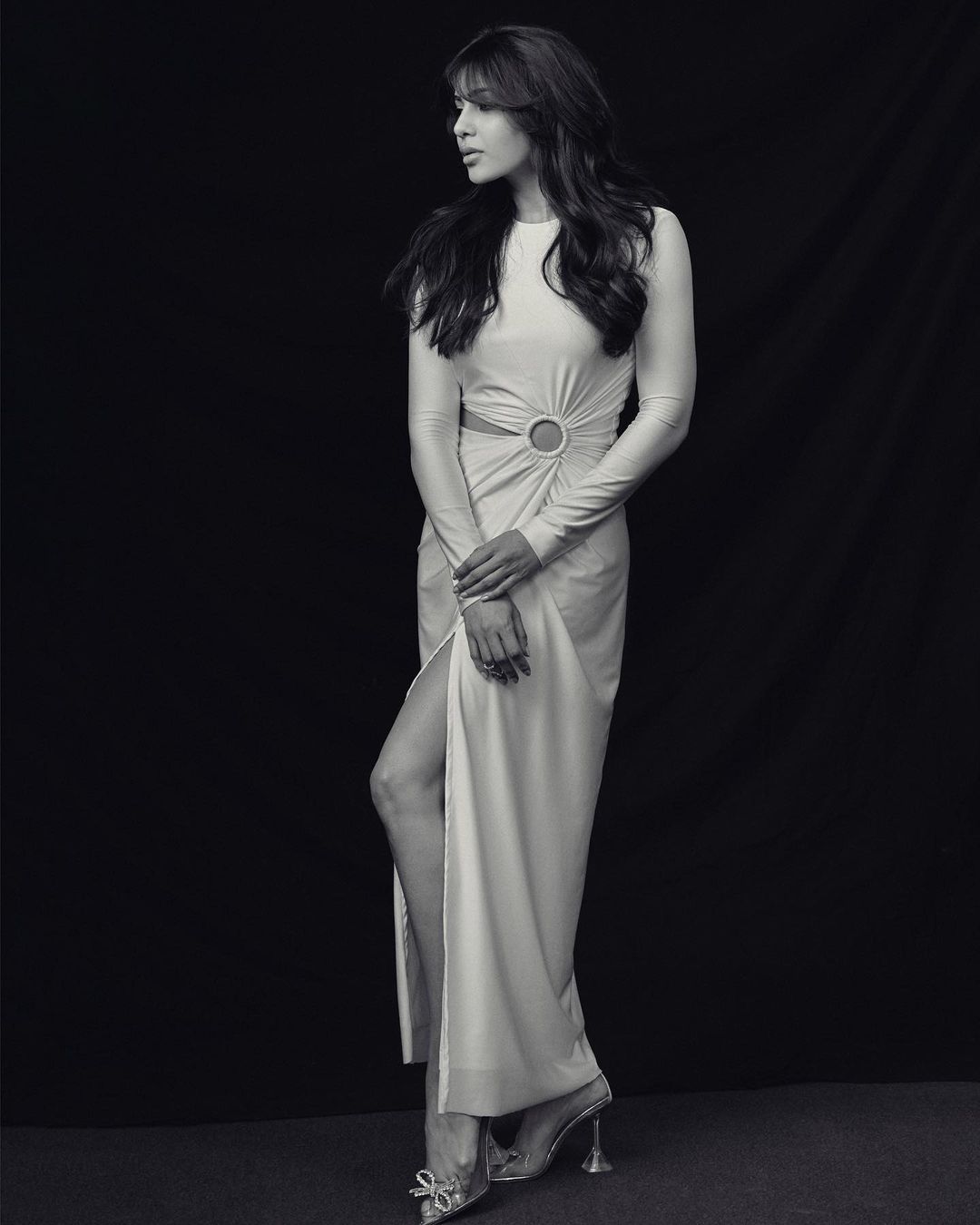 This look demonstrated Samantha's understanding of how to merge contemporary trends with her own personal style. Her choice of the Namrata Joshipura dress and Amina Muaddi pumps exemplified her ability to make bold fashion statements that are both on-trend and uniquely her own, making her a true style icon.
"Shaakuntalam," set to release on April 14, is a highly anticipated multilingual film that spans languages including Hindi, Telugu, Tamil, Malayalam, and Kannada. The movie is an adaptation of the renowned Sanskrit play "Abhijnana Shakuntalam" written by the ancient Indian poet Kalidasa.
The film is directed by Gunashekar and features actor Dev Mohan in a lead role. The adaptation of this classic play is expected to bring the timeless story to modern audiences while retaining its cultural and artistic essence. Given the multilingual release and the legendary source material, "Shaakuntalam" has generated a lot of excitement among audiences across different regions. As the release date approaches, fans of cinema and classical literature are looking forward to experiencing this unique cinematic interpretation of a literary masterpiece.