Janhvi Kapoor's Le Superbe slip dress: Your Power-Packed Choice for a Fantastically Floral and Glamorous Day
Embracing the enchanting world of florals, Janhvi Kapoor effortlessly demonstrated the timeless appeal of this print trend. With an undeniable charm, she graced the Mumbai airport after a productive morning collaborating with team NTR 30. As the seasons shift and Spring takes its rightful place, Janhvi Kapoor's fashion choices served as a delightful reminder of the power of prints in our wardrobes.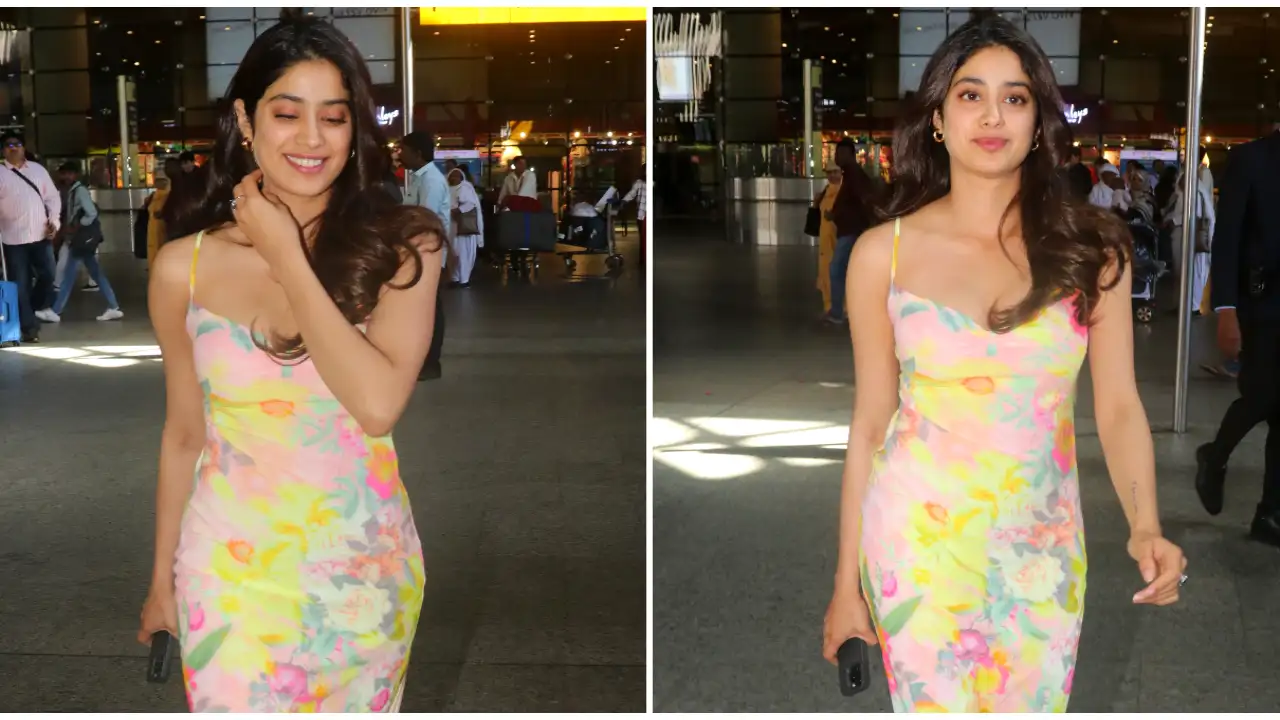 Prints, especially florals, possess an enduring charm that captures our attention season after season. Janhvi's airport look beautifully encapsulated the essence of a sunny day, radiating a sense of positivity and vibrancy. As we watch her effortlessly pull off this style, it's clear that prints have an unshakeable grip on our fashion sensibilities, offering a versatile canvas to play with.
Janhvi Kapoor's airport look not only showcased her fashion prowess but also resonated with the changing seasons. The infusion of florals into her ensemble brought forth a sense of freshness and renewal, mirroring the blooming surroundings that Spring brings with it. This look serves as a practical style inspiration for those who want to channel the effortless charm of floral prints into their everyday attire.
As we take a leaf out of Janhvi's style book, her airport appearance becomes a mini fashion course in itself. The combination of florals and practicality is a delightful reminder that fashion need not be complex; instead, it can be a simple and effective way to express oneself. Just as Spring follows its annual routine, Janhvi Kapoor's look underscores the perennial charm of florals and the impact they can have on our fashion choices.
So, for those seeking a dose of radiance and glow in their style, Janhvi Kapoor's floral fantasy offers a free lesson in effortless chic. Her airport look is a testament to the fact that a touch of nature-inspired beauty can elevate even the most mundane days, making us feel like we're strolling through a garden of style possibilities.
Janhvi Kapoor's style is a beautiful blend of versatility and creativity, effortlessly embracing a diverse range of outfits, from jeans and kurtas to the timeless elegance of sarees. However, her breezy dresses hold a special place in her fashion repertoire, showcasing her innate ability to make any outfit look out of this world. As she returned to her city from Hyderabad, Janhvi's choice of attire once again captured attention, this time in a Le Superbe colorful dress that radiated charm and allure.
This particular dress, with its vibrant hues and relaxed silhouette, perfectly embodies Janhvi's sense of style. Whether you're heading for a glamorous date night or a casual brunch, this dress's versatility allows it to effortlessly adapt to various occasions. Its whimsical appeal is simply irresistible, and it seems to beckon, "Travel with me," inviting us to embark on a stylish journey.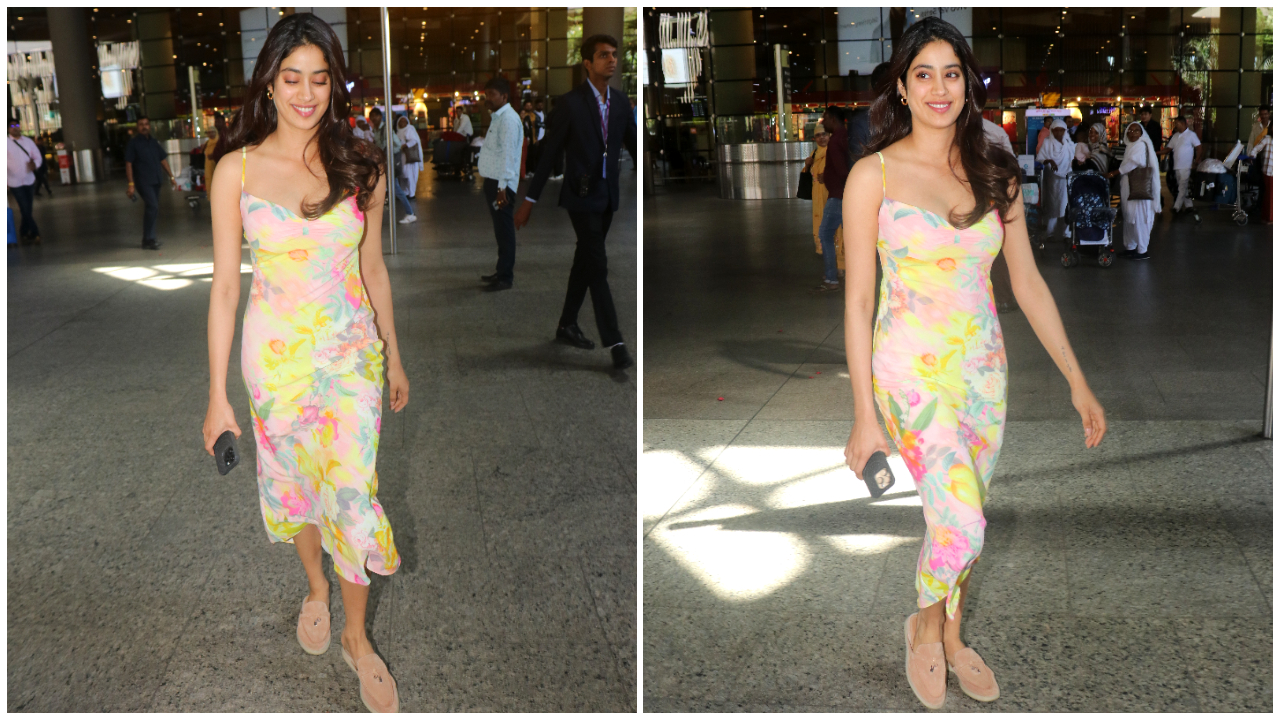 Janhvi Kapoor's fashion choices often resonate with individuals who appreciate the fusion of comfort and trendiness. Her Le Superbe colorful dress encapsulates this sentiment, making it a tempting addition to any fashion-conscious individual's wardrobe. The dress not only promises a chic and effortless look but also invites you to explore its styling potential further.
To give your style a forward-looking statement, consider taking a page from Janhvi's book and opting for a dress like the Bessette midi dress. Paired with a complementary sling bag, this ensemble adds a touch of modernity to your look while maintaining a sense of elegance. Janhvi Kapoor's fashion choices often serve as a source of inspiration, and this outfit is no exception, encouraging us to embrace new trends with confidence and flair.
In a world where fashion constantly evolves, Janhvi Kapoor's dress offers an opportunity to infuse your wardrobe with a touch of the extraordinary. As she effortlessly showcases her style, she encourages us to step out of our comfort zones and embrace the allure of outfits that speak volumes even with their simplicity. So, whether you're attending a chic event or simply stepping out for a casual outing, Janhvi's Le Superbe colorful dress presents an invitation to travel through fashion and make a statement that's uniquely yours.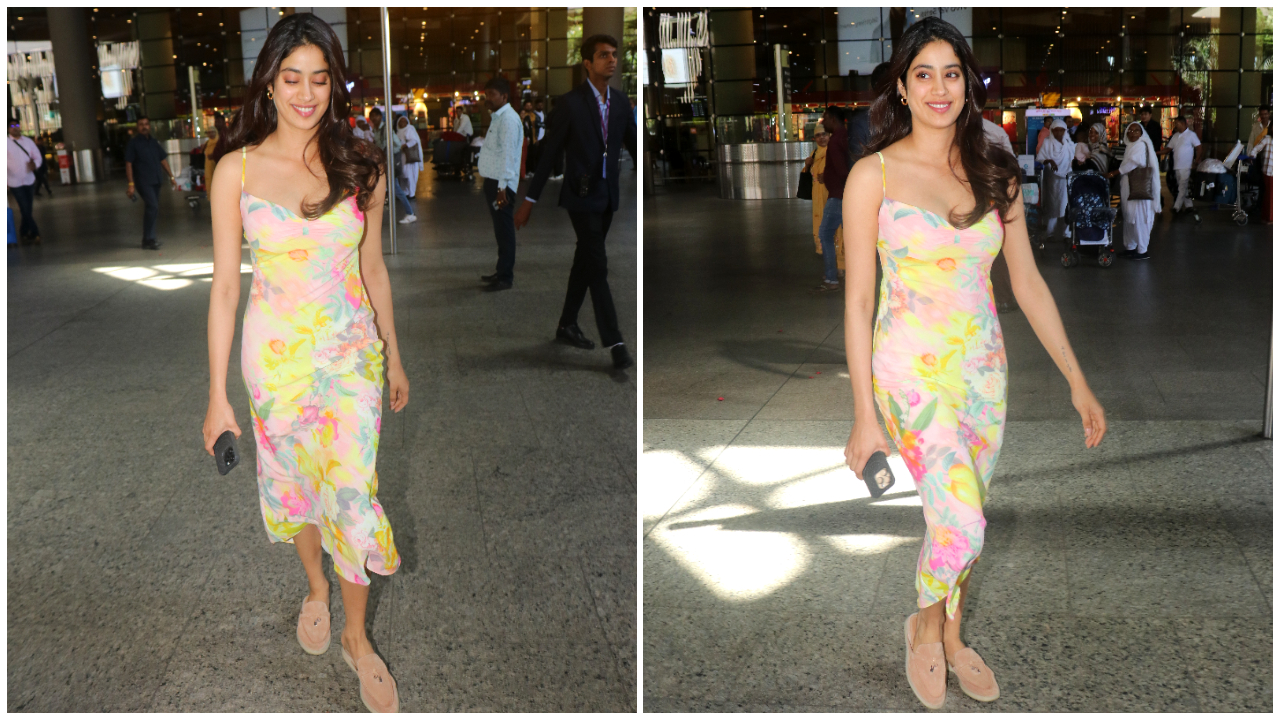 Janhvi Kapoor's radiant appearance in a dress is truly captivating. The young actress effortlessly showcases her fashion prowess with a lightweight and floral-printed satin dress that exudes elegance and charm. The dress features a deep neckline, gathered bust, and adjustable double shoulder straps, creating a silhouette that complements her radiant personality.
This particular attire, priced at Rs. 24,597.07 and available at Nordstrom, is a must-have addition to any fashion enthusiast's closet. Its delicate floral print and lightweight fabric make it a perfect choice for the season, offering both style and comfort. Janhvi Kapoor's fashion sense shines through in her selection of this dress, which effortlessly combines youthful charm with sophisticated elegance.
However, as fashion is a realm of experimentation, even the most stylish individuals sometimes encounter moments that don't resonate as expected. In this case, Janhvi's choice of suede loafers named 'Babouche Charms Walk' from Loro Piana, priced at Rs. 81,605.04, might not have matched the dress's aesthetic as seamlessly as desired. While each element individually showcases its own style, the pairing might not have created the desired impact.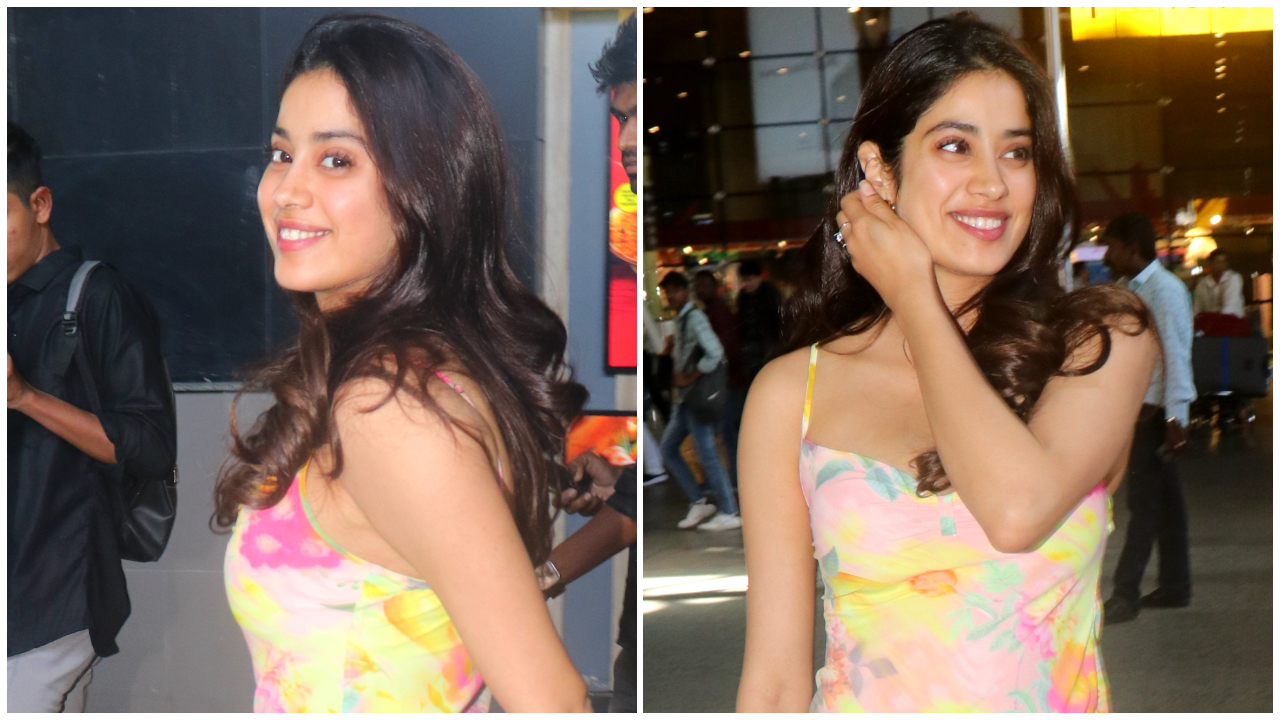 Styling is an art that involves trial and error, and even fashion icons like Janhvi Kapoor sometimes find themselves exploring different angles. It's a reminder that the journey of fashion is filled with creativity and the occasional experimentation to find the perfect balance between different elements.
Janhvi Kapoor's fashion choices inspire us to take risks, try new combinations, and celebrate personal style. Her ability to gracefully experiment with various looks and pieces is a testament to her evolving fashion journey and her dedication to expressing herself through her clothing. While not every styling angle may hit the mark, it's the spirit of exploration that truly defines her unique approach to fashion.
Absolutely, you're spot on! The beauty of fashion lies in its versatility and the endless possibilities for creative experimentation. Swapping out the loafers for a pair of stilettos can indeed transform the overall look of the slip dress, adding a touch of sophistication and elevating the ensemble to a more formal or glamorous level. Stilettos have a way of elongating the legs and adding a chic and confident vibe to any outfit.
Janhvi Kapoor's choice to keep her look simple with hoop earrings is a smart move. Hoop earrings are timeless accessories that can effortlessly enhance any look without overwhelming it. Their classic appeal complements the outfit while allowing the focus to remain on the dress's design and print.
The wavy hairdo and pink makeup further contribute to the overall charming aesthetic. Janhvi's choice of a wavy hairstyle adds a touch of playfulness and movement to the look, while the pink makeup enhances her natural beauty and brings out her youthful glow. The combination of these elements creates a cohesive and effortlessly chic appearance.
In the world of fashion, it's these thoughtful details and personalized touches that can make a significant difference in how an outfit is perceived. Janhvi Kapoor's styling choices remind us that fashion is a canvas on which we can express our individuality and creativity, experimenting with different elements to curate looks that resonate with our personalities and make us feel confident and beautiful.
Whether it's through a change of footwear, accessories, or makeup, Janhvi's approach to styling encourages us to step out of our comfort zones and explore new ways to enhance our outfits. After all, fashion is not just about what we wear; it's about how we feel while wearing it and the stories we tell through our choices.