Samantha Ruth Prabhu Radiates Elegance and Confidence in Exquisite Embroidered Bralette Ensemble with Saree
Samantha Ruth Prabhu's recent sartorial choices have been nothing short of bold and captivating. Her fashion journey has taken a daring turn, and her outfits for the promotions of her upcoming film "Shaakuntalam" reflect her willingness to experiment with unconventional yet stunning looks.
One standout ensemble was the Kunal Rawal blazer from the men's collection that Samantha chose to wear. This choice exemplifies her penchant for pushing boundaries and embracing gender-fluid fashion. The blazer, with its tailored design and strong lines, added a touch of power and confidence to her appearance, reinforcing the idea that fashion knows no limits.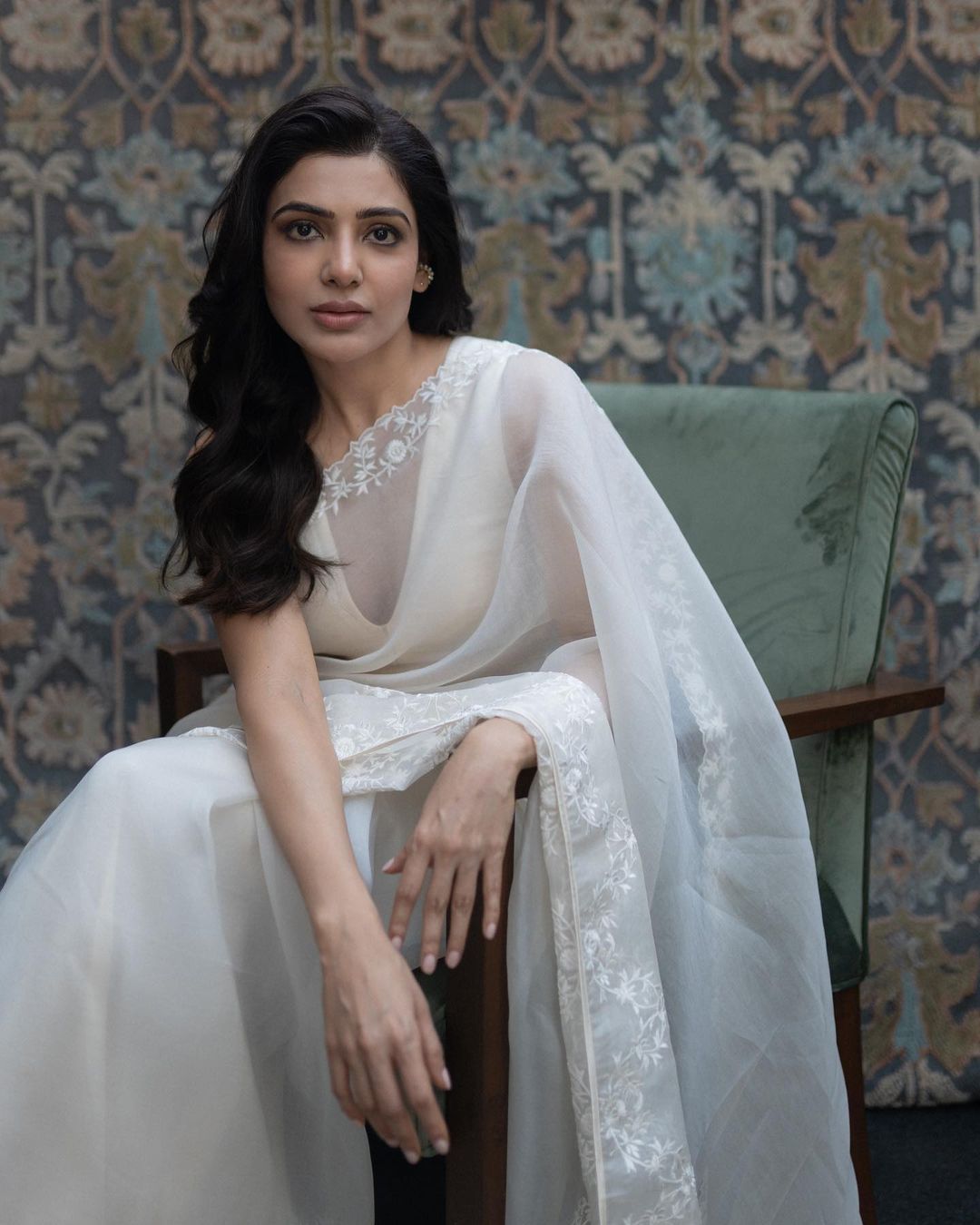 In another appearance, Samantha opted for a white slit-cut dress designed by Namrata Joshipura. This dress showcased her contemporary and edgy style while maintaining a level of sophistication. The strategic slit and modern silhouette reflected her evolving fashion sensibilities, making a bold statement that perfectly aligned with her promotional efforts.
To further diversify her wardrobe, Samantha chose to ditch a traditional blouse and instead paired an embroidered bralette with an off-white organza saree. This move embodies her fearless attitude towards fashion, blending traditional Indian wear with modern and unconventional elements. The combination of the embroidered bralette and the organza saree demonstrated her ability to curate unexpected yet captivating ensembles.
Samantha's recent fashion choices reflect her confidence, individuality, and the willingness to experiment with diverse styles. She has transformed her fashion narrative, showcasing her ability to pull off bold and unique looks with grace and flair. Her choices serve as an inspiration for fashion enthusiasts to break free from convention and embrace their own distinctive styles.
Samantha Ruth Prabhu's fashion choices continue to captivate and make headlines. For a video interview related to her upcoming film "Shakuntala," in which she portrays the titular character, Samantha chose a truly exquisite ensemble that highlighted her fashion-forward approach.
She opted for a thread-embroidered saree by the label Aikeyah, adorned with intricate glass beadwork. This choice demonstrated her appreciation for craftsmanship and attention to detail, as the delicate embroidery and glass beads added a touch of elegance and glamour to the attire. The saree's design and embellishments perfectly aligned with the character's persona, showcasing a thoughtful blend of traditional aesthetics with contemporary elements.
Adding a modern twist, Samantha paired the saree with an embellished pewter-colored glass beads embroidered bralette. This unconventional choice of pairing a bralette with a saree showcases her willingness to experiment with fashion and create unique, statement-making looks. The bralette not only added a touch of edginess to the ensemble but also highlighted her confidence and style expertise.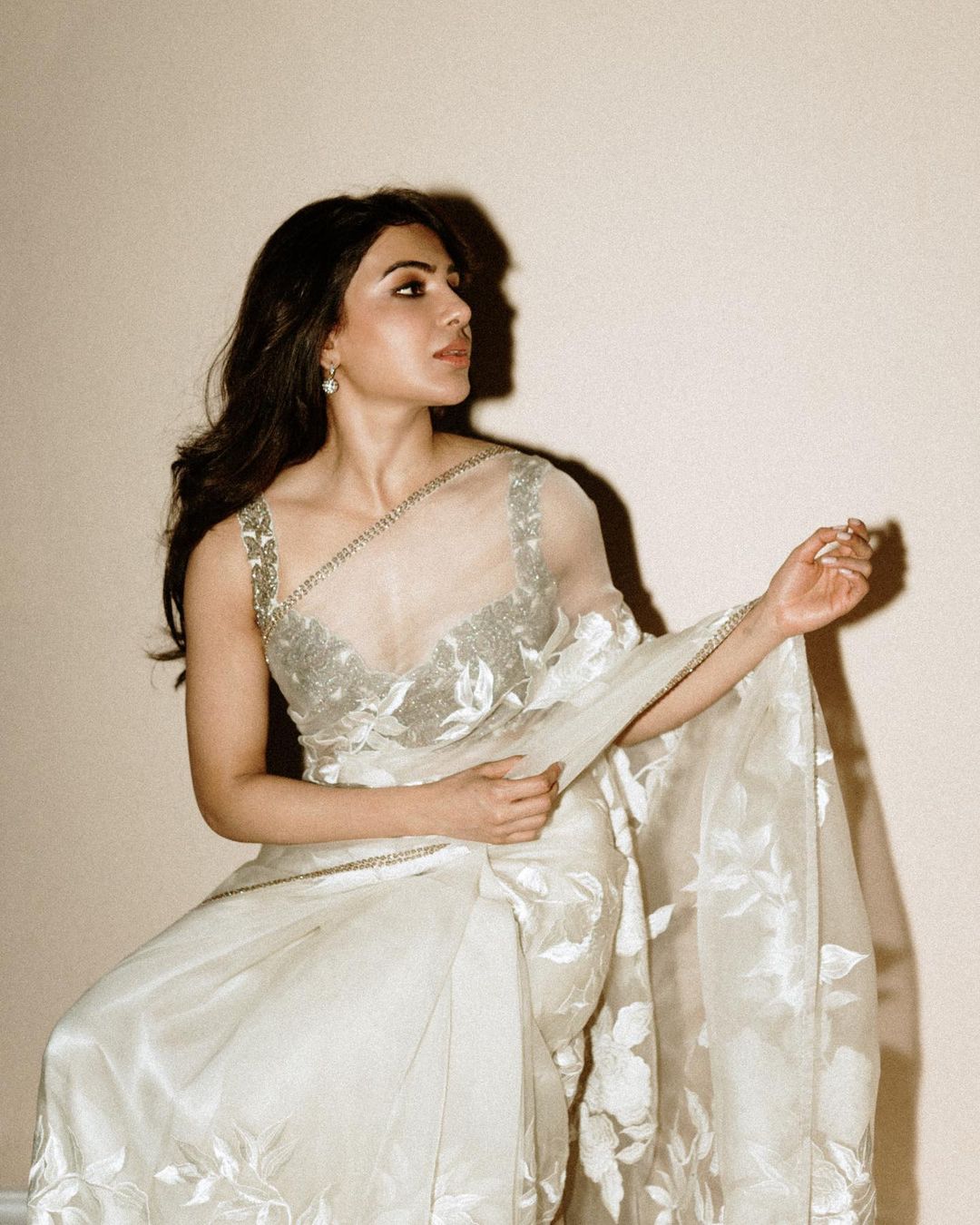 While the overall look comes with an approximate price tag of Rs 1 Lakh, it's a testament to Samantha's ability to curate ensembles that seamlessly blend luxury and creativity. Her fashion choices inspire fashion enthusiasts to push the boundaries of traditional attire and embrace modern interpretations while paying homage to the rich heritage of Indian clothing.
Samantha Ruth Prabhu's attention to detail and cohesive styling truly shine through in every aspect of her look. To infuse a romantic and soft touch into the ensemble, she made strategic choices with her makeup, hair, and accessories.
Her makeup artist crafted a soft and romantic makeup look, focusing on enhancing her natural beauty. The emphasis on highlighted cheeks added a radiant and dewy effect, creating a youthful and ethereal aura. By opting for soft, neutral tones on her eyes and lips, Samantha maintained a balanced and elegant appearance that complemented the overall ensemble.
Leaving her hair open added to the romantic feel of the look. The flowing locks added movement and depth, contributing to the overall relaxed and charming vibe she aimed to achieve.
Samantha's choice of delicate earrings from the Jaipur-based designer, Abhilasha Jewellery, was a brilliant addition. These earrings provided the perfect finishing touch to the look, enhancing the feminine and elegant essence of the ensemble while paying homage to traditional jewelry craftsmanship.
The comprehensive coordination of makeup, hair, and accessories showcases Samantha's ability to create a harmonious and captivating appearance. Her outfit's romantic undertones were effectively elevated by these elements, making her look memorable and visually striking.
Samantha Ruth Prabhu's fondness for organza sarees is evident in her fashion choices. The actress has shown a penchant for this delicate and ethereal fabric, often incorporating it into her outfits to create stunning and distinct looks.
During the teaser launch of her film, Samantha opted for an organza saree from the brand Devnaagri. The choice of a basic organza saree with detailed cutwork along the border showcased her appreciation for the fabric's lightweight and transparent nature. Organza's inherent sheen and texture added a touch of elegance and sophistication to her ensemble, making it a fitting choice for a special event.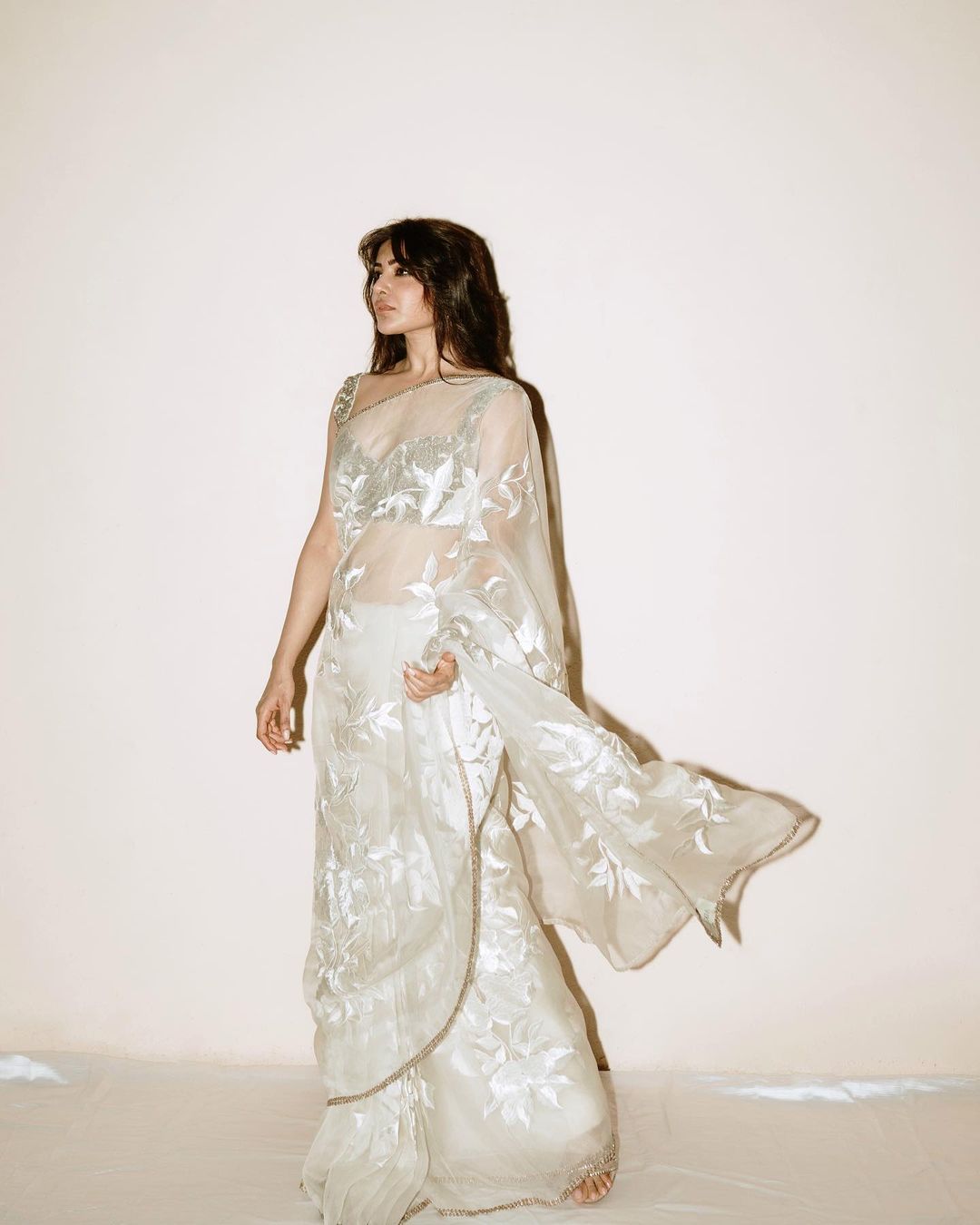 Samantha's ability to style organza sarees in different ways while staying true to her personal aesthetic demonstrates her versatile approach to fashion. Whether she's embracing its traditional charm or infusing modern elements, Samantha's love for organza has become a hallmark of her style, inspiring her fans and followers to explore the beauty and versatility of this timeless fabric.
Samantha Ruth Prabhu's go-to fashion style is a reflection of her personal preferences and fashion sensibilities. She values tonal, trendy, polished, and easily put-together ensembles. Embracing various shades of the same color in an outfit is one of her key style choices, as it allows her to stand out while maintaining a cohesive and harmonious look. This approach highlights her attention to detail and ability to create visually pleasing outfits.
Samantha also emphasizes the importance of accessories in enhancing one's overall style. She believes that pairing an outfit with minimal yet impactful accessories can elevate the entire look. By choosing statement pieces that complement the outfit, she adds a touch of flair and individuality to her styling.
Her perspective on trying new trends and stepping out of the box is a testament to her adventurous spirit when it comes to fashion. Samantha encourages embracing novelty and experimentation as a way to set new trends and express one's personal style. Confidence is a key ingredient in making any outfit stand out, and Samantha's advice to add 100 percent confidence to every look is a reminder that owning one's style choices is what truly makes them remarkable.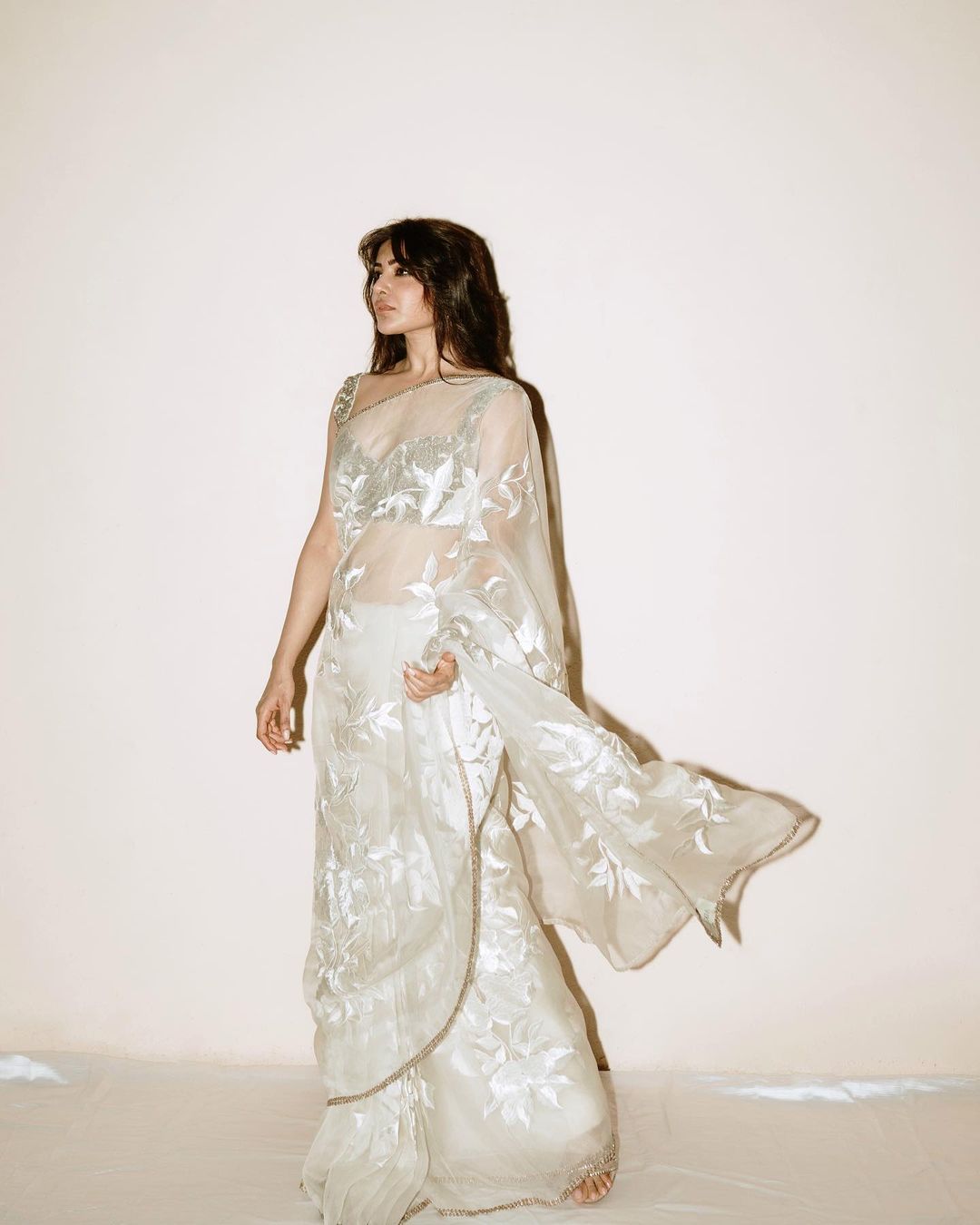 Samantha's go-to style encapsulates the balance between staying true to classic elegance and embracing contemporary trends, inspiring her fans to curate their own unique and confident fashion statements.