Kriti Sanon's Louis Vuitton tote bag is as stylishly floral as her midi dress
Kriti Sanon is undoubtedly a rising fashion icon in the Bollywood industry, known for her versatile and contemporary style choices. Her fashion sense embodies a perfect blend of sophistication, modernity, and a touch of whimsy.
One of the standout features of Kriti's style is her ability to adapt to various fashion aesthetics. Whether she's gracing the red carpet in an elegant gown or rocking casual streetwear, Kriti consistently showcases her versatility and fashion-forward sensibilities. This adaptability makes her a favorite among designers and fashion enthusiasts alike.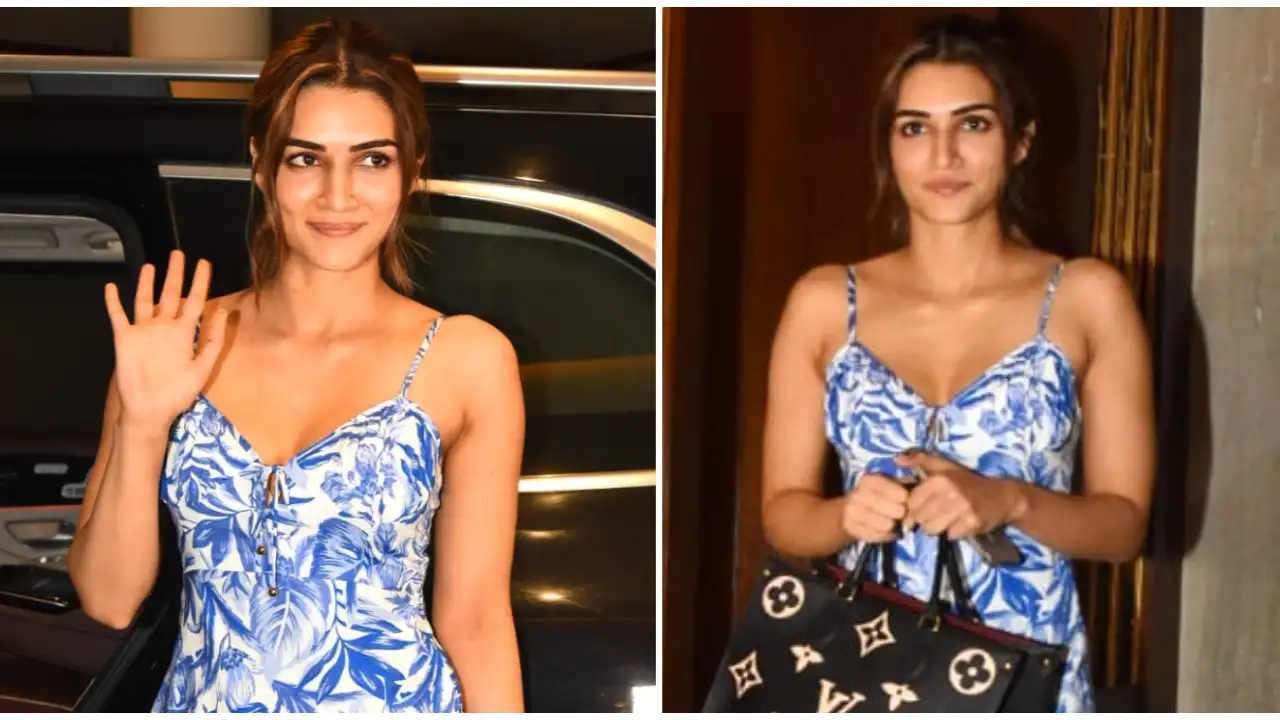 Kriti's attention to detail is another hallmark of her fashion sense. She doesn't shy away from experimenting with intricate patterns, bold prints, and unique silhouettes. Her outfits often feature eye-catching elements like thigh-high slits, cut-out details, and pleating, allowing her to make a statement with every appearance.
Accessories play a crucial role in Kriti's style, and she knows how to choose the right pieces to elevate her looks. Whether it's a statement handbag or a pair of embellished shoes, her accessories always complement her outfit flawlessly.
Kriti's red carpet appearances are eagerly anticipated, as she consistently turns heads with her glamorous choices. Her choices in designer gowns often showcase her elegance and poise. At the same time, her off-duty style captures a sense of comfort and casual chic that resonates with many.
The allure of floral prints in the spring is undeniably captivating. It's a trend that never seems to go out of style and always brings a touch of prettiness to any outfit. The love for floral prints is something many share, and it's no surprise that it remains a longstanding obsession in the world of fashion.
One such floral dress that has garnered admiration, especially from the likes of Kriti Sanon, is a versatile piece that can be worn for various occasions. Whether it's brunches, romantic beachside outings, luncheons, or casual gatherings, this dress has you covered.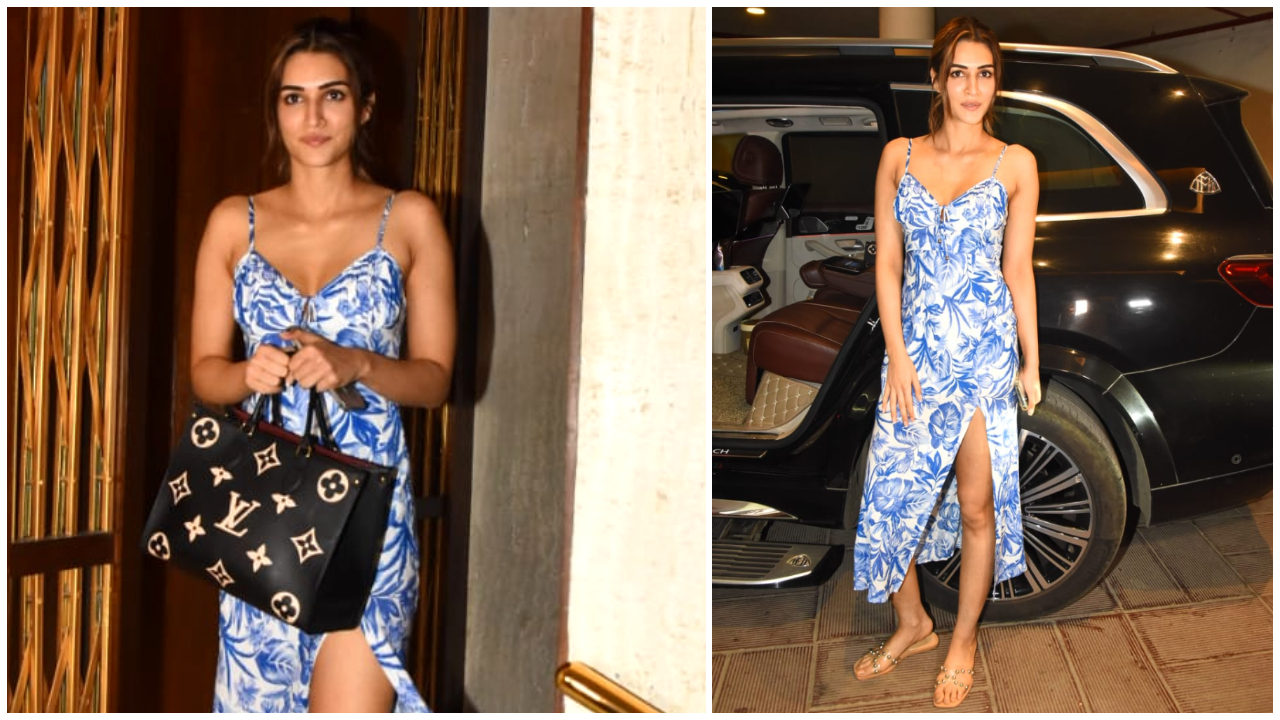 Fashion is ever-evolving, and every day brings new trends and style references. Celebrity fashion references are often a not-so-secretive weapon that helps fashion enthusiasts stay on-trend and keep their style lessons up-to-date. Celebrities like Kriti Sanon play a crucial role in setting fashion trends and inspiring people to experiment with their own style.
In essence, the beauty of fashion lies in its ability to evolve and adapt, drawing inspiration from various sources, including nature's timeless beauty, as represented by floral prints. Fashion enthusiasts are always on the lookout for the next trend, and celebrity references serve as valuable guides in this ever-changing landscape.
Kriti Sanon knows how to rock a floral dress with effortless style, and she looked absolutely fabulous when she paired it with her Louis Vuitton handbag.
Maxi dresses have certainly evolved over time, proving that they are still very much in vogue. Kriti, like Kiara, embraced the timeless trend with her choice of attire. She donned a midi dress during a recent appearance outside Manish Malhotra's Mumbai residence, showcasing her fashion-forward sensibilities.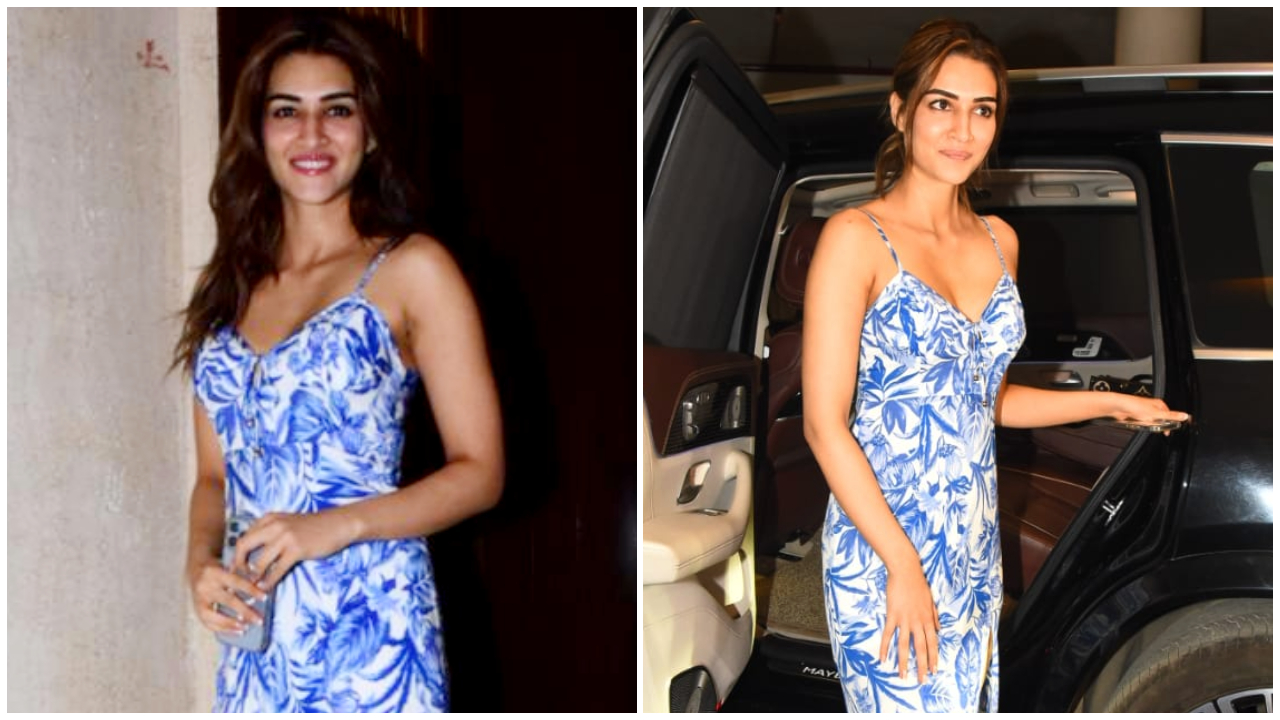 For those who are inspired by Kriti's style and want to get their hands on the 'Kiah' strappy dress, you can check out the White Haven Store's website or Oh Hello Clothing. It's always exciting to see how celebrities like Kriti Sanon effortlessly pull off fashionable looks and provide inspiration for those who appreciate chic and trendy fashion choices.
Kriti Sanon's dress was not only stylish but also intricately designed, showcasing her impeccable fashion sense. The dress boasted several eye-catching details, including a thigh-high slit, a pleated bust, a deep V-neckline, a mini cut-out, and tie-up detailing. These elements combined to create a chic and contemporary look that perfectly suited her style.
Her choice of the Onthego PM bag from Louis Vuitton was nothing short of classy and sophisticated. Monotone black handbags have their own appeal, but Kriti's Louis Vuitton bag took it to a whole new level. The bag was not only visually stunning but also very practical, thanks to its size and design.
Designed from Monogram Empreinte leather and adorned with a bicolour monogram pattern, her handbag exuded luxury. The double handles and gold-color hardware added an extra touch of elegance and refinement to the overall ensemble.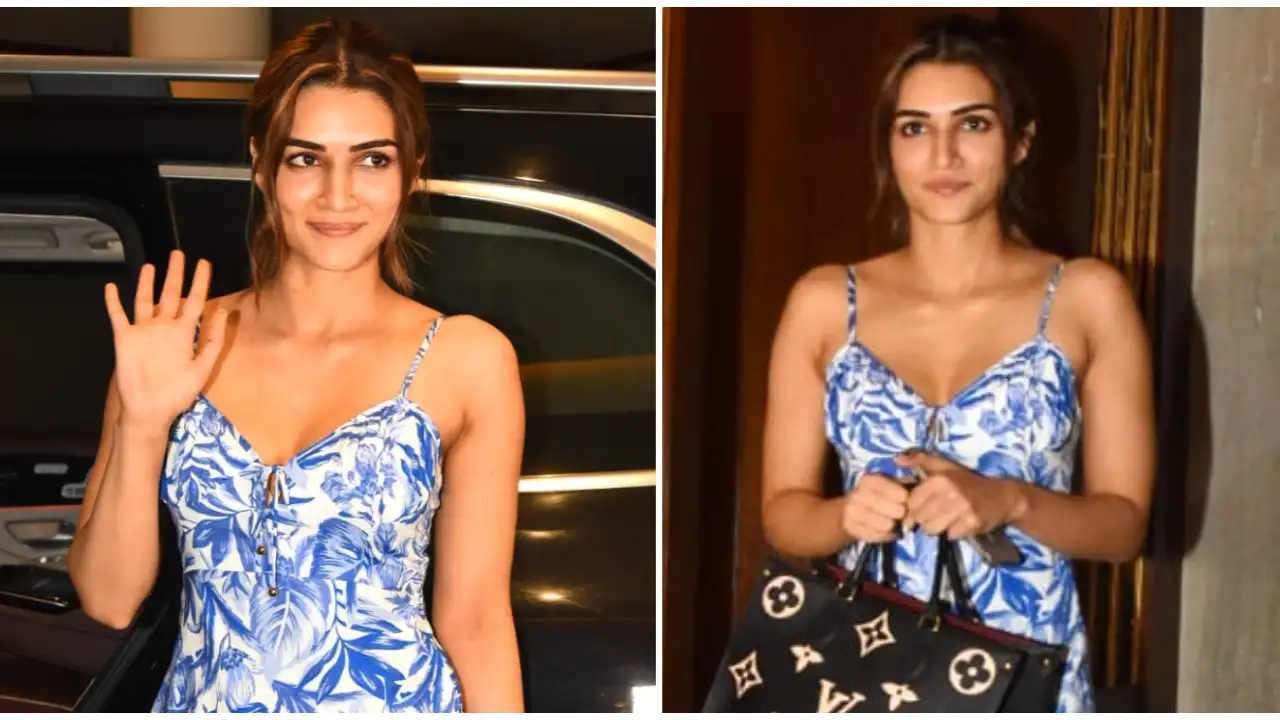 Kriti Sanon's fashion choices, from her intricately designed dress to her luxurious Louis Vuitton handbag, showcased her ability to effortlessly blend style and sophistication. Her attention to detail and choice of accessories demonstrated her mastery of fashion and her status as a style icon.
Flat footwear indeed has its own charm and comfort, making it a favorite for many of us. While heels can be stylish, they can also be less forgiving on our soles. Opting for a pair of embellished flat shoes not only adds a touch of glamour to your outfit but also ensures that you can move around comfortably.
Pairing flat shoes with a low bun hairstyle, with a few tendrils framing the face, creates a chic and relaxed look. It's a hairstyle that perfectly complements the ease and comfort of flat footwear.
To complete the look, consider going for a nude lipstick and some kohl to accentuate your eyes. This minimalist yet elegant makeup choice can give you a polished appearance without being overly dramatic.
The end result is a doll-like, sophisticated look that combines style and comfort effortlessly. It's a reminder that fashion doesn't always have to come at the expense of comfort, and that embracing flat footwear can be a stylish choice in its own right.