Mouni Roy sets a stunning trend with emerald elegance!
As we find ourselves in the midst of cheerful celebrations, it's no secret that Indian gatherings are incomplete without the allure of kurta sets. These adaptable outfits have long been a fixture in our closets, providing a wealth of alternatives for various occasions. The kurta, a traditional Indian garment, has evolved over the years to incorporate contemporary elements while maintaining its cultural roots. It offers a wonderful blend of comfort and style, making it a favorite choice for many.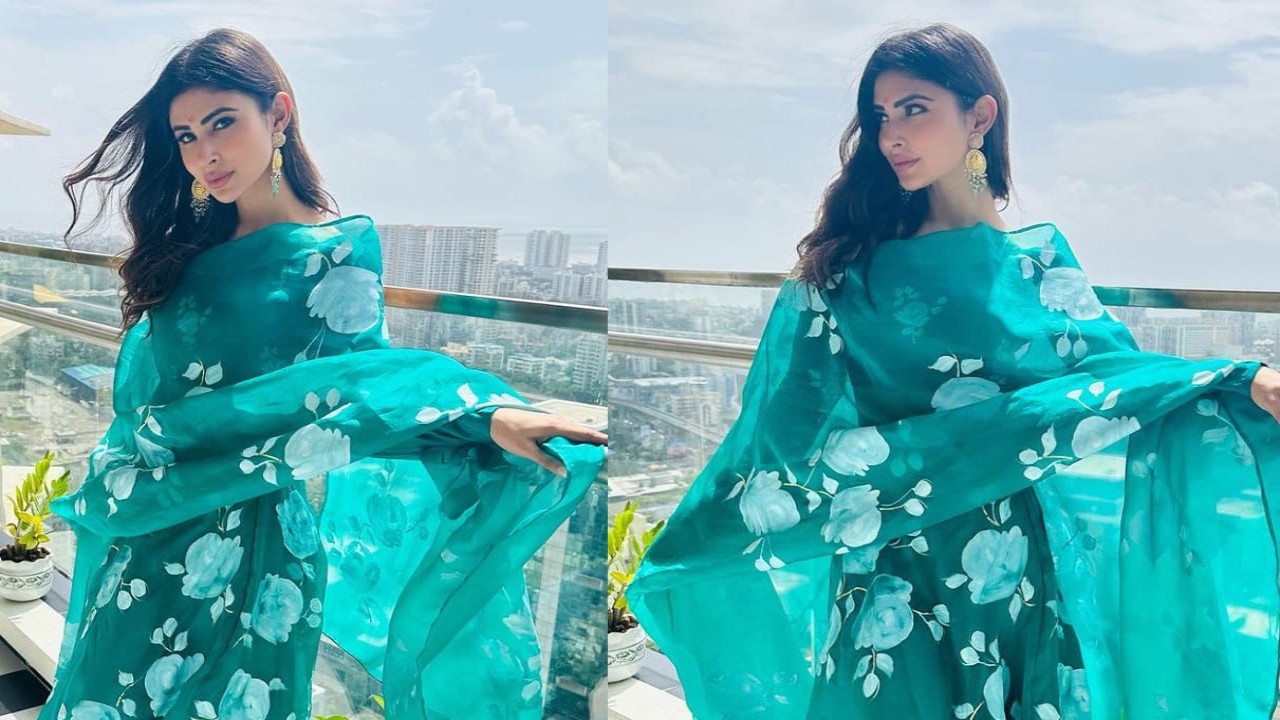 However, in recent years, Anarkali suits have grabbed center stage in the world of Indian fashion, mesmerizing fashion enthusiasts with their magical charm. The Anarkali suit is a fusion of tradition and modernity, characterized by its long, flowy silhouette and elaborate design. This ensemble captures the essence of India's rich heritage while embracing the latest trends in the fashion industry. The Anarkali suit has quickly become a popular choice for those looking to make a statement at special events and celebrations.
Embracing this fashion trend, the lovely Mouni Roy greets us with her presence in a magnificent maxi dress that will leave everyone speechless. Mouni Roy, known for her impeccable sense of style, effortlessly combines elegance and comfort in this stunning outfit. The maxi dress, inspired by the Anarkali suit, features a flowing silhouette that exudes grace and sophistication. Its elaborate design, often adorned with intricate embroidery, sequins, and vibrant colors, adds an element of grandeur to the attire.
This dress is the ideal choice for holiday gatherings, as it allows you to revel in the festive spirit while feeling comfortable and fashionable. Whether it's a Diwali celebration, a wedding reception, or any other joyous occasion, the Anarkali-inspired maxi dress can be your go-to ensemble for making a memorable entrance. It showcases the beauty of Indian craftsmanship and design, making it a true masterpiece in the world of fashion.
The Anarkali suit has undeniably taken the spotlight in Indian fashion, and Mouni Roy's magnificent maxi dress is a shining example of this trend. It seamlessly combines the charm of tradition with the allure of modernity, making it a must-have for those who seek both elegance and comfort in their festive attire. So, as you gear up for the next celebration, consider adding an Anarkali-inspired maxi dress to your wardrobe for a touch of magic and a lot of style.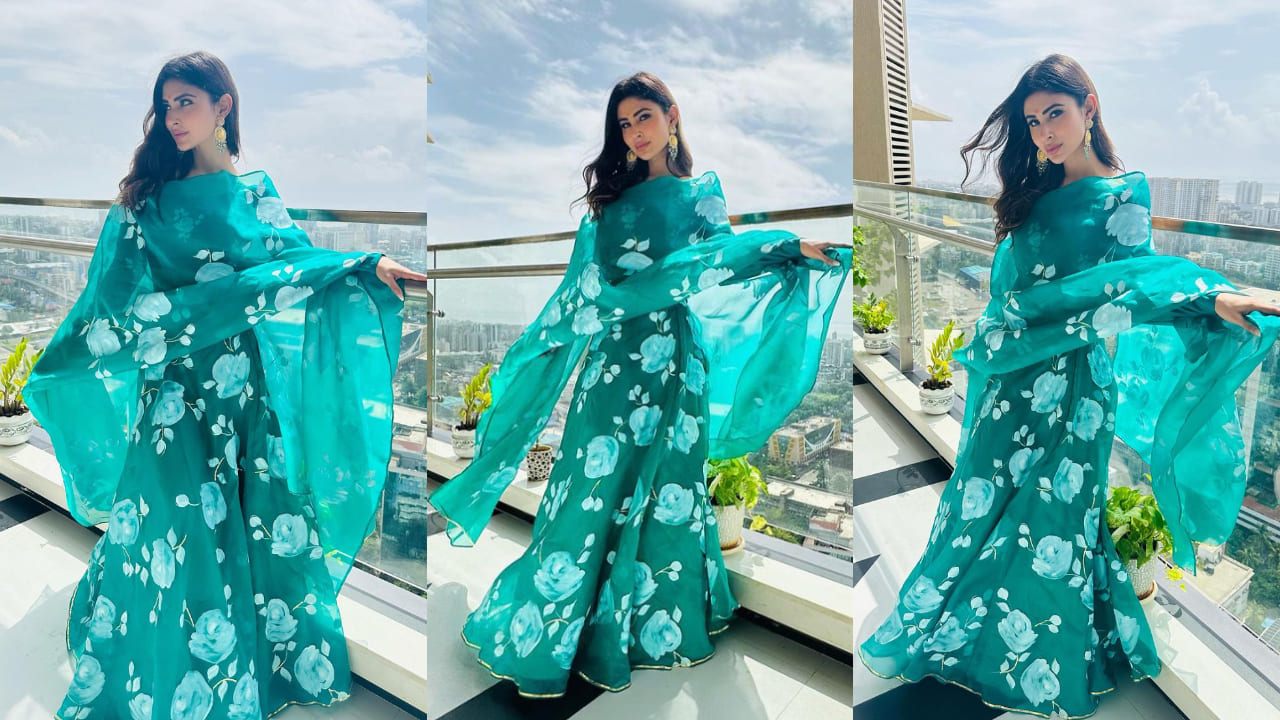 The beauty of the hand-painted hibiscus roses doesn't stop at the dress itself. It continues to the matching dupatta, which features a bouquet of these lovely blooms scattered all over. This coordinated design element ties the entire ensemble together, creating a harmonious and enchanting look. Mouni Roy's choice of this Anarkali outfit with its hand-painted hibiscus motifs showcases not only her impeccable fashion sense but also her appreciation for the artistry and craftsmanship that goes into creating such a stunning and captivating attire.
Mouni Roy's full-sleeved Anarkali dress, adorned with stunning Gota Patti embroidery, is a visual delight. The choice of full sleeves adds an element of elegance and sophistication to the outfit, complementing her ethereal beauty. The Gota Patti embroidery, a traditional Indian embellishment technique, is a testament to the rich heritage of Indian craftsmanship. This intricate work is a true masterpiece in itself, showcasing the artistry and skill of Indian artisans.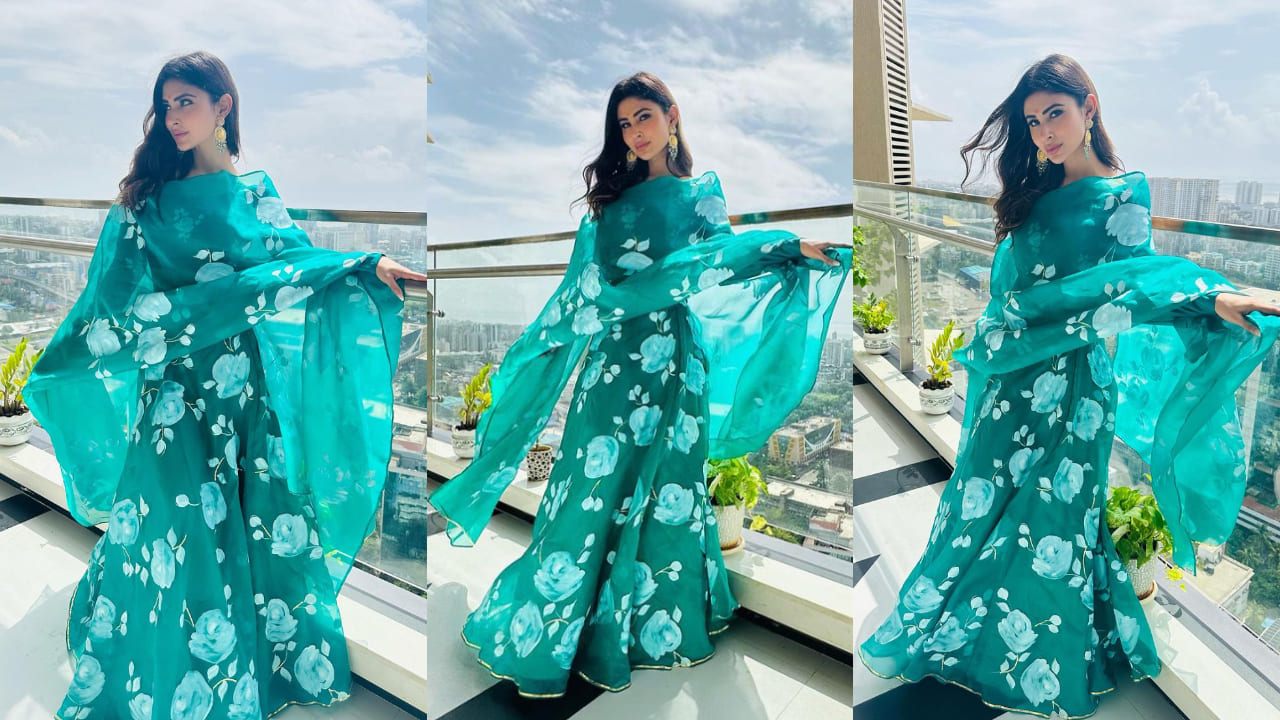 The delicate Gota work is carefully stitched into the stems of the hand-painted hibiscus blooms that grace the dress. This meticulous detailing adds a touch of opulence to the attire, making it a statement piece. The combination of Gota Patti and hand-painted hibiscus motifs creates a stunning contrast that captivates the onlooker's attention. It's a testament to the fusion of traditional and contemporary elements in Indian fashion, resulting in a timeless and beautiful ensemble.
The Anarkali dress's flounce border is adorned with dazzling golden Gota work lace, creating a beautiful contrast against the rich emerald green fabric. The addition of this golden lace border adds a touch of opulence and elegance to the outfit, emphasizing the regal nature of the Anarkali style. The use of Gota work lace in the design highlights the intricate and time-honored craftsmanship that is deeply rooted in Indian culture.
The combination of the hand-painted hibiscus blooms, Gota Patti stitching, and the golden lace border comes together to create a true masterpiece. This ensemble captures the essence of Indian artistry and beauty. The delicate hibiscus motifs, the intricate Gota Patti work, and the golden border collectively showcase the rich tapestry of India's cultural heritage. This Anarkali dress is not just an attire but a work of art that reflects the spirit of Indian craftsmanship, making it a stunning representation of the country's beauty and creativity.
In Mouni Roy's choice of this exquisite Anarkali dress, we see a celebration of India's diverse traditions and artistic excellence. It is a testament to her impeccable fashion sense and her appreciation for the intricate detailing that goes into crafting such a captivating and regal outfit. This ensemble is a true embodiment of the timelessness and allure of Indian fashion, capturing the hearts of those who admire the artistry and beauty of the culture.
In her choice of attire, accessories, and hairstyle, Mouni Roy showcases a fashion sensibility that is both bold and chic. Her ability to curate a look that combines traditional and contemporary elements while exuding confidence and elegance is truly commendable. This ensemble is a testament to her impeccable style and her knack for effortlessly elevating any outfit to a statement piece.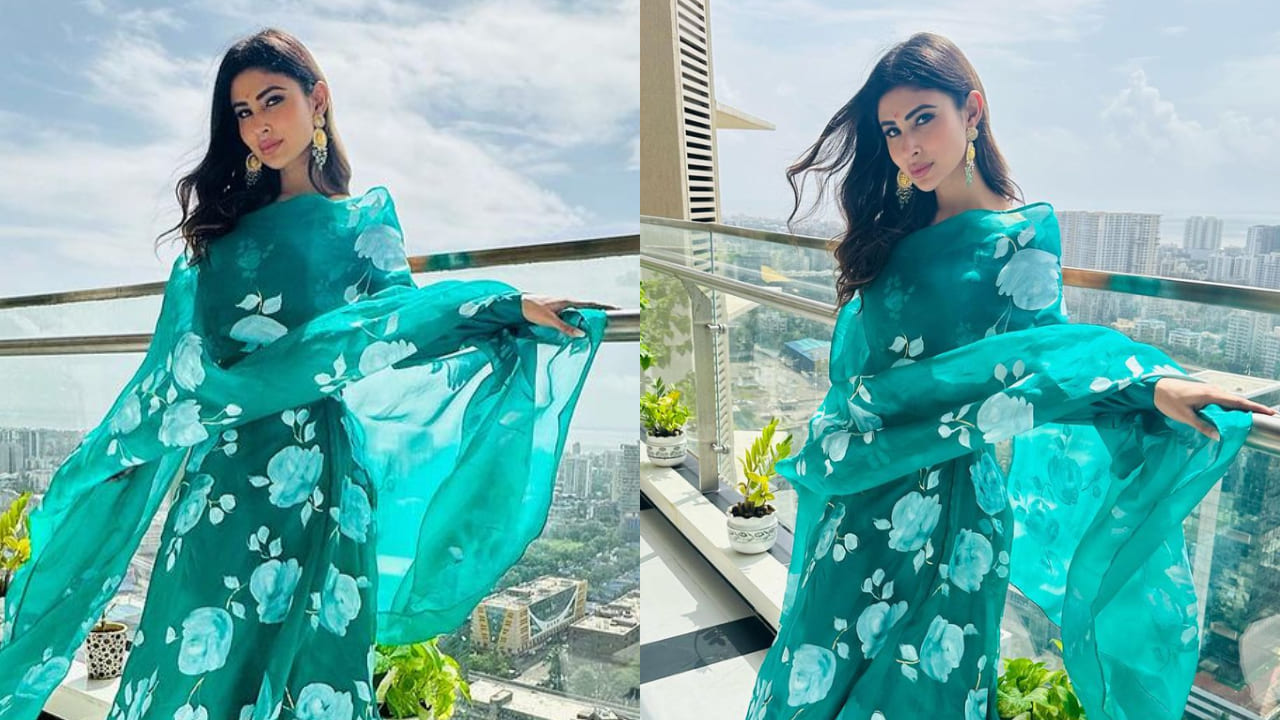 Mouni Roy's makeup is nothing short of flawless, enhancing her overall look with an alluring charm. Her kohl-rimmed eyes make for a striking feature, adding depth and magnetism to her gaze. The beautifully defined eyes emanate an appealing charm that captivates onlookers and adds a touch of drama to her appearance. The use of kohl is a classic choice that resonates well with traditional Indian aesthetics.
Her choice of a pink lipstick complements her lips with a soft and feminine touch. The pink shade not only complements her attire but also works harmoniously with the brilliant yellow earrings, creating a delightful contrast. The balanced use of makeup enhances her natural beauty without overshadowing the other elements of her ensemble. Mouni Roy's makeup is a testament to her understanding of color coordination and the art of highlighting her best features.
The combination of the Anarkali dress, bold yellow earrings, simple yet elegant hairstyle, and the flawless makeup creates a stunning and traditional fashion look for Mouni Roy. This ensemble underscores her position as a true fashion celebrity. Her ability to curate a look that seamlessly fuses tradition with modernity while exuding confidence and style is a testament to her stature in the world of fashion and her influence in setting trends. Mouni Roy's fashion choices continue to inspire and resonate with those who appreciate the artistry of Indian aesthetics.