Bhumi Pednekar masters white saree trend with Nikkhil Thampi's pearl-embellished elegance and layered accents
Bhumi Pednekar, one of the most celebrated actresses in Bollywood, is not only known for her exceptional talent but also for her impeccable style. Recently, she made a stunning appearance at an event, donning a white saree that has set a new benchmark in the world of fashion. The saree, designed by the renowned Nikkhil Thampi, was nothing short of ethereal, and it seamlessly blended traditional elegance with contemporary twists, leaving everyone in attendance simply awestruck.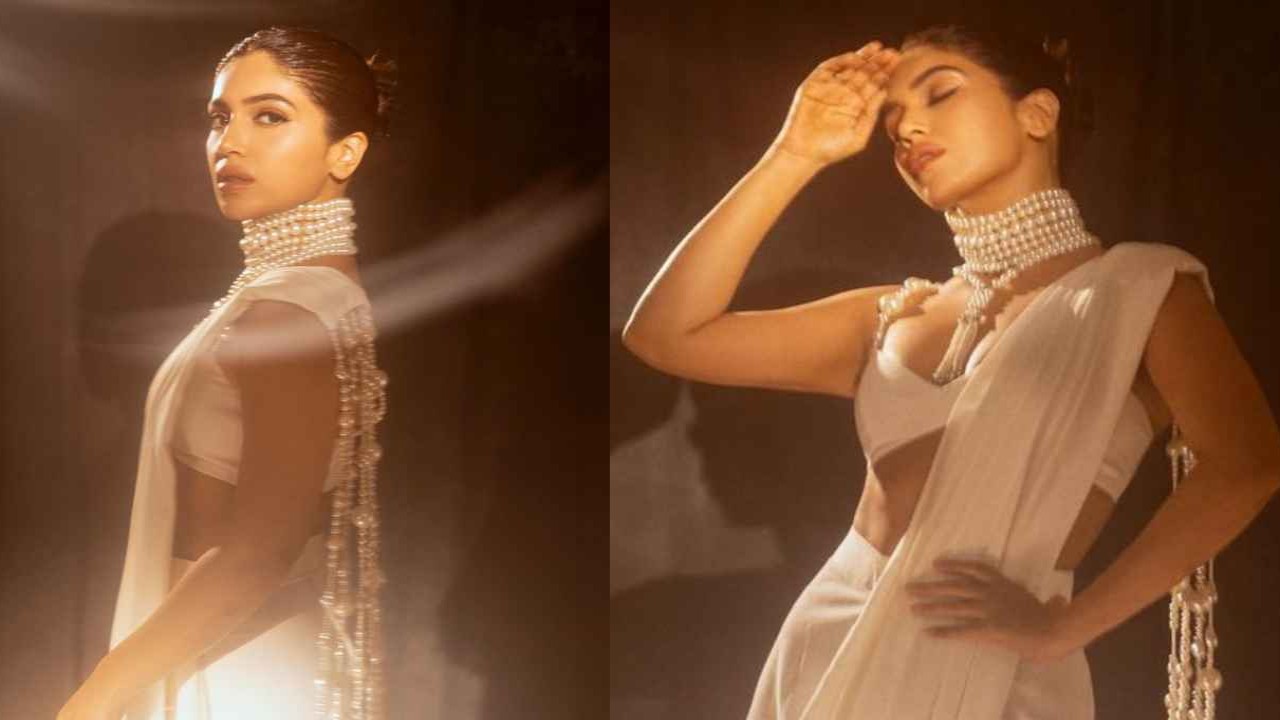 This extraordinary creation by Nikkhil Thampi demonstrated the power of fashion to be a work of art. Bhumi Pednekar's white saree was a true masterpiece, showcasing the designer's ability to reimagine classic Indian attire in a way that appeals to modern sensibilities. The saree exemplified a harmonious fusion of traditional craftsmanship and innovative design, making it a standout piece in her wardrobe.
While it's not uncommon for fashion choices to invite some criticism, especially when they push the boundaries, Bhumi Pednekar's experimentation with this ensemble undoubtedly worked like a charm. It showcased her confidence and willingness to embrace unique styles, breaking away from the conventional and predictable. Fashion is about expressing individuality, and Bhumi's choice to don this remarkable white saree was a bold statement of her fashion-forward approach.
In the world of fashion, it's essential to applaud those who dare to push the boundaries and set new standards, as Bhumi Pednekar did with her white saree. Her willingness to embrace innovative designs, and the impeccable execution by Nikkhil Thampi, reaffirmed that fashion is an ever-evolving art form that allows us to celebrate the fusion of tradition and modernity.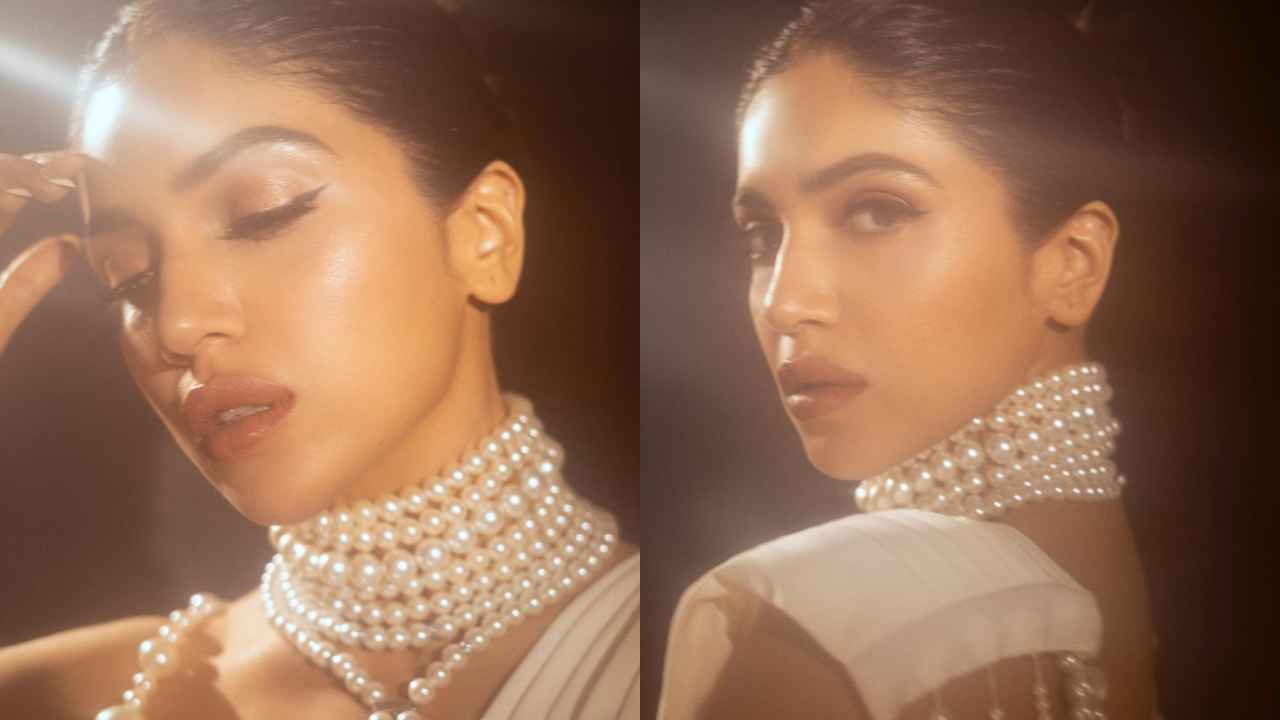 The gorgeous Bhumi Pednekar made a striking appearance recently, adorned in an exquisite white saree that featured beautiful modern twists, elevating its overall allure. This stunning saree, a creation by the renowned designer Nikkhil Thampi, was a testament to the power of fashion to reinterpret classic Indian attire. It was evident that this incomparable piece had breathed new life into the timeless Indian saree, offering a fresh and captivating perspective.
What truly set this saree apart was its innovative design. The well-draped effect, coupled with a classy thigh-high slit, added a contemporary edge to the traditional attire. This bold choice allowed the talented diva to flaunt her perfectly toned legs, adding an element of sultriness to her overall look. The saree not only showcased her confidence but also highlighted her unique ability to blend tradition with modernity seamlessly.
Bhumi Pednekar's choice to wear this modern, reinvented saree was not just a fashion statement but also a celebration of the ever-evolving nature of fashion. It's a reminder that traditional attire can be infused with fresh and contemporary elements, creating a look that is both elegant and alluring. This breathtaking outfit was a perfect canvas for Bhumi to express her style, elegance, and boldness, leaving a lasting impression on the world of fashion.
The modern saree worn by Bhumi Pednekar was not just about its draping and silhouette; it featured several unique elements that made it a true standout. One such element was the saree's pallu, which rested on her shoulder in a distinctive fashion. What made it even more captivating was the incorporation of proper pearl detailing and layers of pearls cascading down her back. These pearls added an element of elegance and sophistication to the outfit, creating a look that was nothing short of enchanting.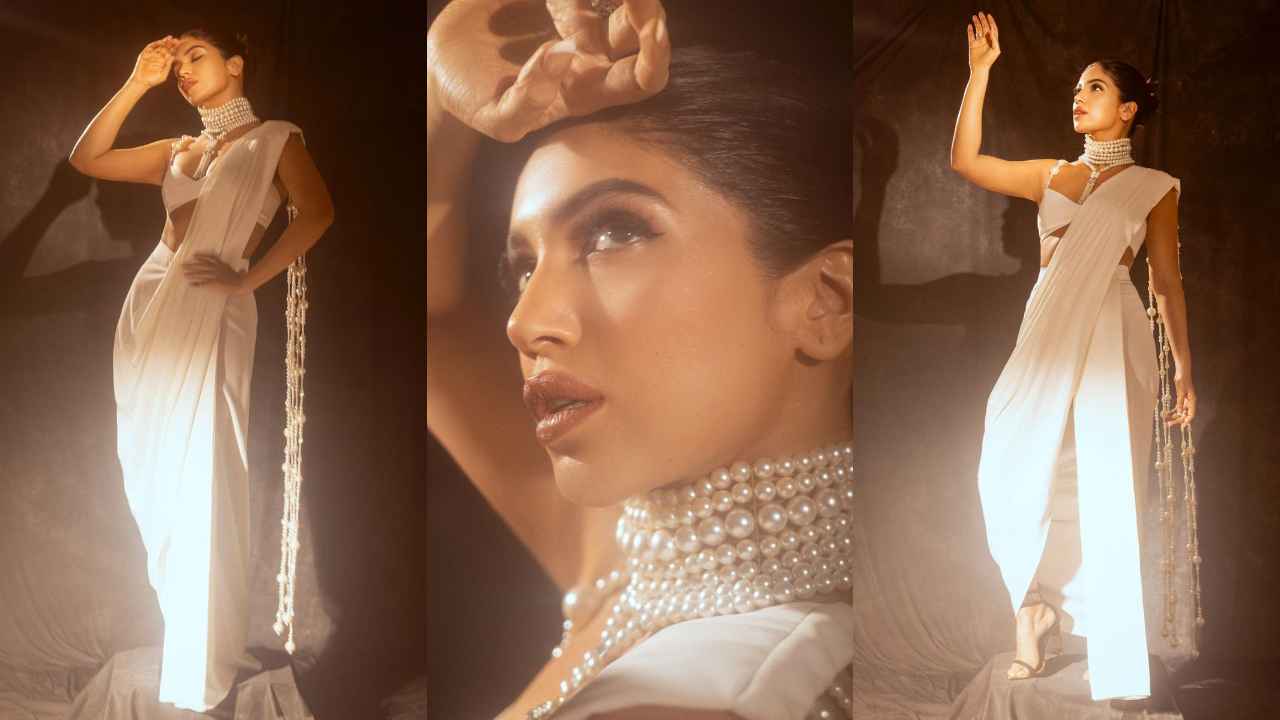 To complement the extraordinary saree, the gorgeous Pati Patni Aur Woh actress made a bold choice by pairing it with a strappy bralette-like blouse. This blouse was a perfect example of modernity meeting sensuality, as it featured a deep, plunging neckline that was sultry and alluring. The daring neckline not only added to the overall allure of the ensemble but also showcased Bhumi's confidence and willingness to push the boundaries of conventional fashion.
This ensemble's blend of traditional elements with modern design, highlighted by the pearl detailing and the sultry blouse, was a true embodiment of Bhumi Pednekar's fashion-forward approach. It showcased her ability to reinterpret traditional Indian attire in a way that's both contemporary and captivating, further solidifying her status as a style icon in the world of Bollywood.
Bhumi Pednekar's fashion choices extended beyond her stunning white saree and sultry blouse. To complete her immaculate ensemble, she opted for strappy black heels that were part of the Tiesta x Nikkhil Thampi collection. These stylish heels not only provided a striking contrast to the white attire but also added a touch of modernity and edge to her overall look. Her choice of footwear showcased her ability to carefully select accessories that perfectly complemented her outfit.
Adding an extra layer of sophistication and pearly elegance to her ensemble, the classy Lust Stories actress accessorized her look with a layered pearl neckpiece. This choice was a masterstroke, as it harmonized with the pearl detailing on the saree's pallu, creating a coherent and refined aesthetic. The pearl neckpiece not only enhanced the overall allure of her outfit but also reflected her attention to detail and her knack for elevating her style with the right accessories.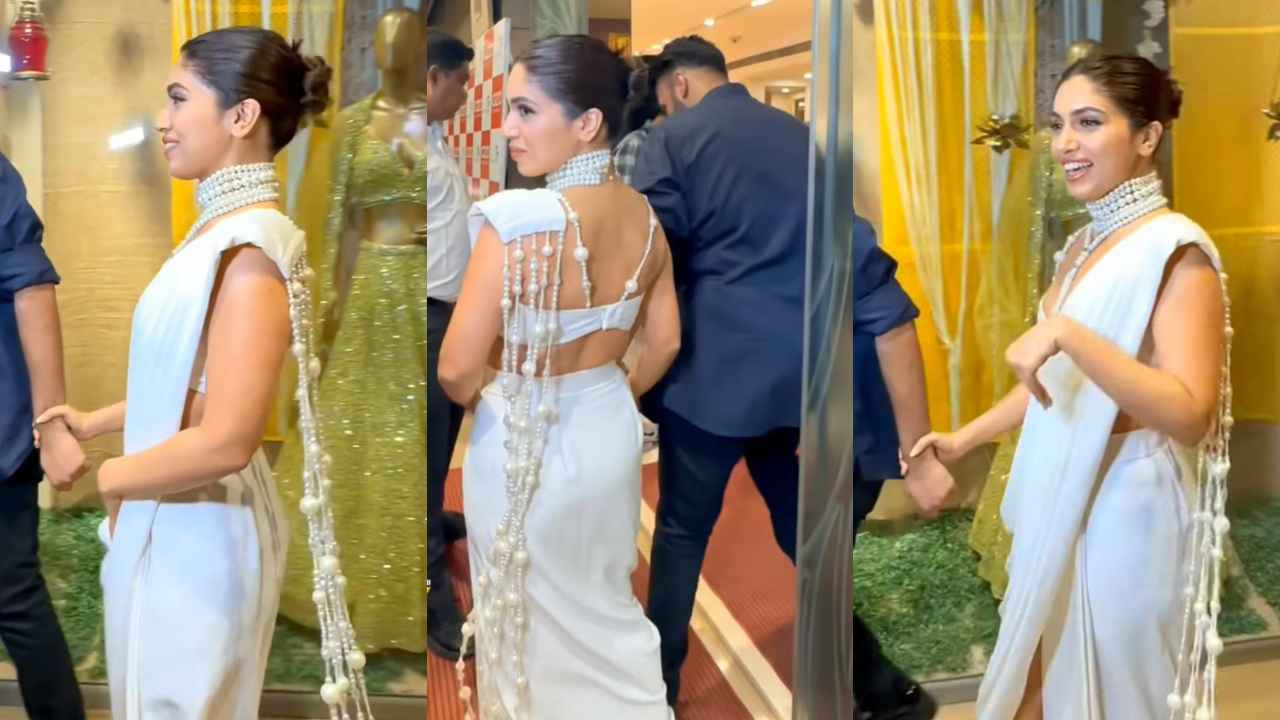 Bhumi Pednekar's selection of strappy black heels and the layered pearl neckpiece demonstrated her fashion acumen, as she expertly balanced her ensemble with these carefully chosen elements. It's a reminder that accessories play a crucial role in completing a look and that a well-thought-out accessory can take an outfit from beautiful to extraordinary. Her impeccable fashion sense and attention to detail truly set her apart as a style icon in the world of Bollywood.
Bhumi Pednekar's makeup and hair choices were in perfect harmony with her stunning outfit. The incredibly talented Afwaah actress opted for a subtle makeup look that accentuated her natural beauty. Her well-shaped eyebrows framed her eyes elegantly, and she added a touch of shimmery eyeshadow to enhance their allure. Her black eyeliner was on fleek, adding a bold and defined edge to her gaze. Rouged cheeks brought a healthy flush to her complexion, and the choice of a nude-colored lipstick was the perfect finishing touch. This makeup look not only complemented her outfit but also elevated it, showcasing her innate understanding of how to strike the right balance between boldness and subtlety.
For her hairstyle, the Durgamati actress decided to tie her hair up into a sleek bun. This choice not only added a touch of sophistication to her look but also created a sense of cleanliness and order. The sleek bun allowed the ensemble to take center stage, without any distraction, emphasizing her elegant and modern approach to styling.
Bhumi Pednekar's makeup and hair game perfectly encapsulated her ability to embrace simplicity and understated elegance. Her choices reflected a sense of refinement and confidence, highlighting her natural beauty without overshadowing the exquisite ensemble. It was a well-executed combination of makeup and hairstyle that showcased her as a true fashion maven who understands the importance of balance in creating a memorable and harmonious look.