Sanya Malhotra's pretty silk satin dress with puffed shoulder is a wardrobe must-have!
Sanya Malhotra's fashion journey has indeed been a remarkable one, evolving from a fresh-faced newcomer in her debut film "Dangal" to becoming a true style icon in the entertainment industry. Her transformation into a fashion maven has been nothing short of spectacular. With each red carpet appearance and public outing, Sanya has consistently displayed her great taste and adaptability, leaving an indelible mark on the fashion scene.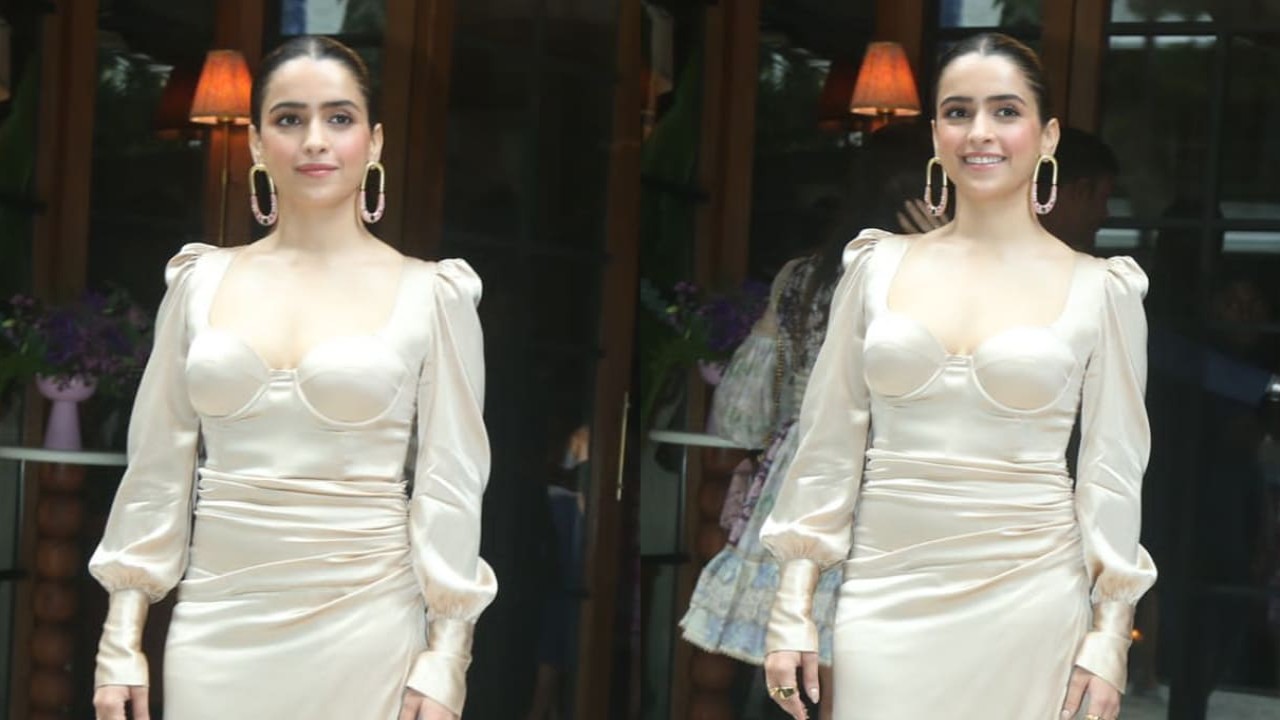 What's particularly striking about Sanya's fashion evolution is her willingness to break away from modest and subtle outfits. Instead, she has fearlessly ventured into the world of bright colors, unusual forms, and daring patterns. Her fashion choices exude a sense of confidence and a fearless approach to experimenting with her style. This boldness in her dress choices reflects her self-assurance and her openness to embrace the ever-changing landscape of fashion.
Recently, Sanya Malhotra once again stepped out to showcase her distinct fashion sense, and it's a testament to her continued growth as a style icon. Let's delve into her latest fashion statement and explore the uniqueness she brings to the world of fashion.
In her latest fashion outing, Sanya Malhotra exuded sheer elegance and charm. She was a vision of grace in a silk satin midi dress that perfectly complemented her style. The dress's sweetheart neckline added a touch of tenderness to her look, creating a soft and romantic aesthetic that beautifully suited her.
However, what set this dress apart were the fashionable puff shoulders. They brought an element of drama and intrigue to the ensemble, balancing the tender sweetness of the sweetheart neckline. The combination of these contrasting elements showcased Sanya's unique fashion sensibility and her ability to make bold and daring choices while maintaining an air of sophistication.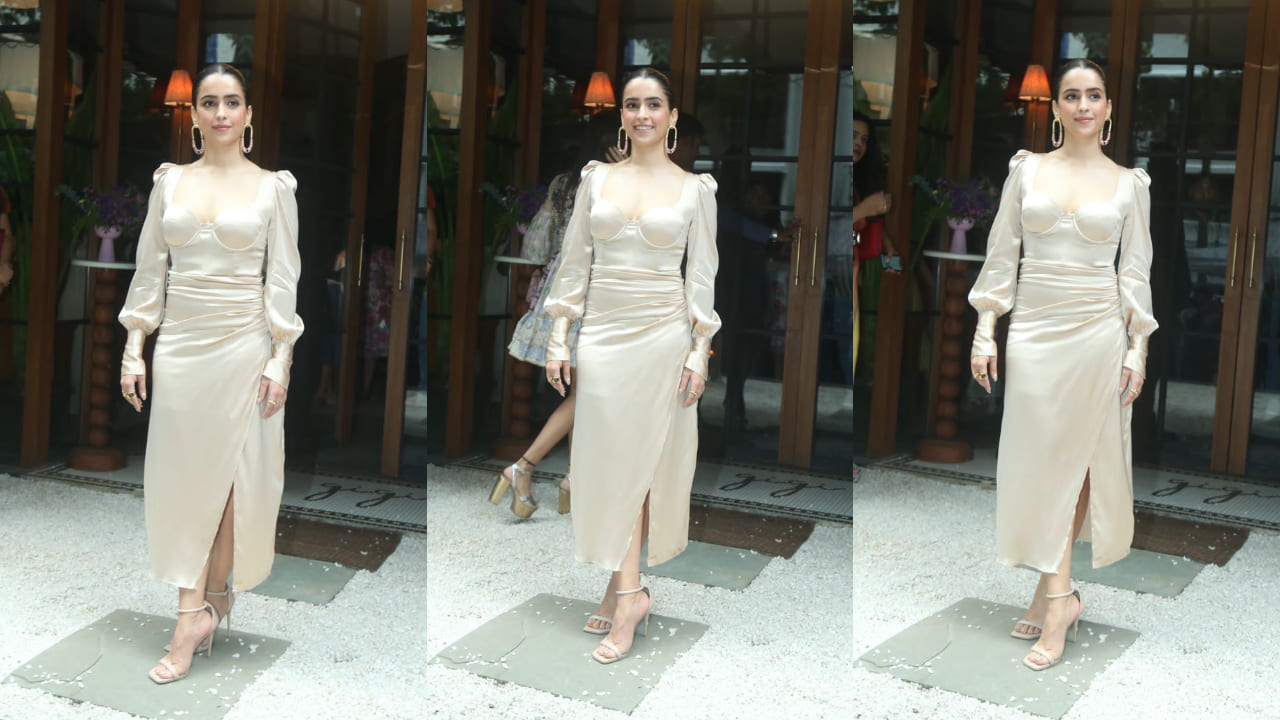 The dress featured underwired padded cups and a boned bodice, which not only added structure but also enhanced the overall allure of the outfit. The ruched accents at the sides and back of the dress provided additional detailing that contributed to its charm and fashion-forward appeal. Sanya Malhotra's choice of this dress demonstrated her ability to blend classic and contemporary elements, creating a look that was both modern and timeless.
The balloon sleeves of the dress introduced a playful and fun element to Sanya Malhotra's entire appearance. These voluminous sleeves not only added a touch of whimsy but also emphasized her fashion-forward approach. The sleeves served as a statement feature, showcasing her willingness to experiment with bold and innovative design elements.
Adding to the dress's allure was the slit hemline, which offered a hint of edginess to an otherwise elegant and romantic outfit. This unexpected detail brought a touch of drama and modernity to her look, underscoring her ability to blend different fashion elements cohesively.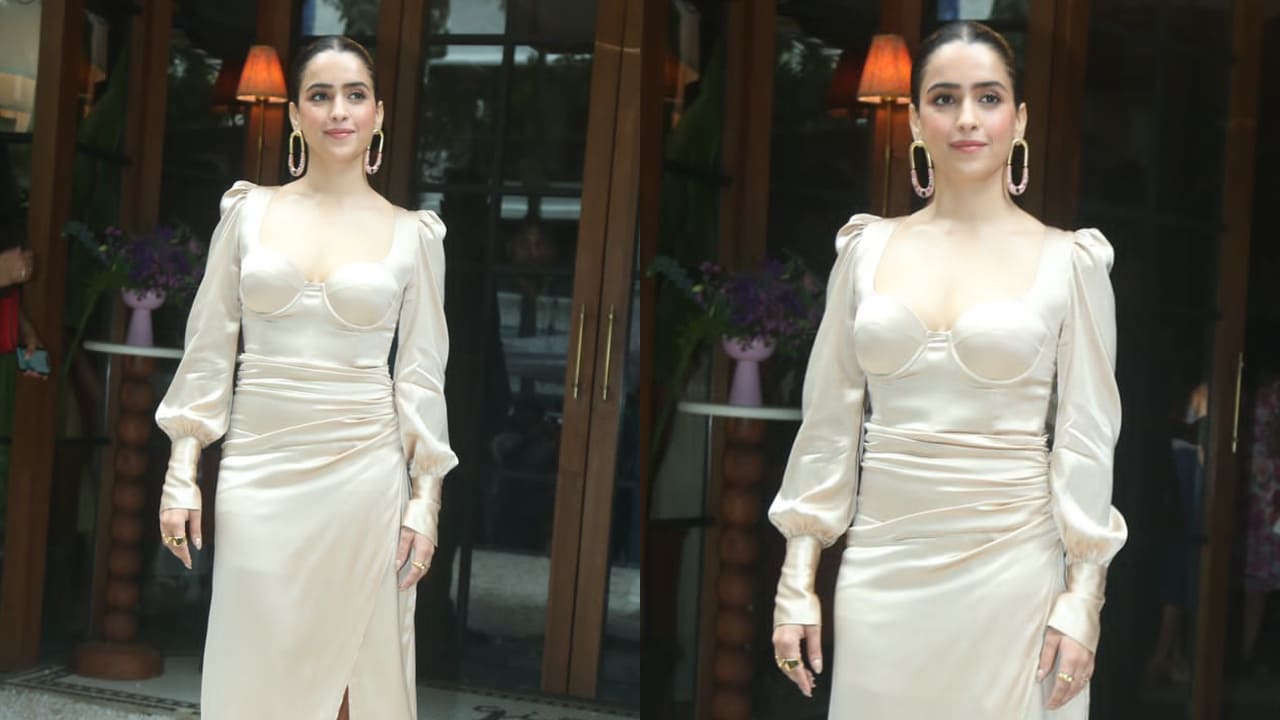 During the event, Sanya Malhotra conducted herself with confidence and grace, leaving no doubt about her great sense of style. Her ability to effortlessly carry such a distinctive and chic ensemble is a testament to her evolving fashion sensibility. Sanya continues to showcase her unique and daring style, solidifying her status as a rising fashion star in the industry.
Sanya Malhotra made a stunning and attention-grabbing choice by wearing Violante Nessi's Modigliani Dress. This magnificent piece of fashion, with a price tag of Rs. 1,01,476, exemplified her exceptional taste and flair for style. The dress perfectly highlighted Sanya's innate beauty, showcasing a trendy and elegant design that harmonized with her overall aesthetic.
The dress's intricate details and unique design served as a canvas to enhance Sanya's natural beauty, making her the epitome of fashion sophistication. Her choice of such a striking and stylish dress was a reflection of her ability to pick outfits that not only stand out but also highlight her individual charm.
To accessorize the gown, Sanya adorned herself with gold rings on her fingers. These rings provided a hint of glitz and elegance, adding a touch of opulence to her appearance. Her choice of jewelry, like her dress, perfectly balanced modernity and classic elegance.
Sanya completed her outfit by wearing large oval hoops in her ears, a bold choice that effectively boosted her overall image. These statement earrings added an extra layer of style and charisma to her look, emphasizing her penchant for making daring fashion choices.
Sanya Malhotra's choice of the Modigliani Dress and her meticulously selected accessories reflected her evolving style and her remarkable sense of fashion. Her ability to combine luxury, style, and boldness made her appearance unforgettable and reaffirmed her position as a rising fashion icon.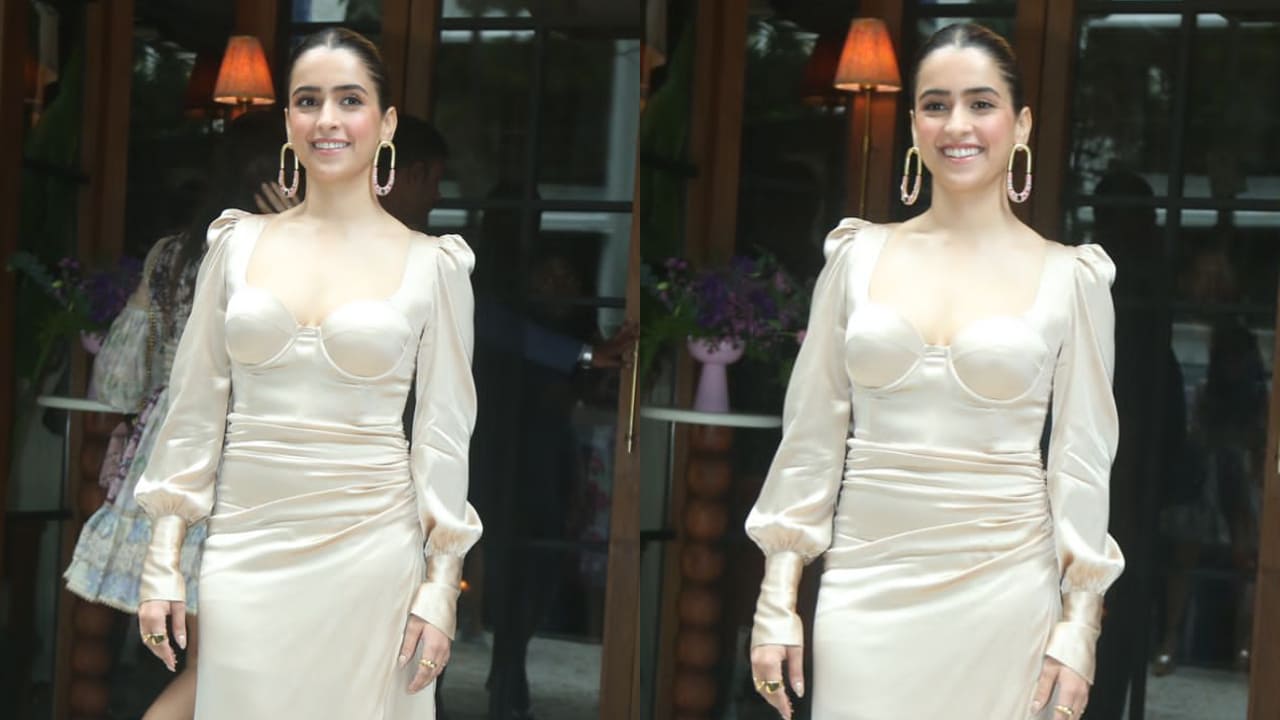 Sanya Malhotra's stunning attire was perfectly complemented by her choice of footwear. She completed her breathtaking look with a pair of strapped high heels that not only matched the color of her dress but also added a touch of refinement to her ensemble. These shoes not only provided a stylish edge but also worked to elongate her form, making her even more noticeable and creating a striking visual impact.
The choice of footwear is crucial in fashion, and Sanya's selection of these strapped high heels not only harmonized with her outfit but also contributed to her overall style, enhancing her stature and creating a sense of sophistication.
Sanya's makeup was equally flawless, showcasing her attention to detail. Her fine eyeliner elegantly highlighted her eyes, adding depth and allure to her gaze. This choice drew attention to one of her most captivating features and added a touch of drama to her overall appearance.
Additionally, the pink lipstick she chose added a delightful burst of color to her entire look. The lip color not only complemented the dress but also contributed to a harmonious and well-coordinated appearance. Sanya's makeup choices were in perfect alignment with her overall style, underscoring her fashion-forward approach and her ability to make bold yet tasteful choices.
Sanya Malhotra's meticulous attention to her makeup and her choice of stylish high heels were the final touches to an already captivating and unforgettable ensemble, further establishing her reputation as a rising fashion sensation in the industry.
Sanya Malhotra's attention to detail extended to her hairstyle, which was a crucial element of her overall look. Her hair was elegantly styled in a swept-back bun with a center partition, creating a sleek and professional image that harmonized beautifully with the beauty of her dress. This hairstyle not only added a touch of sophistication but also allowed the dress to take center stage, emphasizing its intricate design and elegance.
The swept-back bun and center partition showcased Sanya's commitment to a polished and refined appearance, further enhancing her image as a fashion-forward and poised figure.
From her stylish dress to her impeccable makeup, her choice of accessories, and the carefully selected hairstyle, Sanya Malhotra's outfit was flawlessly put together. It was a testament to her amazing sense of style and her ability to create a harmonious and striking look from head to toe. Her fashion choices continue to captivate and inspire, solidifying her status as a rising star in the world of fashion.