Nora Fatehi Slays in Vibrant Embellished Mini-Dress by Falguni Shane Peacock, Adorned with Dazzling Iced Out Accessories!
Within the realm of glamour and fashion, Nora Fatehi has solidified her name as a synonym for elegance. Her recent appearance on the sets of Hip-Hop India reaffirmed her reputation for having impeccable taste in clothing, captivating both fashion enthusiasts and fans alike.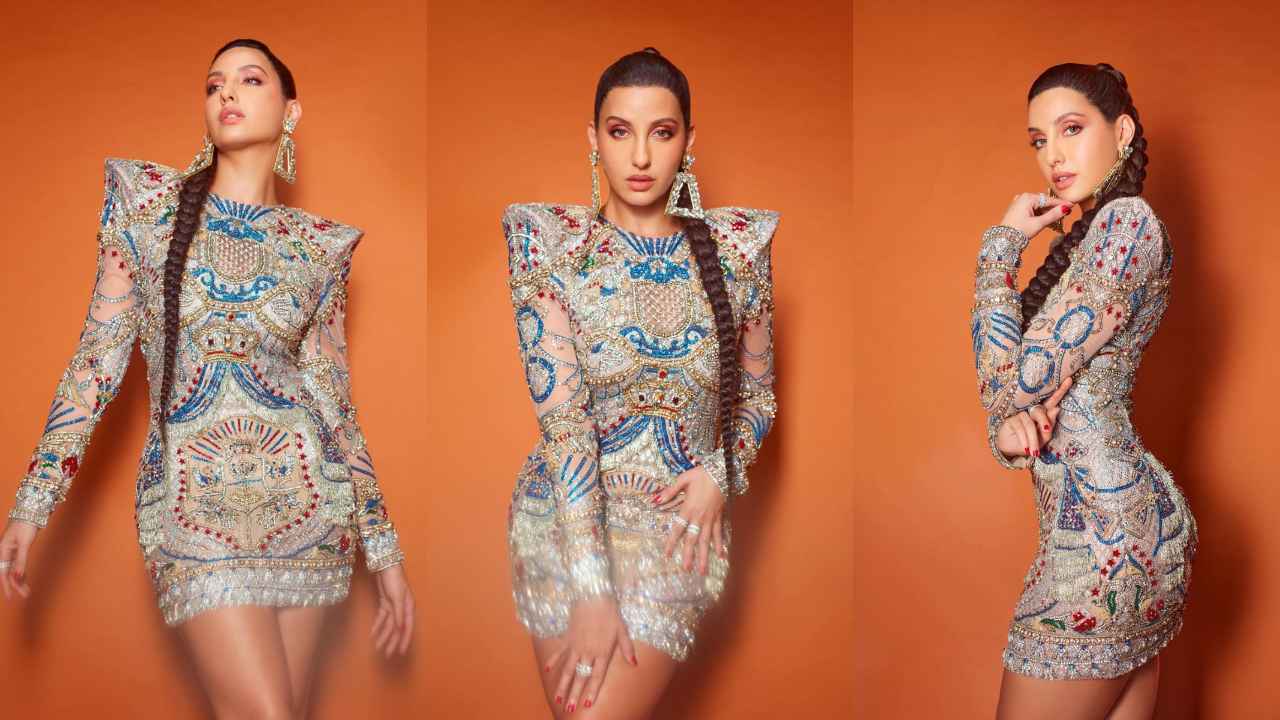 The starlet effortlessly donned a heavily embellished mini-dress created by the esteemed fashion duo Falguni and Shane Peacock. Her ensemble was further elevated with a touch of extravagance through a pair of stylish Christian Louboutin heels.
Nora Fatehi's choice to wear a heavily embellished mini-dress from Falguni and Shane Peacock showcased her ability to marry opulence with fashion sensibilities. The renowned fashion designers are known for their intricate detailing and luxurious designs, and Nora's selection of their creation echoed her knack for embracing glamorous and statement-making pieces.
The addition of Christian Louboutin heels not only elevated her stature but also added a level of sophistication that harmonized with the ornate nature of the mini-dress. The red-soled shoes, synonymous with luxury, complemented the ensemble beautifully, further underscoring Nora's expertise in combining elements to create a cohesive and impactful look.
Nora Fatehi's appearance on Hip-Hop India once again highlighted her status as a fashion icon with an innate sense of style. Her ability to seamlessly weave together high-end designer pieces, while ensuring each element complements the other, speaks to her fashion finesse. Her choices consistently capture attention and inspire individuals to experiment with their own style, encapsulating the essence of modern glamour and elegance.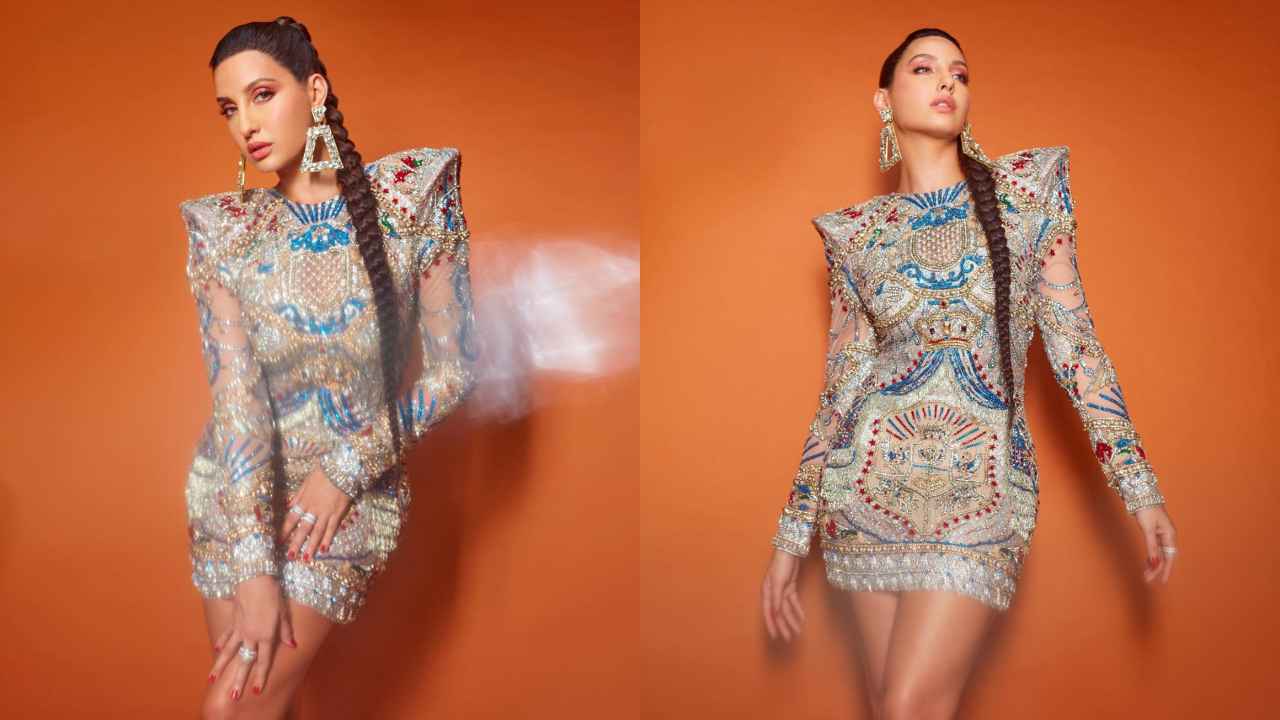 Nora Fatehi radiates exceptional style in a captivating and alluring mini-dress. The dress itself serves as a canvas that showcases the artistic mastery of Falguni and Shane Peacock. Embellished with meticulous sequin and beadwork embroidery, the mini-dress exudes a lavish and refined aura. The intricate details speak volumes about the craftsmanship behind it, underlining the designers' ability to create pieces that transcend mere fashion and transform into wearable art.
The mini-dress pays homage to the bold and daring fashion trends of the 80s, evident in its design featuring power shoulder pads. These shoulder pads harken back to an era known for its fearless sartorial choices, and their inclusion in the dress adds a nostalgic touch while amplifying the outfit's dramatic appeal.
Nora Fatehi's choice to wear this mini-dress not only highlights her striking fashion sense but also demonstrates her ability to embrace both contemporary elegance and vintage influences. The dress becomes more than just an outfit; it becomes a statement that resonates with the essence of glamour and sophistication.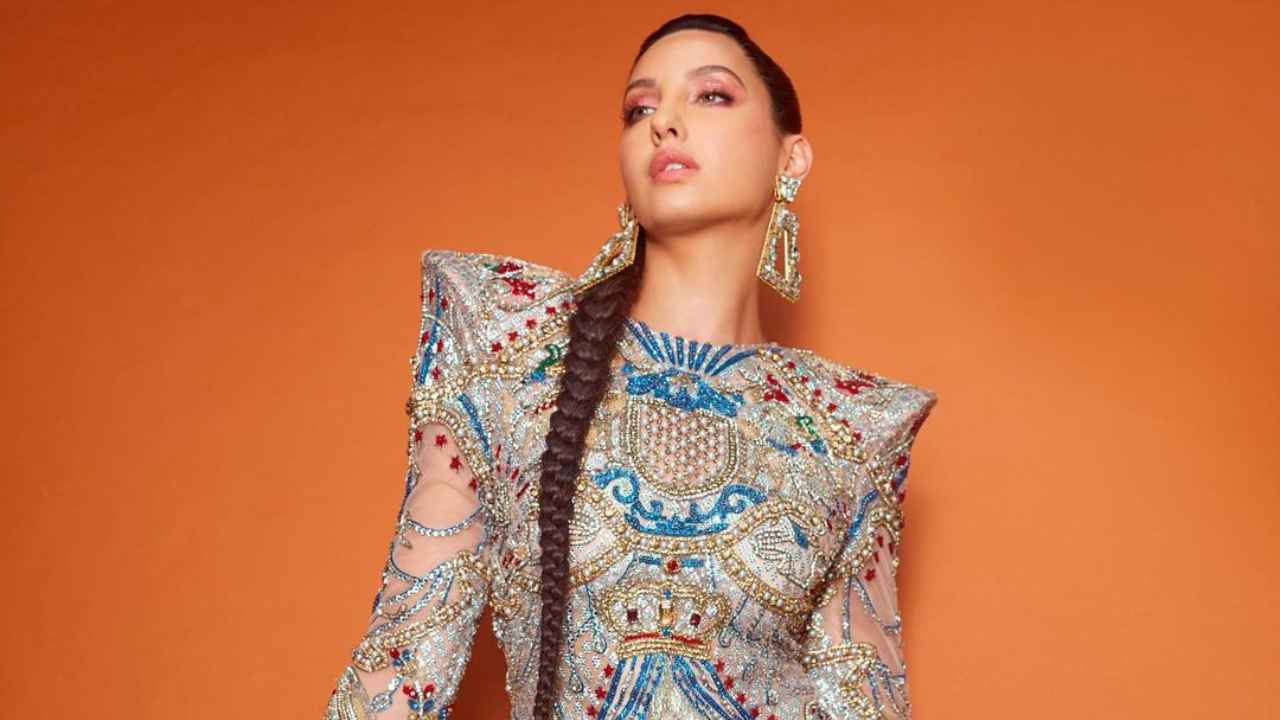 In this ensemble, Nora Fatehi embodies modern sensibilities while paying homage to iconic fashion eras. Her choice of the dress showcases her eye for selecting pieces that transcend time, resonating with fashion enthusiasts who appreciate the fusion of history and innovation. This look stands as a testament to Nora's status as a style icon who continuously raises the bar for fashion and sets trends that captivate and inspire.
The champagne gold hue of the dress not only exudes opulence but also harmonizes flawlessly with Nora Fatehi's complexion, resulting in a captivating visual synergy. The choice of this shade adds an element of luxury to the ensemble while highlighting her natural beauty. The dress's color choice not only showcases her impeccable fashion sense but also emphasizes her knack for selecting pieces that enhance her features and create a stunning overall effect.
Nora Fatehi's innate sense of style shines through in this ensemble. The figure-hugging silhouette of the dress serves as a canvas that accentuates her curves, emphasizing her feminine allure. The dress's design complements her body shape while allowing her to exude confidence and grace, showcasing her ability to select outfits that not only align with trends but also resonate with her individuality.
The ensemble as a whole reflects Nora Fatehi's understanding of how every element, from color to silhouette, comes together to create a harmonious and striking look. Her mastery of fashion allows her to confidently experiment with styles that enhance her appearance, exuding both elegance and contemporary charm.
Nora Fatehi's choice of the champagne gold mini-dress demonstrates her ability to seamlessly blend color, silhouette, and personal style. The ensemble not only celebrates her innate beauty but also showcases her fashion sensibilities. Nora Fatehi's fashion choices consistently reflect her status as a style icon, inspiring individuals to embrace their unique beauty and express themselves through clothing with confidence and grace.
To complement the allure of the dress, Nora Fatehi made a wise choice by selecting Christian Louboutin heels. These heels not only harmonized seamlessly with the dress's elegance but also introduced a contemporary touch, creating a cohesive and sophisticated ensemble. The marriage of these two elements, the dress and the heels, exemplified her astute fashion sense and her ability to curate looks that strike the perfect balance between classic and modern aesthetics.
What truly sets Nora Fatehi's appearance apart is her meticulous attention to detail in accessorizing. Her choice of iced-out earrings from Drip Project by MetaMan adds an edgy and daring dimension to the ensemble. These earrings introduce a touch of personality and rebellion, creating an intriguing contrast to the dress's opulence.
The addition of matching rings from Minerali further contributes to the ensemble's cohesiveness, showcasing her proficiency in accessorizing. The rings enhance the overall visual impact, demonstrating Nora Fatehi's capability to thoughtfully layer accessories that enhance her style while maintaining a consistent theme.
Nora Fatehi's ability to carefully select accessories that complement the outfit, while also adding her own unique touch, exemplifies her status as a true fashion maven. Her ensemble showcases not only her sartorial sophistication but also her knack for curating looks that leave a lasting impression. Her attention to detail and penchant for combining elements cohesively demonstrate her mastery of the art of styling.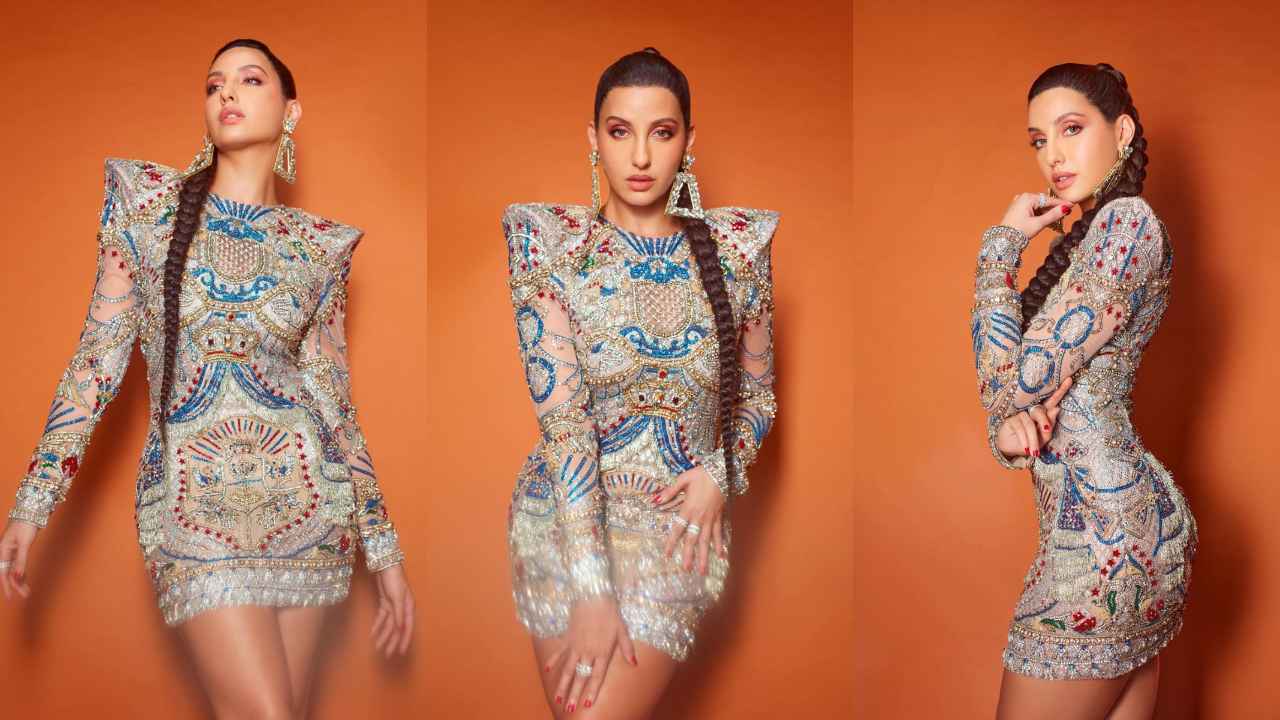 Nora Fatehi's complete look stands as a testament to her exceptional ability to harmonize various elements into a coherent and captivating ensemble. Her choice of accessories and her meticulous attention to detail further solidify her position as a style icon who continuously dazzles with her impeccable fashion choices.
Nora Fatehi's dedication to crafting a well-rounded and cohesive look extends beyond her clothing choices to her hair and makeup as well. Her hairstyle, a tightly executed French plait, adds a touch of sleekness and refinement to her overall appearance. This hairstyle not only complements the dress's intricate details but also ensures that they take center stage without any distractions.
The choice of a tight French plait highlights Nora's commitment to maintaining a clean and polished aesthetic. By opting for a hairstyle that is both elegant and understated, she enhances the dress's opulence while creating a harmonious balance that exudes sophistication.
The simplicity of the hairstyle underscores her ability to make strategic choices that enhance her entire look. It aligns with her overall fashion philosophy, which focuses on allowing key elements, such as the dress's embellishments, to shine while maintaining a sense of elegance.
Nora Fatehi's makeup, adorned with shimmery eyeshadow, impeccably sculpted blush, and a pink lipstick, skillfully enhances and complements the entire ensemble. This makeup choice harmoniously merges with the outfit, enhancing its glamour and elegance. The shimmery eyeshadow adds a touch of sparkle that resonates with the dress's embellishments, while the sculpted blush adds dimension to her face, creating a harmonious balance.
The pink lipstick serves as the final touch, bringing a pop of color that complements the champagne gold hue of the dress. This makeup selection demonstrates Nora's adeptness at creating a look that is well-coordinated and cohesive from head to toe.
The ensemble, accessories, and makeup collectively reflect Nora Fatehi's self-assuredness and her profound understanding of how to utilize fashion to make a lasting impact. Her choices resonate with confidence and an innate ability to showcase her personality through her appearance. As fans and fashion enthusiasts, we eagerly anticipate her next sartorial venture, knowing that it will undoubtedly be as breathtaking and pioneering as the one before.
In summary, Nora Fatehi's meticulous attention to detail in her makeup selection further solidifies her position as a fashion icon. Her makeup choices are a testament to her ability to curate a complete and harmonious look that leaves an indelible mark. Her unwavering commitment to style excellence continues to inspire admiration and anticipation for her next show-stopping appearance.